Print This Post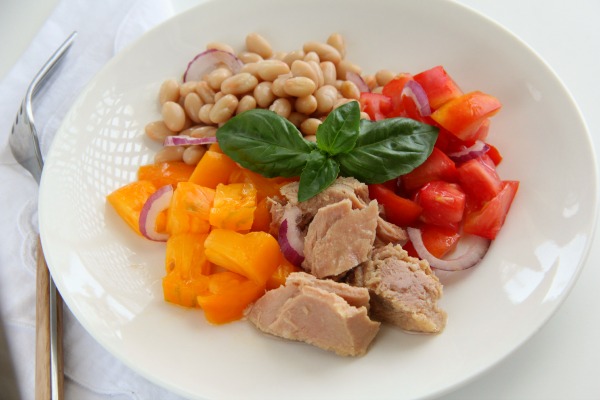 There are four good reasons to make this easy summer salad tonight:
It tastes FABULOUS!
It takes about 15 minutes from start to finish, so dinner is on the table nearly as soon as you think of making it.
If the summer heat is wilting you, a simple, well-crafted salad like this needs no cooking, no stove, no oven, no fuss.
Summer tomatoes, and summer basil, right from the garden (or farmer's market). 'Nuf said.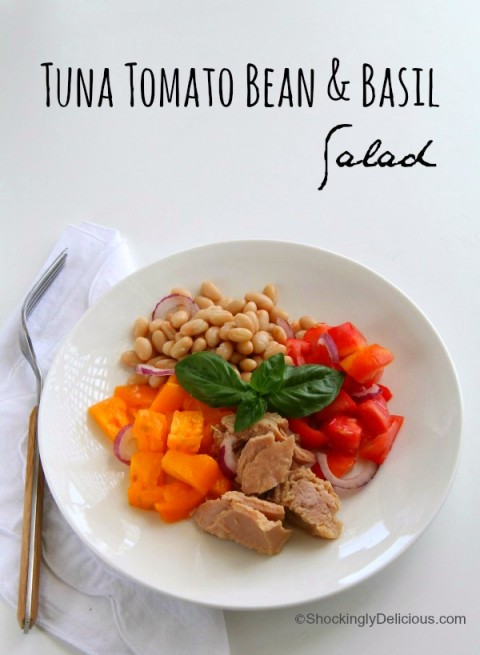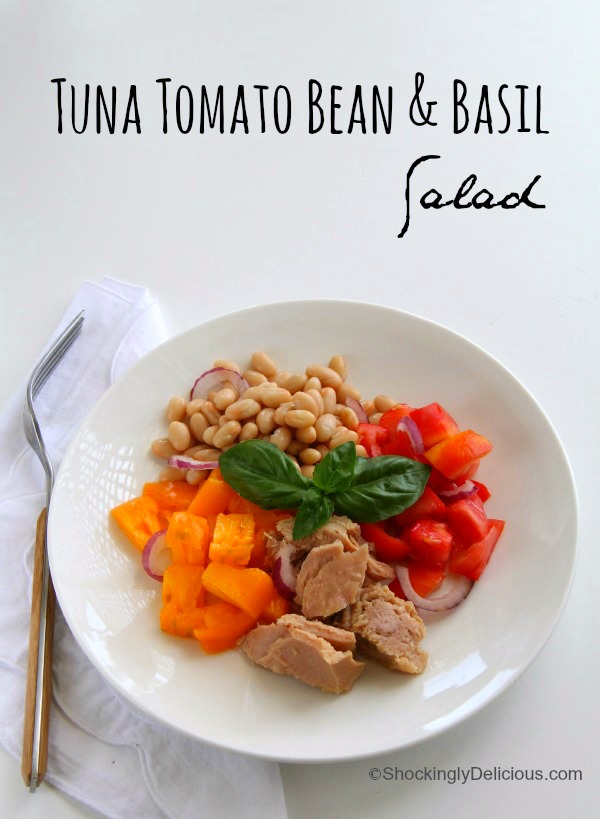 This is a classic, simple salad of tuna, tomatoes, cooked beans and basil, and it is simply delicious, meant to be eaten at room temperature. Use garden-fresh tomatoes and basil, either from your own back yard plot or the farmers' market, and canned beans and tuna. No need to get overheated about it.
You don't really need a recipe for this salad, but I'll give you one below as guidance. Feel free to tweak it as you like – subbing in cannellini beans for the small white beans, flavored tuna (Jalapeno tuna anyone?), garnishing with toasted pine nuts, or how about adding some fresh mango chunks in here for a pop of sweet? Once you make it and understand the general idea, ignore the recipe and wing it the next time.
But for now, follow it and you'll have the perfect proportions.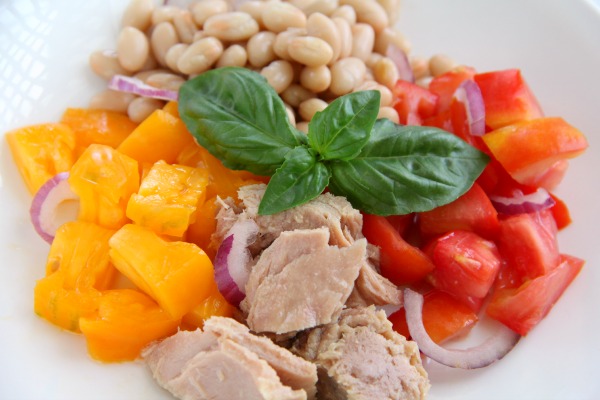 Recipe: Tuna, Tomato, Bean and Basil Salad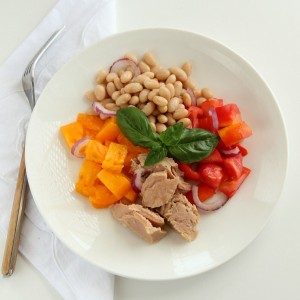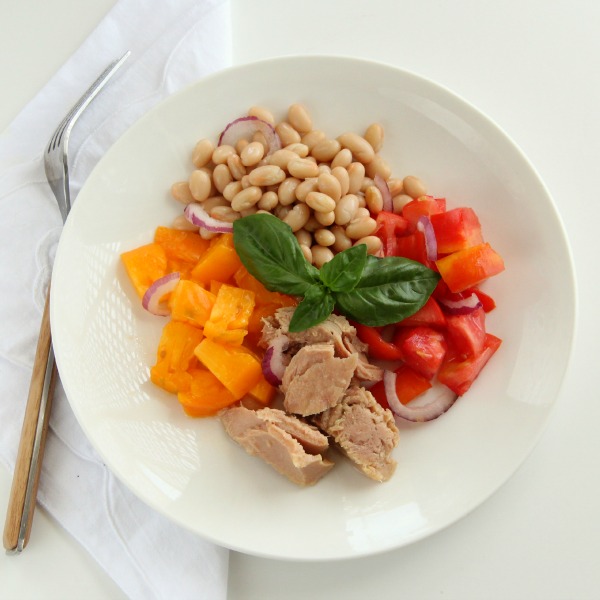 Summary: A classic, simple salad that shows off succulent summer tomatoes and herbaceous basil in cahoots with nutritious tuna and beans. Use a mixture of various colored heirloom tomatoes for the prettiest salad.
Ingredients
4 large heirloom tomatoes, seeded and diced (1 tomato per person) *see note below about how to seed
2 (5- or 6-ounce) cans tuna in olive oil
1 (15- to 19-ounce) can small white beans, rinsed and well drained
2-3 tablespoons finely chopped red onion (optional)
1/3-1/2 cup torn or chopped fresh basil
Dressing
5 tablespoons olive oil
1 tablespoon thick, old, expensive, fancy balsamic vinegar
1 tablespoon cheaper, bulk balsamic vinegar
1 teaspoon Dijon mustard
1 clove garlic, pressed or crushed
Pinch kosher salt
A few grinds black pepper
Instructions
Arrange tomatoes, tuna and beans on serving plates. Sprinkle onion and basil over all. (Alternatively, you may combine everything in a large bowl and mix gently before plating.)
Make dressing: In a small jar, add olive oil, vinegar, mustard, garlic, salt and pepper, and shake vigorously for 15 seconds. Drizzle dressing over each salad.
Serve at room temperature. Store leftovers in refrigerator.
Serves 4.
*How to seed a tomato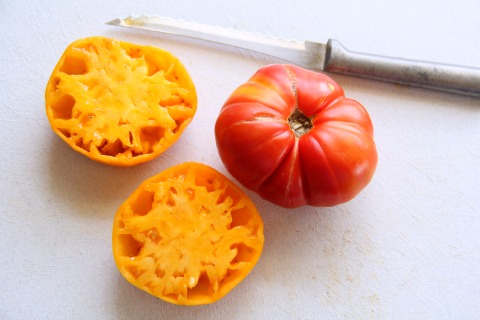 The easiest way to seed tomatoes is to cut them in half at the equator, which opens all the seed pockets. Then simply hold the half-tomato over the sink and use a finger to scoop out the seeds into the garbage disposal or trash.
Variations
If you don't have old, expensive, syrupy balsamic, use an average balsamic and a pinch of sugar in place of it.
Recipe source
Dorothy Reinhold |Shockingly Delicious. I published a version of this recipe in July 2010 and I have updated it here today.
Preparation time: 15 minutes
Diet type: Pescatarian
Diet tags: High protein, Gluten free
Number of servings (yield): 4
Culinary tradition: Italian
My rating 5 stars: ★★★★★
Pin the image below for Tuna, Tomato, Bean and Basil Salad to your Pinterest board to save this recipe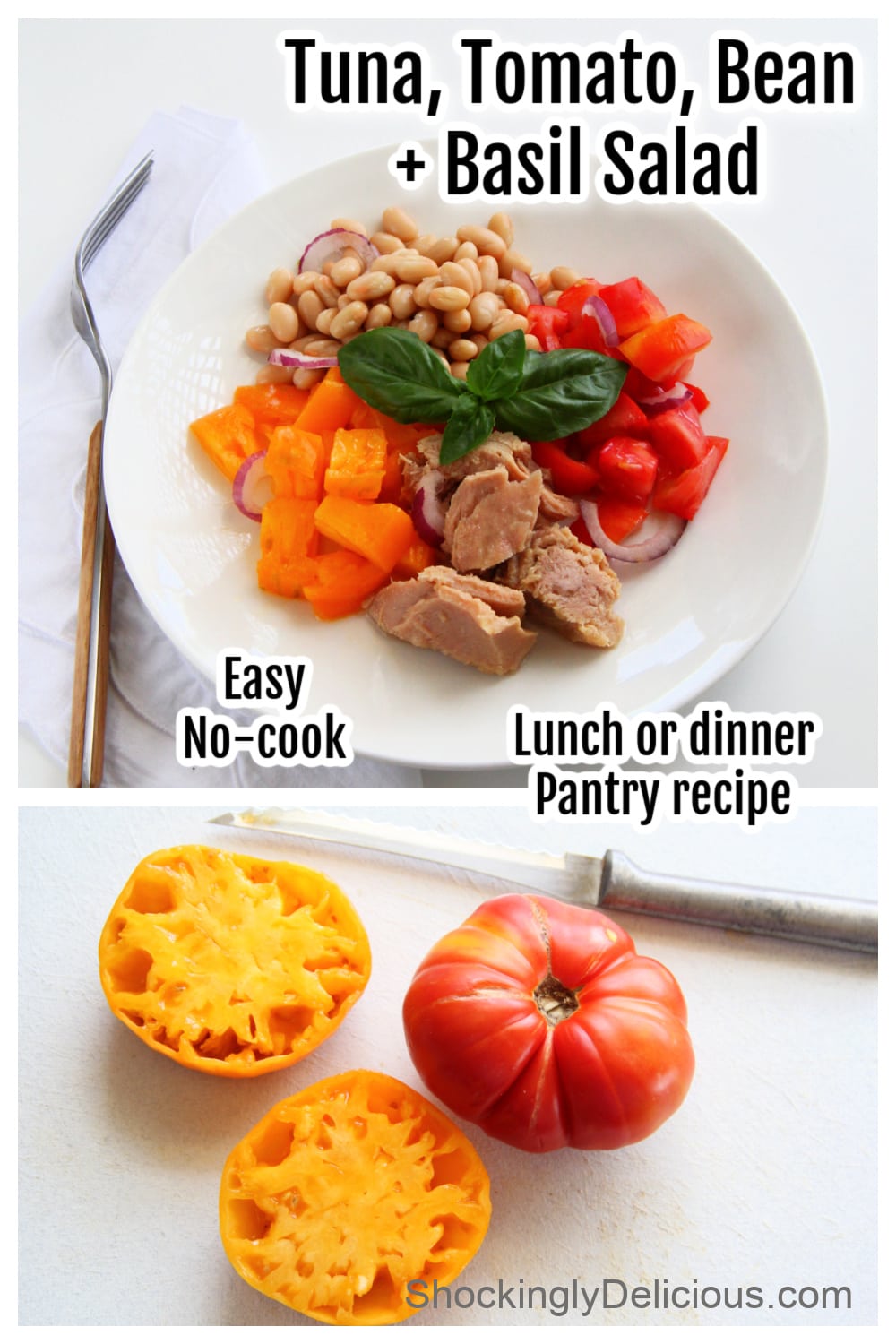 And check out my leafy basil plant from the window sill!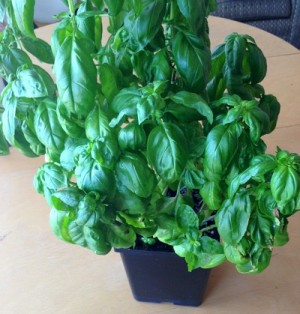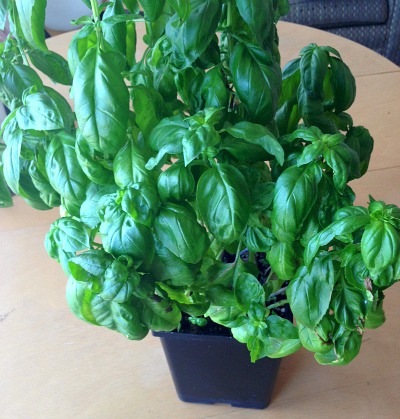 Save
Save
Save