Print This Post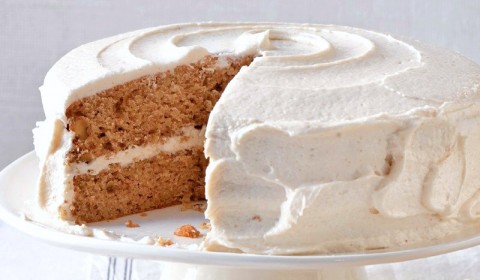 Is there anything more gorgeous on the Easter table than a layer cake?
I present to you, today, Parsnip-Ginger Layer Cake, a lightly spiced cake on a whole new level. It has parsnips (yes, you read that right, a vegetable!), fresh ginger and a not-overly-sweet browned butter frosting. Doesn't that make you want to skip the ham and go straight to the dessert table? Oh, maybe that's just me. Slinking away…
Forget it, I'm not apologizing. I want my cake and I want to eat it, too. Reaching for the cake server, right now.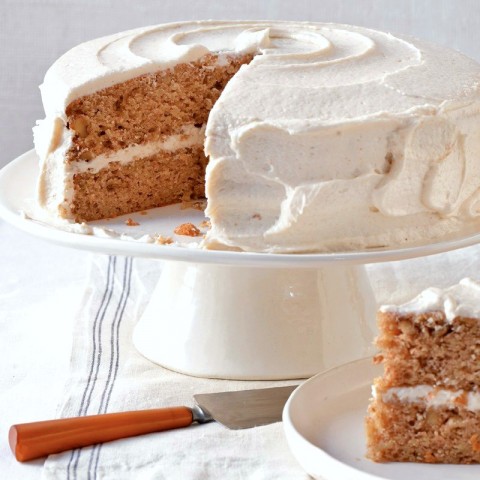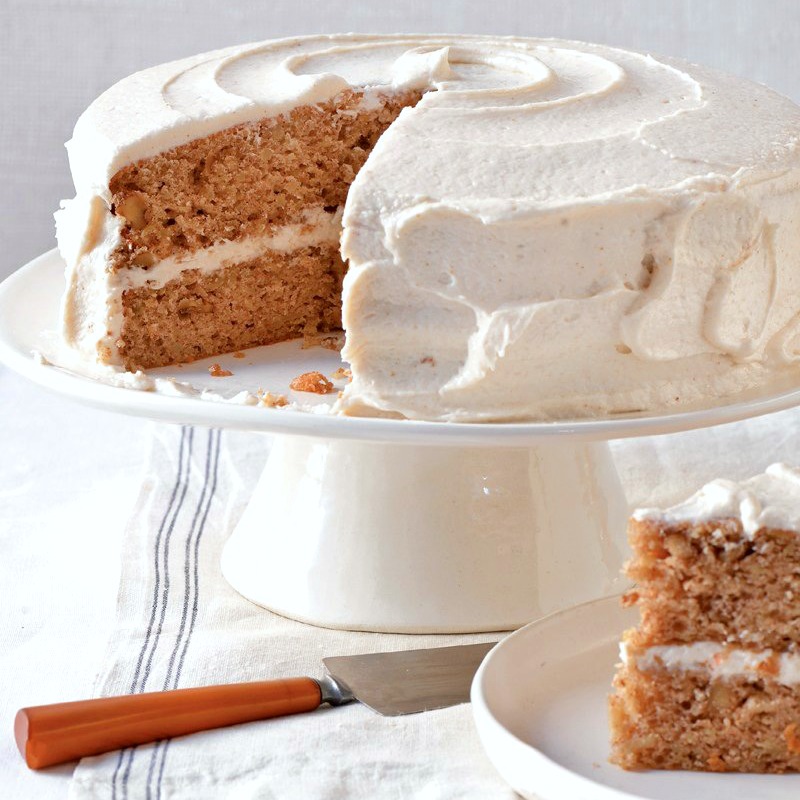 Parsnip-Ginger Layer Cake
Parsnip-Ginger Layer Cake with Browned Buttercream Frosting: A spice cake above and beyond, amped up with parsnips and fresh ginger, and crowned with a browned-butter frosting of the Gods. Serve it as a layer cake, or bake it into cupcakes or a more casual sheet cake.
Ingredients
For the cake

Unsalted butter, at room temperature, for greasing the pans
2 cups all-purpose flour, plus extra for dusting the pans
1 cup grapeseed or canola oil
3 cups peeled and shredded parsnips (about 1 1/4 pounds)
1 1/2-inch knob (1-1 1/4 ounces) fresh ginger, peeled and grated on a microplane
1 tablespoon ground ginger
1 tablespoon ground cinnamon
1 teaspoon ground nutmeg
1/2 teaspoon allspice
1 1/2 cups sugar
3 teaspoons baking powder
3/4 teaspoon fine sea salt
4 large eggs
3/4 cup low-fat or whole milk
1 tablespoon pure vanilla extract
1/2 cup toasted pecans or walnuts, chopped
.

Browned Buttercream Frosting

12 tablespoons (1 1/2 sticks) unsalted butter
4-4 1/2 cups confectioners' sugar
2 teaspoons pure vanilla extract
3-6 tablespoons milk or warm water, plus extra if needed
Directions
Heat the oven to 350°F. Butter and flour the bottoms and sides of two 9-inch cake pans. Line the bottom of each with a round of parchment paper.
Heat 1/4 cup of the oil in a large skillet over medium heat. When it is hot but not smoking, add the parsnips and fresh ginger and stir to coat. Cook, stirring occasionally, until the parsnips are fragrant and tender, 7-10 minutes. Remove the pan from the heat and let the parsnip mixture cool.
Meanwhile, whisk together the ground ginger, cinnamon, nutmeg, and allspice in a large bowl. Add the 2 cups of flour, the sugar, baking powder, and salt, and whisk until incorporated.
In a smaller, separate bowl, whisk together the remaining 3/4 cup of oil, the eggs, milk and vanilla.
Add the wet ingredients to the dry ingredients and stir until just combined. Stir in the parsnip mixture and toasted pecans until just combined.
Divide the batter evenly between the two cake pans. Bake until the tops begin to turn golden, or an inserted toothpick or cake tester comes out clean, 30-35 minutes.
Transfer the cakes to wire cooling racks and let cool in the pans for 10 minutes. To remove the cakes, run a knife around the inside edge of each cake pan. Invert the pans onto the cooling racks, leaving the pans in place until the cakes release. Remove the pans and parchment, and allow the cakes to cool completely.

While cakes are cooling, make the frosting:

Heat the butter in a medium-size saucepan over medium heat until it melts and becomes golden brown, 8-10 minutes.
Meanwhile, sift 4 cups of the confectioners' sugar into a medium-size bowl (or the bowl of a stand mixer). Add the browned butter to the confectioners' sugar along with the vanilla and beat together with an electric hand mixer (or a stand mixer) on medium-low speed until just incorporated. Add 3 tablespoons milk or more to reach your desired consistency and beat on medium-low speed until the frosting is light and fluffy, about 3 minutes. If you add too much liquid and the frosting is too thin, just add more confectioners' sugar, a little at a time, to reach your desired consistency. Let the frosting cool before spreading on the cake.
(The frosting will keep, in an airtight container, refrigerated, for up to 1 week. Bring it to room temperature before using and add more milk or warm water to thin it if needed.)

To frost the cake:

Place one of the cakes top side up on a cake plate. Scoop about one third of the frosting onto the center of the cake, and use an offset spatula (or butter knife) to spread out the frosting evenly. Place the second cake, top side down, onto the frosted cake top. Scoop the remaining frosting onto the center of the second layer (you may use less frosting if you prefer—you want just enough to cover the top surface of the cake) and spread it in an even layer all the way to the edge (leave the sides bare).
Serves 8-10.
Notes
Recipe source: "The Vegetable Butcher,"by Cara Mangini (2016; Workman Publishing; $29.95). Photography by Matthew Benson.
Note from the author: "I like to leave the sides of this cake bare, spreading the frosting generously between the layers and on top—this way the parsnips really shine—but you can frost the sides of the cake as well. There will be enough frosting either way.
For a lower-fat version of this cake, replace 1/2 cup of the oil with 3/4 cup unsweetened applesauce.
To make a 4-layer cake, bake the cake in 2 pans and turn them out of the pans as directed. Once the cakes have cooled completely, cut each in half horizontally with a serrated knife. Double the frosting. Layer and lightly frost each round.
https://www.shockinglydelicious.com/parsnip-ginger-layer-cake-with-browned-buttercream-frosting/
Copyright Dorothy Reinhold | ShockinglyDelicious.com. All rights reserved.
This recipe comes by way of "The Vegetable Butcher: How to Select, Prep, Slice, Dice and Masterfully Cook Vegetables from Artichokes to Zucchini," by Cara Mangini (2016; Workman Publishing; $29.95). Cara, from a family of traditional butchers, demystifies the world of vegetables, shows how to break down a butternut squash, cut a cauliflower into steaks, peel a tomato properly, chiffonade kale, turn carrots into coins and parsnips into matchsticks, and find the meaty heart of an artichoke. Step-by-step photographs are essential, and her 150 original, simple recipes put vegetables front and center. Whether you dabble in vegetables as a side dish or they form the centerpost of your diet, this book will help you get the best out of our incredible array of modern vegetables available from any grocery store.
If you love veggies, as we do here at the ShockD homestead, this book will be your bible, your boot camp and your basic training. It's garnered a few prestigious awards so far in its short life, too: It won 2 IACP cookbook awards, for Single-Subject, and People's Choice!
If you like this recipe and want to save it, pin the image below to your Pinterest board.
Disclosure: The publisher sent a copy of the book for review. This recipe is linked to Meal Plan Monday.

Save
Save
Save
Save
Save
Save
Save
Save
Save