Print This Post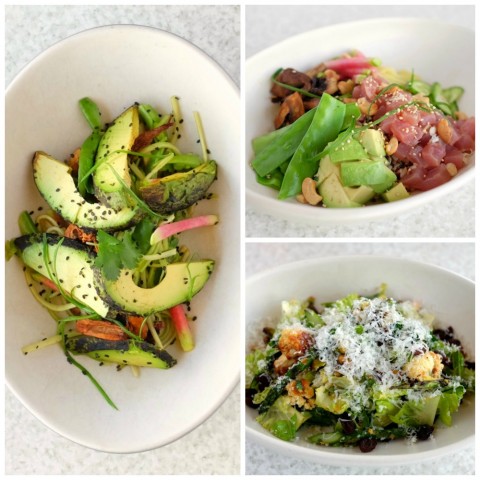 One of my favorite restaurants, both locally and as a chain, is True Food Kitchen. Have you tried it?
They call it a "health-driven, seasonal restaurant merging nutrient-rich ingredients with a flavor-forward menu."
I call it "good eating that's good for you," and every single thing I've ever ordered at a True Food Kitchen has made me happy.
Spring has sprung over at TFK, and they're introducing new seasonal dishes for the Spring 2017 menu. They'll begin April 5 and stay around for 2-3 months. They rotate the menu seasonally to take advantage of ingredients at the peak of their freshness, and it's looking good and tasting even better. I was treated to a taste of the new spring menu at the True Food Kitchen El Segundo, Calif. location, where they held a dinner for local bloggers.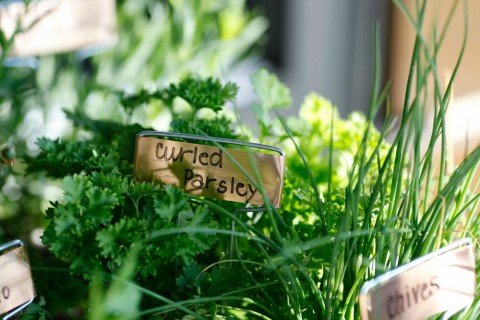 True Food Kitchen is known as a place that can easily accommodate different dietary needs, so whether you choose to or have to conform to a specific eating plan (vegetarian, vegan, gluten-free, non-dairy, etc.), there are plenty of options. They like to be known as a place that offers food that doesn't need to be "subtracted from." In other words, for example, a beautiful, balanced, delicious grains-based bowl is offered for dinner, and for those who want additional protein, you can ADD chicken or shrimp or tofu or whatever else you like. It's a subtle but important difference in hospitality.
They also paired the dishes they served us with specific wines, so I've included the wine pairings in case you enjoy wine with your meal. Their wines are all sustainably or organically farmed, and are all chosen with an intentional purpose — to complement the particular True Food Kitchen food style.
Come feast with your eyes: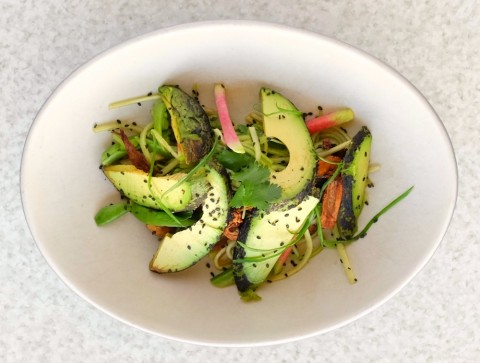 Torched Avocado
An elegant, creative appetizer! Persian cucumber noodles, mushrooms, fresh snap pea, watermelon radish, black sesame seeds, turmeric ponzu dressing and a peeled avocado that has the outside torched so it has a smoky taste and resembles the skin of the avo. Genius!
Wine: They paired it with a Crossings Sauvignon Blanc, a user-friendly wine from New Zealand that complements lots of menu items.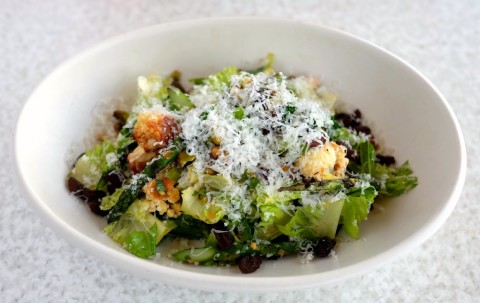 Spring Vegetable Salad (Seasonal Ingredient Salad)
This is similar in theme to my favorite True Food Kitchen item of all time, called Fall Seasonal Salad, which had Brussels sprouts, butternut squash, cauliflower, white beans, pomegranate arils and mulberries. It was a dreamy experience to eat it, and I could not stray from ordering it every single time. However, their new Spring Seasonal Salad is going to give it a run for the money. The new salad has grilled asparagus, grilled broccolini, roasted cauliflower, chickpea, pistachio, raisins, manchego cheese and romaine lettuce, drizzled with a Sicilian vinaigrette. (Make it vegan by omitting the cheese.)
Wine: They paired it with a Tangent Pinot Grigio, which goes well with lots of citrus.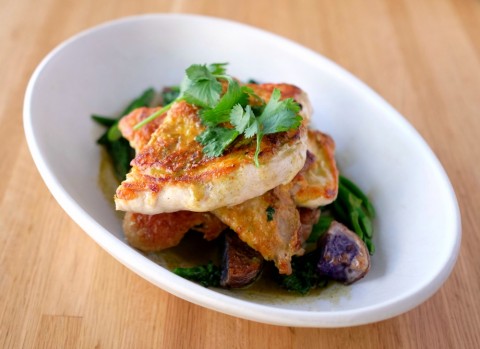 Pan Roasted Chicken
The chermoula sauce — A North African sauce with smoked paprika, coriander, cumin, red chile flakes and smoothed out with Greek yogurt — is the star of this dish. Seriously, we asked for straws to drink the sauce! If you're eating non-dairy, simply ask for them to leave off the yogurt, which is added at the end to balance the sauce.
The chicken is pounded thin, and served with roasted purple potatoes, broccolini and cilantro.
Wine: They paired it with a Panther Creek "Fox Block 11" Pinot Noir, from the Willamette Valley in the Pacific Northwest. It's assertive, a heavy pinot, a dinner wine with a bit of tartness.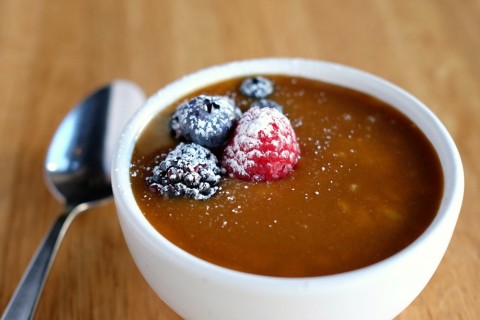 Coconut and Chia Seed Flan
Best flan. EVER! It's denser and thicker than a usual flan, yet clean tasting, made with coconut milk thickened with chia and xanthan. The vegan caramel sauce was made with coconut cream and coconut oil instead of butter. Served with mixed berries. I licked the bowl clean.
Beverage: They paired it with a Chamomile Tea.
Other new dishes on their spring menu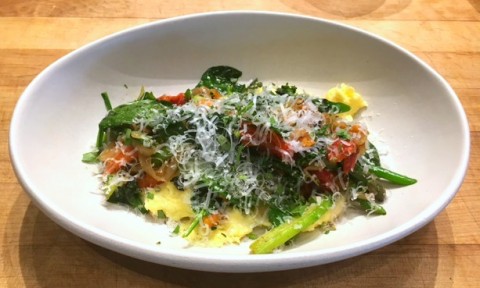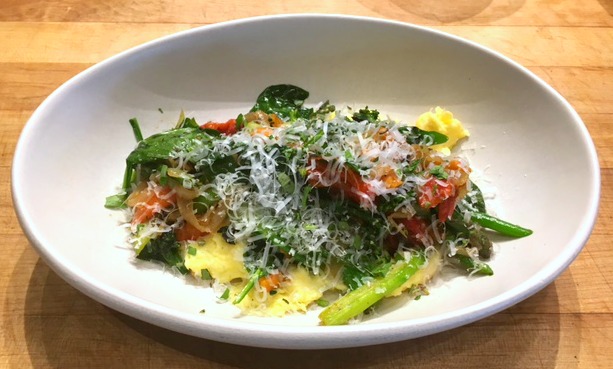 Garden Scramble (brunch anyone?)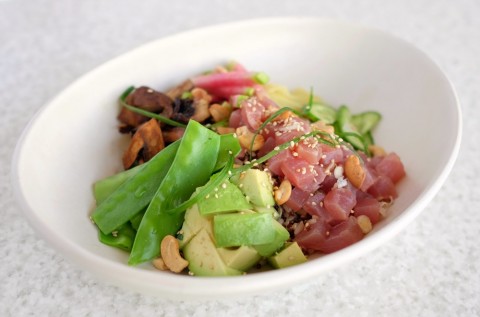 Poke Bowl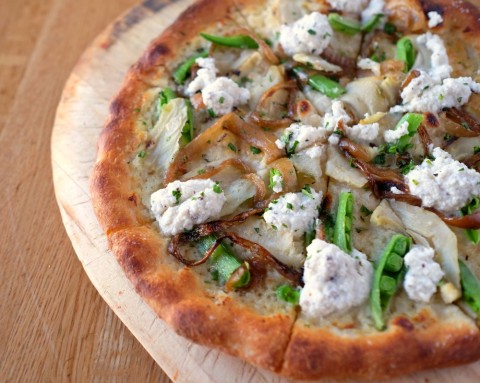 Roasted Artichoke Pizza
Have you tried their Spaghetti Squash Casserole?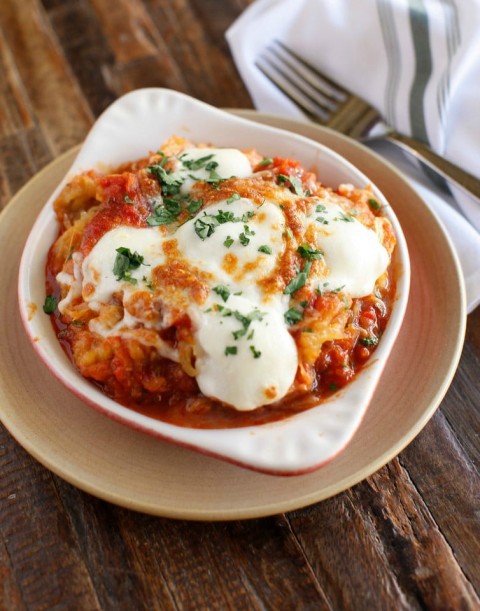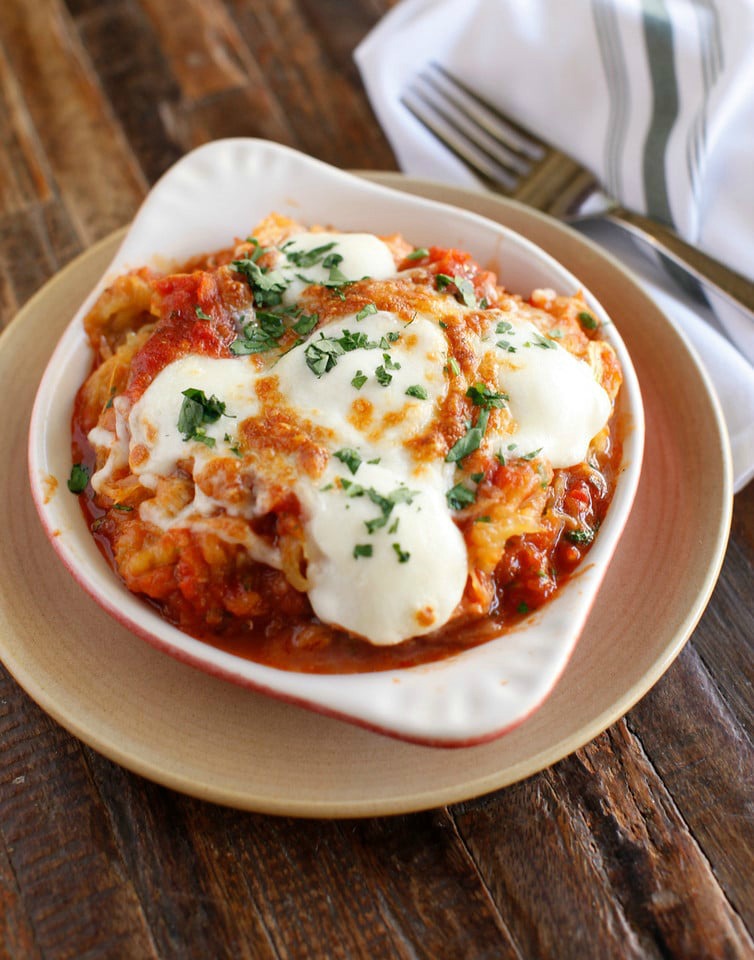 Awhile ago I fell so hard in love with their signature Spaghetti Squash Casserole that I copy-catted it here.  Make it, right now!
If you want to remember this restaurant and menu, pin the image below to your Pinterest board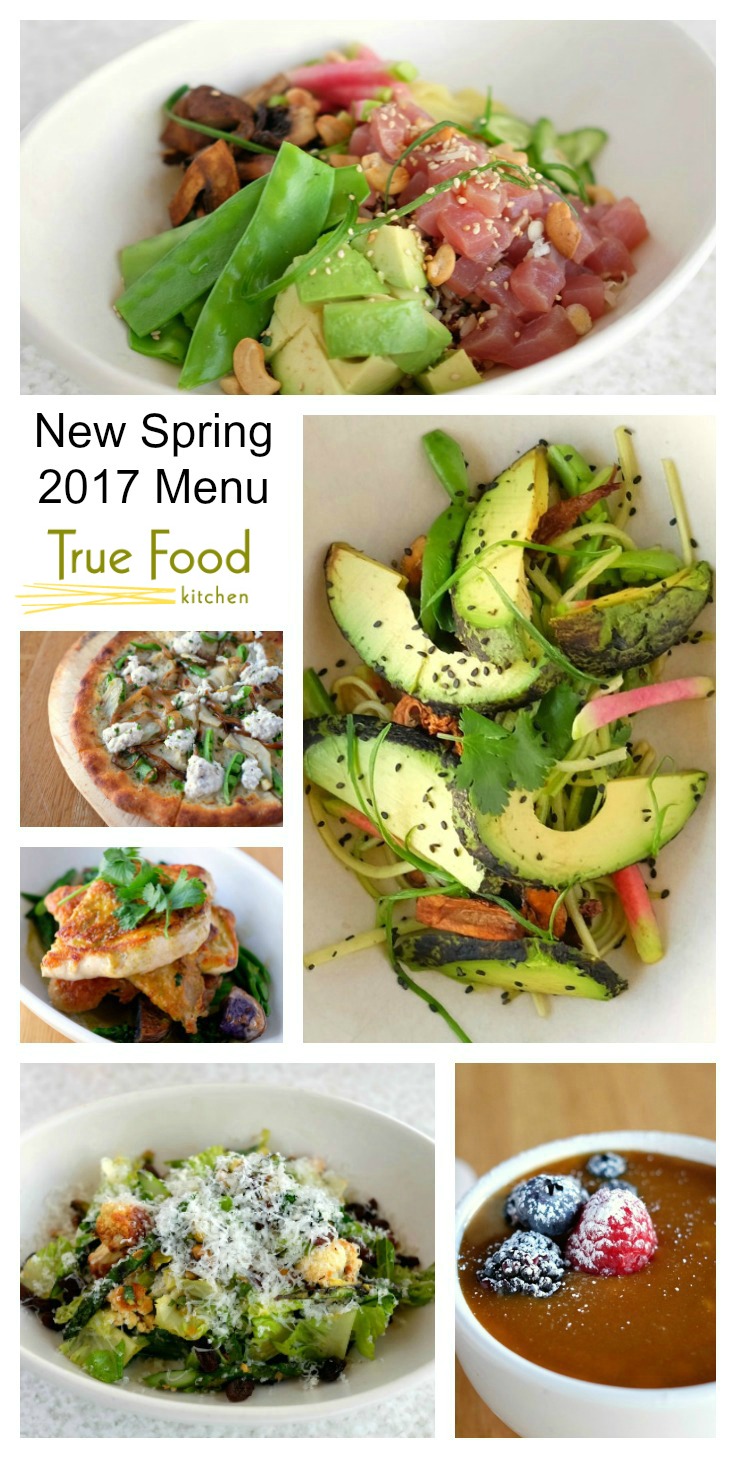 Disclosure: Thanks to True Food Kitchen for hosting me at this dinner. The restaurant has locations in Arizona, California, Colorado, Florida, Georgia, Illinois, Maryland, Pennsylvania, Tennessee, Texas and Virginia.
Save
Save
Save
Save
Save
Save
Save
Save
Save
Save
Save
Save