Print This Post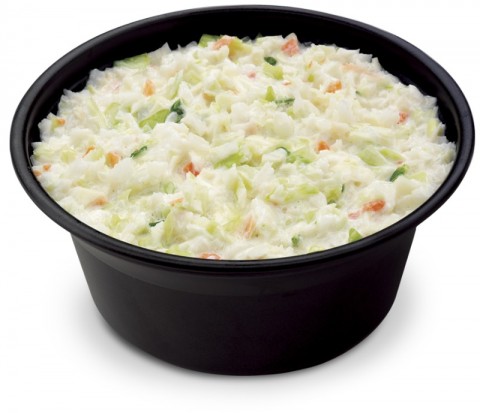 Chick-fil-A Cole Slaw, now discontinued, still remains a much-loved side dish. You can make it at home with their original recipe!
Fast food restaurant Chick-fil-A got into some deep doo-doo with many longtime customers Jan. 18, 2016.
The eighth largest fast-food chain in the U.S. ditched its iconic, sugar-heavy Cole Slaw — beloved for 49 years for its ability to pair nicely with their spicy fried chicken sandwich and waffle fries.
What happened after Chick-fil-A Cole Slaw was discontinued?
Apparently it wasn't selling as well as they wanted. It's hard for us mere mortals to believe, because if you went to Chick-fil-A, you got the cole slaw. AmIright?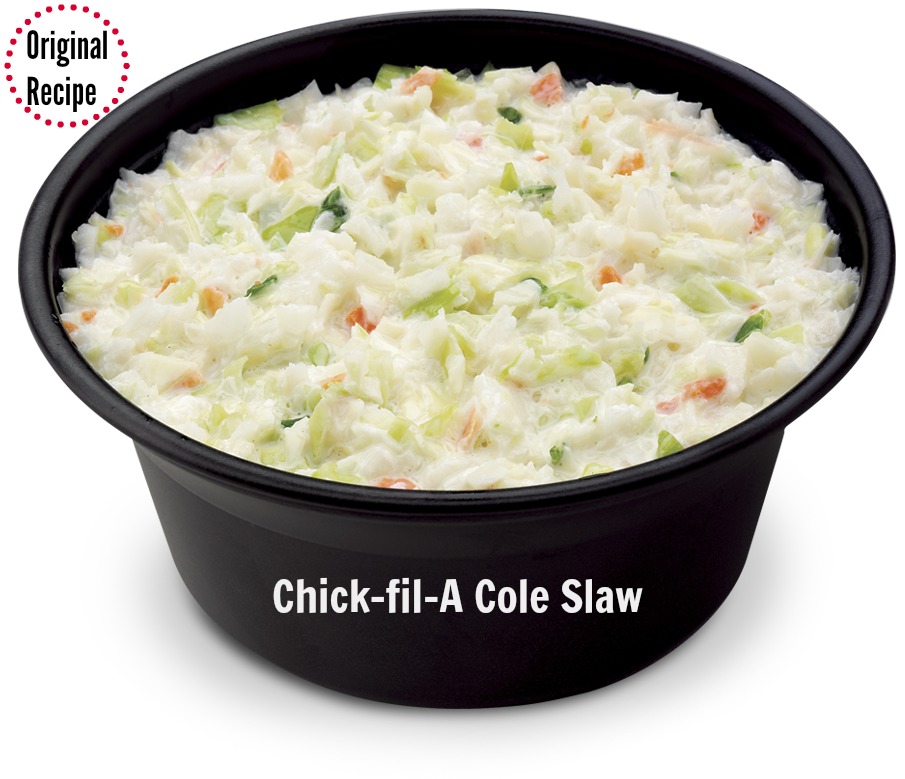 In its place was put a brand new item developed for them by star chef Ford Fry: a side called Superfood Side. It was an on-trend-at-the-time kale salad, with kale, Broccolini (skinnier and milder than regular broc), dried sour cherries and roasted nuts — walnuts, almonds and pecans — in a tangy maple dressing.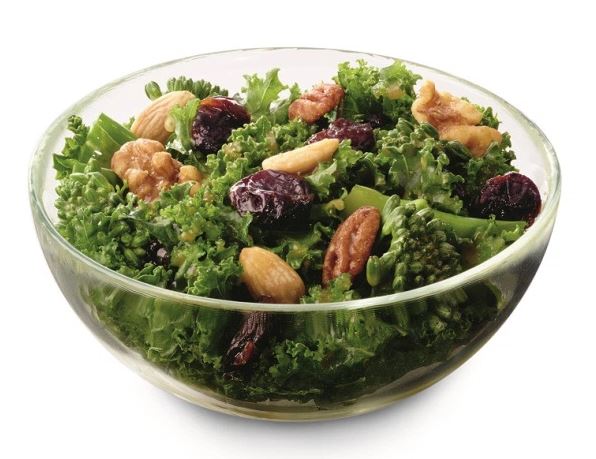 While that new side salad sounded absolutely thrilling to me, since I love kale salads in general and salads with dried fruit and nuts in particular, not everyone was amused by the change.
People took to social media with funny, profane, brutally honest reviews of the new salad (which had people choking on their green leafies), and they bombarded Chick-fil-A so much (#bringbackcoleslaw) that Snopes even felt the need to weigh in to confirm the discontinuation wasn't all just an ugly rumor.
Why did they 86 the cole slaw? "The decision to remove Cole Slaw from the menu was a difficult one, but we have heard from guests that many of them are looking for new tastes and healthier side items," the company said on its Facebook page.
The company even made a solemn 1-minute "An Ode to Cole Slaw" video memorial to it. "To the side that was never just a side item. Gone but not forgotten."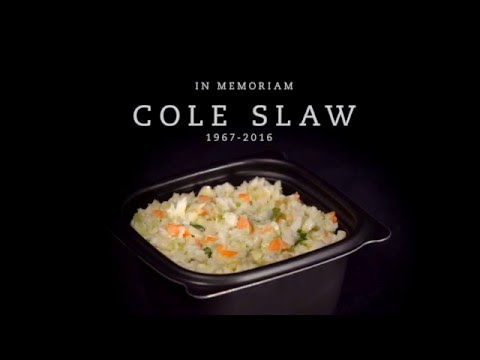 If you want NEED, this cole slaw, the company released, for the first time, the original Chick-fil-A cole slaw recipe. I hunted it down for you, because I'm a giver like that.
Here it is. This is what my version looks like! I know you want it in that little black plastic bowl, but hey, we work with what we have.

How to make Chick-fil-A Cole Slaw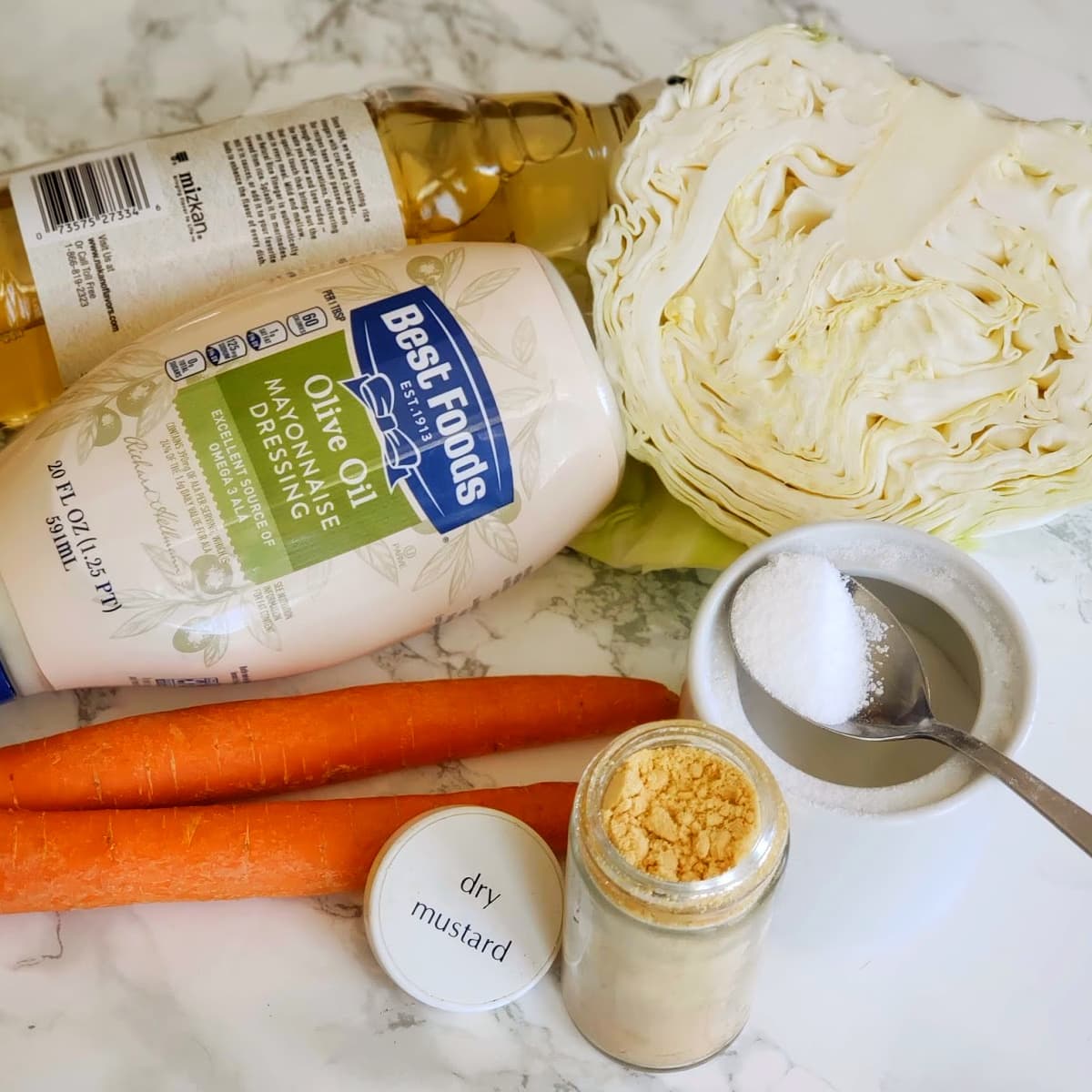 It is so, so easy. Gather your ingredients (cabbage, carrot (or a pre-sliced bag of cole slaw mix), mayo, vinegar, sugar, dry mustard, salt).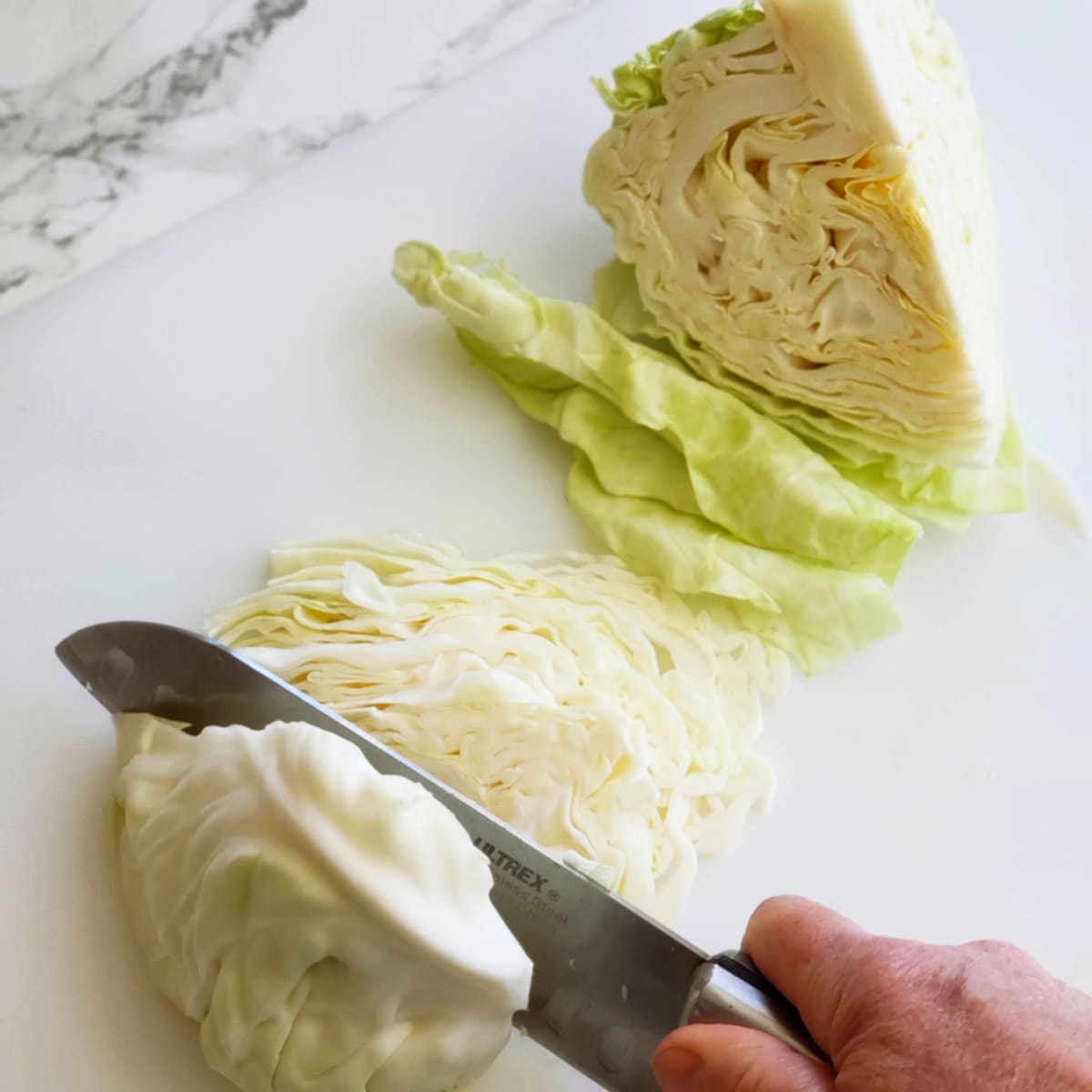 Either buy bags of pre-shredded cabbage, or slice the cabbage you have on hand. Since I had a head of cabbage on hand from St. Patrick's Day (don't judge! It was still good!), I opted to slice my own.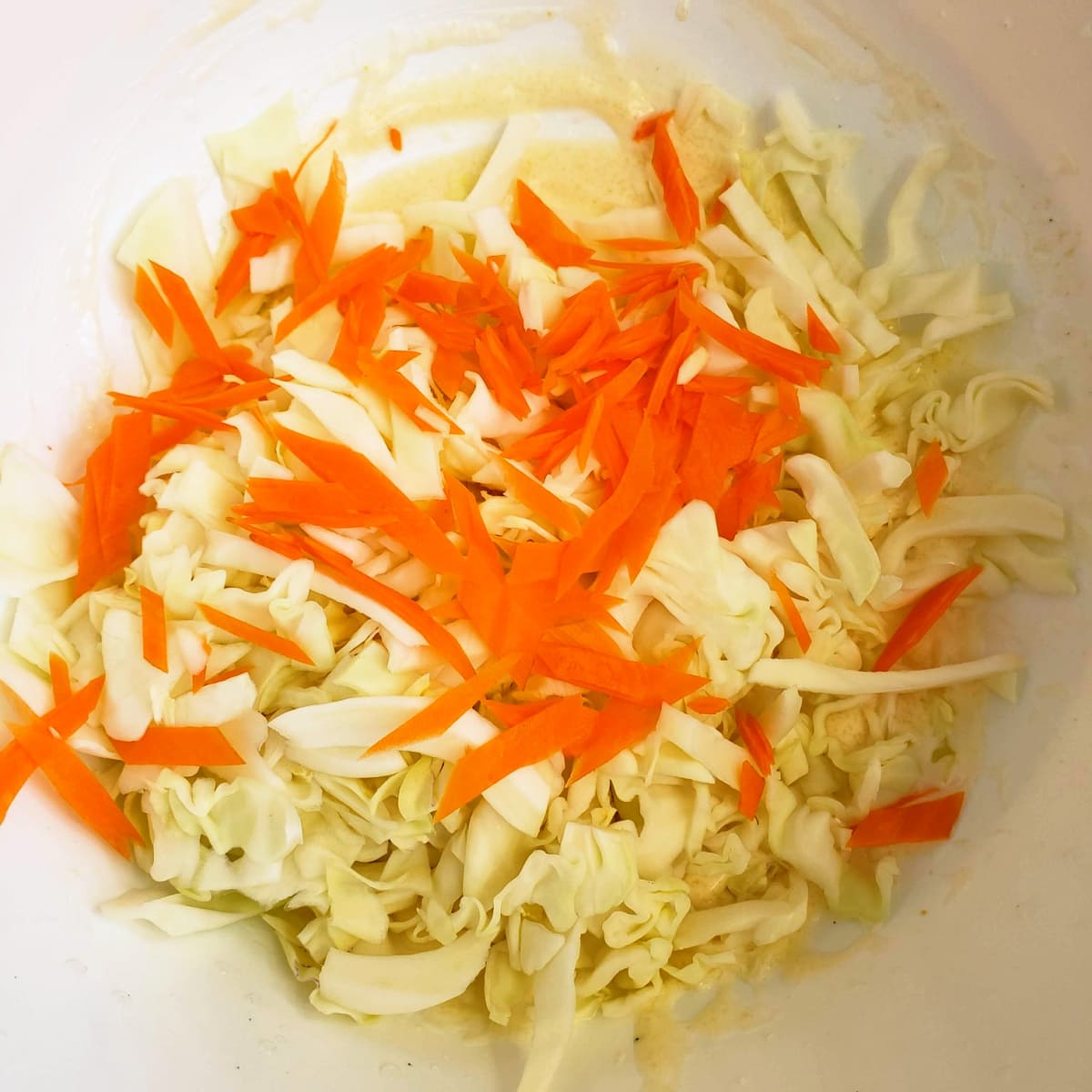 Add the carrots, for color. I used a y-shaped vegetable peeler and then stacked up all the peels and chopped them. Easy peasy.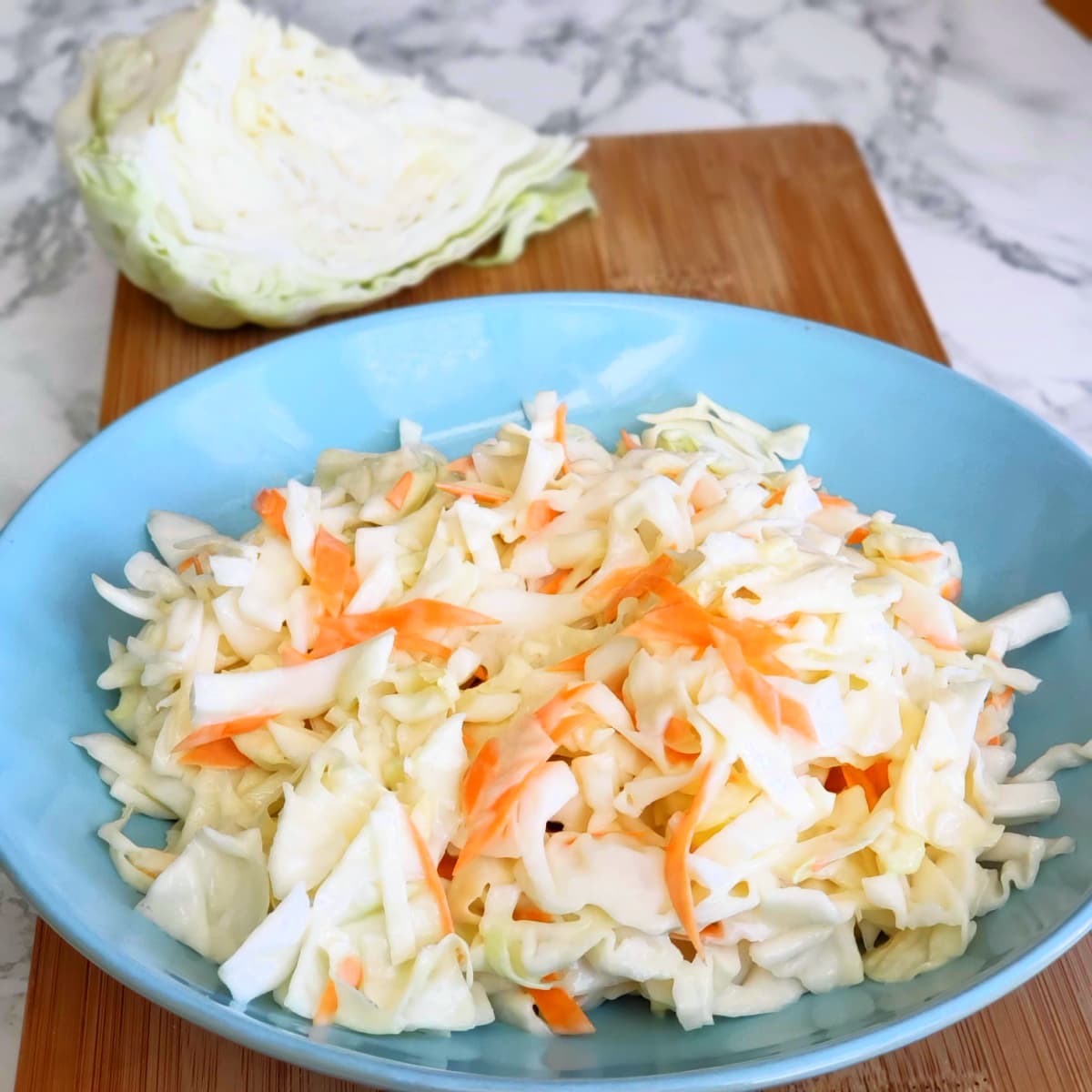 Once you have it all mixed, put it in a pretty bowl, and away you go!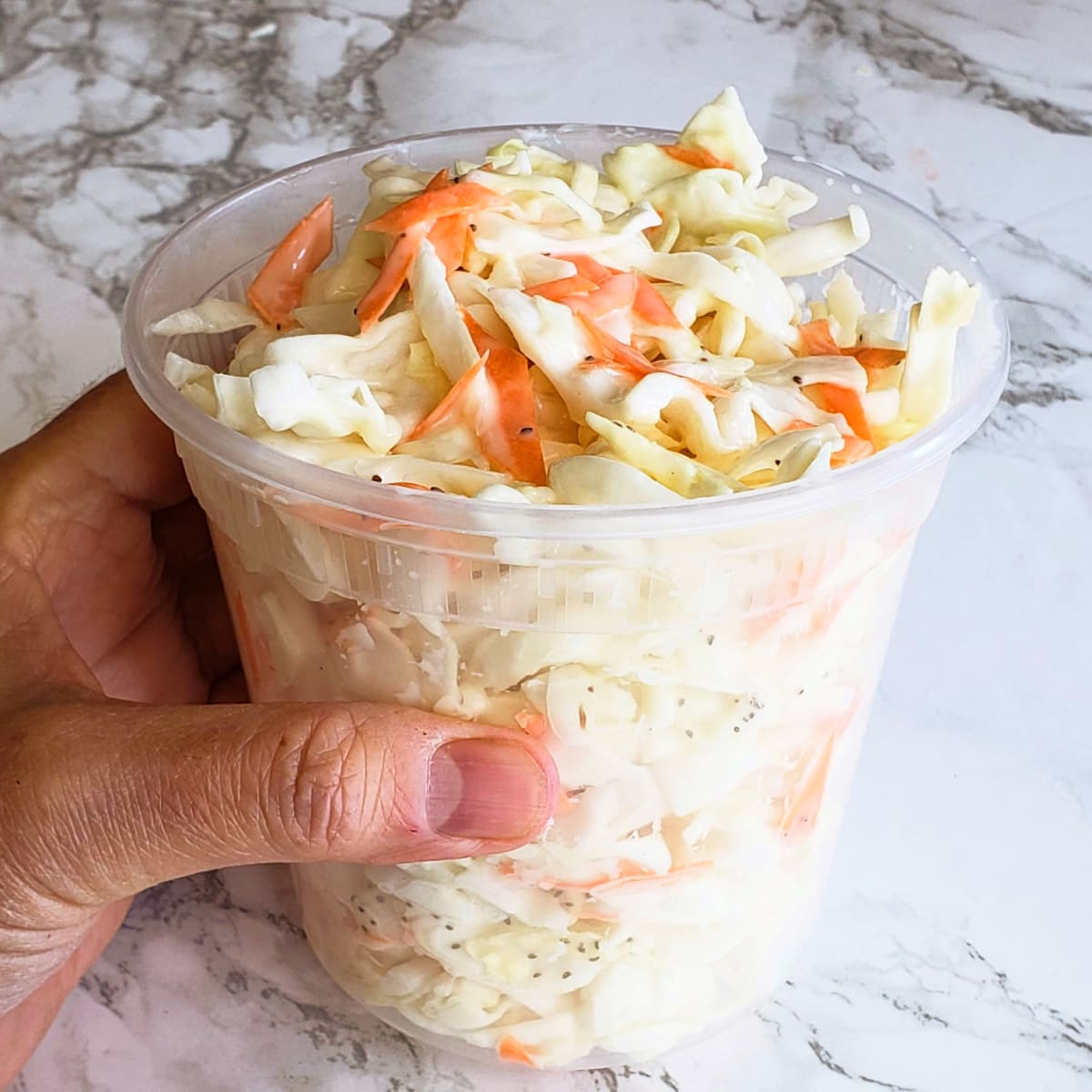 You can store it in a takeout container in the refrigerator if that makes you feel better and more authentic.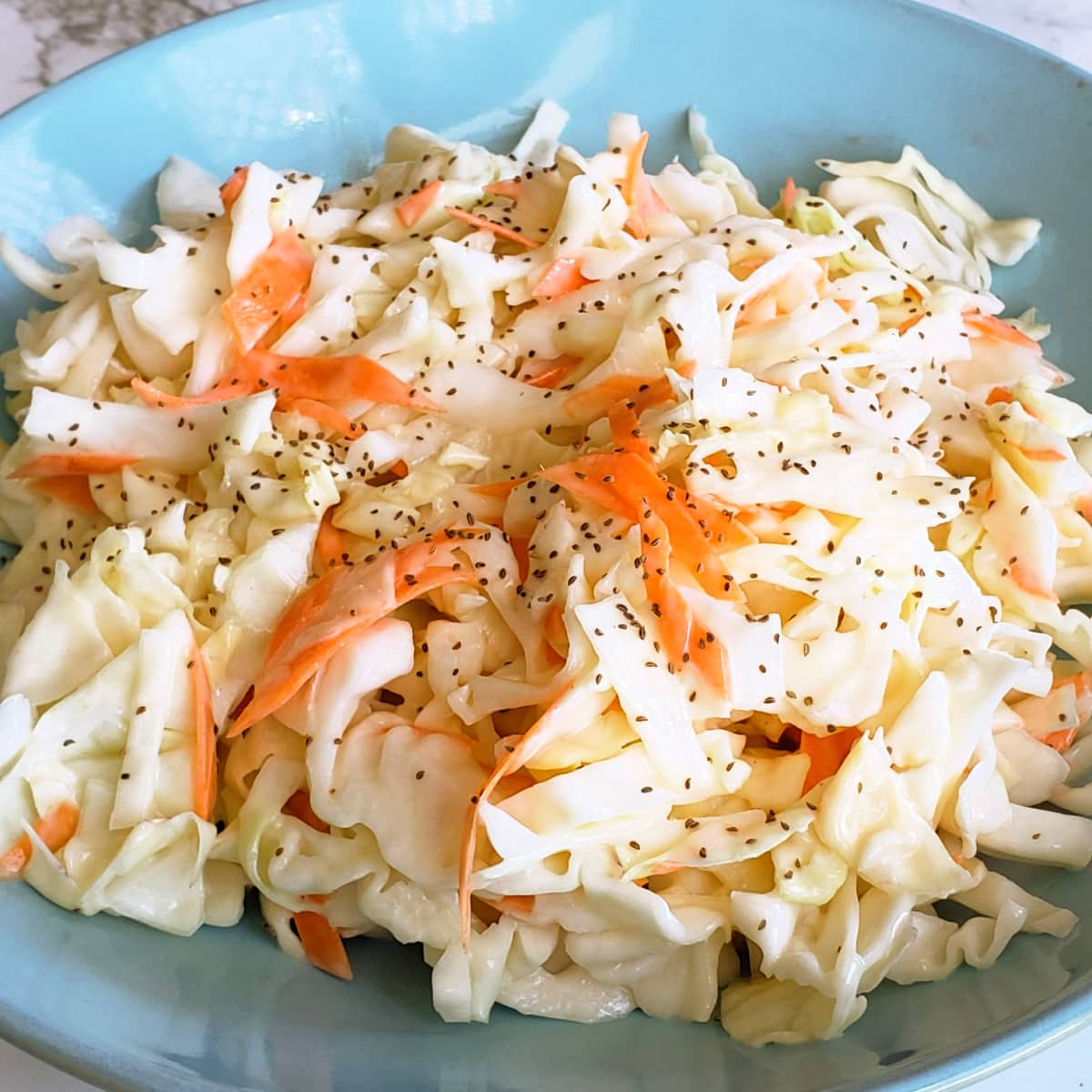 And one other idea, but it's going rogue. You could add a sprinkle of celery seed if you have it in your stocked spice rack like I do. It's not authentic, but it's good!
Original Chick-fil-A Cole Slaw Recipe
Sweet Chick-fil-A Cole Slaw, beloved to pair with one of the chain's spicy fried chicken sandwiches, is discontinued. Luckily, you can still make it at home.
Ingredients
4 teaspoons distilled white vinegar
1/4 cup sugar
1/4 teaspoon dry mustard
1/4 teaspoon salt
1 cup mayonnaise
2 (10-ounce) bags fine shredded cabbage, chopped to one-eighth inch
1/4 cup finely chopped carrots
Directions
Whisk vinegar, sugar, mustard and salt together until sugar is dissolved. Add mayonnaise and whisk to mix. Add cabbage and carrots. Mix to combine. Refrigerate for 2 hours and serve.
Makes 6-8 servings.
Notes
Recipe source: Chick-fil-A
https://www.shockinglydelicious.com/original-chick-fil-a-cole-slaw-recipe/
Copyright Dorothy Reinhold | ShockinglyDelicious.com. All rights reserved.
Pin the image below for Original Chick-fil-A Cole Slaw to your Pinterest board to save it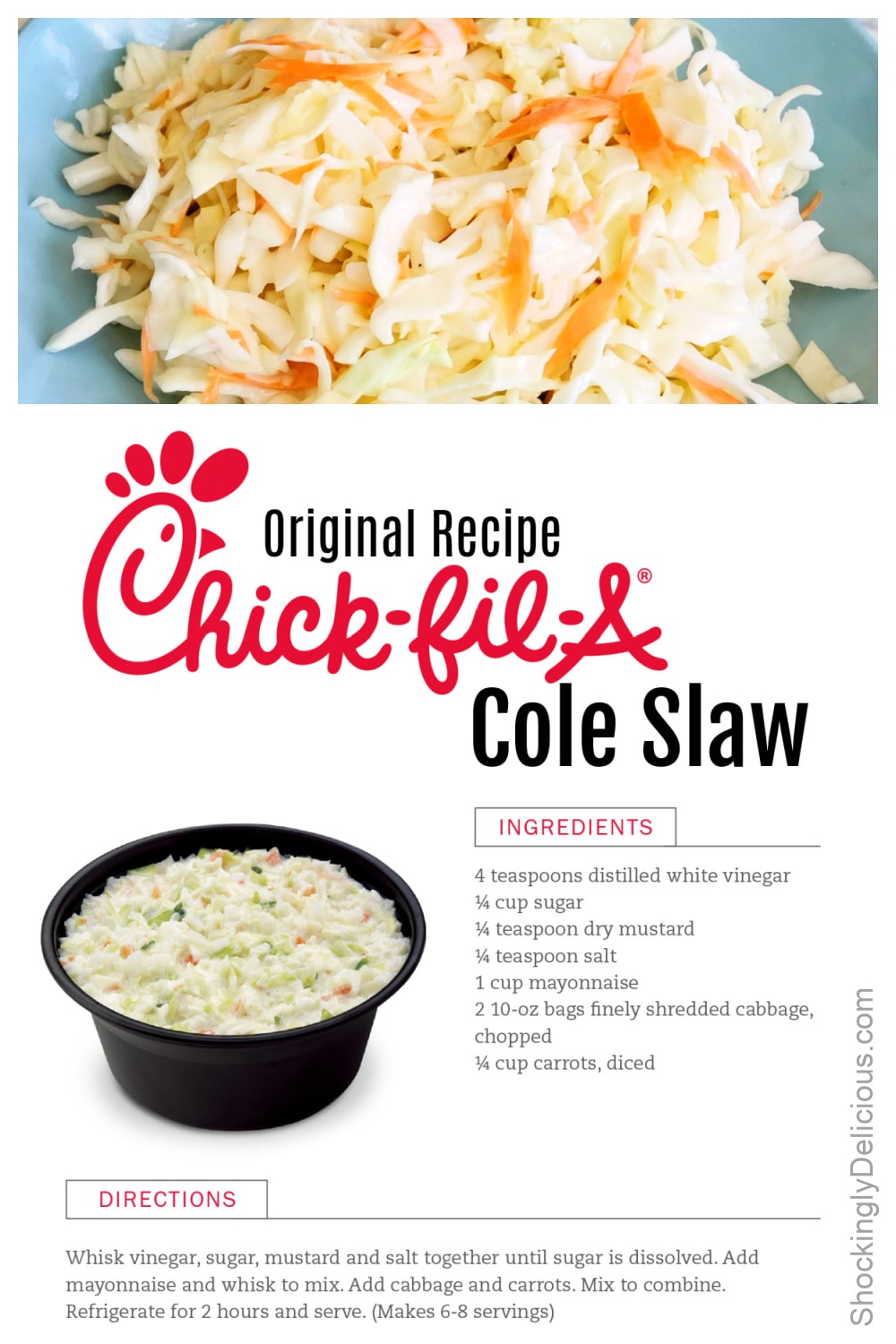 Want the recipe for Chick-fil-A Original Carrot & Raisin Salad?
Other Chick-fil-A menu items that are gone but not forgotten are Carrot & Raisin Salad, original brownies, lemon meringue pie and cheesecake, according to people whining about it on Facebook.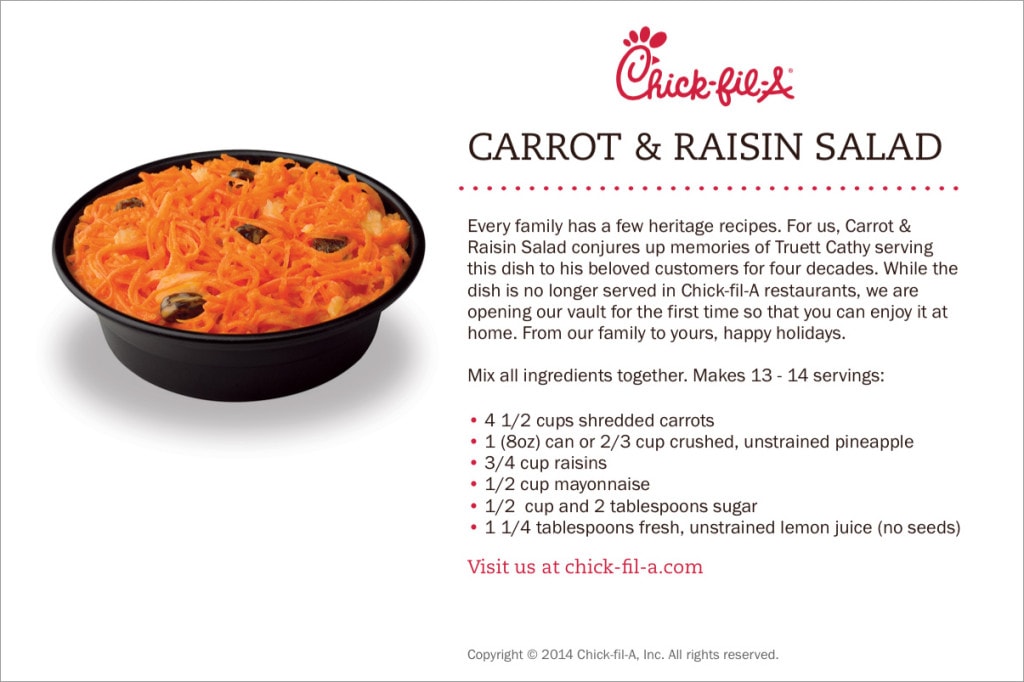 Thanks for visiting…are you hungry for more? Follow Shockingly Delicious on…
FACEBOOK | PINTEREST | INSTAGRAM | TWITTER
…for all the latest recipes, ideas and updates!
This post may contain affiliate/referral links. It is a way for this site to earn advertising fees (at no cost to you) by advertising or linking to certain products and/or services that I approve and prefer. Thank you for using my affiliate link to shop, so I can continue to bring you shockingly delicious recipes!