Mediterranean Deviled Eggs
[1]12 hard cooked eggs, peeled (easy recipe to hard-cook eggs here [2])
3-4 tablespoons mayonnaise (easy safe homemade version here [3]; or Best Foods light version)
2 tablespoons olive oil (use seasoned oil from the sun-dried tomatoes if available)
1 tablespoon Dijon mustard
2 teaspoons balsamic (white or red) or aged wine vinegar
1/4 teaspoon dried oregano
8 drops Tabasco sauce
2 tablespoons chopped green scallion
1 tablespoon finely chopped Kalamata olives
1 tablespoon small capers in brine, drained and patted dry

Garnishes

:

2 sun-dried tomatoes packed in oil, cut into 24 slivers
slices of Kalamata olives
drained capers
Italian flat-leaf parsley
sprigs of fresh rosemary
Slice the cooked eggs in half, lay whites on a plate and put yolks in a large mixing bowl. To yolks, add mayo, oil, mustard, vinegar, oregano and Tabasco and mix well to combine (can use an electric mixer). By hand, stir in scallions, olives and capers.
Stuff the whites with the mixture. The easiest way to do this is to fill a small plastic zipper-top bag with the filling, zip it closed, cut off a tiny corner of the bag and pipe the filling out through that corner. Use all the filling for the eggs. Discard the empty bag.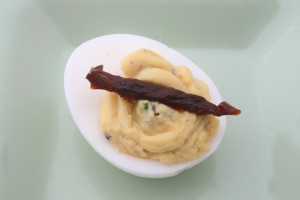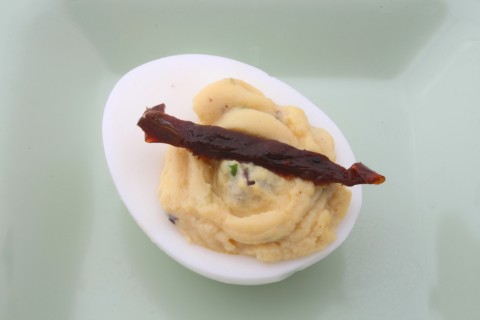 [4]Garnish each filled half-egg with a sliver of sun-dried tomato, or an olive slice, or capers, or a leaf of parsley. Refrigerate until ready to serve. (Can be made a day ahead.)
Makes 24 deviled egg halves.
Serving suggestion
Place eggs on a bed of Italian flat-leaf parsley, or nestled onto a platter rimmed with sprigs of fresh rosemary.