Print This Post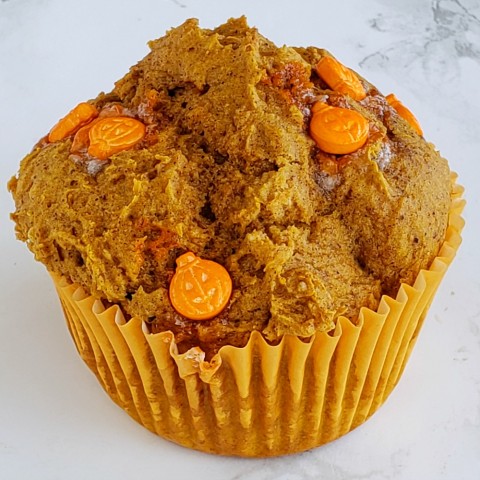 Cheater Pumpkin Muffins: It only takes three simple ingredients and 30 minutes to make Super Easy Cheater Pumpkin Muffins. They're ready almost as soon as you get a craving for them!
Sometimes a girl needs a pumpkin muffin for breakfast, and she needs to be eating it in half an hour. And she doesn't need to be measuring a lot of ingredients and looking to see if she has an orange to zest or a nutmeg grater or, in general, thinking too hard. She just needs that muffin.
She needs this no-brainer recipe, which will have a fresh pumpkin muffin in your hands in 30 minutes, tops, and that includes heating the oven and baking time.
Three ingredients. That's all this girl needs.
Proof of how good they are? Check out this note, jotted and left on the counter by my then 14-year-old daughter after someone else ate the last of these muffins. I rest my case.
(And yes, let me assure you it feels really special to be called a slacker by your own kid! At least I got a heart and a happy face icon out of it. Note to self: teach her to make them.)
How to make Cheater Pumpkin Muffins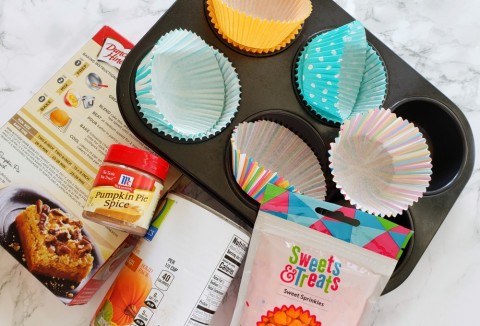 As always, first assemble your ingredients. There are only 3 main ingredients, so it should be easy to find them!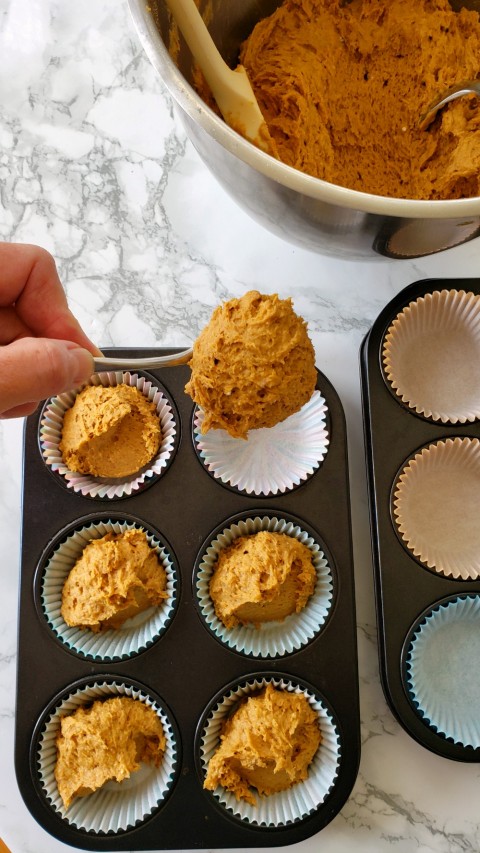 Mix them in a bowl and portion them into lined muffin pans.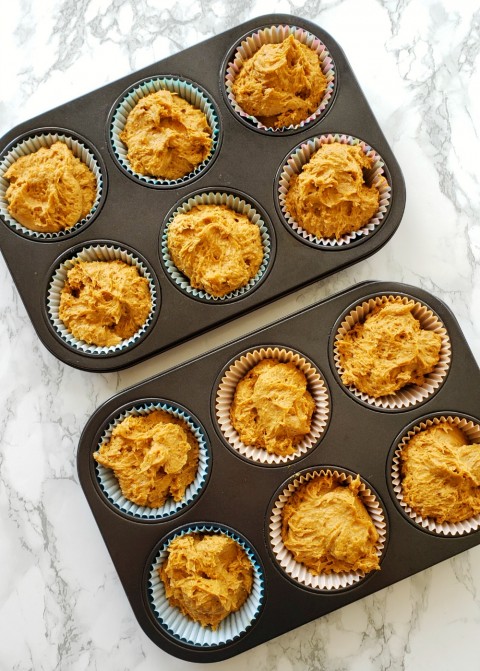 The recipe makes 12 muffins, with a fine, dense crumb. The recipe is correct…there are no eggs and no additional liquid added.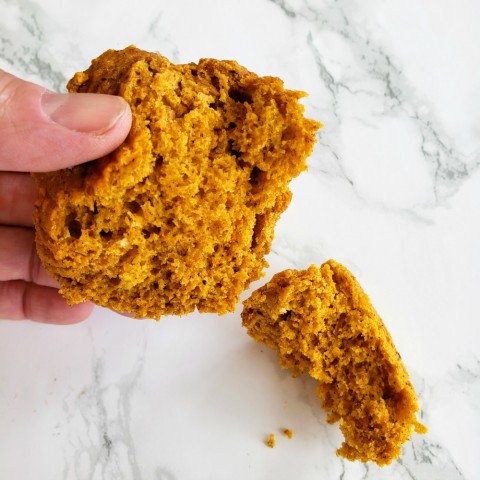 You can see the crumb in the photo above.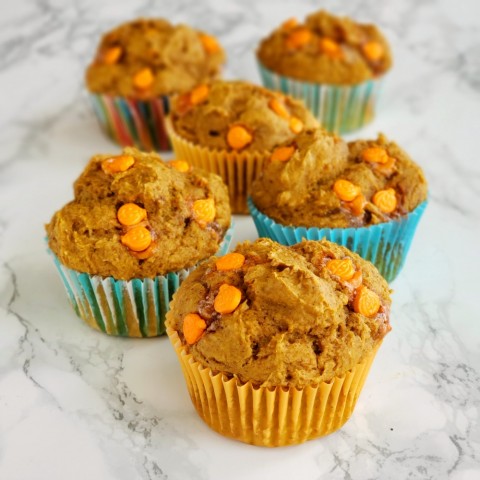 Shall we get Cheater Pumpkin Muffins in the oven?
Cheater Pumpkin Muffins: It only takes three simple ingredients and 30 minutes to make Super Easy Cheater Pumpkin Muffins. They're ready almost as soon as you get a craving for them!
Ingredients
1 (18.25-ounce) box spice cake mix (any brand you like)
1 teaspoon pumpkin pie spice (or 1/4 tsp. cinnamon, 1/4 tsp. allspice, 1/4 tsp. ground nutmeg, 1/8 tsp. cloves)
1 (15-ounce) can pumpkin puree (pure pumpkin, not pumpkin pie mix)
Garnish: candy pumpkin sprinkles (I used the variety from Sweets & Treats), and tube of icing to act as "glue" (optional)
Directions
Heat oven to 350 degrees. Line 12 regular-size muffin tins with paper liners.
Add all ingredients to a mixing bowl and stir, either by hand or using an electric mixer. Mix just until combined. Spoon into paper-lined muffin cups. Cups will be full; don't worry, they won't overflow.
Bake at 350F degrees for 18-20 minutes.
Remove from oven and cool on a cooling rack, until room temperature. If desired, attach candy decorations with a dot of icing from a tube. A word to the wise -- if you are using candy pumpkins as I did, do NOT put them on before baking. I learned the hard way that they will melt. Bake the muffins and affix the candy decorations with a tiny dot of frosting from a tube, and you'll be good to go!
Makes 12 muffins.
Notes
Recipe source: Dorothy Reinhold | Shockingly Delicious.
Quick note: This is not a misprint. There are no eggs or added liquid. This makes a delicious, dense, fine-crumbed muffin.
Mini muffins: To make mini muffins: Spray 36 mini muffin cups with non-stick spray (or use tiny paper muffin cups), fill with batter and bake for about 15 minutes.
Another decoration: Before baking, lightly press four pieces of diced, crystallized ginger into the top of each muffin. Why four? One for each bite of muffin! Or lightly press a pecan half or a walnut half into the top of each muffin.
Cranberry variation: Stir 1/2 cup chopped fresh cranberries into the batter before baking, as shown here.
https://www.shockinglydelicious.com/super-easy-cheater-pumpkin-muffins-3-ingredients/
Copyright Dorothy Reinhold | ShockinglyDelicious.com. All rights reserved.
Pin the image below for Cheater Pumpkin Muffins to your Pinterest board to save this recipe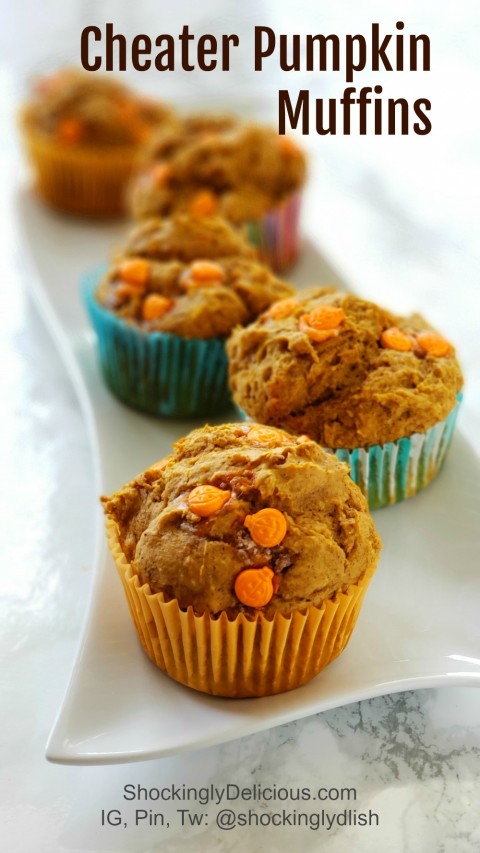 Thank you to #PumpkinWeek Sponsors: Dixie Crystals, Sweets & Treats, Torani, and Cabot Creamery Co-operative for providing the prizes free of charge. These companies also provided the bloggers with samples and product to use for #PumpkinWeek recipes. All opinions are my own.
A version of this recipe was originally published here Oct. 29, 2011, and has been refreshed, refined and republished today.
Here's what it a Cheater Pumpkin Muffin looks like with candied ginger on top! ↓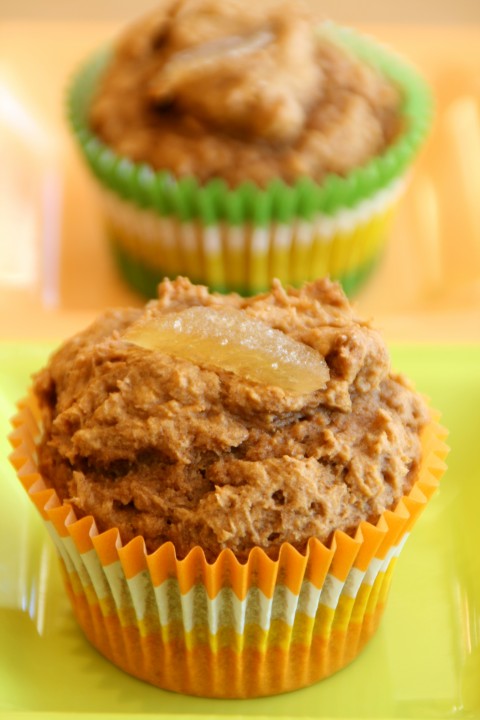 Thanks for visiting…are you hungry for more? Follow Shockingly Delicious on…
FACEBOOK | PINTEREST | INSTAGRAM | TWITTER
…for all the latest recipes, ideas and updates!
This post may contain affiliate/referral links. It is a way for this site to earn advertising fees (at no cost to you) by advertising or linking to certain products and/or services that I approve and prefer. Thank you for using my affiliate link to shop, so I can continue to bring you shockingly delicious recipes!