Print This Post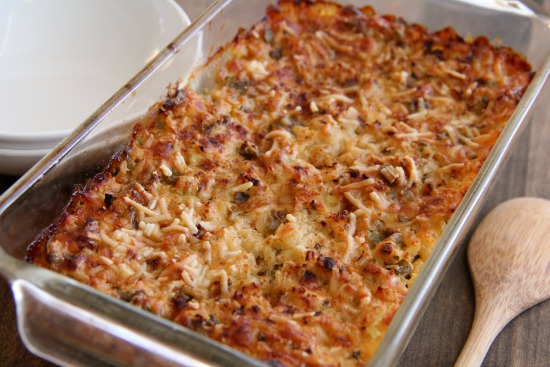 When the oven is on because I am baking something, I usually look around to see if there is something else I can bake as well, to be efficient.
A few times a year I crave this comforting, cheesy chile rice dish, and I usually have everything on hand for it so I can pop it into the oven easily. With leftover rice, it stirs up in just a minute, and offers eating pleasure far in excess of the effort put into it.
It is more than the sum of its parts.
When the people at Kerrygold sent me a package of excellent cheese, and asked if I could lighten up one of my favorite cheesy dishes by using their Reduced Fat Dubliner, I knew exactly which recipe to pull out.
Serve it as a side dish for dinner, or all by itself as a bowl of comfort for lunch.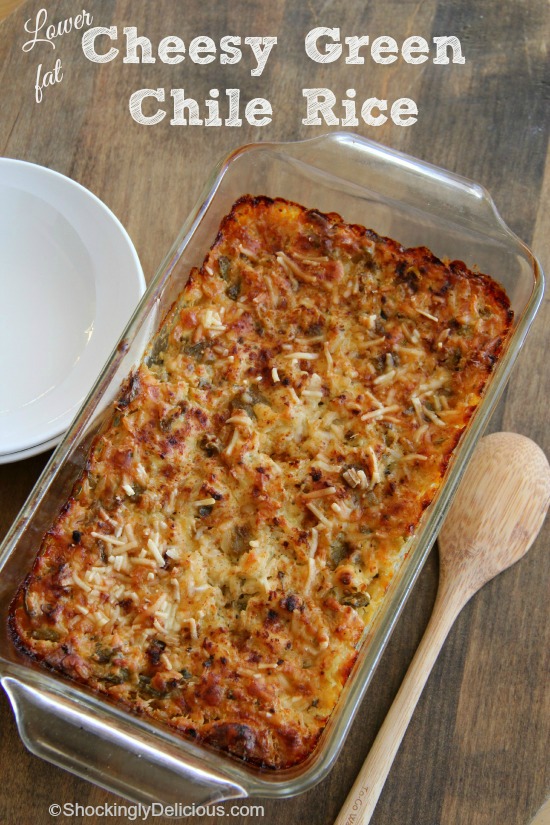 It's all about food and mood.
Recipe: Dorothy's Lower-Fat Cheesy Green Chile Rice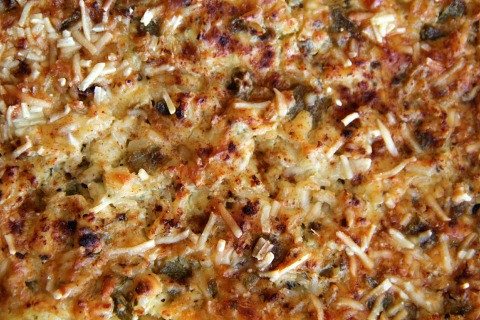 Summary: Cheesy rice, spiced with green chiles, garlic and cumin, and topped with a smoky dusting of paprika, is a comforting side dish or lunch.
Ingredients
1/2 cup uncooked brown rice; this = about 1 1/2-1 2/3 cup cooked brown rice
1 (4-ounce) can chopped green chiles (I used Hatch chiles I had roasted and frozen from September)
1 cup light sour cream (Daisy brand preferred) (I have also used Karoun Lite Labne Kefir Cheese with great results)
1 (7-ounce) package Kerrygold Reduced-Fat Dubliner cheese, shredded
1/4 cup grated Parmesan cheese, divided use
3/4 teaspoon dried oregano
1/2 teaspoon ground cumin
1 garlic clove, pressed or finely minced
1/4 teaspoon onion powder
Grinding of black pepper
Garnish: Smoked paprika or regular paprika
Instructions
Cook rice according to directions on package. Heat oven to 350 degrees. Spray a 9- by 5-inch baking dish (loaf pan) with nonstick spray and set aside.
In a large bowl, combine cooked rice, chiles, sour cream, cheese, 2 tablespoons Parmesan, oregano, cumin, garlic, onion powder and a few grindings of black pepper. Turn mixture into prepared dish, and sprinkle top with remaining 2 tablespoons Parmesan and a sprinkling of paprika, if you are using it.
Bake 60 minutes, until casserole is toasty brown on top.
Serves 4-5.
(Chile heads may wish to add a splash of hot sauce to their dish.)
The cheese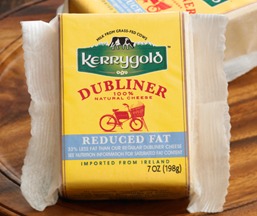 Dubliner is the flagship cheese of the Kerrygold brand, and the reduced-fat version has all of the flavor with 30 fewer calories and 33% less fat per 1-ounce serving. That works for me! If you've never tried Dubliner, now is a good time. Here is their description of this complex cheese: "It has a natural hint of sweetness, elements of a mature Cheddar, the deep, nutty taste of a Swiss and the piquant bite of an aged Parmesan. It is at once crumbly yet creamy with the aromas of fresh-baked bread layered with fresh buttermilk." Swoon. All Kerrygold cheeses and butter is made in Ireland with milk from grass-fed cows that are never given growth hormones. The cows are raised on small family farms (average herd size is 60).
Preparation time: 10 minutes
Cooking time: 1 hours
Diet type: Vegetarian
Diet tags: Gluten free
Number of servings (yield): 4-5
My rating 5 stars:  ★★★★★ 
Disclosure: Kerrygold sent the cheese for recipe development.
Save