Print This Post
I keep hearing that kale is over, that's it's so 15 minutes ago, that its time has come and gone.
Errr, wrong!
It's still here and going strong!
I brought this fresh kale salad to a Presidents' Day barbecue, and left with an empty dish and requests for the recipe. Even those who raise a skeptical eyebrow about kale were impressed.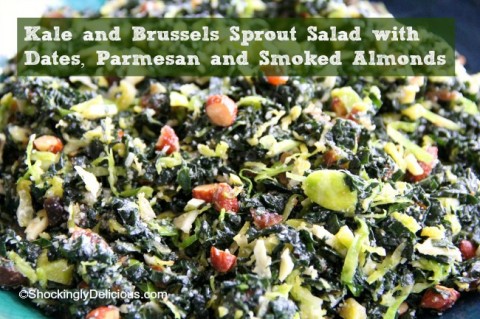 It's a winner.
Recipe: Kale and Brussels Sprout Salad with Dates, Parmesan and Smoked Almonds
Summary: All the important flavors – sweet, salty, smoky, slightly bitter — are present and balanced in this delicious fresh raw kale salad that is better the longer it sits.
Ingredients
2 bunches Lacinato (aka dinosaur or Cavolo Nero or black kale), stems removed
10 Brussels sprouts
Juice and zest of 1 Meyer lemon (about 3 tablespoons juice)
Juice and zest of 1 tangerine (about 2 tablespoons juice)
1/2 shallot, finely chopped
1 teaspoon honey
1/4 teaspoon kosher salt
1/4 teaspoon red pepper flakes
3 tablespoons extra-virgin olive oil
1/3-1/2 cup chopped Blue Diamond smoked almonds
10 Medjool dates, pitted and chopped
¼ cup grated Parmesan cheese
Instructions
Fill a large bowl in the sink with the hottest water that will come out of your tap. Push kale leaves into the water, swish around and walk away while you work on the rest of the recipe.
Trim stems and damaged outer leaves off Brussels sprouts and shred them or chiffonade cut them. Set aside.
In a large bowl, whisk lemon and tangerine juice, shallot, honey, salt and pepper.
Swish kale again and remove kale from the hot water (leaves will be bright green), shake off and dry well with a tea towel or spin dry in a salad spinner. Lay kale leaves (they will look like strips) onto a cutting board and cut thinly in a chiffonade cut (very fine slices, like a shred). Add to bowl with dressing. Add shredded Brussels sprouts to bowl with kale. Toss using your hands, or 2 big spoons, to make sure dressing coats all the leaves.
Let salad sit for at least 1 hour (can be left out at room temperature). Mix in olive oil.
If you are making the salad ahead of time, at this point you may even let it sit for the whole day, covered in the refrigerator. The kale and sprouts can stand up to it.
When you are ready to serve, mix in the almonds, dates and cheese.
Serves 6-8.
Preparation time: 30 minutes
Waiting time: 1 hours
Diet type: Vegetarian
Diet tags: Gluten free, Raw
Number of servings (yield): 6-8
Culinary tradition: USA (Nouveau)
My rating 5 stars:  ★★★★★ 
What are YOUR favorite add-ins to kale salad?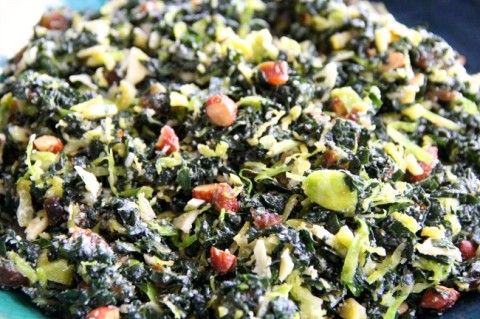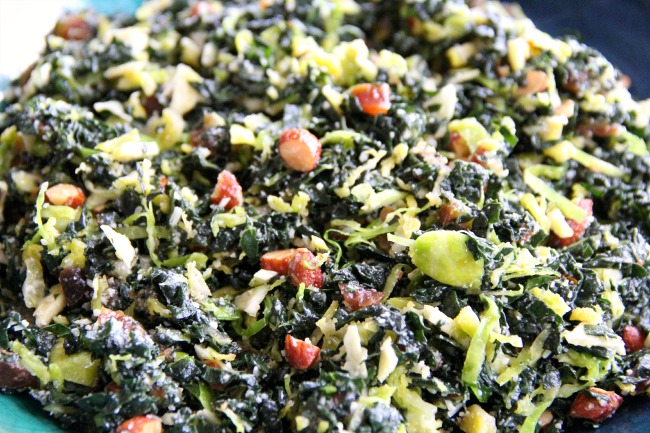 Disclosure: Blue Diamond sent the almonds in conjunction with the Olympics. They are supporting the U.S. Olympic Ski Team.