Print This Post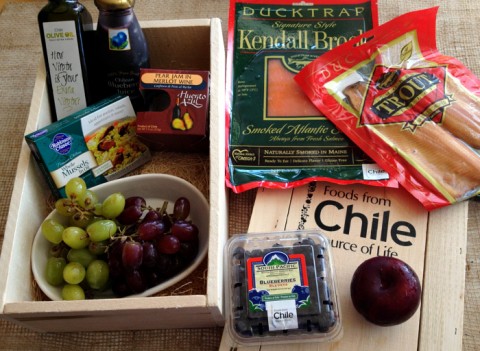 Foodie friends, help a girl out, would you? I just need a little help from my friends.
I got a "mystery box" delivered from Foods From Chile, and my challenge is to make a recipe from these foods.
Here's what came:
Bottled stuff:
Preserved fish:
Chilean mussels (in a can)
Smoked salmon
Smoked trout (77% of the imported trout in the U.S. is from Chile)
Fruits:
Blueberries
Red Grapes
Green Grapes
Plum
Prunes
Raisins
Yeah, that's a crazy delcious collection of food, but I know YOU can inspire me. Here's how you can help
Your job: Please put your culinary thinking cap on (seriously, I need help!) and submit a recipe idea based on my foods, on this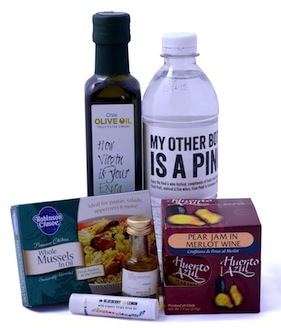 page, by Thursday (April 25). All that I need is an idea or recipe suggestion for the ingredients I've been shipped. If I or another Foods From Chile participant chooses your recipe or idea as our inspiration, you will win a gift crate!
My job: I go to the idea page and pick a recipe or inspiration listed there, and then make it! You'll see my final creation here on Shockingly Delicious on May 7, along with my public thanks to you for your winning idea, and, of course, you'll get a gift bag from the people at Foods From Chile.
So please help me. The idea doesn't have to use all the ingredients at once, and certainly other ingredients can be added in to flesh it out.
Then join us for a Twitter party on May 7, 2013 at 7 p.m. ET where we will unveil our recipes and discuss the inspiration (YOU!). We'll also give away another 5 Foods From Chile gift crates.
Ready, set, GO HERE AND TYPE IN YOUR RECIPE IDEA OR INSPIRATION FOR ME! 
Thank you, thank you, thank YOU!
I am being compensated for this post by Kitchen Play. Foods From Chile sent the mystery box of food for recipe testing.