Print This Post
Hawaiian Jambalaya Skillet is classic spicy rice joined by peppers, onions and sausage, and a tropical twist of pineapple and mango, for an easy weeknight dinner.
Laissez les bons temps rouler!
Let's practice our Cajun French, our Louisianaise if you will, even if it doesn't exactly kowtow to traditional rules of French grammar. Because we're going to Let the Good Times Roll, no matter what language we say it in. So say it with me: "less-say lay bohn tomh roo-lay."
Roll that r, start the party, make merry, and let the good times roll!
What is Mardi Gras and jambalaya?
Why are we rolling with the good times? It's the season of Carnival in New Orleans, which has been in full swing with parades and revelry during the past several weeks. It all leads up to Mardi Gras — the final day of feasting and fun, aka Fat Tuesday, which this year is Feb. 28. It is always on the last day before Ash Wednesday, when Lent begins. The idea is to eat rich, fatty foods before fasting for Lent.
And any Mardi Gras feast worth its green, purple and gold strings of beads will include the signature dish jambalaya, a New Orleans tradition. A meal in itself, jambalaya traditionally starts by sautéing a "holy trinity" of vegetables (celery, green bell peppers and onions), browning a variety of meats and/or seafood (chicken, sausages, pork, crayfish, shrimp), and adding seasonings, broth and rice for a final cook. When the rice is done, the jambalaya is ready.
It you're thinking "paella," you're not far off track, because jambalaya had its origins in rice-based dishes in the Mediterranean countries of Spain and France, and it's often thought of as New Orleans' own version of paella with evolutionary influences from French, Spanish, Caribbean and African cuisines.
It's party food — humble, fun and filling — and is endlessly adaptable to what you have on hand or would like to include.
Did someone say "adaptable" ? That's music to my ears. You don't have to ask me twice to tweak something. Tweaking is my middle name! (No, not twerking…get your mind out of the gutter in the French Quarter.)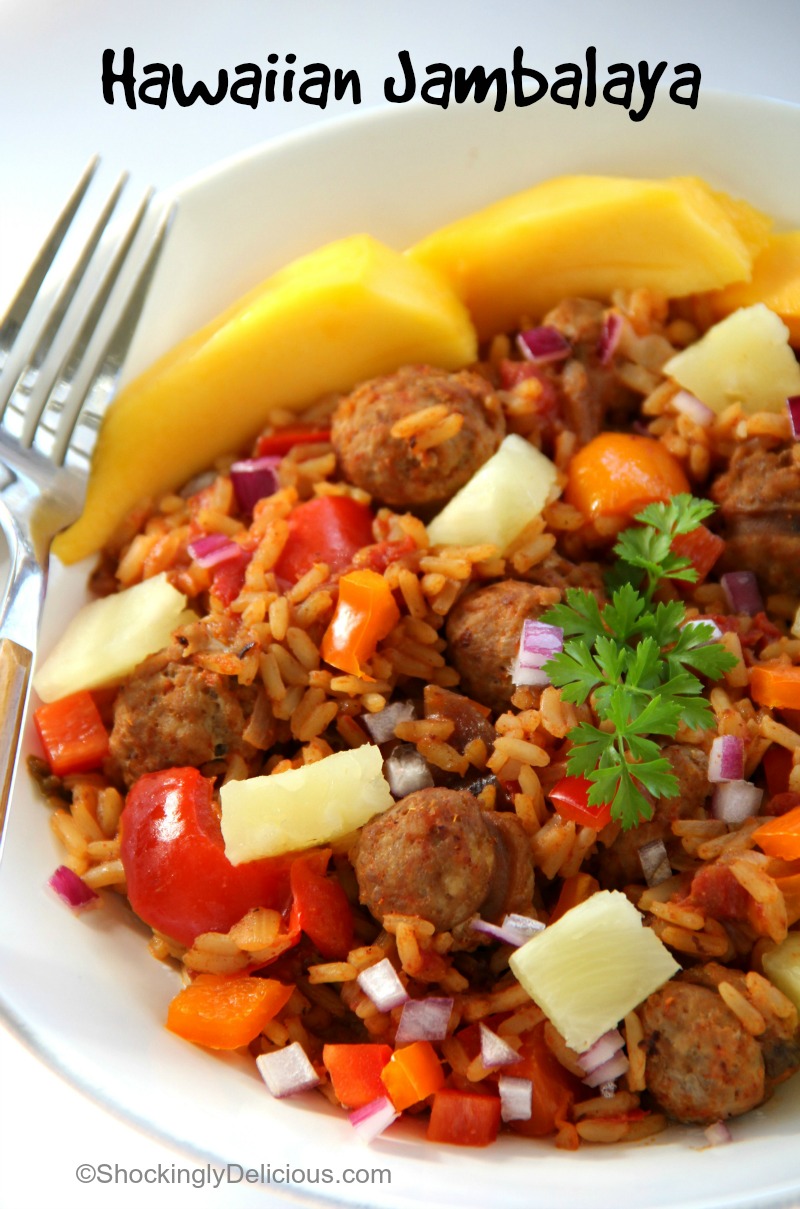 How to make Hawaiian Jambalaya Skillet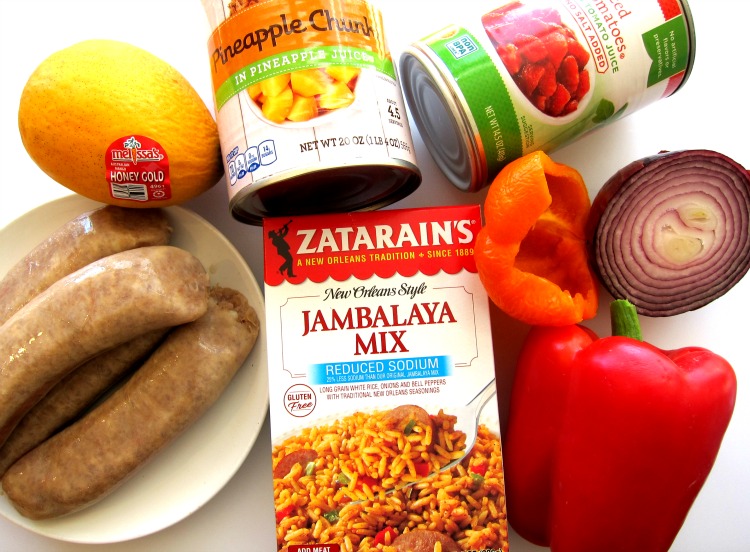 First, gather your ingredients. You'll need:
Purple onion
turkey sausage links
1 can diced tomatoes in juice (no-salt version)
1 box jambalaya rice mix (low-salt version)
1 red pepper
1 orange pepper
1 mango
1 can pineapple chunks in juice
I decided to do a quasi-Hawaiian spin on my jambalaya by fruiting it up with pineapple and mango, and I used a handy jambalaya rice mix (reduced sodium) to help me get dinner on the table in about 30 minutes. Even those of us living outside of Louisiana can feel a part of the Mardi Gras party.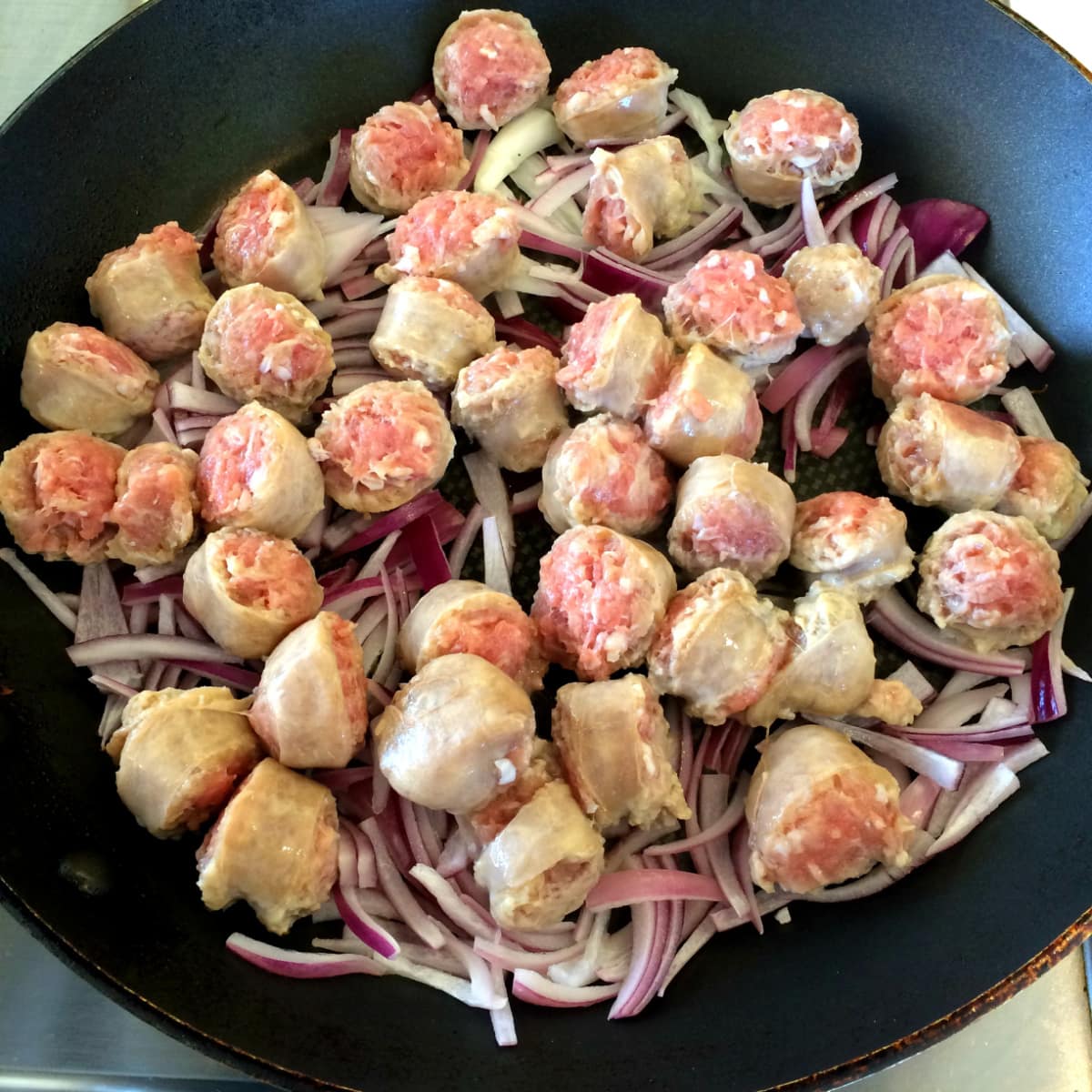 Saute the onion and sausage in the skillet for a couple of minutes, to brown the sausage.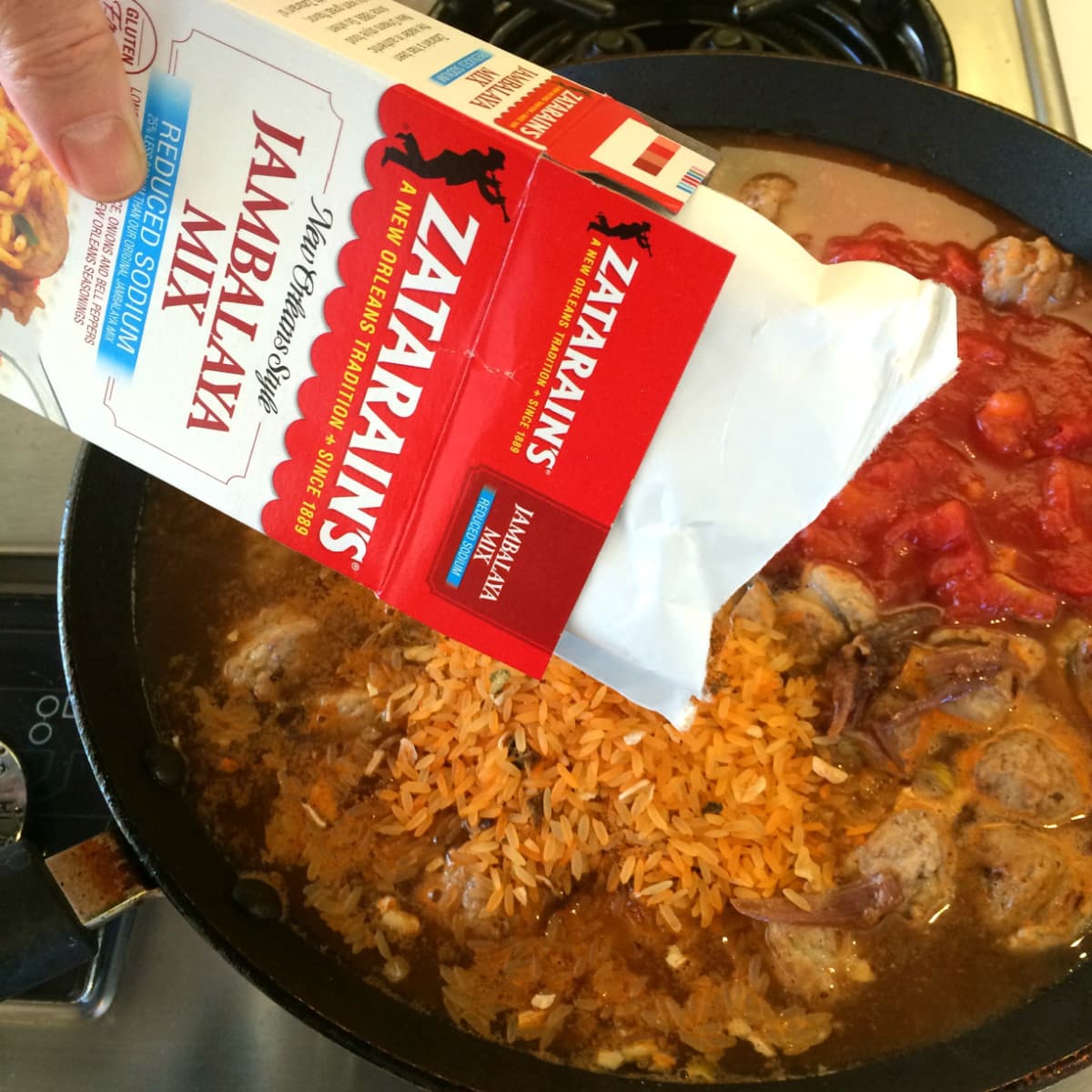 Add water, tomatoes and the rice mix, stir, cover and simmer.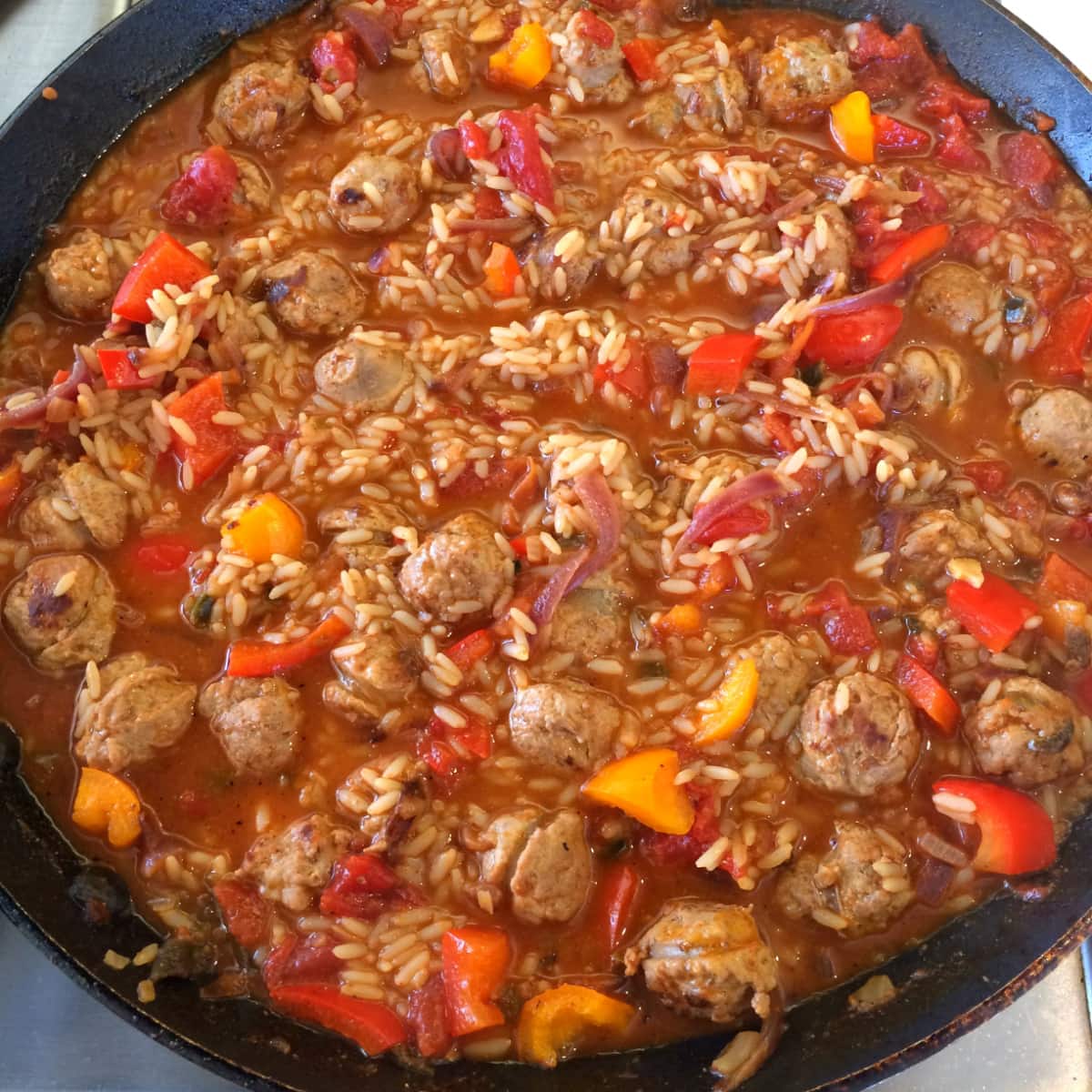 Add chopped peppers and cook a few minutes more.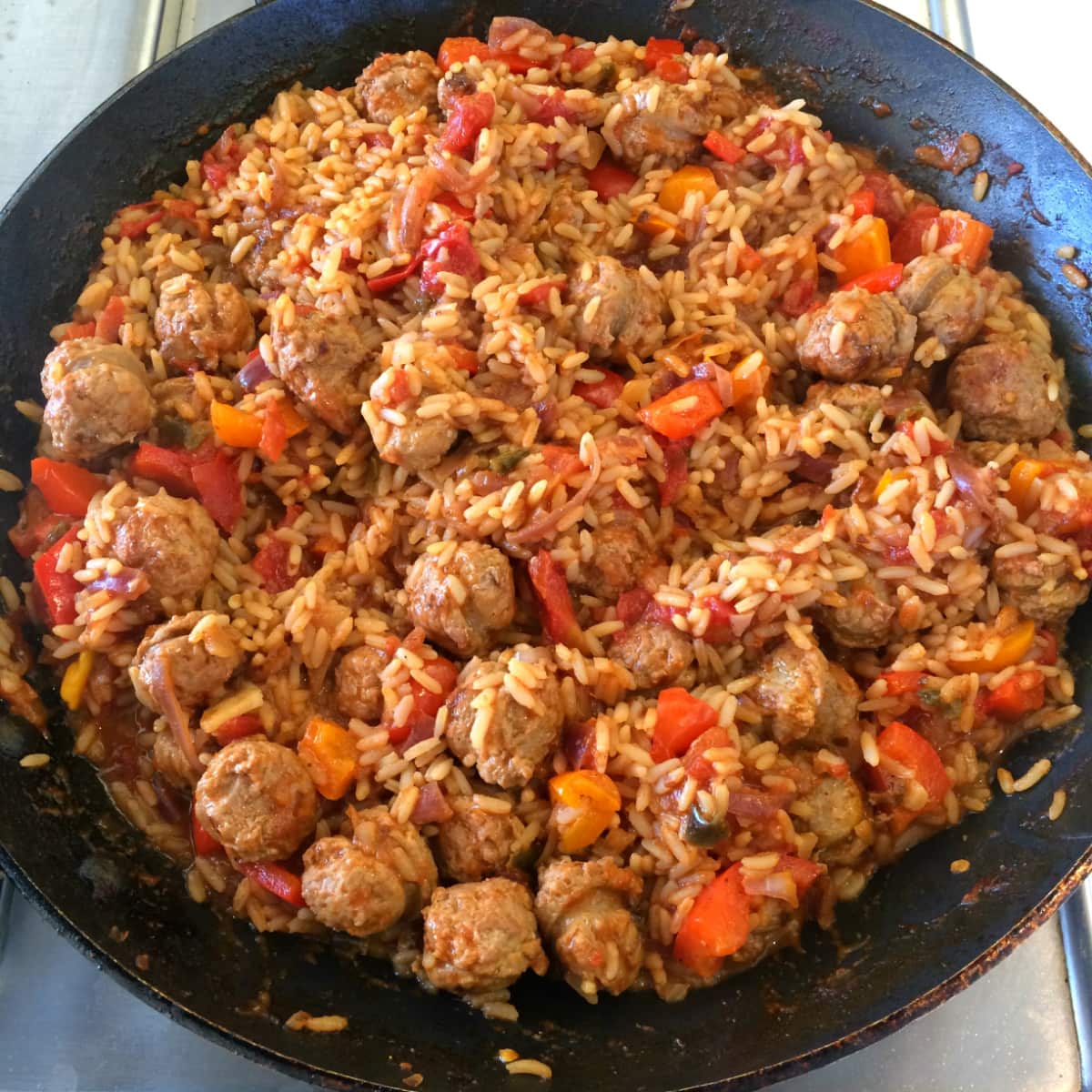 Remove lid to check if rice is done, then it's ready to spoon into bowls.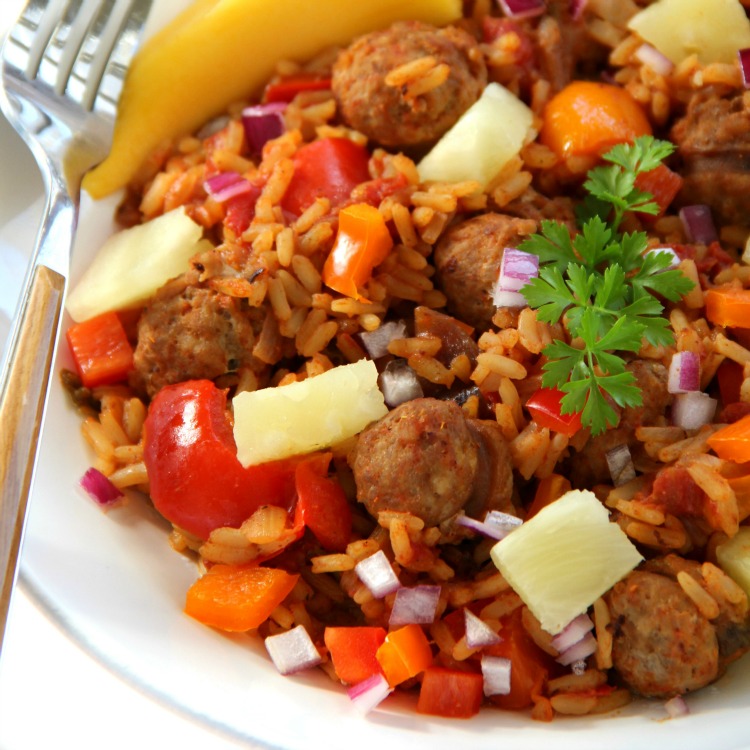 We'll garnish with fresh mango, pineapple chunks, and some reserved onion and peppers for a fresh crunch.
Laissez les bons temps rouler! The party starts here!

Hawaiian Jambalaya Skillet is classic spicy rice joined by peppers, onions and sausage, with a tropical twist of pineapple and mango for fun!
Ingredients
1 purple onion, chopped (reserve some for garnish
1 (1-1 1/4-pound) package Italian Turkey Sausage (5 links), each link sliced into 8 pieces
2 cups water
1 (14.5-ounce) can Diced Tomatoes in Juice, no-salt added version preferred
1 (8-ounce) box jambalaya rice mix (reduced-sodium version preferred)
1 red pepper, chopped (save some for garnish)
1 orange pepper, chopped (save some for garnish)
.

Garnish

Mango, peeled, seeded and sliced
1 (20-ounce) can pineapple chunks in juice, drained (save juice to drink or use later)
Reserved purple onion
Reserved red and orange pepper
Sprigs of parsley
Directions
Heat a large skillet on medium heat. Add onion and sausage and cook, stirring a few times, for 5-7 minutes, until the sausage is slightly browned and the onions are cooked.
Add water, the can of tomatoes and its juice, and the rice mix. Stir to combine, cover, turn heat down to lowest and simmer for about 15 minutes. Remove lid, add chopped red and orange peppers, replace lid and simmer another 10 minutes.
Remove lid, taste to see if rice is done, and take pan off heat.
Serve in bowls with your choice of garnishes. We like a sprinkling of the reserved chopped onion and red and orange peppers (for fresh crunch), and a few slices of fresh mango and chunks of pineapple. Stick a sprig of parsley in there if you dare.
Serves 4-6, depending on appetites.
Notes
Recipe source: Dorothy Reinhold | Shockingly Delicious
https://www.shockinglydelicious.com/hawaiian-jambalaya/
Copyright Dorothy Reinhold | ShockinglyDelicious.com. All rights reserved.
Pin the image below for Hawaiian Jambalaya Skillet to your Pinterest board to easily save this recipe
Want more Shockingly Delicious skillet meals?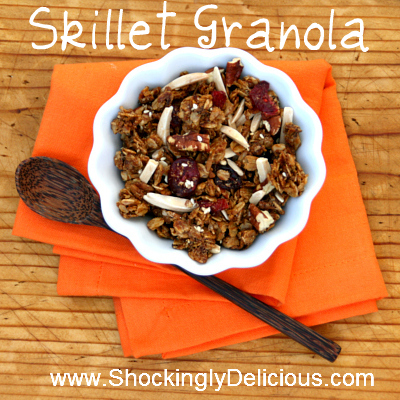 Skillet Granola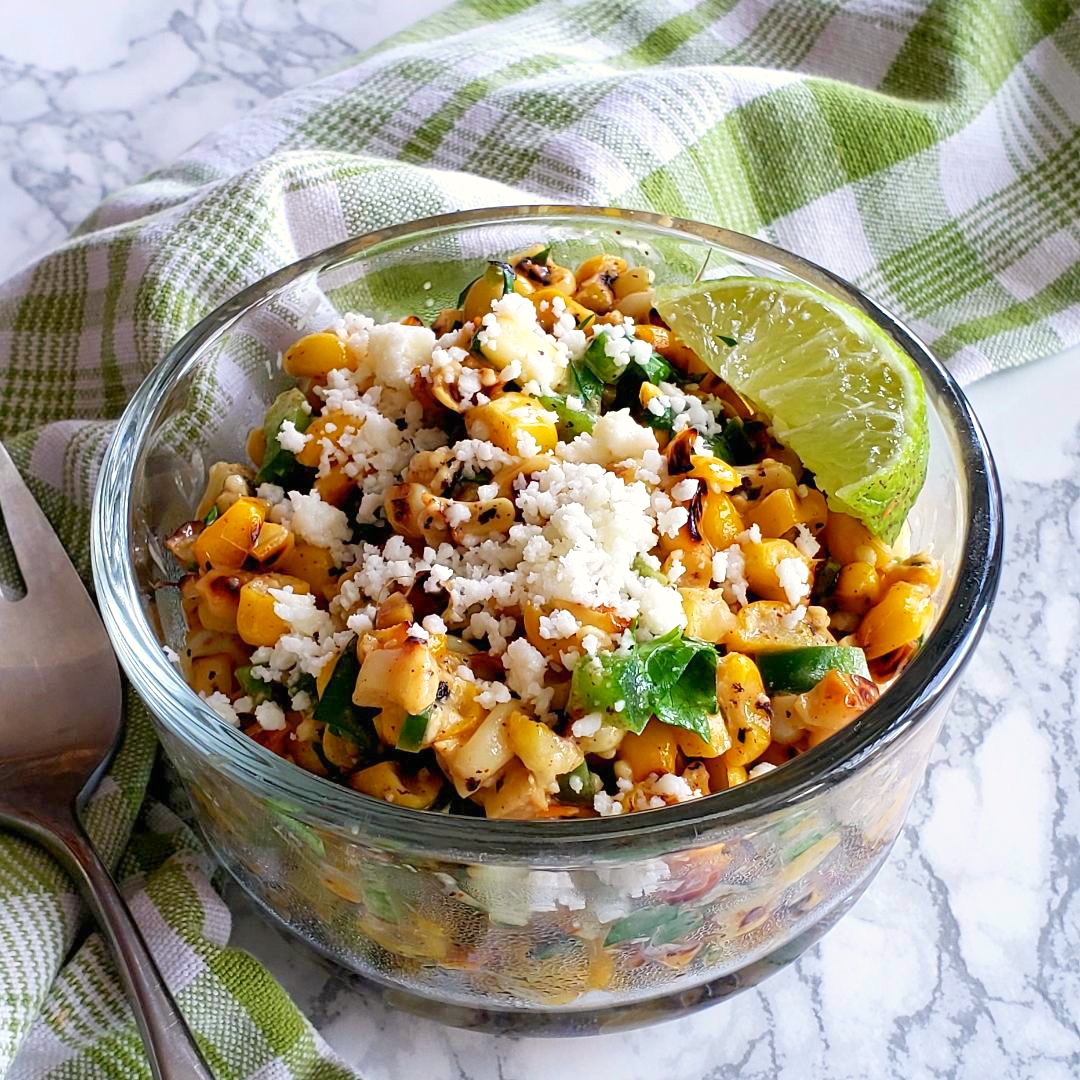 Skillet Esquites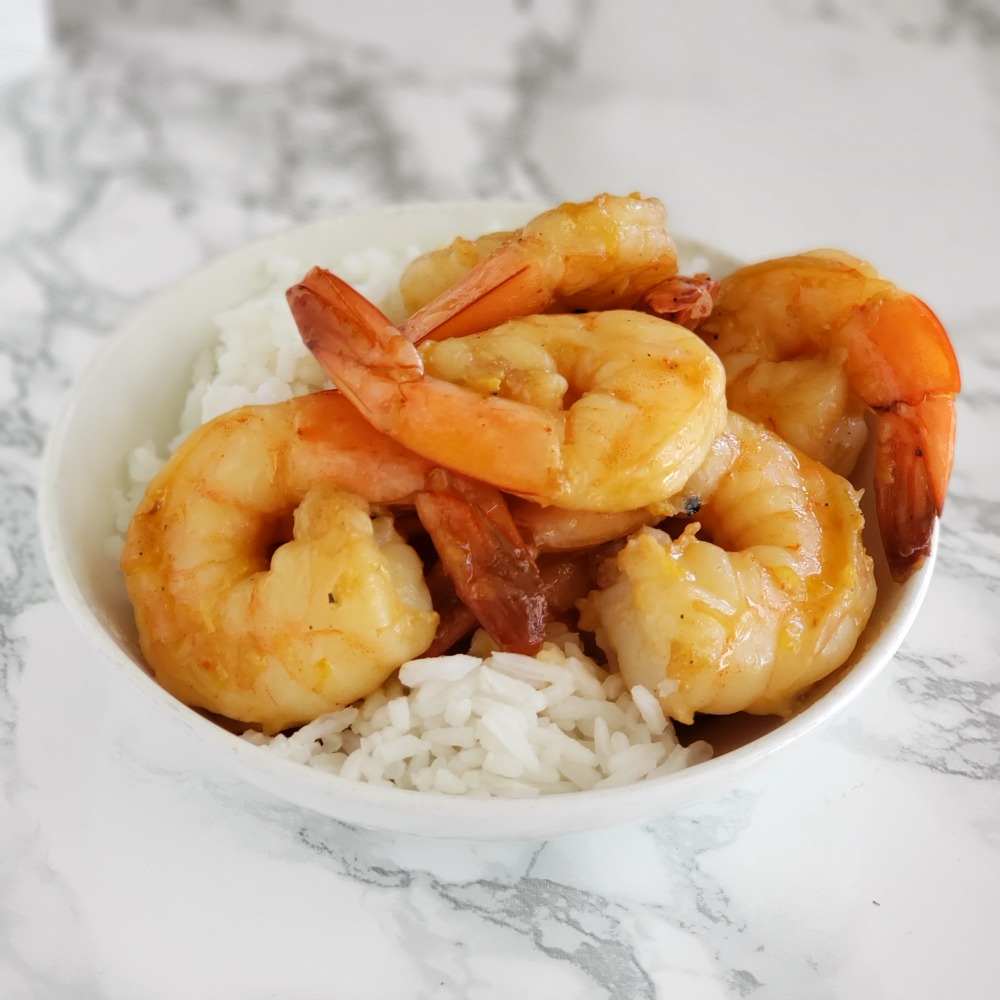 Weeknight Skillet Shrimp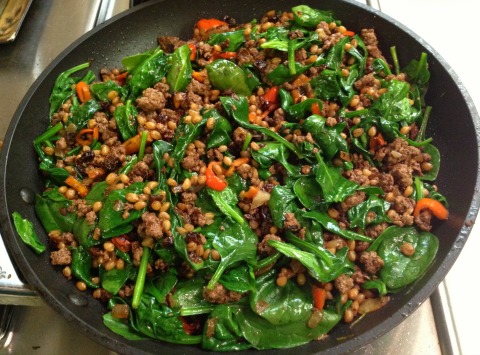 Ground Lamb Skillet with Spelt, Spinach, Rosemary and Raisins
Save
Save
Save
Save
Save
Save
Save
Save
Thanks for visiting…are you hungry for more? Follow Shockingly Delicious on…
FACEBOOK | PINTEREST | INSTAGRAM | TWITTER
…for all the latest recipes, ideas and updates!
This post may contain affiliate/referral links. It is a way for this site to earn advertising fees (at no cost to you) by advertising or linking to certain products and/or services that I approve and prefer. Thank you for using my affiliate link to shop, so I can continue to bring you shockingly delicious recipes!