The truth is, in Southern California along the coast, we can barbecue outside all year long. This doesn't mean it's warm enough to eat outside all year long, though. It just means there isn't a blanket of snow covering the grill, and it's likely not raining.
So you can hate us for being able to fire up the grill if we want to in December and January. But it's during spring, summer and into the autumn that we really take advantage of our outdoor spaces, just like the rest of the country. So no need for too much envy, because we're all doing the same thing at the same time.
So here we are, solidly in June, and BBQ season is finally here! What should you make on your grill to inaugurate the season?
I'm in the camp that can make a meal out of all the BBQ side dishes. Let me pile on my plate the salads, the grains, the vegetables and dips, the bite-sized appetizers and a forkful of dessert of course, and call it dinner. Sure, I like a burger as much as anyone, but given my druthers, I might skip it and go to town on everything else.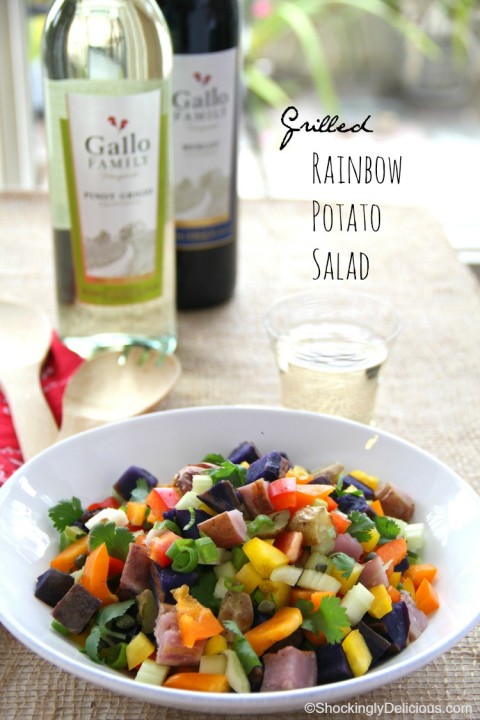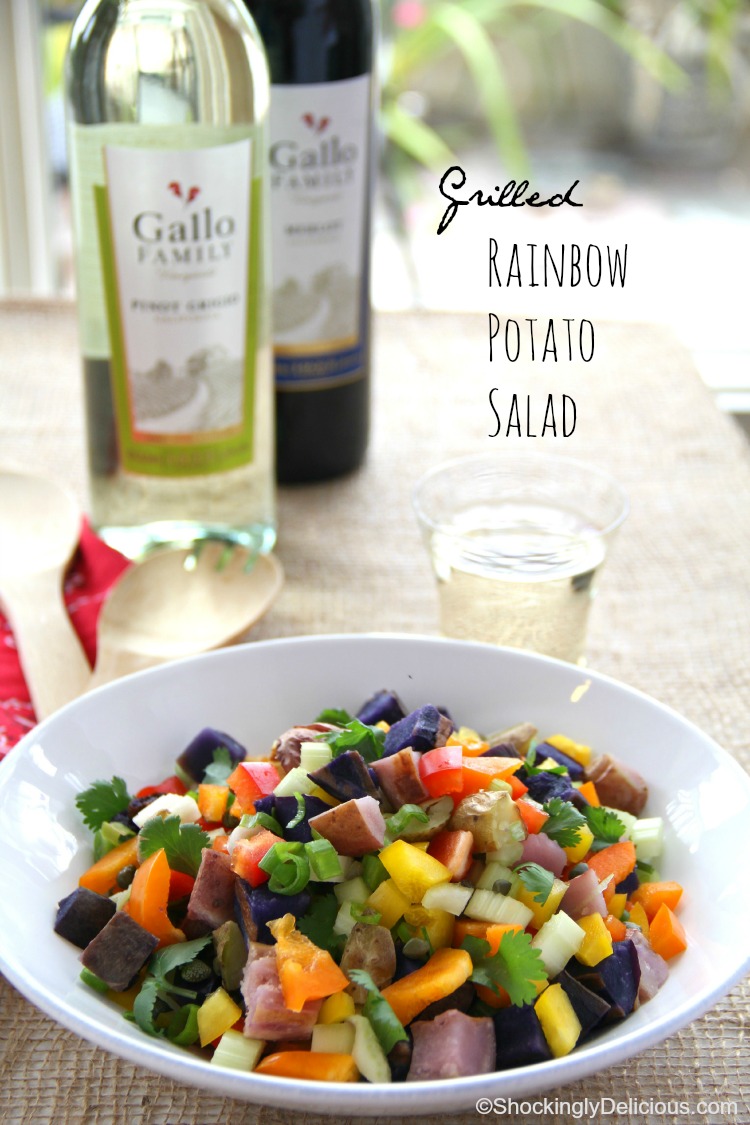 So today I'll give you a recipe that will take you through the summer and beyond. It will be perfect alongside nearly anything else you want to serve as a main course — burgers, grilled chicken, steaks, brats — but it can stand in as a main dish for those who are vegetarian or vegan.
I'm calling it Grilled Rainbow Potato Salad because when I created the recipe, I found myself adding Roy G. Biv foods (red, orange, yellow, green, blue, indigo and violet). Isn't that some fun inspiration for cooking?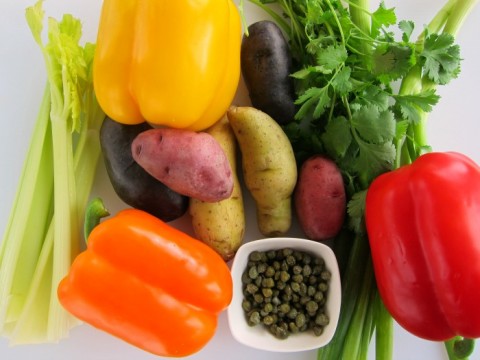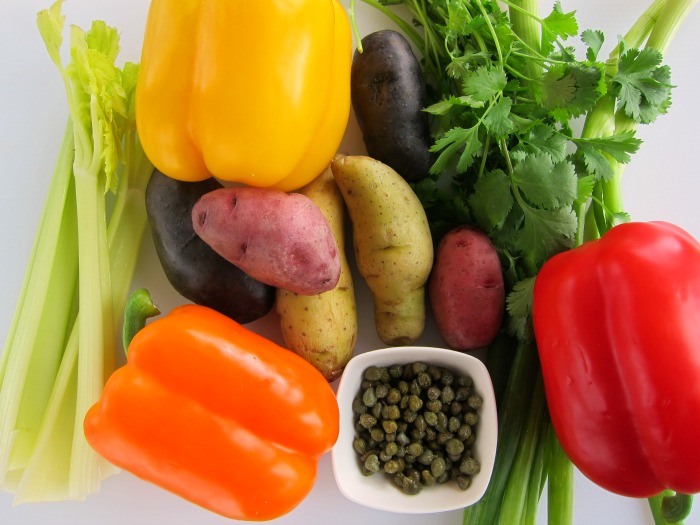 It can be made ahead, too, so it isn't one of the last-minute things that will clog your mind the day of your shindig.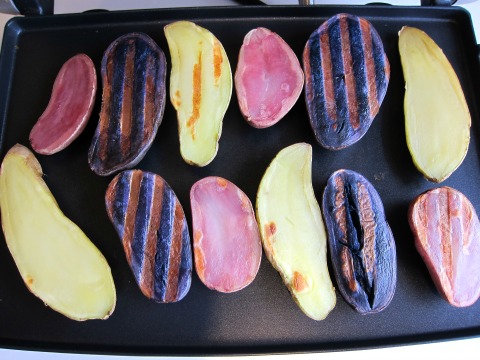 And if you have any leftovers (you won't, but I'm just sayin'), you could heat it up for breakfast or lunch and top it with a fried or poached egg.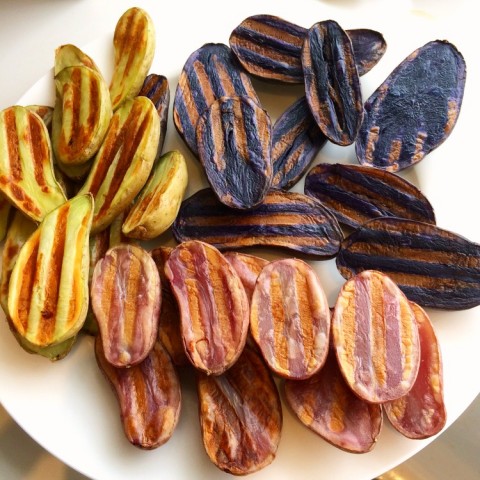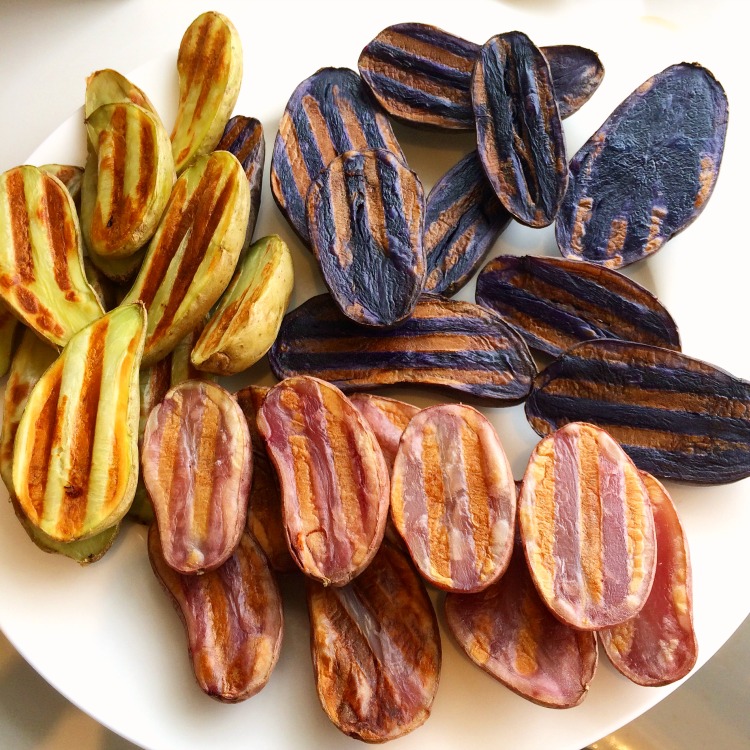 You have my permission to tweak this recipe any way you like.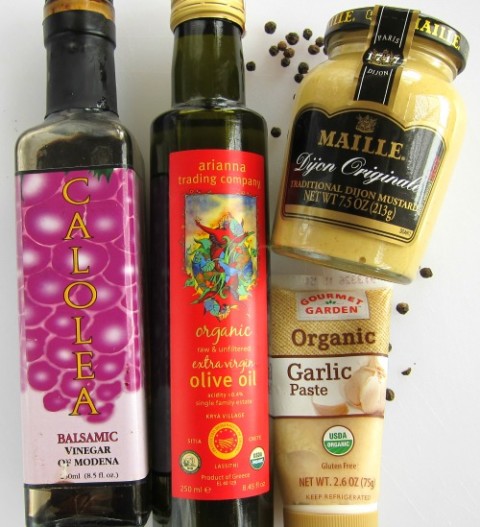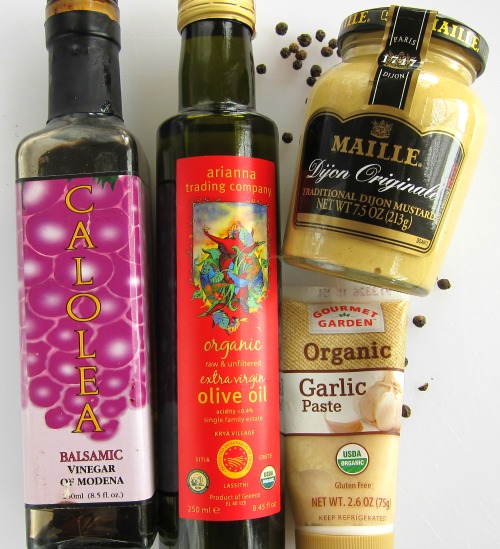 Go ahead and add some bacon to it if you want; I won't judge. (Just don't label it vegetarian or vegan then.) And if you don't like an ingredient, leave it out or sub something else. Don't like red peppers? Sub red radish slices. Hate cilantro? Sub Italian parsley.
The point is, you can make it your own by putting your own stamp on it.
Just make it!
Grilled Rainbow Potato Salad
A no-mayo, potluck-friendly potato salad chock full of colorful spuds and vegetables, for the best side dish at the BBQ.
Ingredients
1 3/4 pounds tri-colored Idaho fingerling potatoes (skin on), cut in half lengthwise
4 tablespoons drained small capers
3-4 ribs celery, thinly sliced
2-3 green onions, thinly sliced
1/2 red bell pepper, cut into small dice
1/2 yellow bell pepper, cut into small dice
1/2 orange bell pepper, cut into small dice
1/4 cup chopped fresh cilantro

Dressing

1/4 cup extra-virgin olive oil
2 tablespoon balsamic vinegar
1 tablespoon Dijon mustard
1 teaspoon crushed garlic
Grinding of fresh pepper
Directions
Make salad:

Place potatoes in a microwave-safe container with a lid, and microwave them for 5 minutes on full power. Remove, drain any water that has accumulated, remove lid, and set aside.
Heat panini press, and when hot, add potato halves, cut side up. Close lid and cook for 5 minutes. Remove to a plate, when done, and allow to cool while you work on the rest of the recipe. (If all potato halves didn't get grill marks, remove those that did, and continue to cook the rest for another minute or so until they get nice grill marks.)
To a large bowl, add capers, celery, onion, bell peppers and cilantro. Dice potatoes and add to salad. Stir gently to combine.

Make dressing:

In a separate bowl, whisk oil, vinegar, mustard and garlic until well mixed and slightly thick (the mustard will emulsify the dressing). Pour over potato salad and mix gently. Grind some fresh pepper over top, mix again. (You might not use all of the dressing for this salad. If so, save remainder in the refrigerator for a tossed green salad later.)
Place in a nice serving bowl.
Serves 6.
Notes
Recipe source: Dorothy Reinhold | Shockingly Delicious
https://www.shockinglydelicious.com/grilled-rainbow-potato-salad/
[2]
Copyright Dorothy Reinhold | ShockinglyDelicious.com. All rights reserved.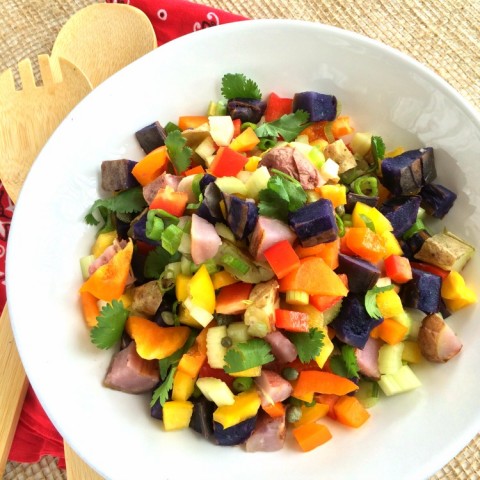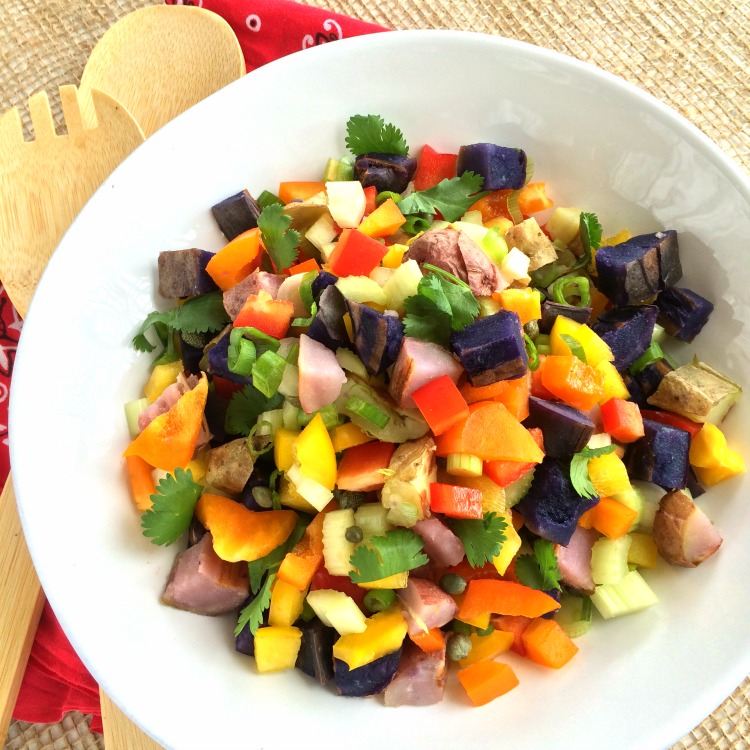 This week our #SundaySupper blogger crew is celebrating
Backyard BBQs and Potlucks
[3]
, sponsored by
Gallo Family Vineyards
[4]
. We're pairing our dishes with Gallo wines this week, and for barbecues and outdoor grilling, I like to rely on two wines that are approachable, go with nearly everything and should satisfy all your guests.
 Gallo Pinot Grigio [5], with its crisp taste hinting of apple and citrus, is my first choice for this grilled spud salad. It will cut through the rich, smoky grill flavors, be a counterpoint to the sweeter roasted vegetables, and pair with the slightly acidic dressing.
If you're a red lover, I suggest Gallo Merlot [6], a smooth sipping wine with hints of cherry, plum and oak. It can handle everything from pasta to grilled meats and vegetables. Either of these wines should go with everything on your plate, with ease.
You can find Gallo wines widely available in your grocery store (or use their store locator here [7]).
Today's Sunday Supper recipes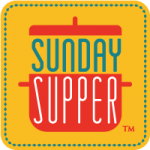 Meanwhile, check out our collection of 20 recipes we have lined up for you today from the talented Sunday Supper cooks. Try my Grilled Rainbow Potato Salad, or choose another recipe from the menu below to serve around your family table. I have my eye on the Bacon, Strawberry and Farro Salad, a bite of the Creamy Asparagus Puffs, the Citrus Grilled Chicken (I'll have a thigh, please) and of course the S'More Cookie Cups for dessert. And that's just for my first round.
Appetizers:
Main Dishes:
Sides and Salads:
Desserts:
BBQ Helpful Info:
Join us around the family table for #SundaySupper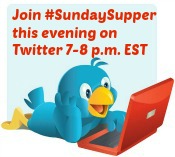 [28]
Twitter how-to

: Follow the #SundaySupper hashtag throughout the day on Twitter to see our recipes. To join the conversation anytime, simply use the #SundaySupper hashtag to share your favorite tips and recipes.
Pinterest: Check out our #SundaySupper Pinterest board [29] for more recipes and photos.

Join

: To join the Sunday Supper Movement, sign up by clicking here → Sunday Supper Movement [30].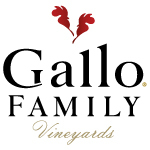 Disclosure: Compensation was provided by Gallo Family Vineyards via Sunday Supper, LLC. The opinions expressed here are those of the author, and are not indicative of the opinions or positions of Gallo Family Vineyards. Gallo would love it if you connected with them on Facebook [31] | Twitter [32] | Instagram [33] | YouTube [34]. I enjoy chatting with them on their social media about wine pairings with my recipes; they're good with an answer if you are waffling.