Print This Post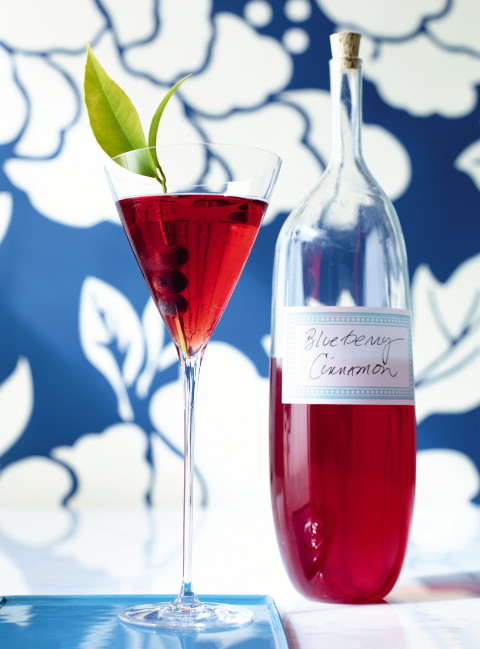 The official annual day of giving may be over, but a gift from the kitchen is always welcome!
So I am poring over a new cookbook, "Homemade Liqueurs and Infused Spirits," by Andrew Schloss (2013; Storey Publishing). The subhead tells it all – "Innovative Flavor Combinations, plus Homemade Versions of Kahlua, Cointreau and Other Popular Liqueurs."
In my case, that popular liqueur would be St. Germain, an herbal-floral French liqueur made from wild elderflowers hand-harvested in the French Alps. It is expensive nectar of the Gods, and I have my eye on the Elderflower Blush copycat in this book. Now to scare up airfare so I might hand-pluck my own elderflowers! 😉
Liqueurs are what put the orange zing in your margarita and the coffee jolt in your mudslide. The book has 159 recipes for both liqueurs and unsweetened infused spirits, plus 80 recipes for cocktails that use those liqueurs. If you can't find a favorite flavor in here, you simply aren't thirsty.
I'm eyeing Ginger-Peach Sake, Sweet Almond (a less sweet copycat of Amaretto), Orange Blossom (made with dried jasmine or honeysuckle flowers, which seems like a possible long-lost cousin to my St. Germain), and Caramel Cordial. I might have to recruit new friends to help me drink all of those! Hellooooo…girls' night!
Most of these recipes can be made in as little as a few days up to a few weeks, so your gratification is not too delayed.
Start now.
Recipe: Blueberry Cinnamon Liqueur
Summary: Blueberry Cinnamon Liqueur has a beautifully balanced flavor and a gorgeous color. Imagine a sip of this with a lemony dessert or drizzled over cut fruit.
Ingredients
2 pints blueberries, stemmed, or 1½ pounds frozen blueberries, thawed
1 cup Simple Syrup (see easy recipe below)
1 fifth (750 ml/3¼ cups) light rum (80 proof)
4 cinnamon sticks, smashed into shards
Instructions
Muddle the blueberries and simple syrup with a wooden spoon in a half-gallon jar. Stir in the rum and cinnamon.
Seal the jar and put it in a cool, dark cabinet until the liquid smells and tastes strongly of blueberries, about 7 days.
Strain the mixture with a mesh strainer into a clean quart jar. Do not push on the solids to extract more liquid.
Seal and store in a cool, dark cabinet. Use within 1 year.
Makes 1 quart.
Source
"Homemade Liqueurs and Infused Spirits," by Andrew Schloss (2013; Storey Publishing; $18.95). Photo copyright Leigh Beisch Photography. Photo and recipe used with permission. The publisher sent a copy of the book for review.
Make Your Own Simple Syrup!
Simple Syrup
2 cups water
2 cups granulated cane sugar
Mix the water and sugar in a small saucepan. Bring to a boil over medium-high heat. Stir to make sure sugar is completely dissolved, then remove from heat and let cool. Refrigerate up to 3 months.
Preparation time: 5 minutes
Cooking time: 5 minutes
Diet type: Vegetarian
Yield: 1 quart
Culinary tradition: USA (Nouveau)