Print This Post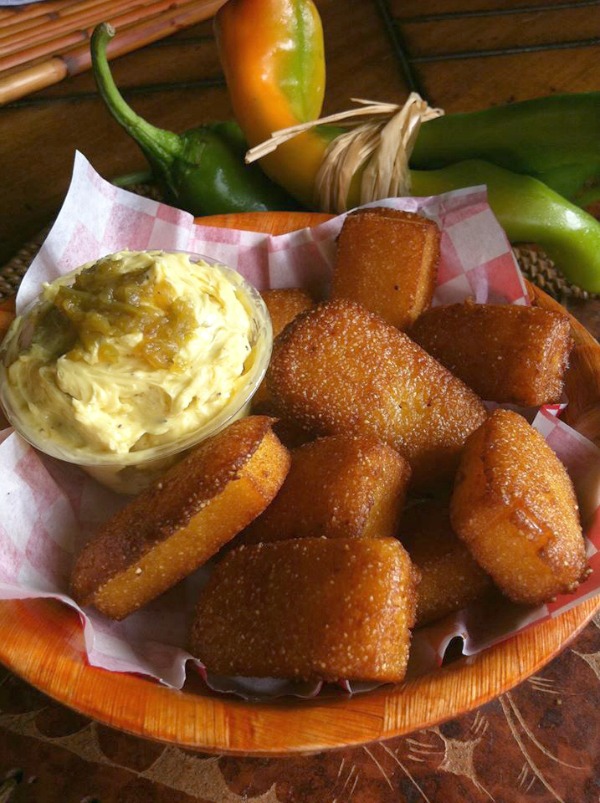 Hatch Chile Butter gets a flavor jolt from garlic and roasted Hatch chiles, to lift it into memorable territory. Use on corn bread, corn on the cob, baked potato, popcorn or grilled steak.
In the midst of a season of excitement about the Hatch chile, one of the people most excited about these flavorful chiles is Margie Hodges of Tub's Fine Chili & Fancy Fixin's, a small, folksy restaurant in Culver City, Calif. (Note from Dorothy 8-20-19: This restaurant closed after owner Rick passed away in June 2017.)
What, you never heard of Hatch chile season? It's right now, through September, and then those beautiful green Hatch chiles, which are grown only around Hatch, New Mexico, will disappear for another year.

Margie roasts the Hatch to use in her Hatch Chile Garlic Butter, which is served to complement her cornbread Hushpups at the restaurant.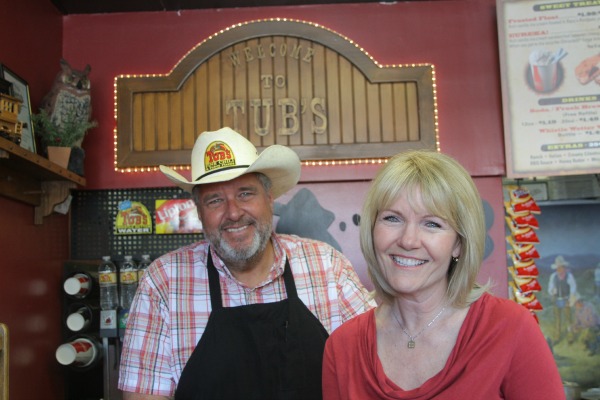 She's the "BossMama" to husband Rick Hodges' "Rancher Rick." He really does wear a cowboy hat at the restaurant, they really do say "yee-haw" and their home-cooked, countrified, hole-in-the-wall storefront restaurant is 100% charming.
Margie recently won a ShockD Hatch Chile Prize Pack supplied by Melissa's Produce, which included a Hatch Cookbook, fresh Hatch, dried Hatch chile powder and whole dried chiles. Margie promptly put the ingredients to use in her butter.
Make her easy flavored butter to go with your corn bread, or to dab onto your corn on the cob or baked potato, or put a bit on your steak just as it comes off the grill. Margie also suggests you try it on popcorn!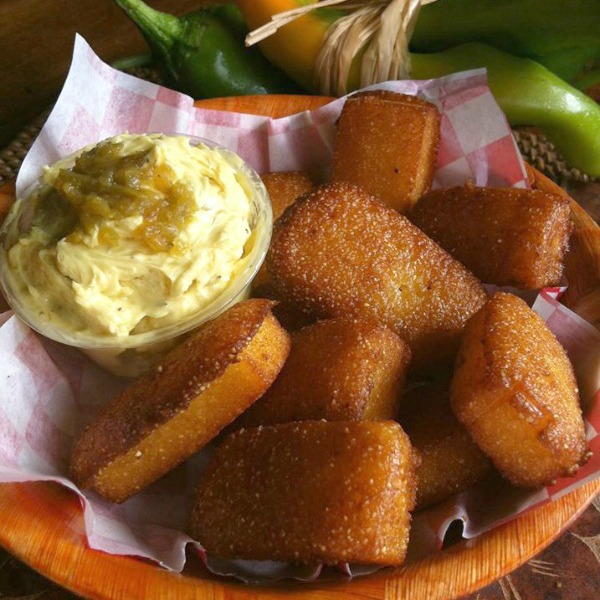 What to do with Hatch Chile Butter
1. On cornbread
2. Corn on the cob
3. Baked potato
4. Popcorn
5. A pat on top of grilled steak
6. On top of a waffle, to take it in a savory direction
BossMama's Garlicky Hatch Chile Butter
Butter gets a flavor jolt from garlic and roasted Hatch chiles, to lift it into memorable territory. Use on corn bread, corn on the cob, baked potato, popcorn or grilled steak.
Ingredients
1 pound unsalted butter (allow to soften at room temp; you may use salted butter if you wish)
4 tablespoons pureed hot roasted Hatch chile peppers
4 cloves roasted garlic
1 teaspoon spicy salt (Tony Chachere's)
½ teaspoon salt (if using salted butter, add this to your personal taste)
1 teaspoon Melissa's Hatch Chile Powder
1/4 teaspoon turmeric (used for color; can omit)
1/4 teaspoon cayenne pepper
1/2 teaspoon fresh lemon juice
1/2 teaspoon fresh lime juice (plus some zest)
Directions
Beat softened butter with other ingredients until well incorporated. Scrape into a lidded container, chill in refrigerator and let flavors meld.
Makes about 1 pound.
Can be stored for 4 weeks in refrigerator or 3 months in freezer.
Notes
Recipe source: Margie Hodges of Culver City, Calif.
https://www.shockinglydelicious.com/garlicky-hatch-chile-butter/
Copyright Dorothy Reinhold | ShockinglyDelicious.com. All rights reserved.
Pin the image below for Garlicky Hatch Chile Butter to save it to your Pinterest board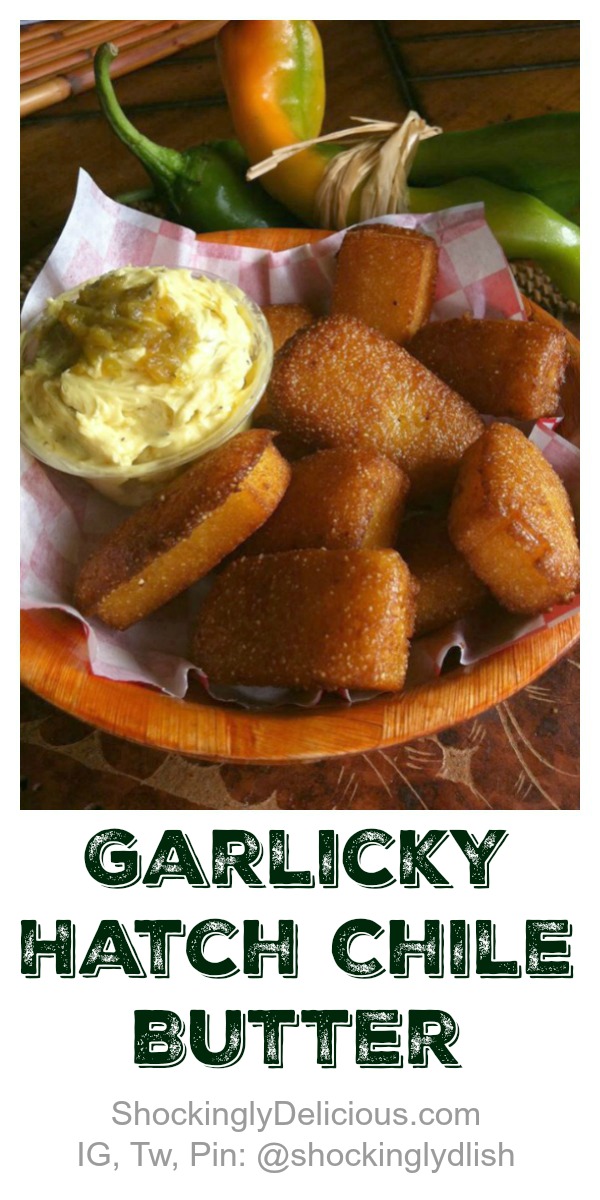 Other Hatch Chile recipes on Shockingly Delicious
Thanks for visiting…are you hungry for more? Follow Shockingly Delicious on…
FACEBOOK | PINTEREST | INSTAGRAM | TWITTER
…for all the latest recipes, ideas and updates!
This post may contain affiliate/referral links. It is a way for this site to earn advertising fees (at no cost to you) by advertising or linking to certain products and/or services that I approve and prefer.
This post was originally published on Shockingly Delicious Aug. 30, 2014 and has been updated and republished Aug. 20, 2019.