Print This Post
Some of us have/had mothers who are/were fabulous cooks.
Some had moms who made reservations instead of dinner, or took advantage of that miracle of its mid-century time, the Swanson TV dinner.
No matter, the Food Bloggers Los Angeles group got together to celebrate our sweet moms. We cooked their favorite dishes, made recipes that honored their spirits, and told tales about their kitchen prowess or pranks, whichever the case might be.

This is our motley crew delicious and talented group!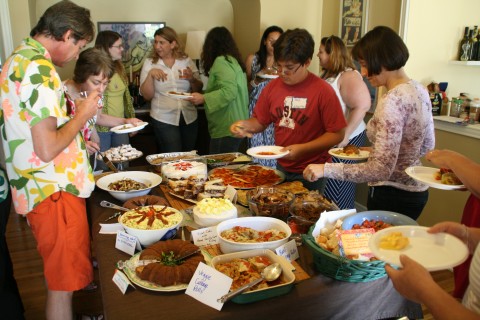 The only thing we like better than cooking is eating other people's food! We are not shy about digging in.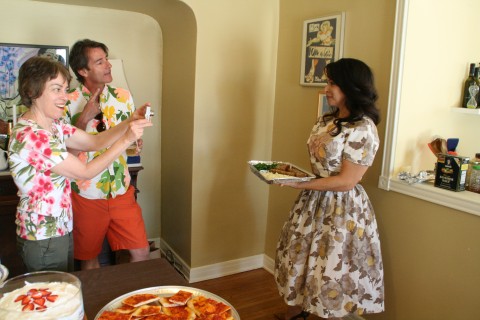 And even more than cooking and eating, we like to take pictures of our food AND each other! This is Adair Seldon capturing Louise Mellor's '50s vintage glamour, while Greg Henry looks on.
Behold, our offerings for your Mother's Day feast, no matter how you choose to celebrate.
See something you like? You can find links to the recipes from the potluck at the bottom of the post.
Nibbles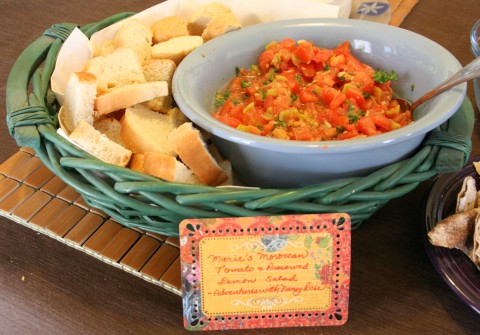 Nancy Eisman of Adventures with Nancy Rose brought a  Tomato & Preserved Lemon Salad.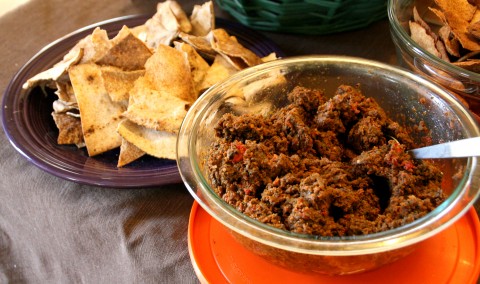 Liz Alexanian of Cook L.A. brought Whole Wheat Pita Chips with Sun-Dried Tomato and Black Olive Tapenade.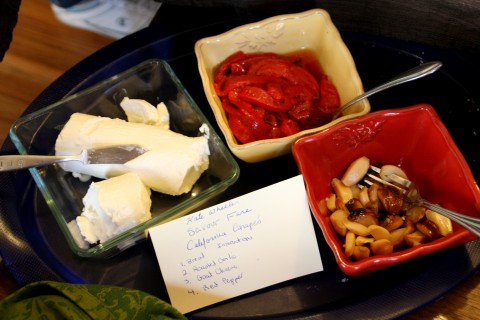 Kate Wheeler of Savour Fare recreated her mother's signature California Canapes appetizer of baguette with roasted garlic, goat cheese and roasted red pepper.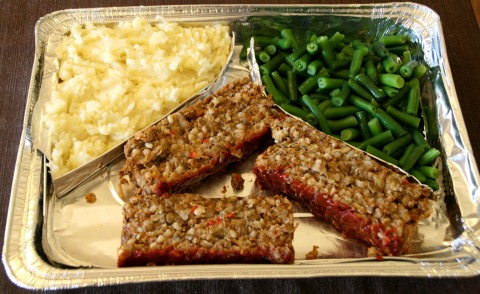 Adair Seldon of Lentil Breakdown reinterpreted her mother's classic TV dinner, complete with a hand-made oversize foil tray, mashed taters, green beans and (what else?) lentil loaf! We crowned hers the funniest potluck offering.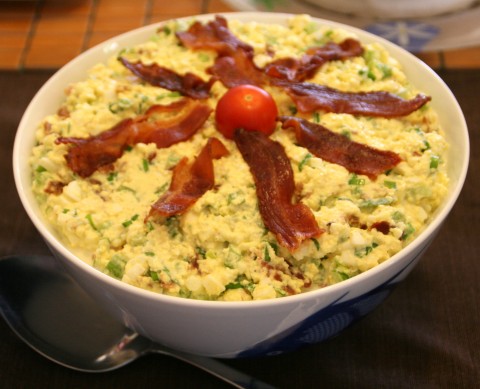 Erika Kerekes of In Erika's Kitchen brought a Bacon and Egg salad. The hidden secret? A little more bacon fat. Mmmm…
Andrew Wilder of Eating Rules brought his mom's Four-Bean Salad, which he recalls as even more delicious after sitting in the fridge for a few days.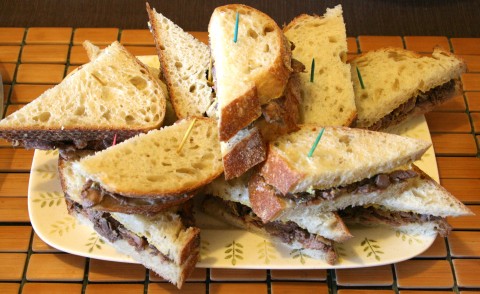 Host Judy Lyness of Two Broads Abroad made beef shank sandwiches with butter and mustard on sourdough bread, an homage to her mom, who sent her to school with homemade lunches — always delicious, but often admittedly underappreciated.
Christina Conte of Christina's Cucina brought simple, elegant pizza.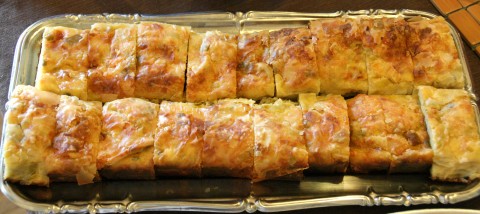 Lana Watkins of Bibberche brought a Leek and Cheese Strudel, or Leek Pie, as she calls it.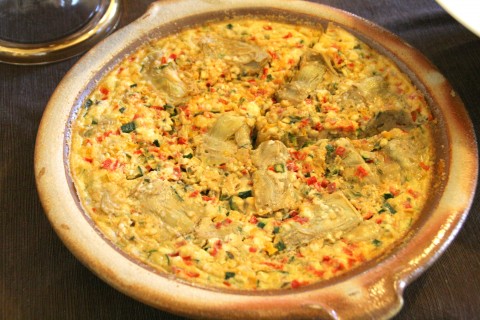 Greg Henry of Sippity Sup paid tribute to his late mother by making her Savory Clafouti.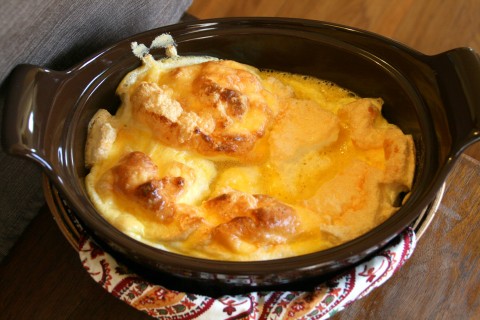 Ellen Rosentreter of Within My Means brought an airy Cheese Souffle.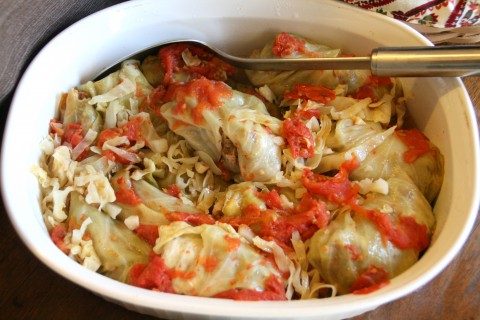 Debbi Dubbs of Debs Kitchen brought her mom's stuffed cabbage rolls.
Sweet endings
Of course, no potluck is complete without dessert.  And we had our share of them!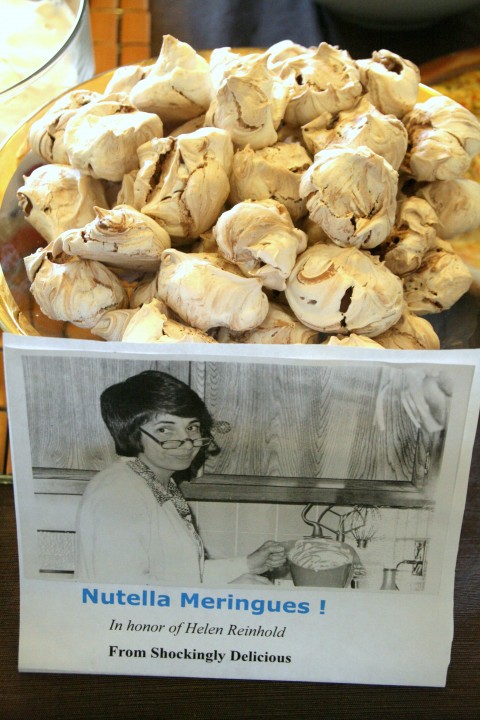 I brought Nutella Meringues as a thank-you to my mom for teaching me to cook. That's her in our circa-'70s avocado green kitchen!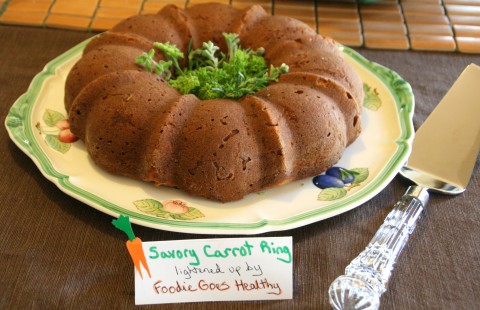 Dana Shrager of Foodie Goes Healthy lightened up an heirloom Savory Carrot Ring, which could be either a savory cake or a not-too-sweet dessert.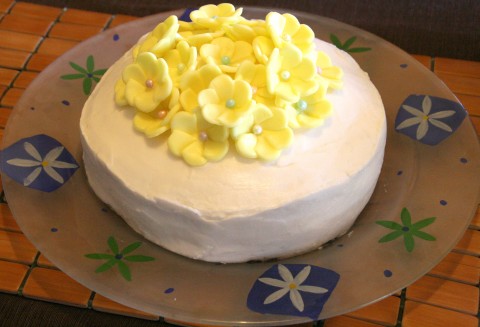 Pamela Braun of My Man's Belly created a Violet Cake with Marshmallow Fondant Flowers.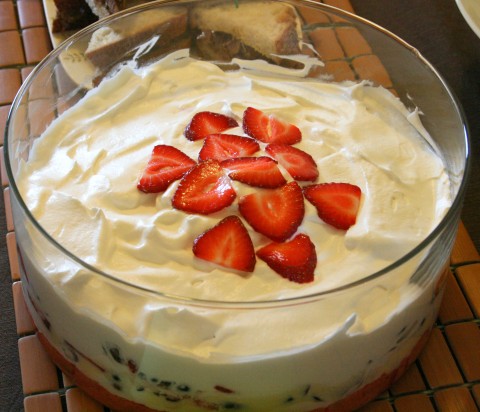 Photographer Christina Peters of MDR Photography Classes brought Trifle, made with homemade pound cake, freshly whipped cream and strawberries. (I beg her forgiveness for my less-than-stellar shot of her gorgeous dessert. No doubt I need to take her class.)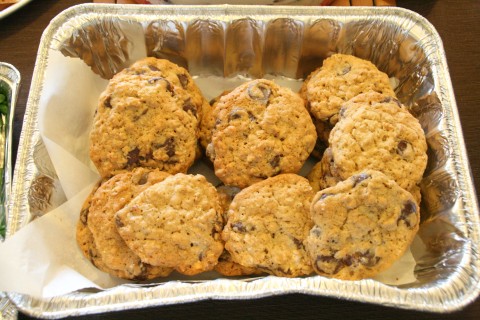 Tori Avey of The Shiksa in the Kitchen made Chocolate Chip "Coco" Cookies.
Last but definitely not least, we had a Triple Chocolate Bundt Cake made by Deena Wachtel of Stay at Home Foodie.
Would you like to see the recipes? We thought so…