Print This Post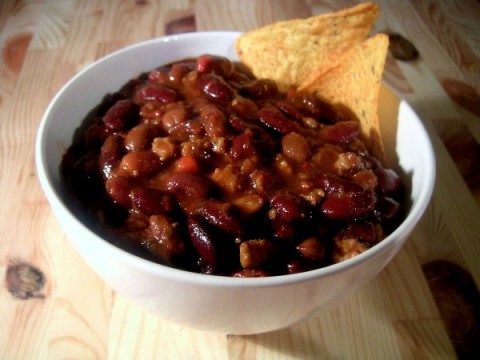 Summer went out with a bang in one Malibu neighborhood, as the Mariposa Circle gang fired up for a chili cookoff.
My friend Linn Griffin won the friendly competition with her mother-in-law's recipe. Her MIL, Sue Griffin of the Nashville, Tenn. area, is known as "Oo-Hoo" by her grandchildren. (Sue-Sue = Oo-Hoo when toddlers attempt to say it!) Family favorites rule the day, don't they?
How does a chili cookoff work?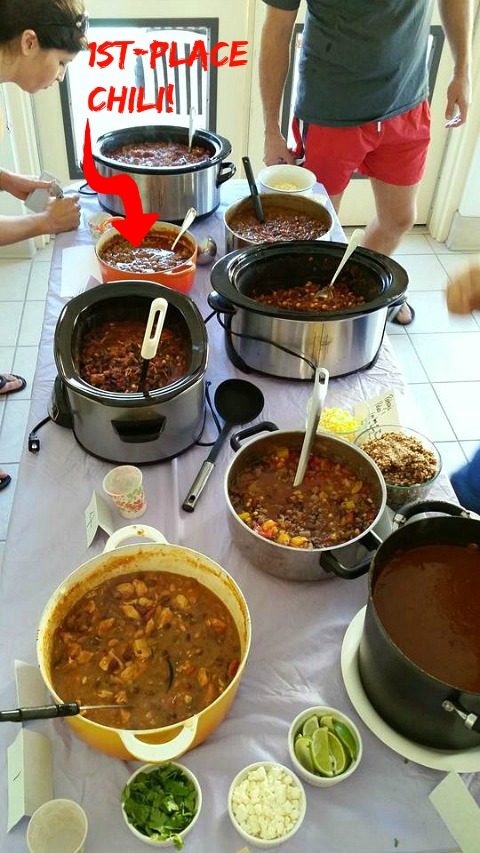 The neighbors assembled their crocks and pots and kettles. There were about 15 entries in this 2nd annual cook-off. Dig in!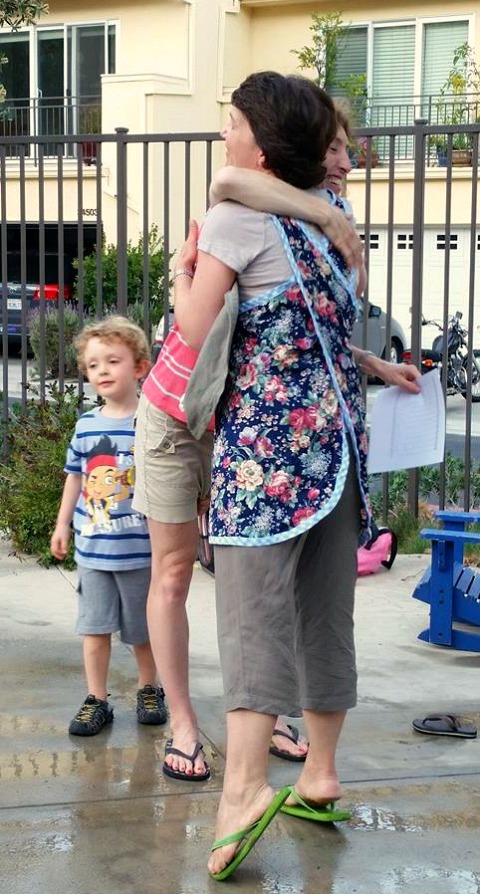 Voting was by little paper ballot, tucked into a nearby Dixie cup. A young man tabulated, the winner was declared (that's Linn in her homemade apron, being hugged). Rest assured, there were no hanging chads on these ballots. (Young folks, that reference might pre-date you. Poli-Sci majors, look it up!)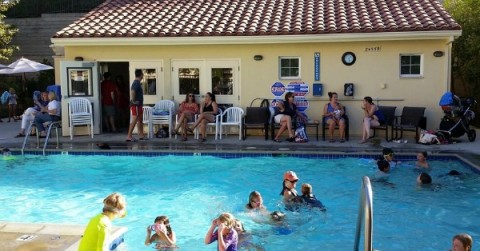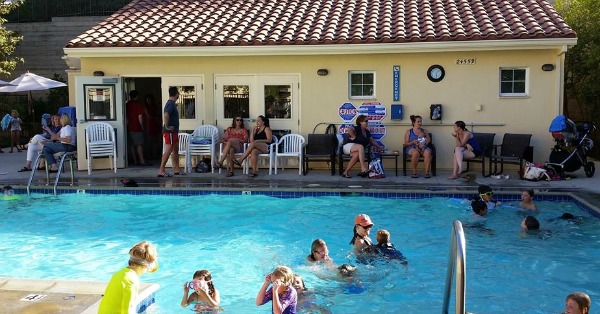 A little swimming just had to be done, though.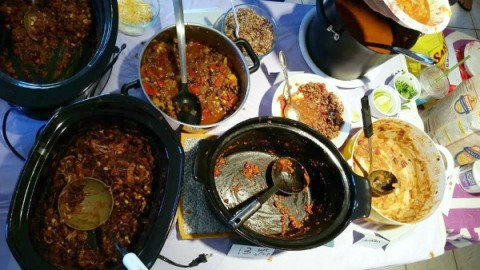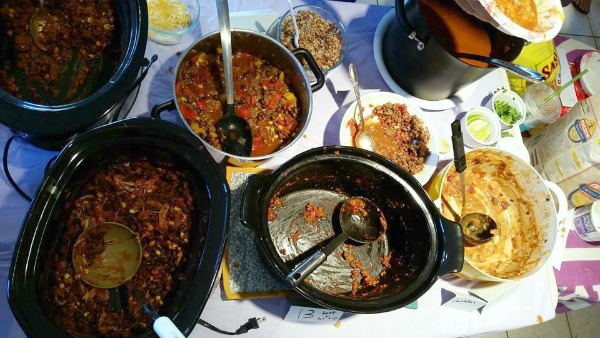 2nd place was a vegetarian chili by Cindy Colburn, and 3rd place was a tri-tip and ground beef chili by Lyndsey Weisenberg. And what was for dessert? Tums!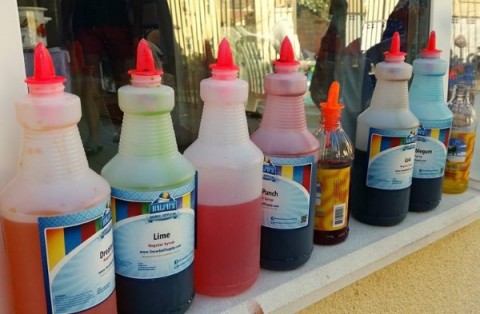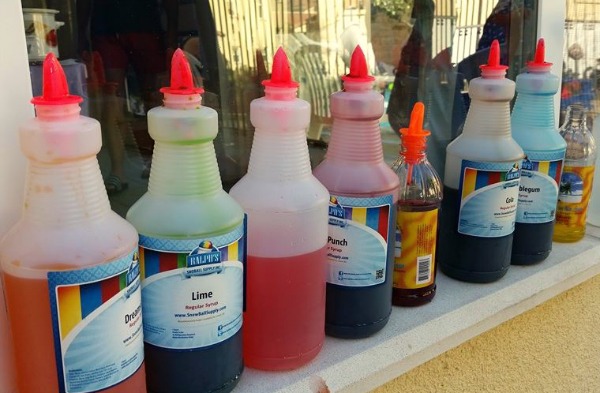 Or maybe a snow cone.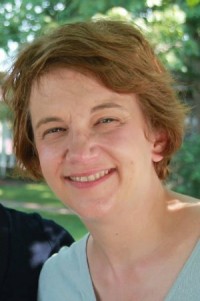 The pleasures of chili are simple. Linn says she makes this chili each year for Christmas dinner, since they don't travel for the holiday and she likes to have something easy so she can just enjoy the day.
Thinking back, Linn said, "This is one of the first things I ever had when I visited their home in Tennessee, oh, it must have been 20 years ago, but I specifically remember it. I liked it. At my house, we ate chili plain or on rice, but I liked that they ate theirs on top of spaghetti, and Sue would get those canned tamales and serve them on the side."
That's how she serves it now, only with more authentic California-bred tamales. "We love to eat our chili atop cooked spaghetti, with a tamale thrown in for an extra kick. I also like how the chili clings to the cooked spaghetti really well," she said.
Yum, is all I have to say.
How do YOU eat your chili?
First-Place Chili: Oo-Hoo's Tennessee Treat (Sue Griffin's Chili)
A classic meaty chili with just a few beans won first prize at a local Malibu neighborhood chili contest.
Ingredients
2 pounds ground beef (85/15 is good, or leaner if you prefer)
1 large onion, chopped
2 cloves garlic, crushed/chopped fine
1 green pepper, chopped
2 (8-ounce) cans tomato sauce
1 (8-ounce) can water
1 tablespoon chili powder (whatever brand you like)
1/4 teaspoon cayenne
1/2 teaspoon black pepper
1/2 teaspoon oregano
1/2 teaspoon cumin
1 teaspoon salt
1 can kidney beans (Linn's preference is pinto)
Directions
Brown meat, onion, green pepper, and garlic. Add the rest, cover the pot but leave the lid just slightly ajar, and simmer for about an hour, until you're satisfied!
The chili is best the next day, so cool it, store in the refrigerator, and simmer another hour before serving the next day.
Serves 6-8.
Notes
Recipe source: Linn Griffin, who credits her mother-in-law, Sue Griffin of Tennessee, for the recipe.
https://www.shockinglydelicious.com/first-place-chili-at-the-chili-cook-off/
Copyright Dorothy Reinhold | ShockinglyDelicious.com. All rights reserved.
Photo credits: Party photos by Brad Griffin. Lead photo by Carstor from Wikimedia.