Print This Post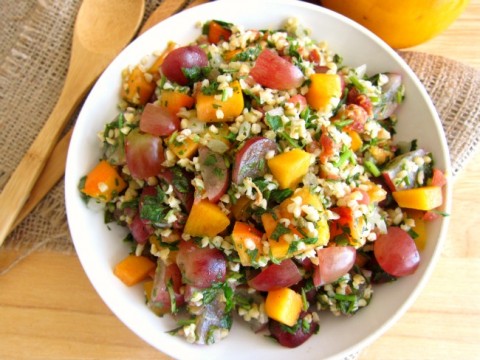 Do you ever buy little tubs of deli-type foods and taste them, and think they could use just a bit of a little somethin'-somethin'?
This tabbouli is fine as-is, with perfectly classic ingredients, but I wanted to make it a main dish for lunch, so I started amping it up with a few things I had. Use what you have, I always say. Try something out, and see what happens!
In this case, a combo of two perfectly seasonal fruits — grapes and persimmon — added sweetness and crunchy texture to the salad, and a pinch of crumbled bacon added smokiness and a bit of chew.
Suddenly, it turned from weekday to WOW!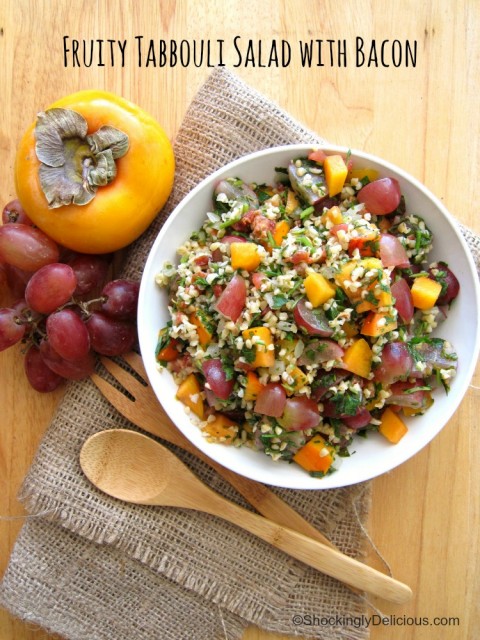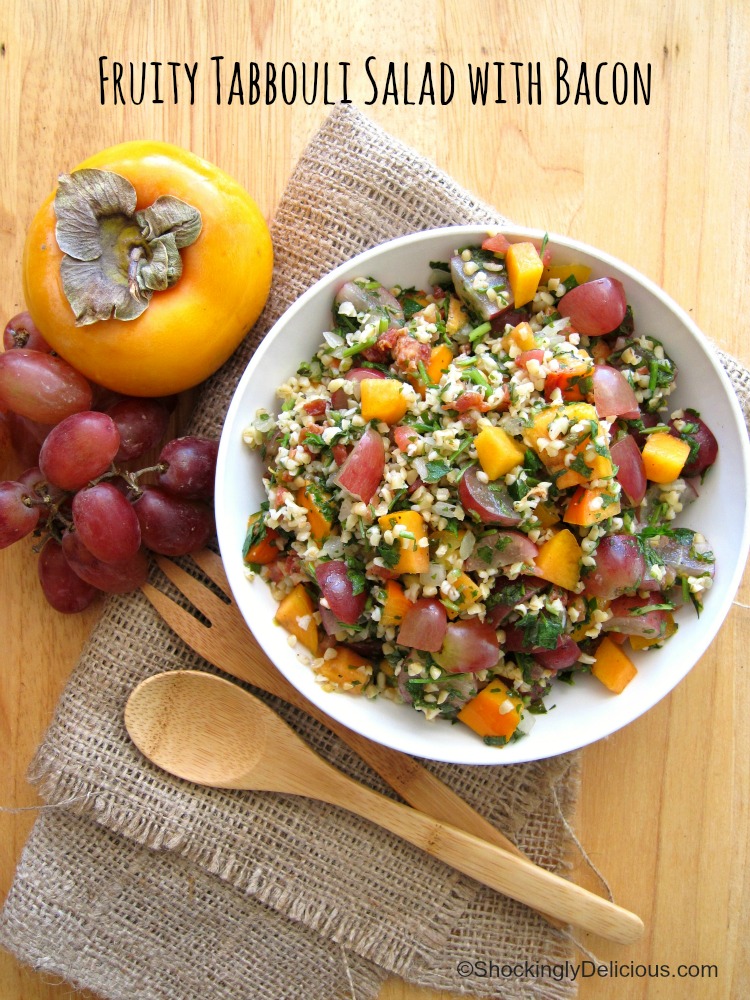 This makes a dandy lunch, or would be wonderful as a side salad for dinner, or even, dare I say, with turkey?
Fast Fruity Tabbouli Salad with Bacon
Herbs, grains, fruit, bacon -- this salad has it all, whether you use it as a side or a main dish.
Ingredients
1 (7-ounce) container Trader Joe's prepared Tabbouli salad (about 2 cups)
3/4 of a firm Fuyu persimmon
2 tablespoons crumbled bacon (I used Hormel Real Crumbled Bacon)
1 tablespoon extra-virgin olive oil
Directions
Spoon tabbouli into a large mixing bowl. Quarter the grapes, and cut the persimmon in a small dice (you can leave the skin on), and add to the bowl, along with the bacon and oil.
Stir gently to combine well and mound into a serving bowl. If making ahead, chill. Can be served straight from the refrigerator or nearer to room temperature (although it has bacon, so don't leave it out for hours on end).
Serves 5-6 as a side salad dish, or fewer as a main dish.
Notes
Recipe source: Dorothy Reinhold | Shockingly Delicious
https://www.shockinglydelicious.com/fast-fruity-tabbouli-salad-with-bacon/
Copyright Dorothy Reinhold | ShockinglyDelicious.com. All rights reserved.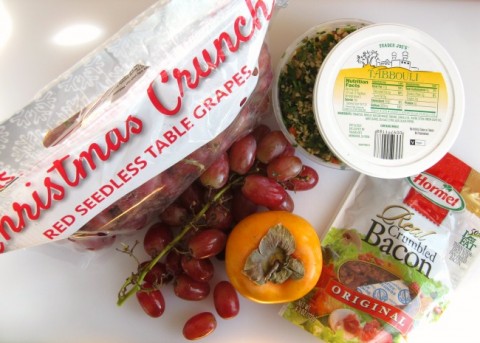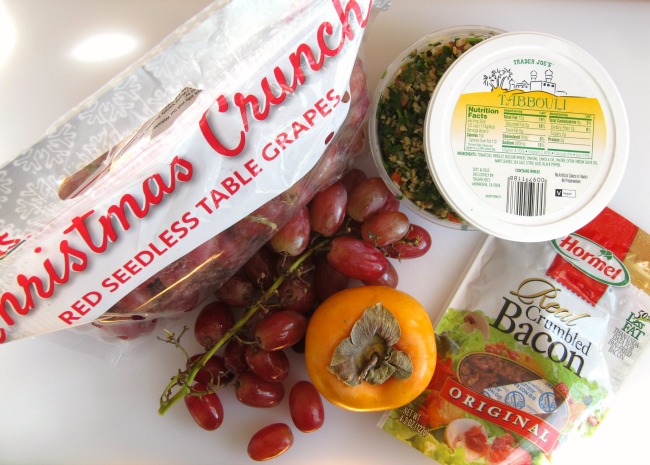 Yes, I know I took a vegan tabbouli salad and I put bacon in it. You must forgive me.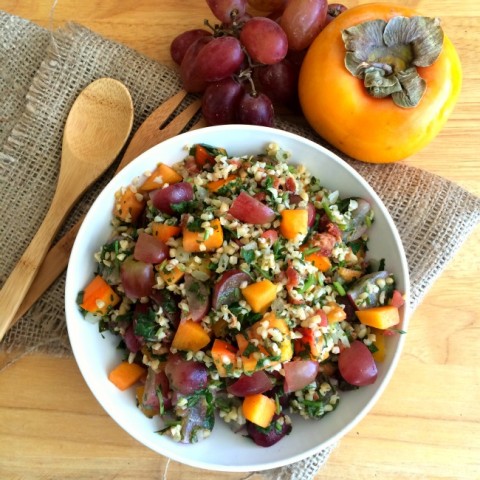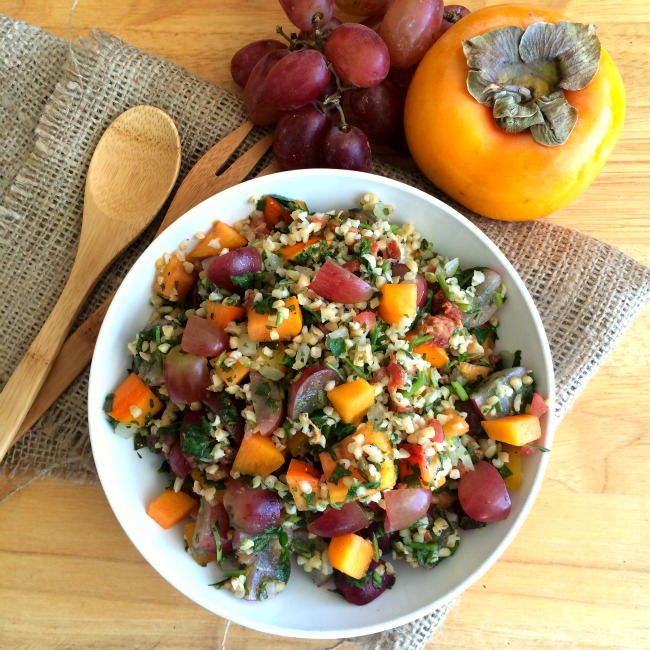 What are Christmas Crunch grapes?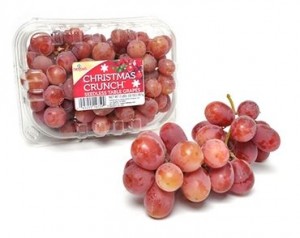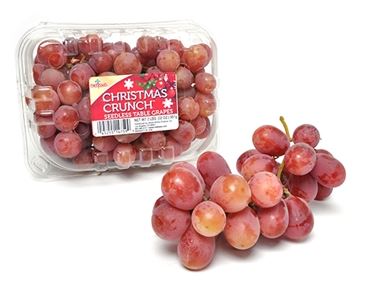 Christmas Crunch is a new variety of seedless red grape that is slightly larger and much sweeter than the standard red seedless. It has a pronounced crunchy texture and is named for its very late-season availability that takes it through the holidays. Unbidden quote from my husband: "Wow, what are these grapes? These are the best grapes I've ever had!" Ask for them in your produce department.
Disclosure: Melissa's Produce sent the grapes and persimmon for recipe development. Hormel sent the bacon and compensation for my time on this post.