Print This Post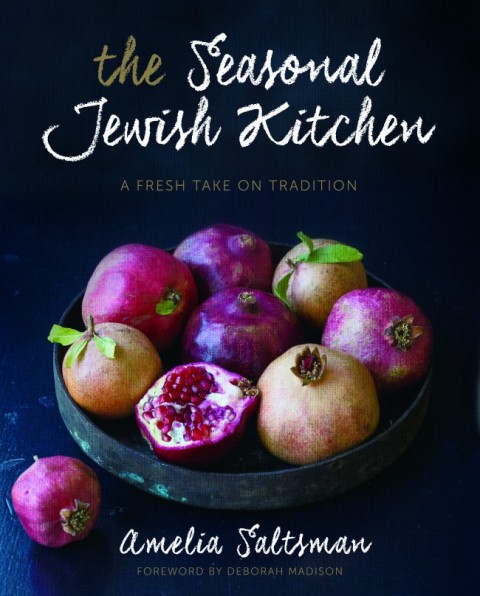 When a cookbook arrives that is so of-the-moment you drop your chores and to-do list and sit down on the loveseat for a good long read, you know it's a keeper.
Seasonal cooking and farmers' market expert Amelia Saltsman has written a pure pleasure read, "The Seasonal Jewish Kitchen: A Fresh Take on Tradition," that not only delivers a new way to think about Jewish food, but will also charm the non-Jewish home cook.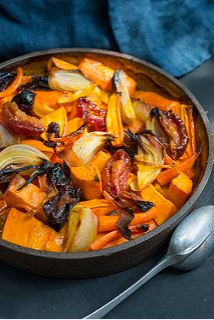 Who could resist her simple Roasted Carrot and Sweet Potato Tzimmes, with sweet carrots, potatoes and prunes caramelized by the oven and enlivened by orange and lemon zest. I can see this on the Thanksgiving table, or at any dinner after that, with leftover turkey or a roast chicken. Heck, roast me a beef and I'd serve this as well.
Her 150 melting-pot recipes are inspired by the farm-to-table movement, and she offers not only spins on beloved classics (Cheese Blintz Soufflé) but bold, new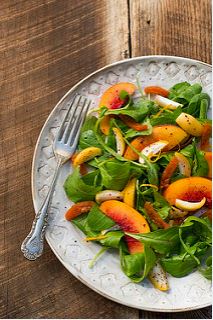 dishes (Arugula with Fresh Golden Dates, Dried Apricots, Nectarines and Sumac).
It's also a warmly personal book, which is always welcome in today's busy, just-the-facts world. The Tahini Butter Cookies (a cross between halvah and peanut butter cookies) come from her aunt Hanna. Her grandmother's small Sesame Seed Bageleh, savory nibbles rich with butter, are nothing like American bagels. Her cousin Michal gifts us with his favorite salad — Autumn Slaw with Beets, Carrots and Kohlrabi. And by the way, if you have never tried kohlrabi, get right on it; it has a crisp, nutlike flavor reminiscent of water chestnuts.
If your idea of Jewish food extends to deli meats, this book will open your eyes. Saltsman shares her go-to autumn dessert — Roasted Autumn Fruit — that would be right at home on any California table. Pears, apples, firm persimmons, figs and grapes get the oven treatment, infused with a thyme sprig for an herbal note. Forget dessert; I can see this one for breakfast.
Saltsman's first book, "The Santa Monica Farmers' Market," is a beloved classic that celebrates the food, people and recipes inspired by that world-famous Wednesday morning market. She is a frequent guest on KCRW's "Good Food with Evan Kleiman" (put that on your podcast must-listen list) and a longtime advocate for small family farms and farmers' markets. Her credentials show in every word in this new book.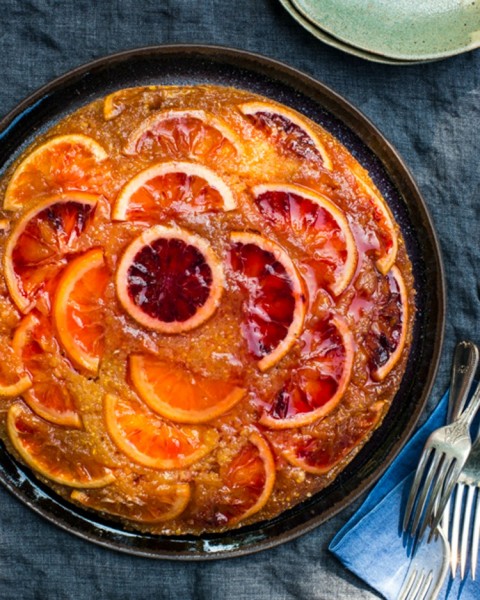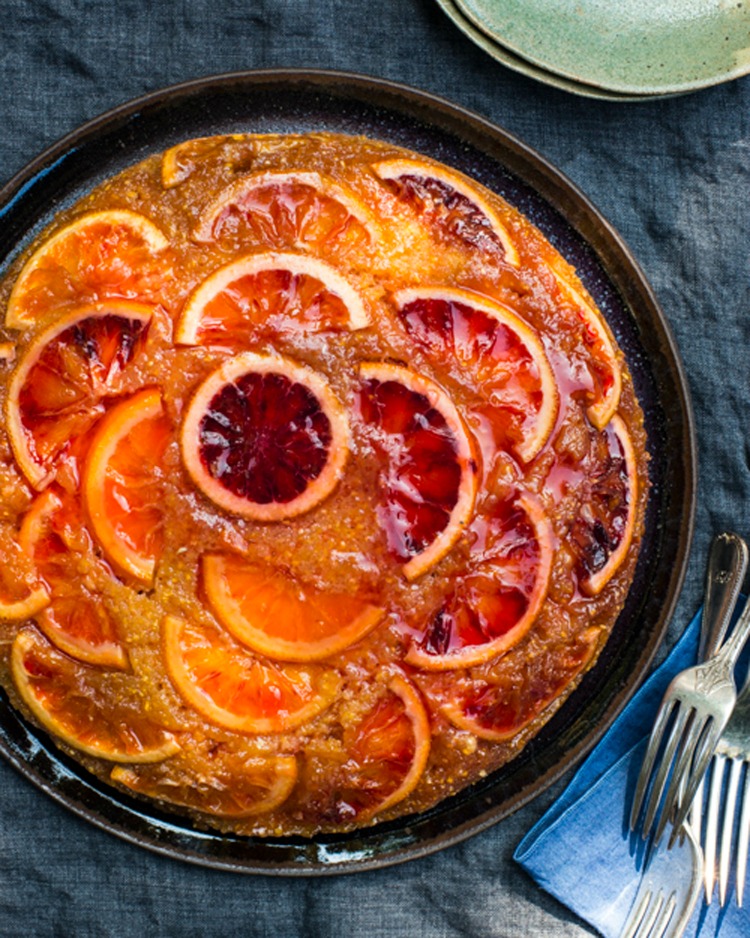 I've chosen her Blood Orange and Olive Oil Polenta Upside-Down Cake for you today, not only because it has ingredients I love — blood oranges! cornmeal! — but I really like baking with olive oil. And did I mention this cake is just plain gorgeous?
This dessert deserves a spot on your holiday table.
Blood Orange and Olive Oil Polenta Upside-Down Cake
A nubby cake drenched in syrup, this Blood Orange and Olive Oil Polenta Upside-Down Cake has a stained-glass effect from the variegated colors of blood oranges. Use fine-grind cornmeal or polenta; stone-ground meal doesn't get tender enough in baking.
Ingredients
For the cake

4 blood oranges
2/3 cup (145 g) packed light brown sugar
1 cup (125 g) unbleached all-purpose flour
2/3 cup (105 g) cornmeal (not stone-ground)
1 teaspoon baking powder
3/4 teaspoon salt
2/3 cup (165 ml) extra-virgin olive oil, plus more for the pan
3/4 cup (150 g) granulated sugar
3 eggs
.

For the syrup

1/2 packet (1/8 ounce/3.5 g) unflavored gelatin
3 tablespoons granulated sugar
2 tablespoons Cointreau
1 tablespoon fresh lemon juice
Directions
Heat oven to 350°F (180°C). Using a microplane grater, grate zest from 2 of the blood oranges and reserve. Juice the 2 oranges and reserve juice. Cut both ends off of each of the remaining 2 oranges, then cut each orange crosswise into rounds 1/8 to 1/16 inch (3 to 2 mm) thick. Cut all but one of the slices in half and discard any center pith.
Sprinkle brown sugar evenly over the bottom of a flameproof and ovenproof 10-inch (25-cm) skillet (a well-seasoned cast-iron skillet is perfect) and sprinkle with 2 tablespoons of the orange juice. Heat skillet over medium-low heat until most of the sugar is bubbling. Remove from the heat.
Starting at the outer edge of the pan, lay the halved orange slices in the melted sugar with the "scalloped" edge of each slice touching the edge of the pan. Fit as many orange slices as you can into the circle, pinching their corners as you set them into the hot sugar (use a knife point or tongs to adjust the fruit as needed). Some slices will have a "prettier" side; make sure those are placed face down in the sugar. Arrange the remaining halved orange slices in concentric circles toward the center, finishing with the reserved whole slice in the center.
In a medium bowl, sift together the flour, cornmeal, baking powder, and salt. In an electric mixer fitted with the paddle attachment, beat together the oil and granulated sugar on medium speed until thickened and golden. Add the eggs, one at a time, beating well after each addition until mixture is thick and creamy gold, 3-5 minutes total. Beat in the zest and 1 tablespoon of the juice. On low speed, add the flour mixture in three batches, beating after each addition just until blended.
Pour batter evenly over the orange slices and gently smooth the top. Bake the cake until golden brown, the top springs back to the touch, and a toothpick inserted into the center comes out clean, about 25 minutes. Let cool in the pan on a wire rack for 5 minutes. Run a thin-bladed knife around the inside edge of the pan to loosen the cake sides. Invert a serving plate over the cake, invert the pan and plate together, and lift off the pan. If any fruit sticks to the pan, loosen it with a spatula and place it on the cake. While the cake is hot, use a fork or bamboo skewer to make holes in it without going all the way through.

While the cake is baking, make the soaking syrup.

Fill a medium bowl one-third full with ice and a little water and nestle a smaller bowl, preferably metal, in the ice bath. Pour ¼ cup (60 ml) of the remaining orange juice into a small pot, sprinkle the gelatin on top, and let soften for 5 minutes. Stir granulated sugar, Cointreau, and lemon juice into the remaining orange juice, then stir the mixture into the softened gelatin. Bring to a simmer over medium heat and stir to dissolve sugar and gelatin, about 1 minute. Do not allow to boil. Pour syrup into the waiting bowl and stir from time to time until it thickens to the consistency of maple syrup, about 15 minutes. Spoon or brush some of the syrup over the cake. Allow it to soak in, then spoon or brush on more. Repeat until you have used all the syrup.
Allow the cake to cool completely before slicing, then cut into wedges with a serrated offset knife to serve.
Makes one 10-by-2-inch (25-by-5-cm) cake; 12 servings.
Notes
Cutting note: To cut picture-perfect cake slices, use kitchen scissors to snip through the oranges first, then follow that line with your knife to cut the cake. Amelia Saltsman learned this trick from food stylist Karen Gillingham.
Recipe source: Used with permission. "The Seasonal Jewish Kitchen," by Amelia Saltsman; Sterling Publishing 2015; $29.95.
https://www.shockinglydelicious.com/blood-orange-and-olive-oil-polenta-upside-down-cake/
Copyright Dorothy Reinhold | ShockinglyDelicious.com. All rights reserved.
Disclosure: The publisher sent a copy of the book for review.