Print This Post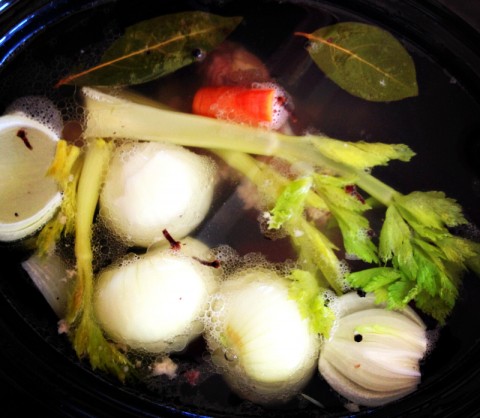 If you are lucky enough to have a half ham, or even some ham hocks on sale from the market, you are on your way to making ham stock.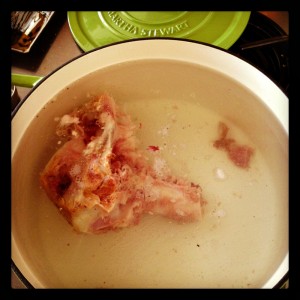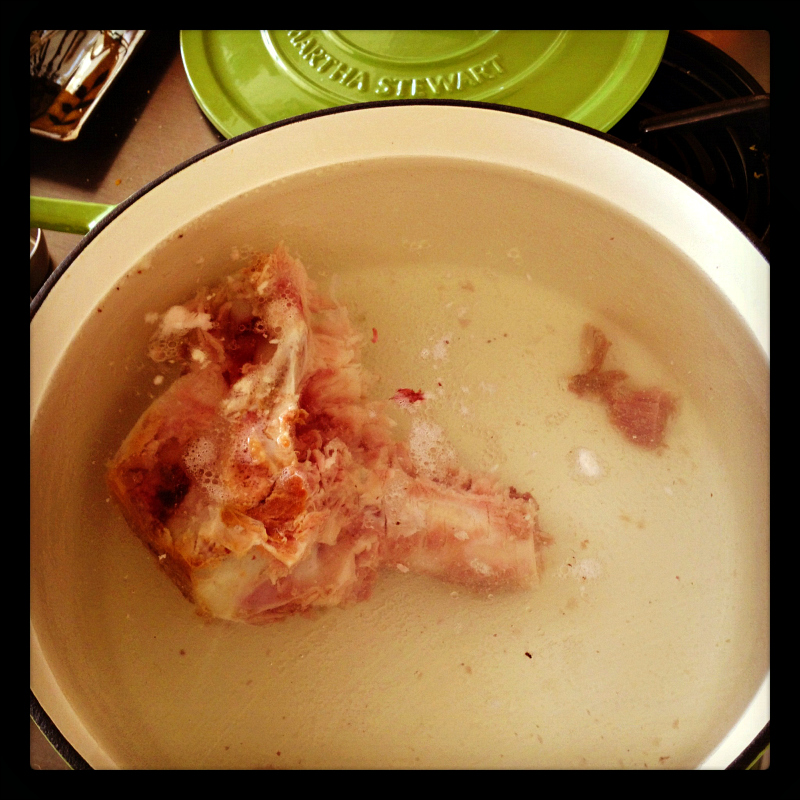 My 11-pound Farmer John half ham yielded dinner one night, lunches the next day, and several more big bags of ham slices that now reside in my freezer, awaiting their next use.
All that was left on the cutting board was a big, honkin' bone, and a bunch of fat and other scraps.
What does the frugal cook do? Make ham stock!
Recipe: How to Make Ham Stock
Summary: Don't throw out that ham bone! Cook it with a few vegetables and aromatics, and a few hours later you have ham stock for your soup, or to cook beans or lentils.
Ingredients
1 large ham bone (from a half ham) and any fat and scraps left from trimming your ham
12-16 cups water (approximate)
2 onions, peeled and halved
2-3 carrots, washed and cut into half (no need to peel)
2 celery ribs, leaves attached, cut in half
4 garlic cloves, peeled
10-15 peppercorns
6 whole cloves
2 bay leaves
Instructions
Place all ingredients in your largest slow cooker, adding enough water to cover the ham bone and fill the crock. Cook on high for 6-12 hours. The longer you cook it, the better it will be, so I recommend 12 hours if you can. Hint: Put it on after dinner one evening and let it cook all night while you sleep.
Remove and discard ham bone and vegetables and spices. You can do this by fishing out the larger pieces with a slotted spoon, and straining the broth through a mesh strainer.
Pour strained stock into one or more containers and refrigerate overnight. Once the stock cools, the fat will congeal on the top and it can be lifted off and thrown away. Label with title and date, and store in refrigerator 0r freezer. (Trust me, you won't remember what it is 6 months from now when you pull it out of the freezer.)
Quick notes
If you would like to make concentrated stock, once it is done cooking in the slow cooker, you can transfer the liquid to a big pot and boil it further, uncovered, on the stove. Some of the liquid will evaporate and you will be left with concentrated stock. It might make it easier for you to store a reduced amount of liquid, and you can always add more water if you would like to restore it to a less concentrated version while using it.
Never add more salt to ham stock. The ham is salty enough!
How to use ham stock
Use ham stock to:
cook rice
as the base for soup (split pea soup perhaps)
to cook beans or lentils
to cook your potatoes for mashed potatoes
or anywhere you need stock with some hammy flavor
Preparation time: 5 minutes
Cooking time: 12 hours
Number of servings (yield): 8
Culinary tradition: USA (Traditional)
My rating 5 stars:  ★★★★★ 
Farmer John supplied the ham for recipe testing.