Print This Post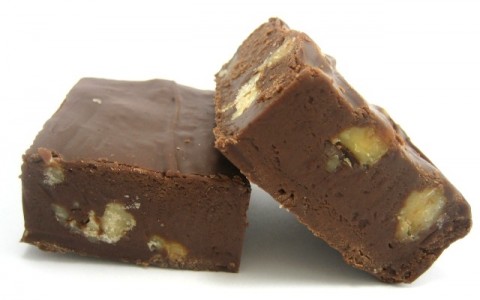 If you didn't have a chance to go on the Malibu Cook's Tour earlier this month, there's always next year. Mark your calendar for next late-April/early May, so you can buy your tickets and go.  It's a hot ticket and always sells out.
This tour is a chance to lookie-loo through several wonderful homes and kitchens, and at each home, taste the delectables showcased by local restaurants and chefs.
That combines two of my favorite activities of all time, in one great day. Score!
Today I'm showcasing a great, silky, easy fudge recipe, rightfully called Perfect Fudge, presented by fancy chocolate maker Cacao Luxe Chocolatier. Proprietor and chocolatier Maureen McKee of Cacao Luxe was kind enough to share it.
Maureen said, "This really is a simple recipe for one of the most iconic chocolate treats around. My family makes this in several versions for the holidays – plain, walnut, coconut, M&M.  We also use different chocolates to vary the "intensity" of the fudge. It is all good!  For those who have candy-making stage fright, go ahead and try this. It is so easy that I make this with my 7-and 9-year-old nieces."
Her vision is to create the purest, most wonderful chocolates in small batches using the best ingredients with no preservatives, waxes or fillers that are sometimes found in commercially available candy. Maureen is a native of Malibu, Calif., whose treats were first showcased at a local flower shop in 1979. Her passion evolved into a comprehensive line of decadent chocolates that include dark chocolate almond bark, milk chocolate fudge, English toffee and a creamy hand-made truffle.
Of course, it would be perfect for traditional fudge time, around Christmas, but truthfully, fudge is a welcome treat any time of year. How about making a batch and sharing some with a teacher or coach, for an end-of-school-year present?
Yum.
Recipe: Cacao Luxe Perfect Fudge
Summary: Rich, decadent, creamy fudge, easy to make at home and wonderful for Valentine's Day or any day you need chocolate. No need for a candy thermometer!
Ingredients
1 (14-ounce) can sweetened condensed milk
1 tablespoon salted butter
1/2 teaspoon salt
18 ounces chocolate (buy the best chocolate you can find — this should be a pure chocolate* see note below)
1 teaspoon pure vanilla
Instructions
Line an 8-inch square pan with parchment or foil and set aside.
Heat sweetened condensed milk, butter and salt on medium low in a 2-quart sauce pan.
In a separate container, pre-melt the chocolate in the microwave until it is totally melted and stirred – no lumps. Be careful to not overheat the chocolate in the microwave — use 30-second intervals and stir at every break. When the sweetened condensed milk is warm and has loosened up, pour all of the chocolate into the sauce pan with the milk. Stir with a wooden spoon. The mixture will be thick as the chocolate incorporates and then it will get glossy. When your mixture turns glossy, add vanilla and stir quickly. Remove from heat and pour IMMEDIATELY into the prepared pan. Cool for several hours in the refrigerator before cutting into small squares. Fudge is best kept in an airtight container and eaten within 4-5 days.
This recipe can be doubled and put in a 9- by 13-inch pan.
*A note about chocolate
Buy a high-quality chocolate at a retailer like Whole Foods or Trader Joe's. Chocolate chips or the chocolate sold for dipping fruit are not good choices as they have stabilizers in them which makes for a stiffer fudge.
Preparation time: 5 minutes
Cooking time: 10 minutes
Diet type: Vegetarian
Number of servings (yield): 30
Culinary tradition: USA (Traditional)
My rating 5 stars:  ★★★★★