Print This Post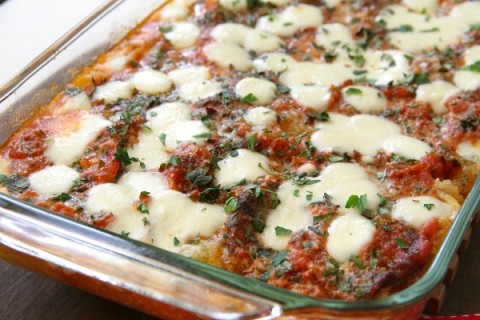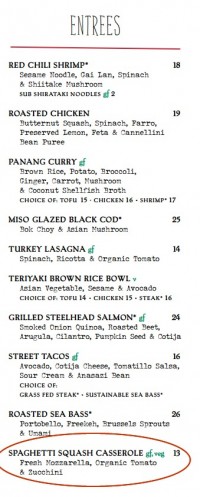 I'm celebrating spaghetti squash today, for all the versatility it delivers, all the clean eating, and all the delicious comfort it brings. I am so pleased to bring you a copycat version of one of my favorite dishes from the restaurant True Food Kitchen.
I had it there some months ago and immediately loved it – a vegetarian version of an easy, healthy, comforting casserole in which spaghetti squash plays a starring role, topped with a red pasta sauce and some fresh herbs and mozzarella.
I didn't think it could be that hard to make at home, and I was right! The most time-consuming part is roasting the spaghetti squash, which I sometimes do the day before if I have the oven on for something else.
This is one of those quiet, unassuming dishes that sneak up on you. It might not leap off the menu at you right away and it might not have big wowser flavors that smack you upside the head, but the memory of it will stay with you and haunt you until you make it yourself.
Which I recommend you do today.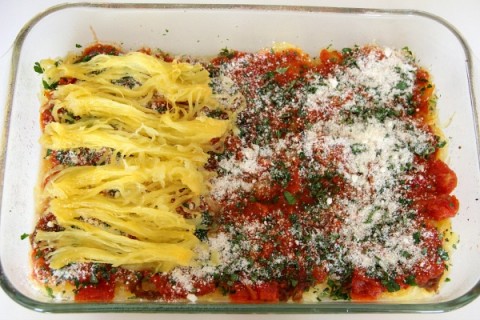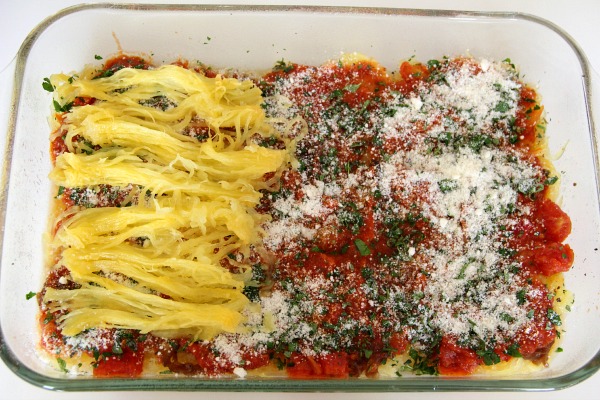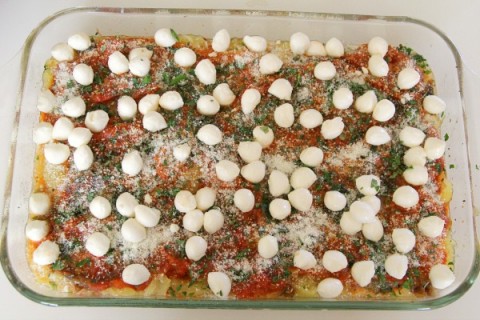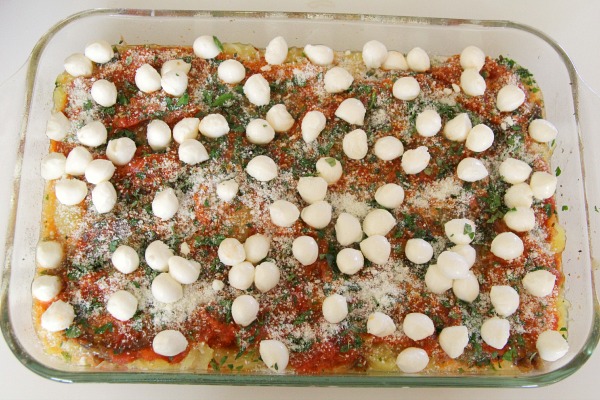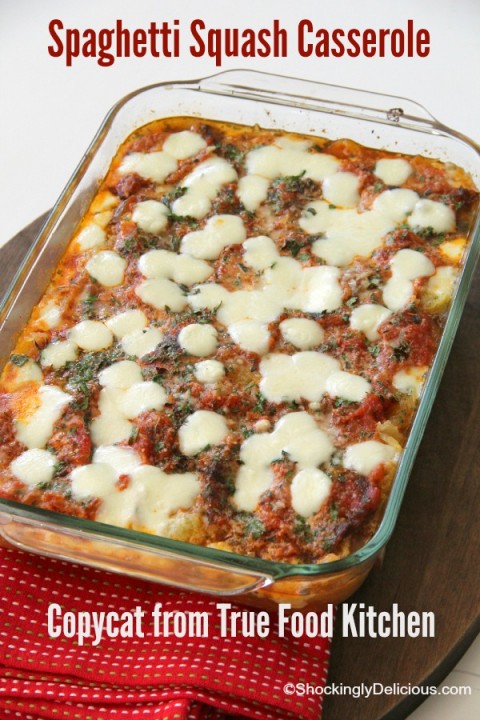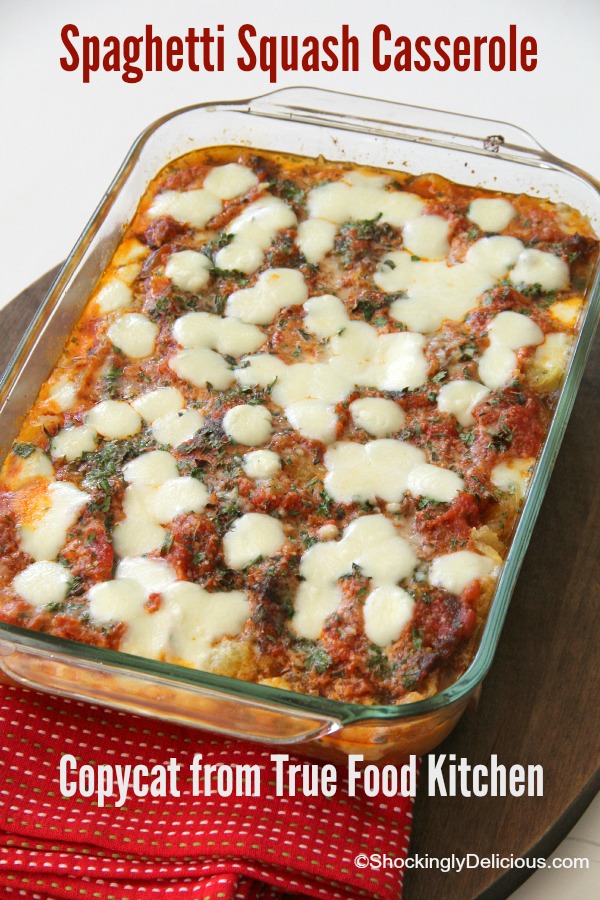 Copycat Spaghetti Squash Casserole from True Food Kitchen
Easy, healthy, comforting baked spaghetti squash casserole with fresh herbs, pasta sauce and fresh mozzarella.
Ingredients
1 (3 1/2 to 4-pound) spaghetti squash
Grapeseed oil
5 ounces caramelized onions (make them in the slow cooker!)
Black pepper
Kosher or sea salt
1 (25-ounce jar) pasta sauce (I like Gina Rispoli Tomato Basil Sauce for this)
4-6 tablespoons chopped herb mix of fresh parsley, oregano and thyme
1/4 cup grated Parmesan
8 ounces fresh mozzarella pearls, drained (I like the BelGioioso brand)
Directions
First roast squash:

Heat oven to 375F degrees. Microwave whole squash 2 minutes to soften skin a bit. Cut squash in half lengthwise and scrape out seeds and strings and discard. Rub cut insides of squash halves with grapeseed oil, place cut side down on a cookie sheet or roasting pan, add 1/4 cup water to pan and roast in oven for about 45-50 minutes, until squash is tender all the way through.
Remove squash from oven and set aside to cool. Once squash is cooled, scoop out flesh with a large fork and place it in a bowl. As you remove the flesh, it will begin to separate into long strings, like spaghetti (hence the name!).

Assemble casserole:

Mist a 13- by 9-inch baking dish with nonstick spray. Turn oven down to 350F degrees.

First layer:

Using your hands, break half the squash into long threads and place in prepared dish. Top with half the caramelized onions, flinging them over top with your fingers. Grind a few turns of black pepper and a pinch of salt over top. Ladle on 1 ½ cups of the sauce, sprinkle with half the fresh herb mix, and sprinkle on half the Parmesan.

Second layer:

Using your hands, break the rest of the squash into long threads and place in dish. Top with the rest of the caramelized onions, a few grinds of black pepper and a pinch of salt, the rest of the sauce, the rest of the fresh herb mix, the rest of the Parmesan, and all of the little mozzarella balls, spacing them relatively evenly on top.
Bake, uncovered, for about 30 minutes, until casserole is bubbly and cheese is melted. Remove from oven and serve.
Serves 4-8, depending on appetites and what else is offered on the plate. It should serve 4-6 as a main course.
Notes
Recipe source: Dorothy Reinhold | Shockingly Delicious. Original inspiration from True Food Kitchen.
Gluten-free. Vegetarian.
https://www.shockinglydelicious.com/copycat-spaghetti-squash-casserole-from-true-food-kitchen/
Copyright Dorothy Reinhold | ShockinglyDelicious.com. All rights reserved.