Print This Post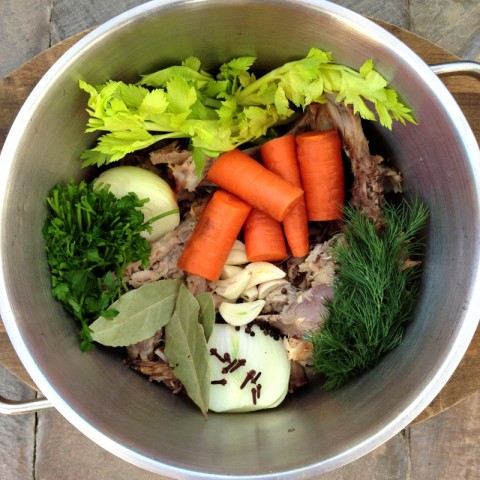 If you have a turkey carcass in your refrigerator today – and who doesn't? – you're going to want to extract all the goodness you can from it.
And that's a lot.
It's pretty easy to make turkey stock, which you can then use as the base for a wonderful soup, or in any recipe in which you would use chicken stock.
 Remove carcass from the refrig and get out your largest stock pot and another smaller bowl for turkey meat scraps.
Using your clean hands, pick the meat off the bones and place the meat scraps in the smaller bowl. Place any bones, cartilage, skin, fat, tendons, etc. in the stock pot. You are going to pick this carcass as clean as possible. Nit pick it! This might take 20 or so minutes, but it is therapeutic and internally rewarding when you are done. Trust me.
Place meat scraps in a container and refrigerate them for later us (either in a turkey salad like this or in the soup you will be making).
Follow the stock recipe below.
Pat yourself on the back for using the whole bird, respecting your food, and being a good steward of the planet.
Stay tuned and later we'll make soup and other things with this stock.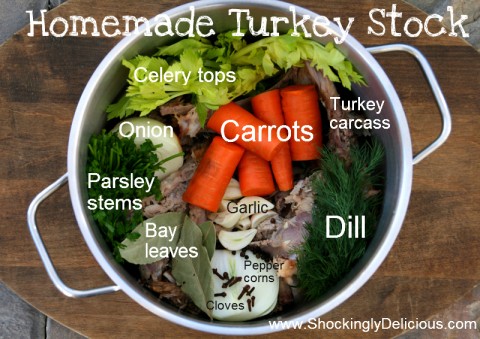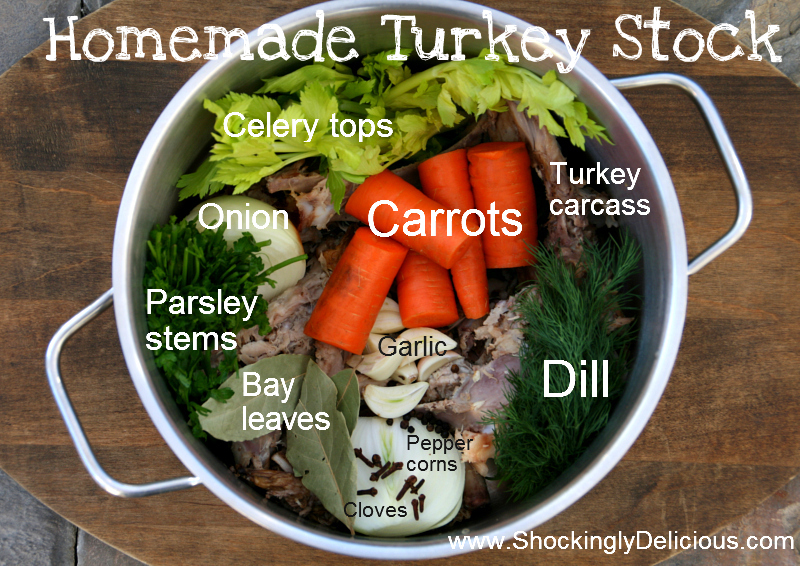 Recipe: Homemade Turkey Stock
Summary: An easy turkey stock (with a secret ingredient) lets you use every part of your Thanksgiving turkey. Soon it will be soup!
Ingredients
1 turkey carcass, picked clean of meat
1 large onion, skinned and halved
3 fat garlic cloves, skinned and either left whole or halved
3 carrots, leaves removed, washed and cut into large chunks
2-3 celery ribs, halved crosswise, with leaves (or trim the leafy ends off several stalks and use the leafy ends)
3 bay leaves
20 whole peppercorns
8 whole cloves (this is the secret ingredient)
Few sprigs fresh dill, or 1-2 teaspoons, dried (or use the stems off the fresh dill and save the feathery leaves for other uses)
Handful of fresh parsley stems, or 1 tablespoon dried parsley flakes
Optional: 1 teaspoon dried tarragon and 1 teaspoon dried thyme
Juices and fat drippings from the turkey (anything not used to make gravy the day before)
Water to cover (about 16 or so cups)
Instructions
Add turkey carcass and all vegetables, herbs and aromatics to your largest pot. Add water to cover the bones. My pot took 16 cups of water. Put the lid on, leaving it slightly ajar, and bring to a boil. Reduce the heat to a low simmer and simmer for 3-6 hours, adding more water during the process if the bones emerge too much from the liquid.
The longer it cooks, the richer it will become, but if you boil it too long, the stock will simply evaporate, so don't take it that far!
Remove from heat and pour through a fine strainer, discarding the bones and mushy vegetables, which have given their all for your stock.
Pour into containers and refrigerate or freeze for later use. One it is chilled in the refrigerator, the fat will congeal in a layer on top and can be removed and discarded if you like.
The stock will probably gel at refrigerator temperatures, which means it has a significant amount of gelatinous protein in it. This is good. Once reheated, it will return to a liquid state.
Makes 6-10 cups, depending on how far you evaporate and condense it.
Salt?
This stock is not salted at all. You can use it for soup or to cook rice or other grains, and add salt at the time as you wish.
Advice
I keep a zipper-top freezer bag in my freezer into which I put tired celery ribs, the leafy tops when I trim celery for crudités, wilted carrots, that quarter onion I didn't use, etc. They remain frozen until I make chicken or turkey stock, and I simply toss in the frozen contents of that bag of vegetable ends! Voila! You can do the same trick with chicken skin, fat, bones, etc. from either raw chicken that you are trimming and using to cook dinner, or from a cooked rotisserie chicken. Keep all those lovely bones and trimmings and the next time you need stock, you'll have the basics on hand to start with.
Preparation time: 20 minutes
Cooking time: 3-6 hours
Number of servings (yield): 12
Culinary tradition: USA (General)
My rating 5 stars:  ★★★★★