Print This Post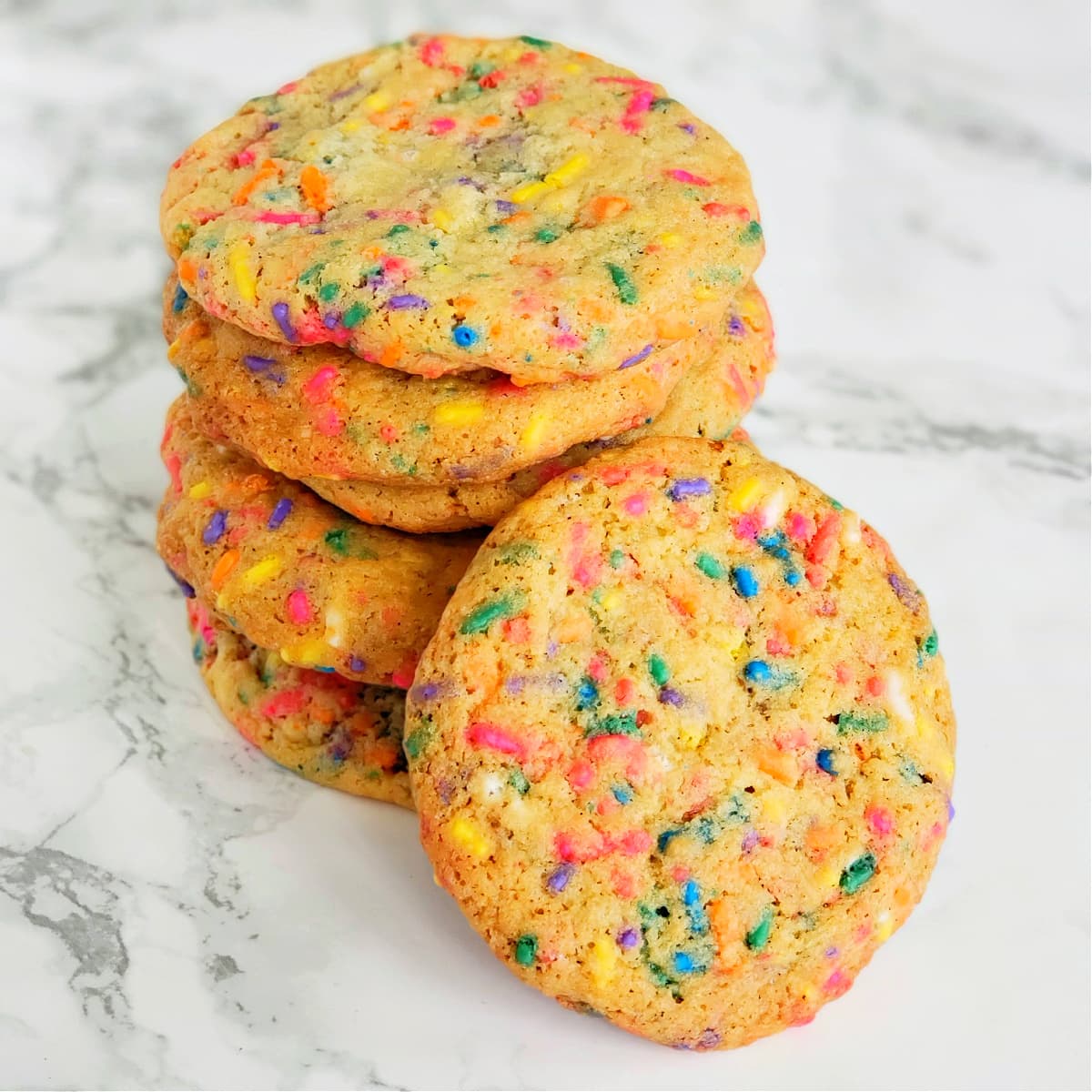 Confetti Sprinkle Cookies are a whole party all by themselves, with an explosion of sprinkles inside a perfect vanilla sugar cookie. You'll make these all year long!
It's time for holiday baking, and nothing says it better than cookies. And nothing makes me grab a cookie faster than sprinkles!
Today's cookie, a textbook-perfect vanilla-flavored sugar cookie, has more sprinkles than you can imagine, and they're stirred into the dough itself. They don't just sit on top, like most cookies. These sprinkles are baked in, through and through. They're among the best sugar cookies I've had, and certainly the most fun. The recipe comes from a Los Angeles chef (read more about him below the recipe), and I've taken the liberty of re-sizing his recipe for home cooks. You'll be grateful he shared his recipe when all your friends ask you for it.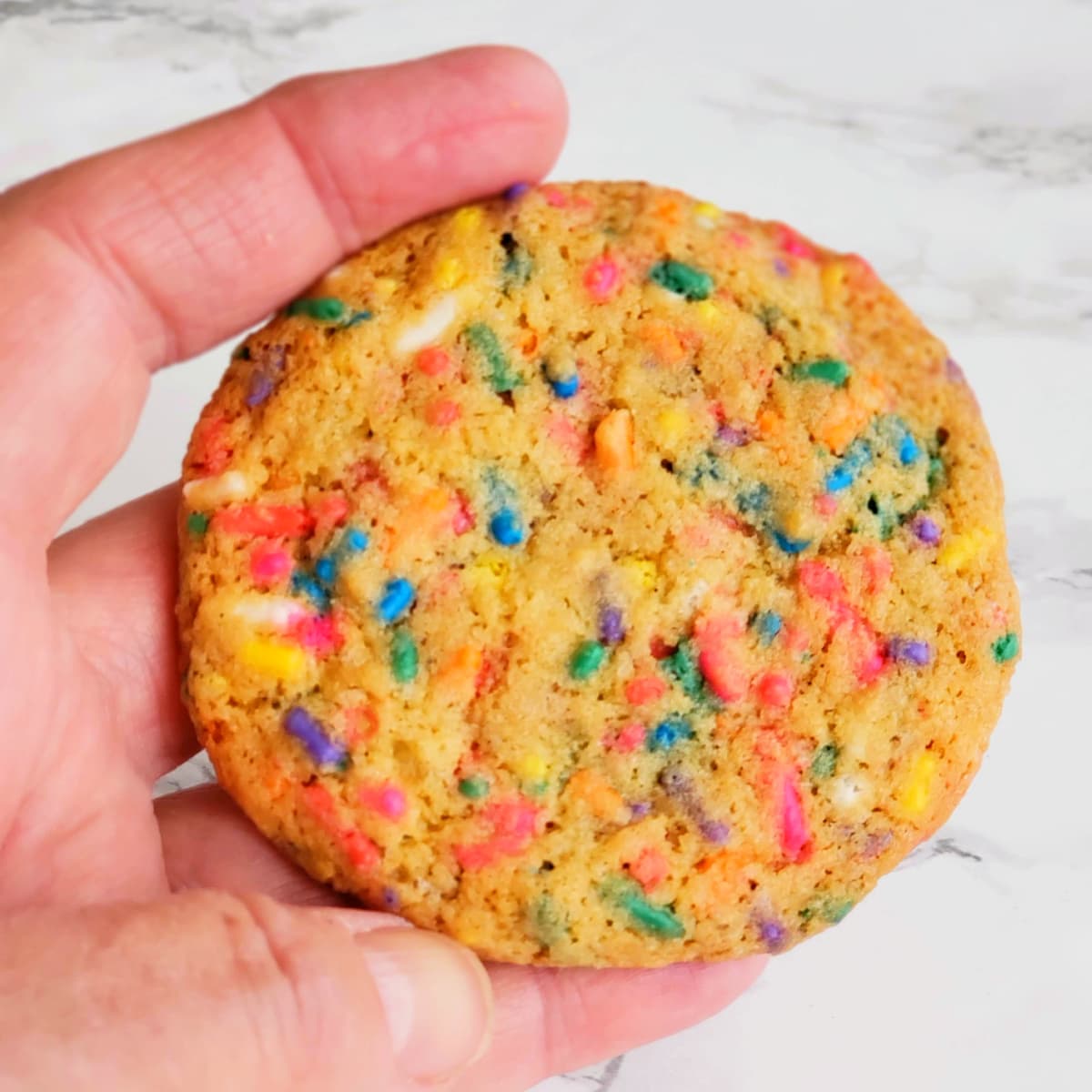 How to make Confetti Sprinkle Cookies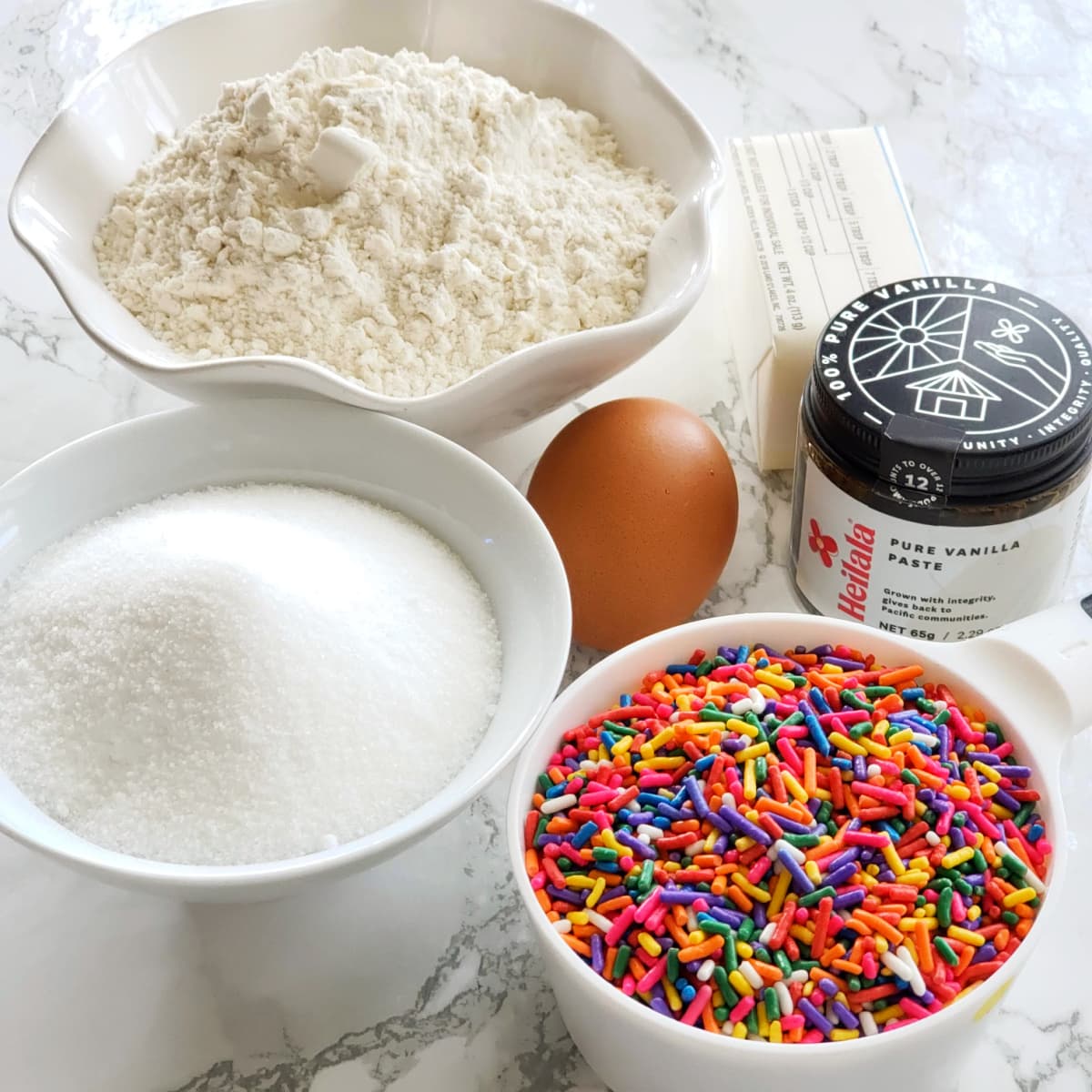 First, as always, gather your ingredients. This recipe has only a few ingredients — butter, sugar, egg, flour, baking soda, salt, cornstarch, sprinkles and vanilla.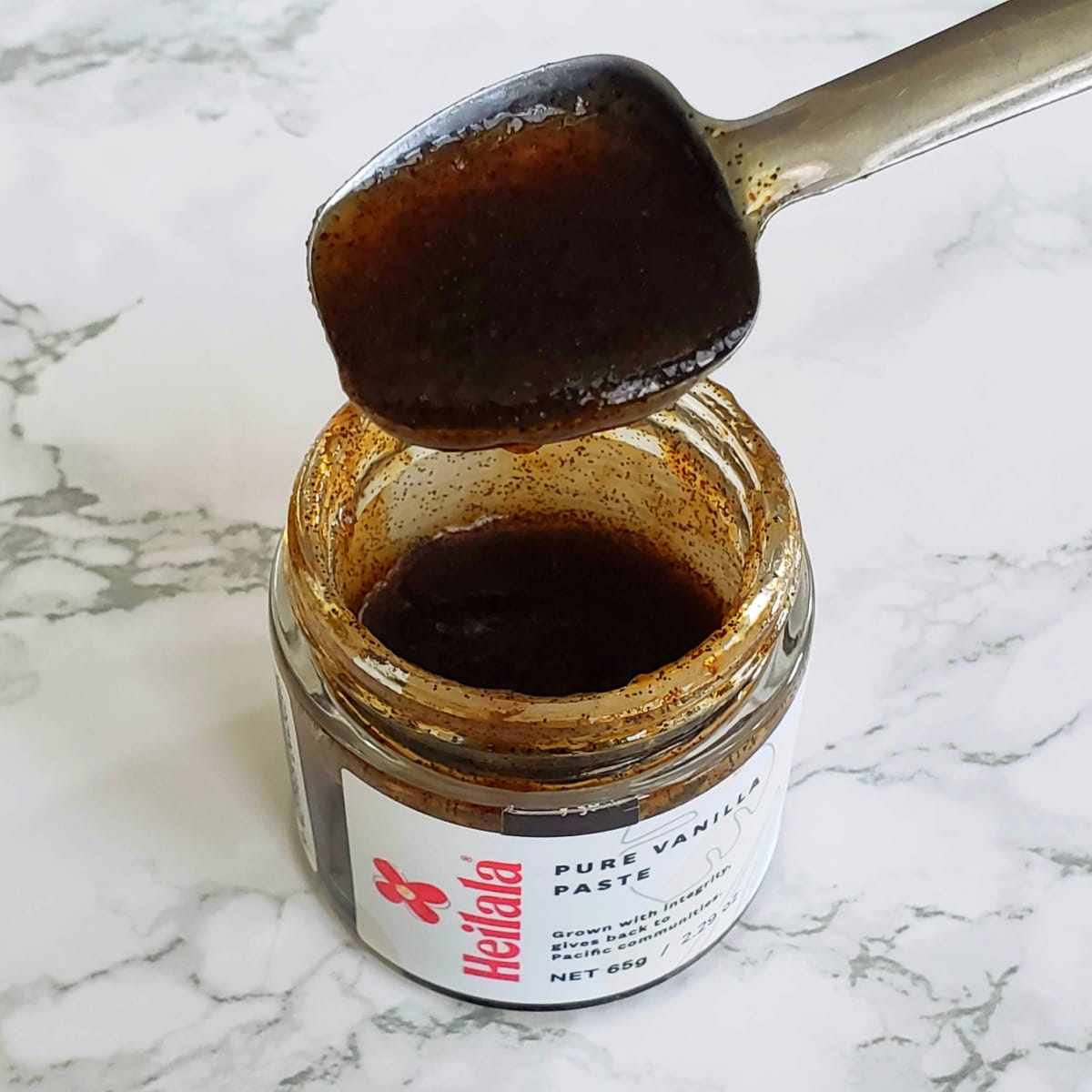 You could use vanilla extract, but chef calls for vanilla paste so I'm following orders. I'm using Heilala vanilla paste (vanilla seeds suspended in a vanilla extract), which is the brand I consider the finest. It's from New Zealand, but available here in the U.S. and online here and here.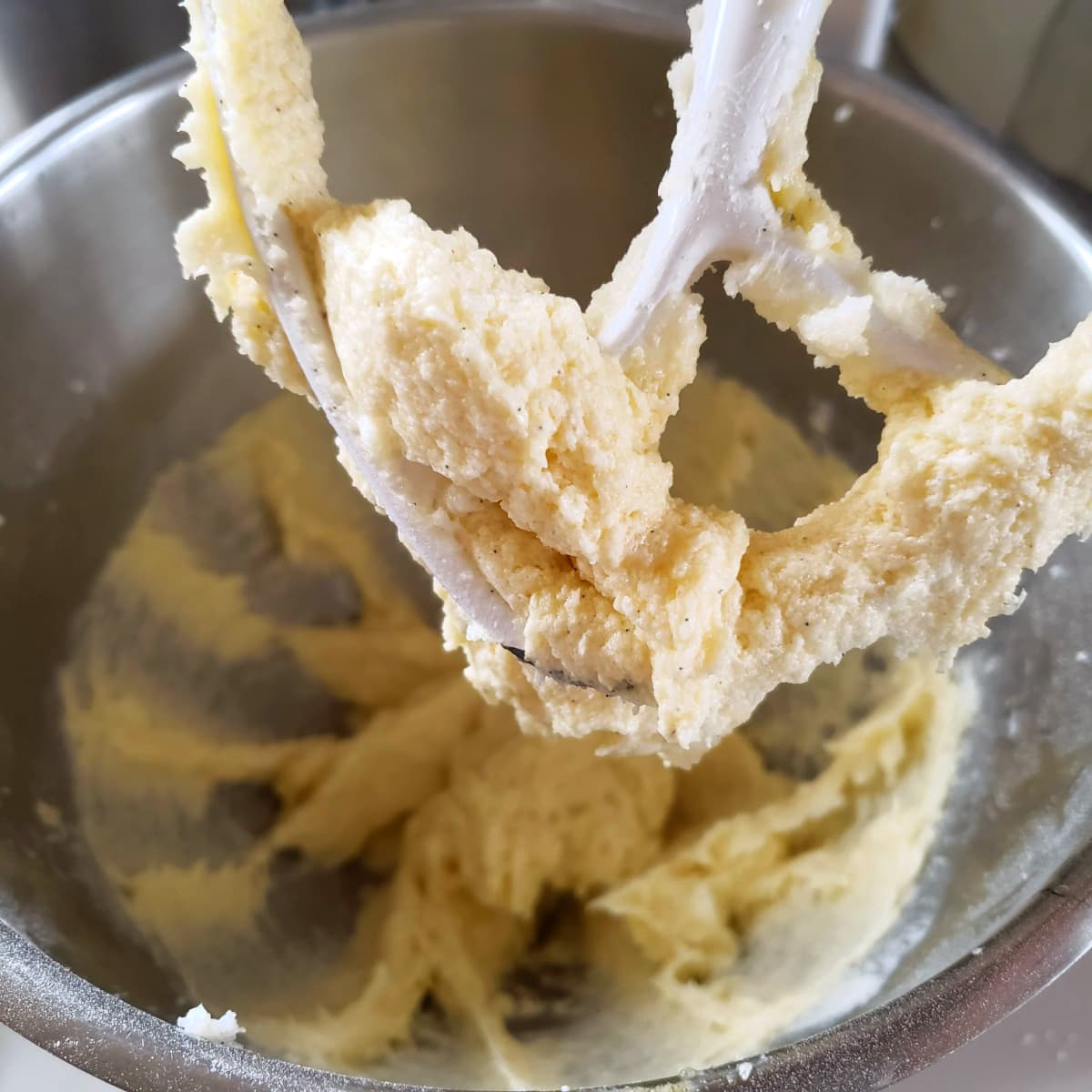 Mix up the dough; it will be thick. Those little black flecks are the vanilla bean seeds in there.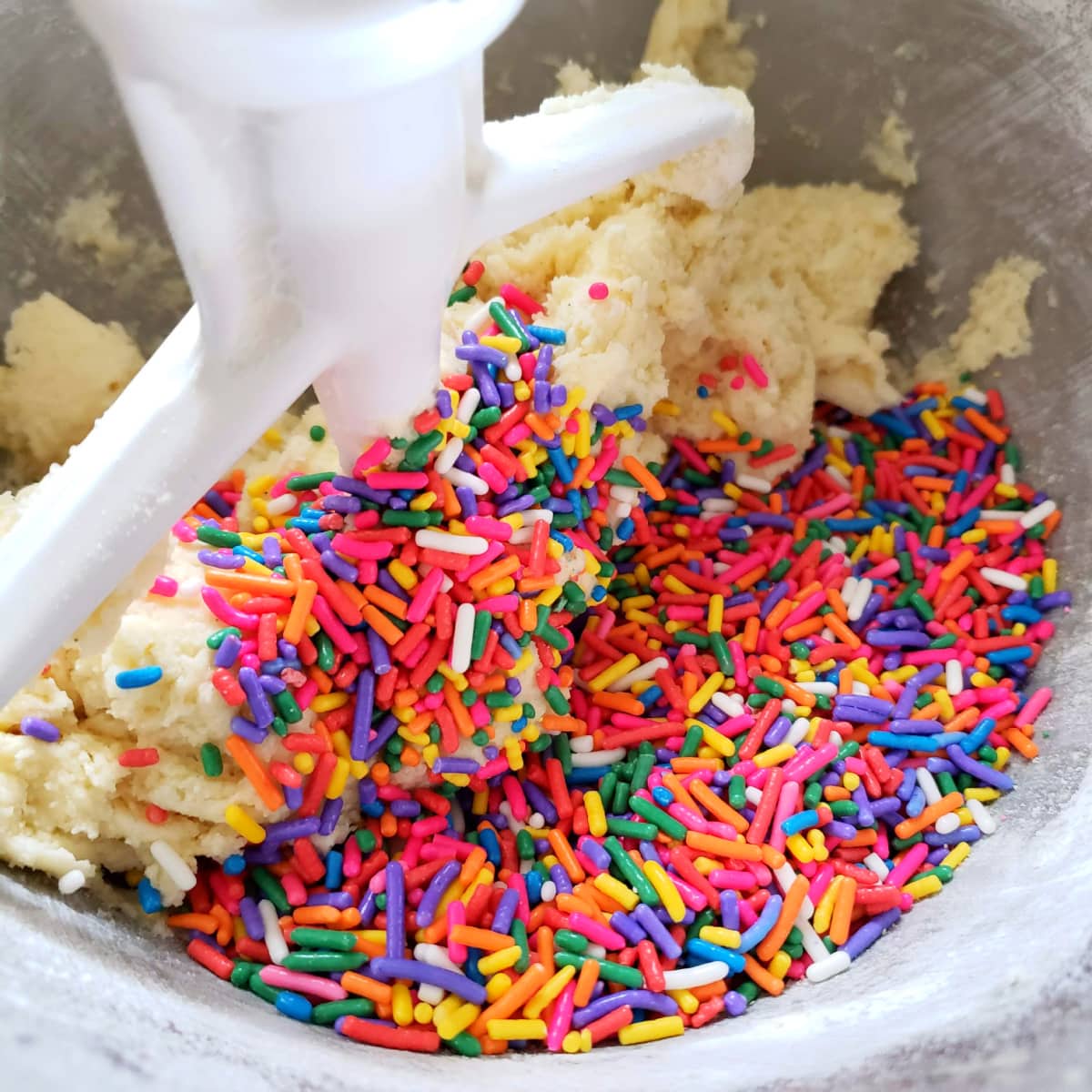 You'll put a whole cup of sprinkles in the dough. You'll think this is crazy, but trust the process.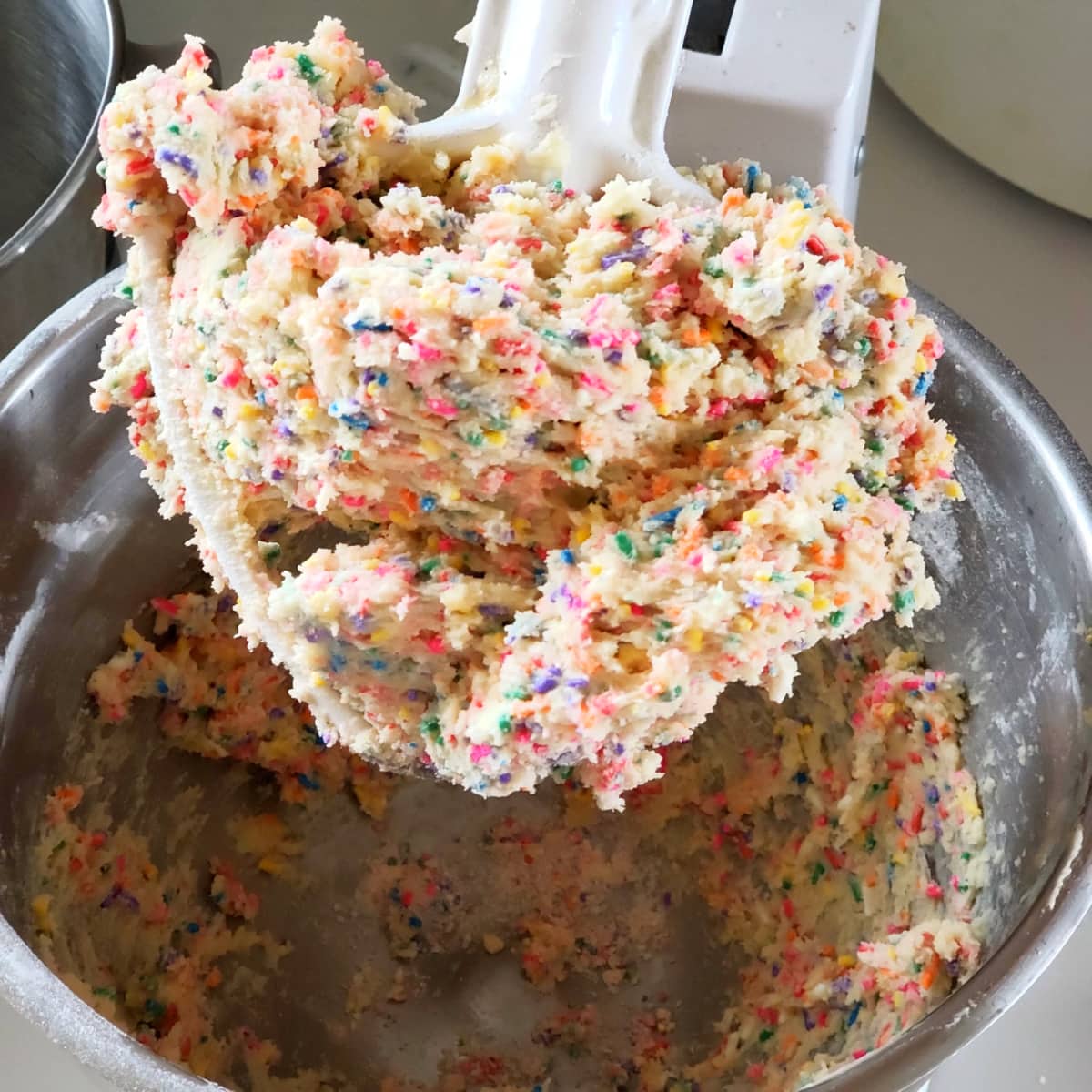 Look at that gorgeous dough!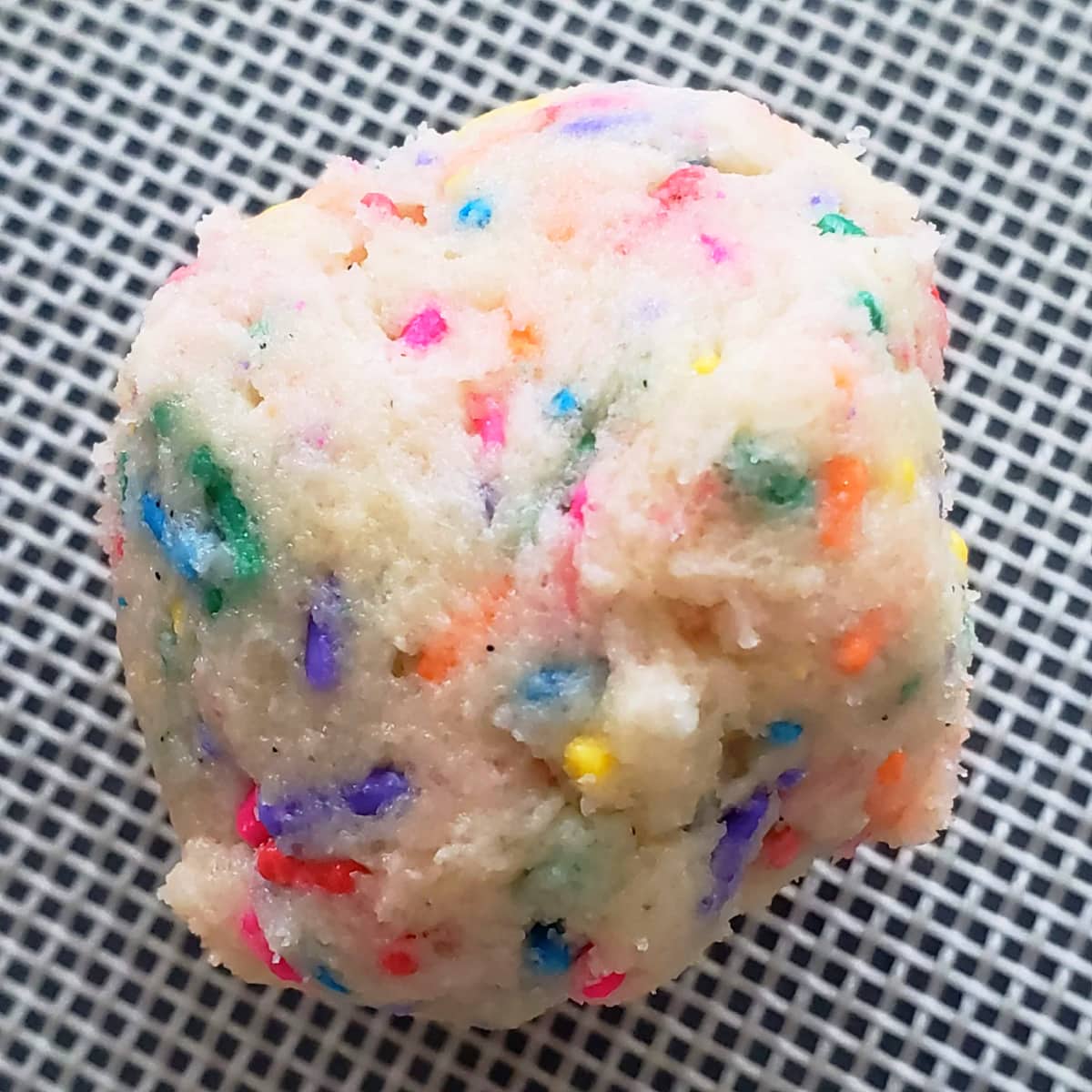 Scoop out the dough into 20 cookies. It's beginning to feel festive, eh?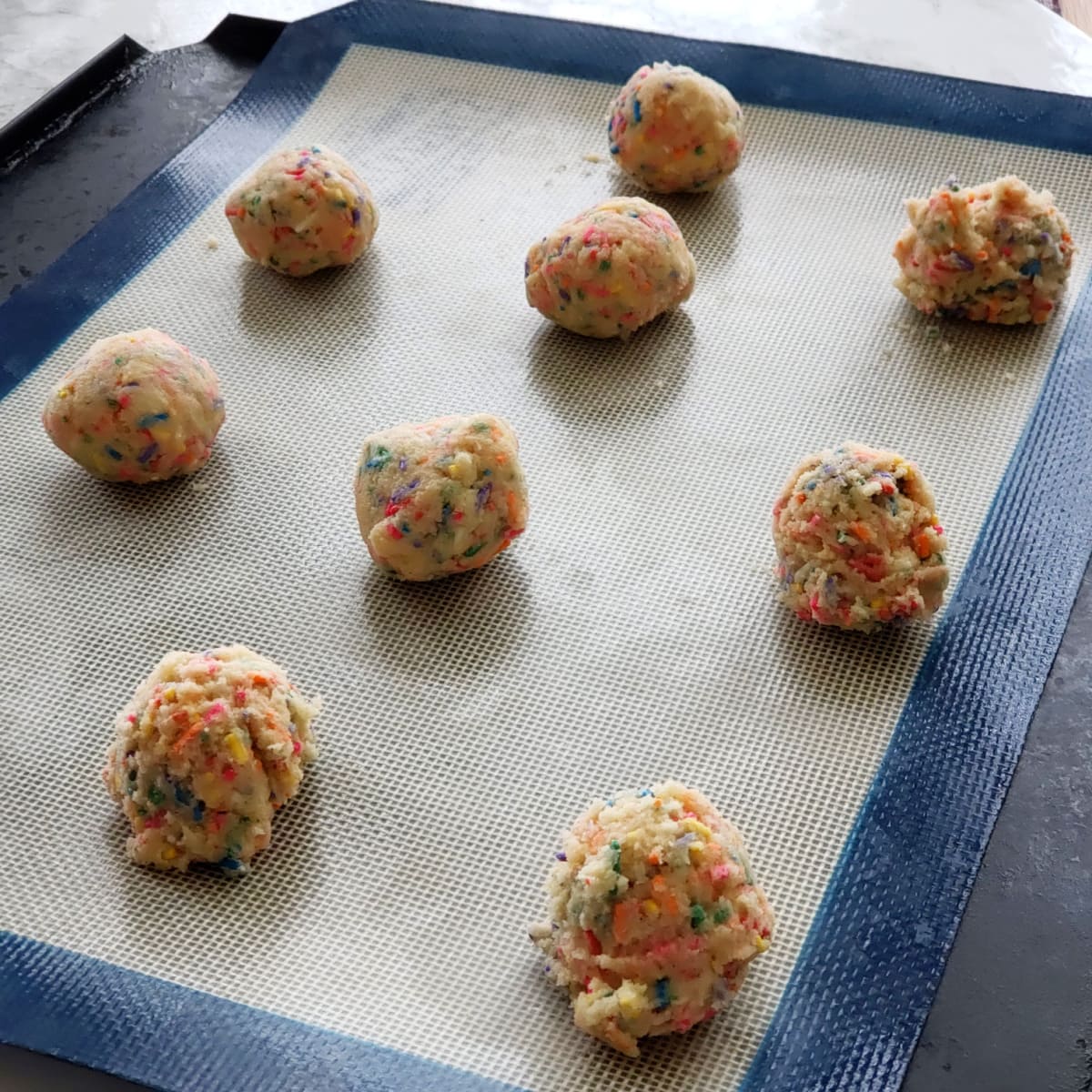 Put on a silicone-lined baking sheet (or use parchment paper).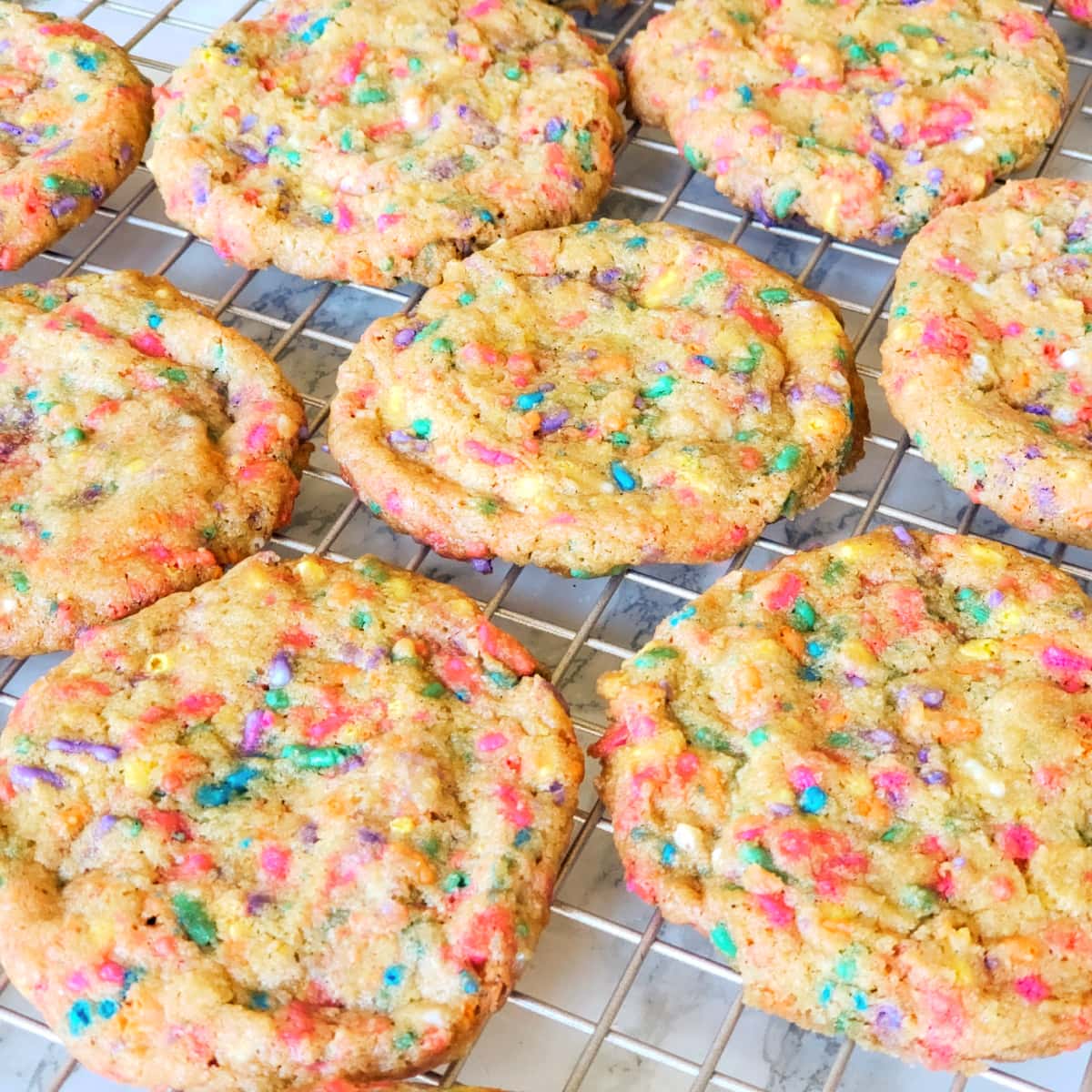 Bake, then remove from oven and cool cookies on a rack until completely cooled.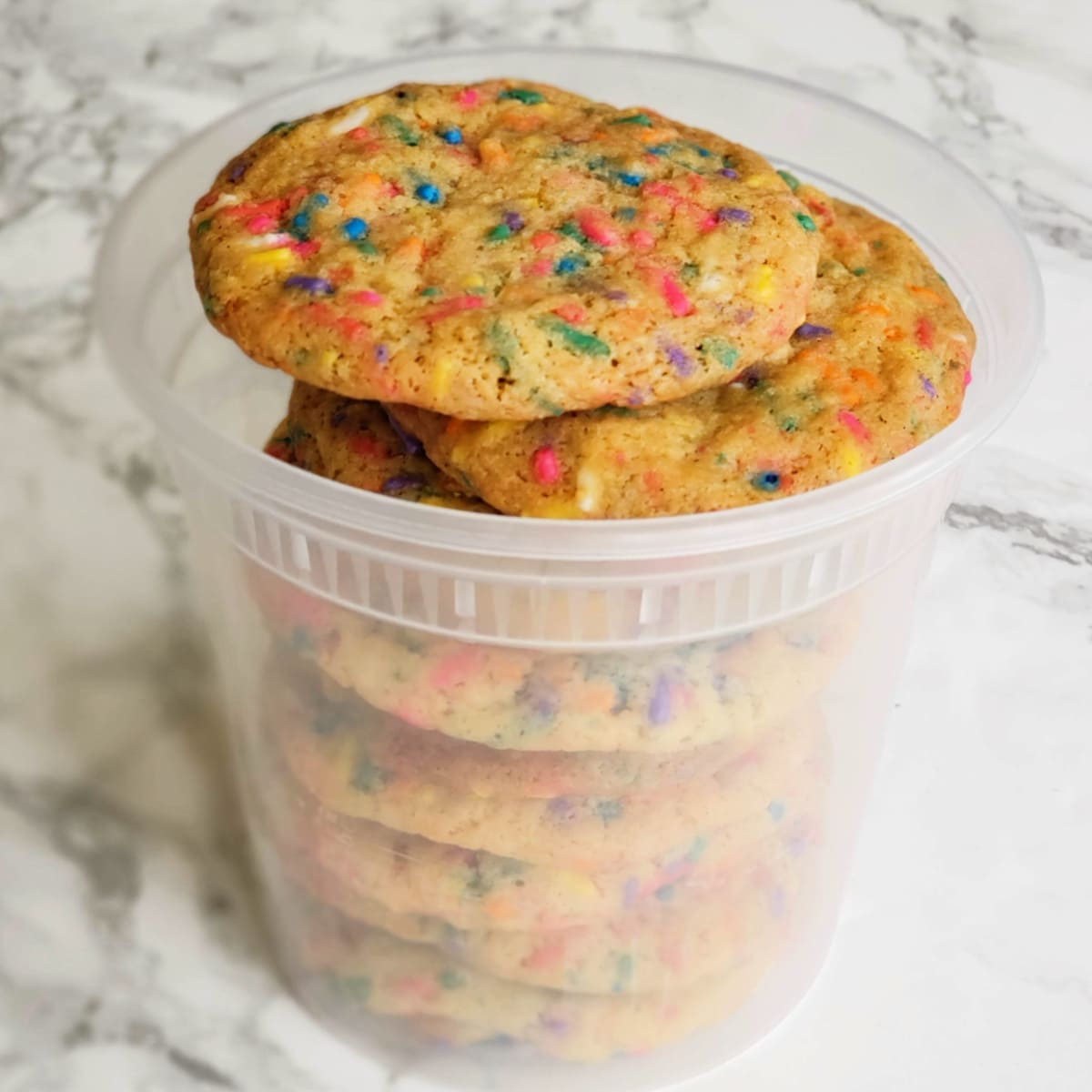 These are large cookies, so I sometimes pack them stacked into saved take-out containers (this is a nice way to give them away if you can part with any of them).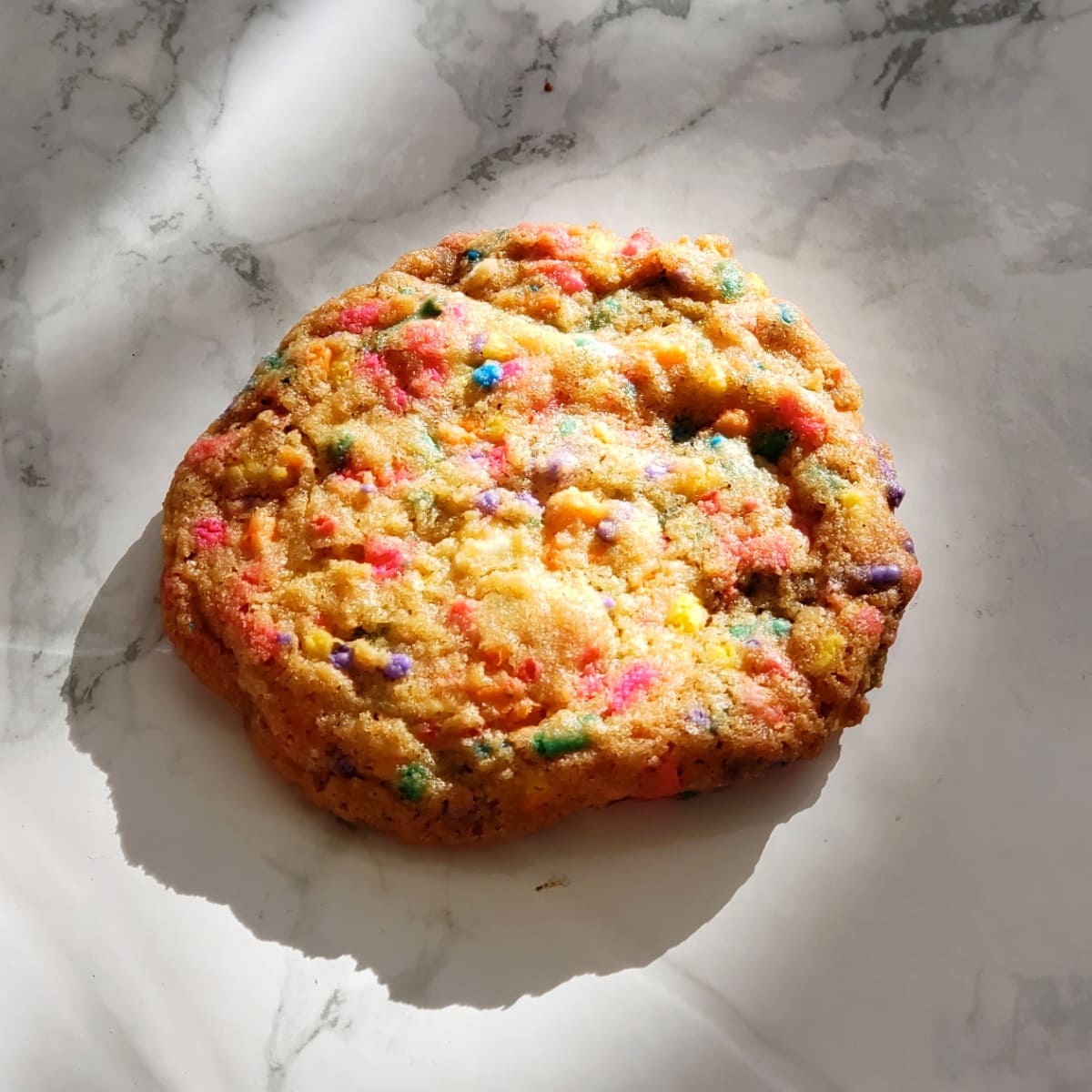 Find your spotlight, Confetti Sprinkle Cookie!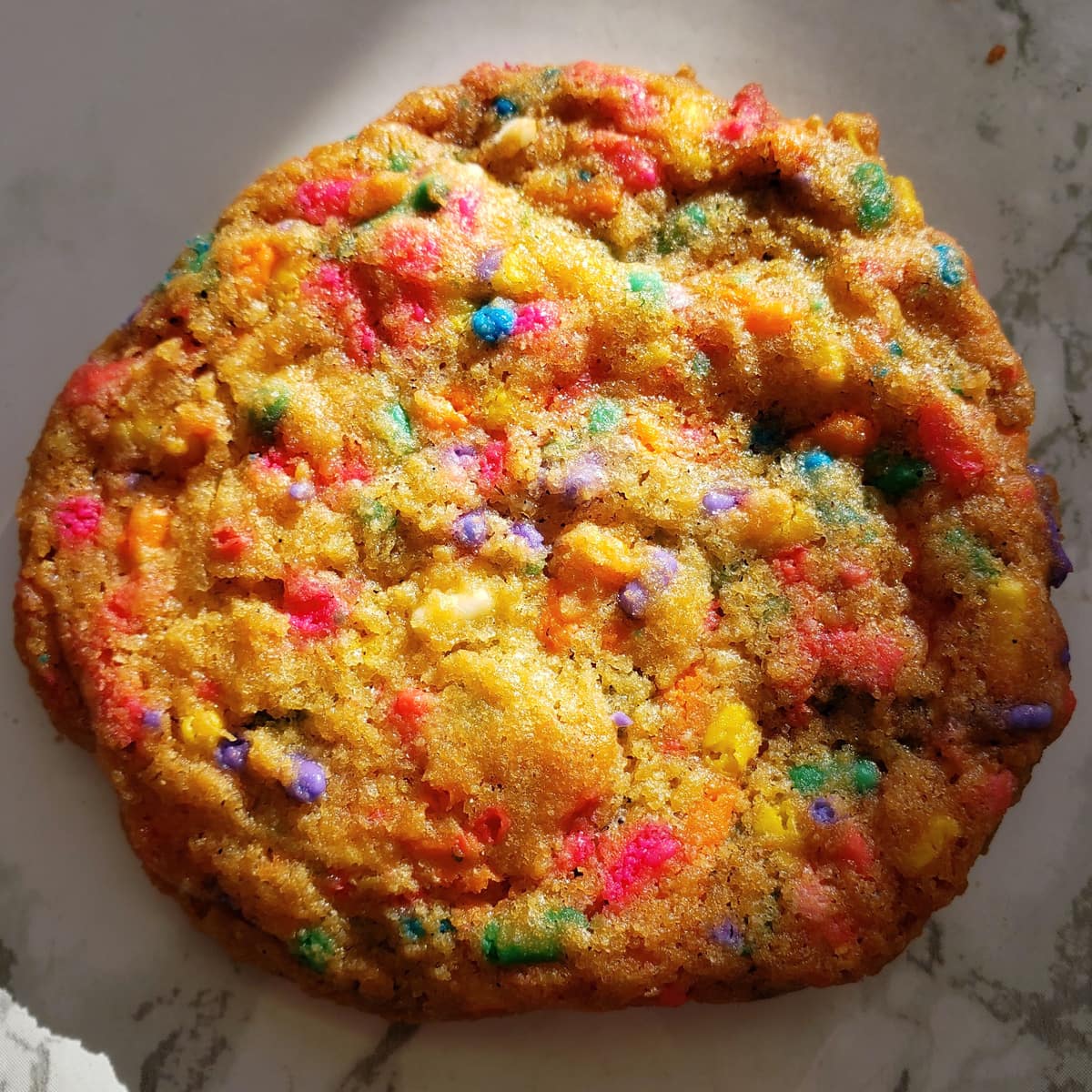 Take a bow, before we gobble you up.
Confetti Sprinkle Cookies
Confetti Sprinkle Cookies are a party all by themselves, with an explosion of sprinkles inside a perfect vanilla sugar cookie. You'll make these all year long! 
Ingredients
--4 ounces unsalted butter (= 1 stick or 8 tablespoons)
--11 tablespoons sugar (150 grams, or roughly 3/4 cup minus 1 tablespoon)
--1 egg (50 grams)
--1 teaspoon vanilla paste (5.5 grams)
--3/4 teaspoon salt (3.75 grams)
--1 1/2 cups minus 1 tablespoon flour (180 grams)
--3/4 teaspoon baking powder (4.5 grams)
--1 1/2 teaspoons cornstarch (5 grams)
--1 cup sprinkles
--1 tablespoon water
Directions
Heat oven to 350F degrees. Line a baking sheet with parchment paper or a silicone baking mat, and set sheet aside.
In the bowl of an electric mixer, add butter and beat on high for 3 minutes, until it looks creamy. Add sugar and mix on high until homogenous, scraping down the sides of the bowl with a spatula every now and again.
Add egg, vanilla and salt and mix until smooth and well incorporated.
In a separate small bowl, mix flour, baking powder and cornstarch with a spoon until combined. Add half this dry mix into the butter-sugar-egg mixture, and mix on low speed until combined. Add all the sprinkles (it will look like too many! Don't worry, it's the perfect amount!) and mix until combined. Add the rest of the flour mixture, and mix until well combined. If mixture seems a bit too dry and won't come together, add 1 tablespoon water and mix.
Scoop onto prepared cookie sheet (you will have 20 cookies). You don't have to roll these into round balls, but it won't hurt if you want to do that. I've done it both ways, and even when I just scoop and bake, they still turn out pretty round!
Bake for 12-14 minutes. For me, they were perfect at 12 minutes, but all ovens vary, so watch the first batch to make your determination. At 13 minutes they still had a bit of a soft center, and at 14 minutes, they were slightly firmer. They will crisp up as they cool.
Makes 20 cookies.

Note about baking:

If you look at Chef Ronnie's original recipe from his Instagram post, he makes much larger cookies, so he calls for a longer baking time. Ours here are just a bit smaller so we bake them for slightly less time.
Notes
Recipe source: Adapted and sized for home cooks from a recipe by Ronnie Munoz of Ronnie's Kickin, a Los Angeles spicy chicken food truck.
https://www.shockinglydelicious.com/confetti-sprinkle-cookies/
Copyright Dorothy Reinhold | ShockinglyDelicious.com. All rights reserved.
Pin the image below for Confetti Sprinkle Cookies to your Pinterest board to save this recipe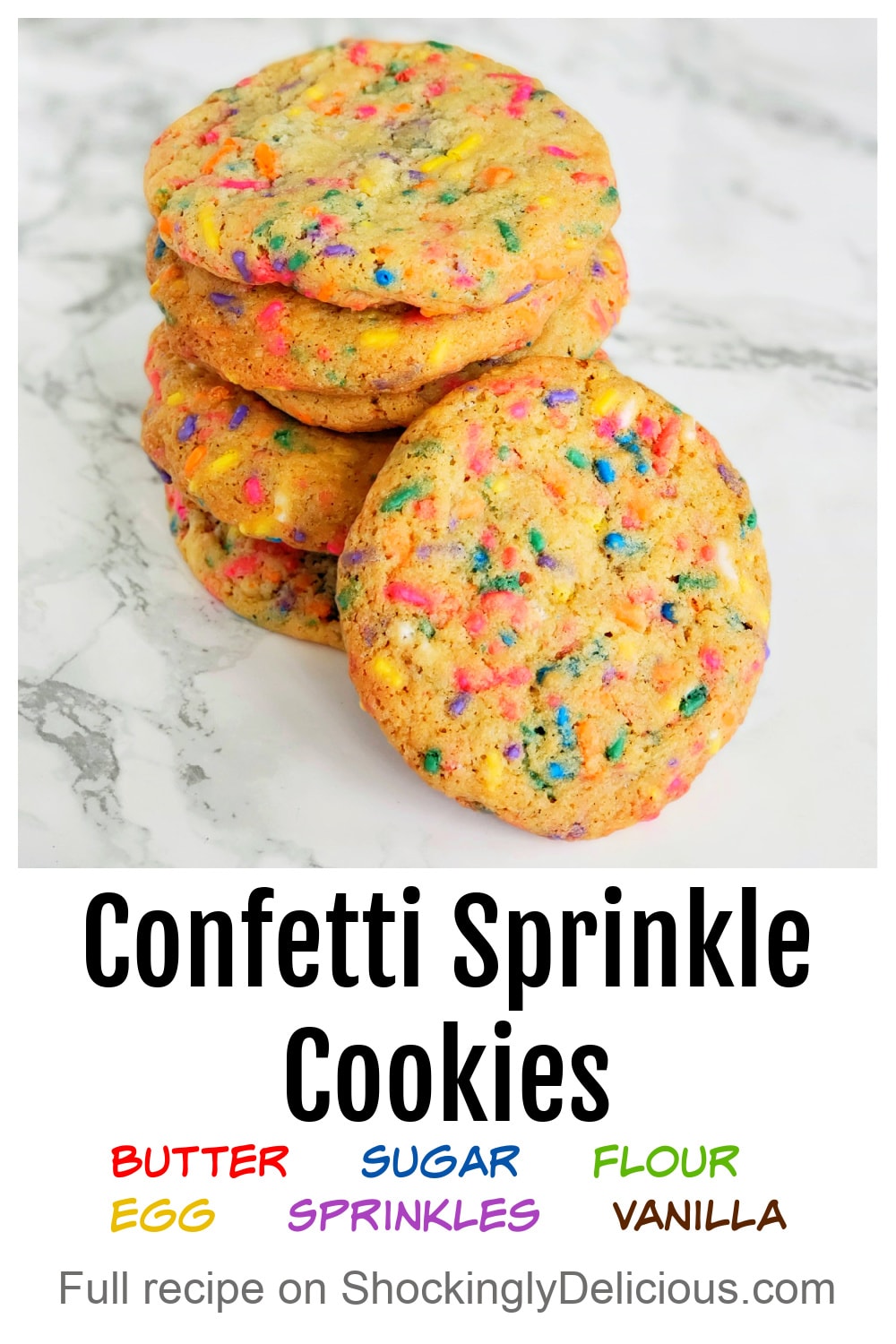 Background of this Confetti Sprinkle Cookie recipe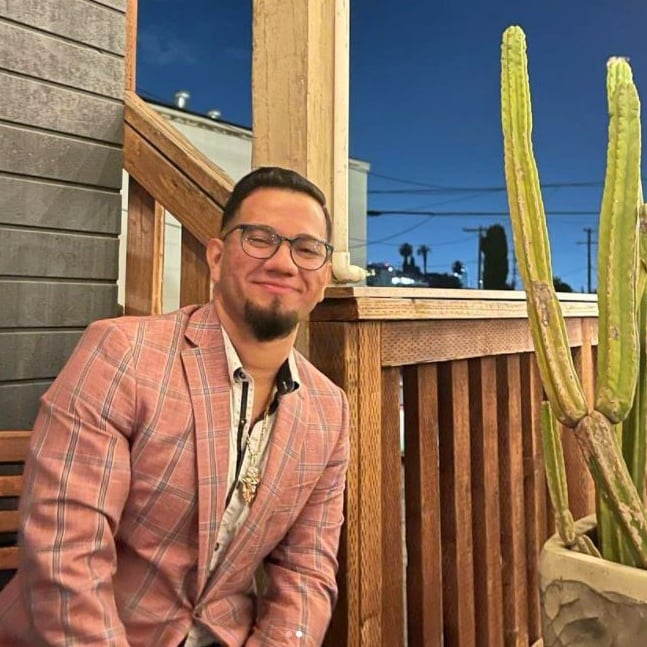 I read about chef Ronnie Munoz in the L.A. Times last year as he pivoted from cooking at some of Los Angeles' finest restaurants to running his own spicy fried chicken pop-up, to having his plans to open his own restaurant dashed by events of 2020. He sold his beloved fried chicken from his front yard, to hungry patrons lined up around the block. And eventually he got a food truck — the mobile version of Ronnie's Kickin, which looks like it is quite successful with a devoted following. I immediately began stalking his lively Instagram (@ronnies_kickin) and have been drooling over his fried chicken, sandwiches, loaded fries and other creations. Follow him there if you want to know where the truck is going to be. In one post, he shared his colorful cookie recipe in which he filled the cookie dough with an unbelievable amount of sprinkles, and I immediately ran to my kitchen to try it out. His version was sized for humongous restaurant service quantities, so I have cut it down to home-kitchen size, and translated it from grams to more conventional home measures. Hope you enjoy, and hit up Ronnie's Kickin food truck for the full experience when you're in L.A.!
Want more Shockingly Delicious cookies?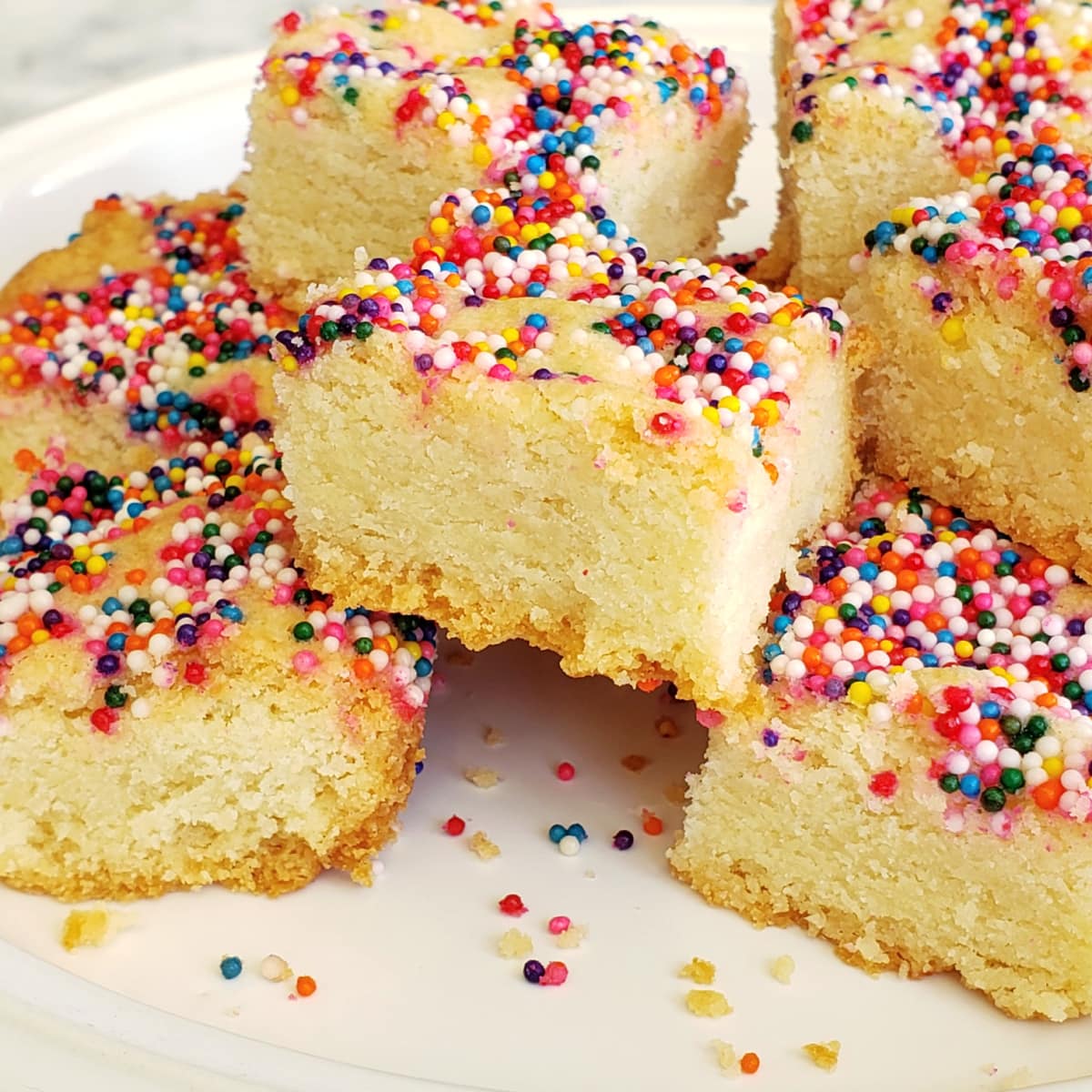 Lemon Shortbread with Sprinkles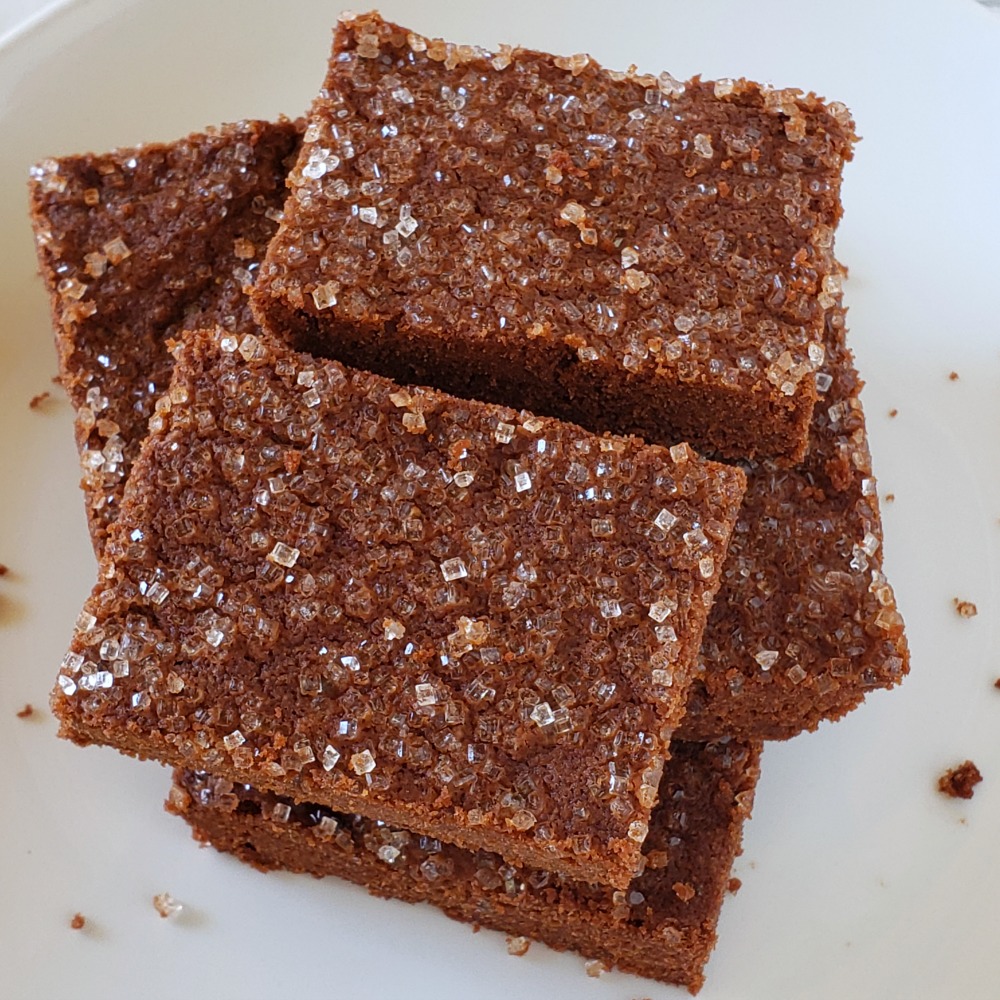 Rich Chocolate Shortbread Cookies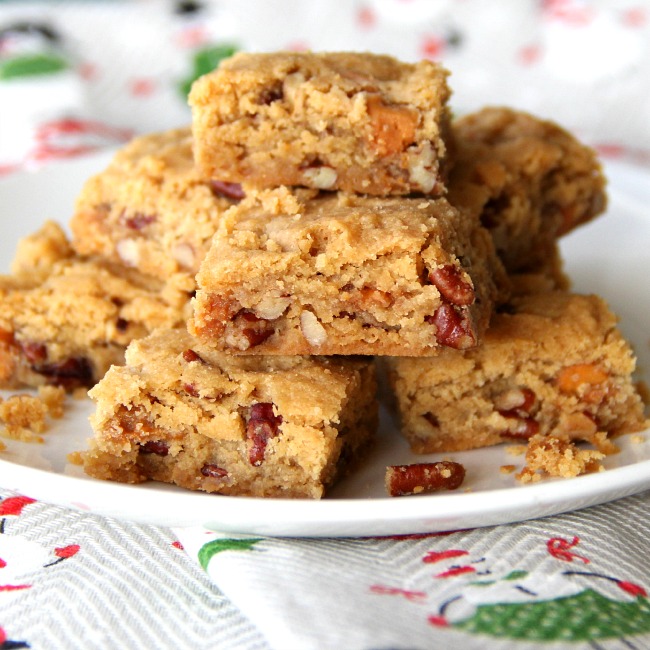 Butterscotch Pecan Shortbread Cookies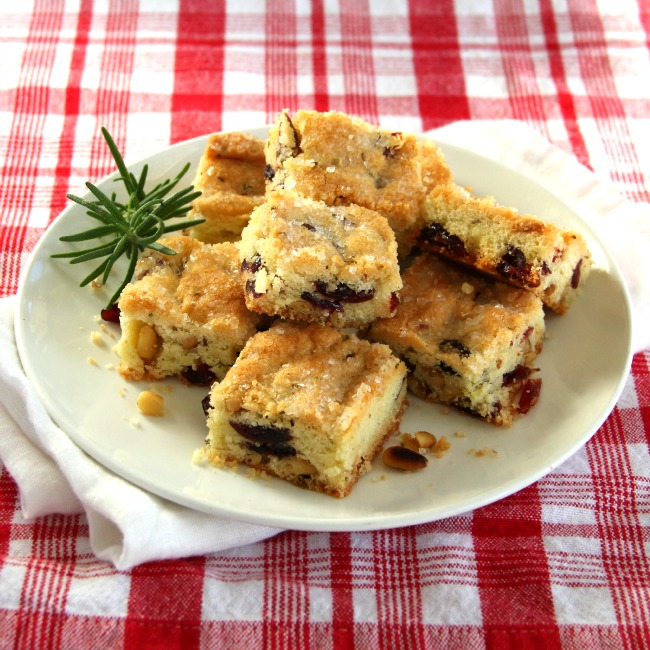 Cranberry Rosemary Pine Nut Shortbread Cookies
Thanks for visiting…are you hungry for more? Follow Shockingly Delicious on…
FACEBOOK | PINTEREST | INSTAGRAM | TWITTER
…for all the latest recipes, ideas and updates!
This post may contain affiliate/referral links. It is a way for this site to earn advertising fees (at no cost to you) by advertising or linking to certain products and/or services that I approve and prefer. Thank you for using my affiliate link to shop, so I can continue to bring you shockingly delicious recipes!