Print This Post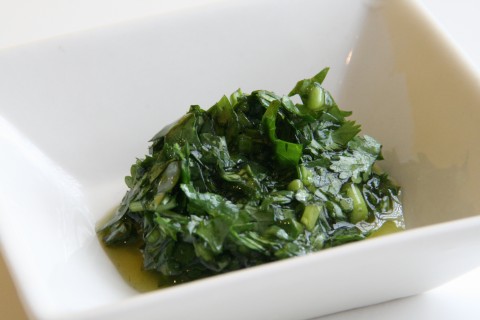 As self-proclaimed president of the Cilantro Lovers Club (if there were such a thing), I hereby declare this the best recipe of the year. Yes, I know the year is only half over and it might seem early to crown a winner, but for cilantro lovers, nothing is going to top this in ease, versatility, and pure cilantro-y goodness!
A simple, two-ingredient, nut-free pesto (well, four ingredients if you count sea salt and pepper, which I don't), this is from Lindsay Hunt, who writes the Five Ingredient column on the Marcus Samuelsson website. Samuelsson, you might recall, is the inventive cookbook author and chef/owner of Red Rooster in Harlem, Marc Burger in Costa Mesa and Chicago and C-House in Chicago.
Once you make this herby deliciousness, what should you do with it?
Here are some ideas:
boil or roast some new potatoes and then toss some of this pesto with them
spoon a bit on top of some creamy polenta
slather a bit on a toasted piece of Bruschetta
stir some into cooked rice or quinoa
stir some into mashed potatoes to flavor them
spread some onto bread for your sandwich
mix some with a bit of mayo for a cilantro-y sauce for a simple grilled fish
use it instead of chopped parsley for your tabbouleh salad
mix some into ground beef or pork or lamb when you are shaping hamburger patties
stir a dab into your eggs before you pour them into the hot frying pan to scramble them
spread some onto thickly sliced summer tomatoes and sandwich with slices of fresh mozzarella
dab onto your refried bean and cheese nachos when they come out of the oven
slather onto a tortilla before you add your fillings and roll into a burrito
Recipe: Nut-Free Cilantro Pesto
1 bunch cilantro, well washed and dried
1/4 cup extra-virgin olive oil
Sea salt, to taste
Freshly ground pepper, to taste
Using a chef's knife, chop the cilantro until well minced. Transfer to a medium bowl and drizzle with the olive oil, stirring to combine. Season to taste with salt and pepper.
Pesto will keep in an air-tight container in the refrigerator for up to 2 weeks.
Source: Lindsay Hunt.
Lindsay has a number of delicious-looking recipes! You can see a bunch of them here. I have my eye on her S'Mores with Homemade Graham Crackers. Oh yes I do.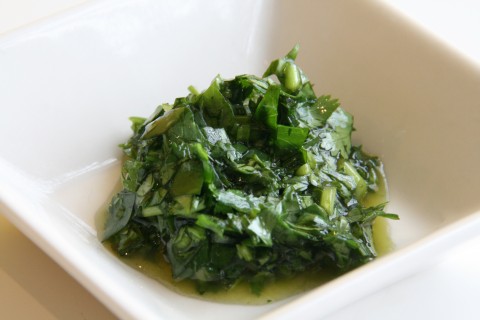 Linked up to: http://www.tidymom.net