Print This Post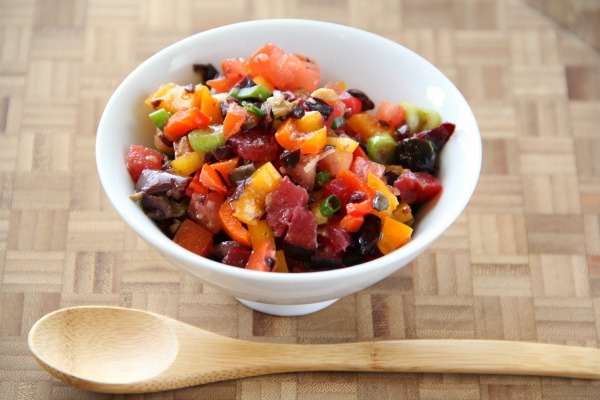 When summer hands you a plethora of fresh fruits and vegetables, you get busy with a knife.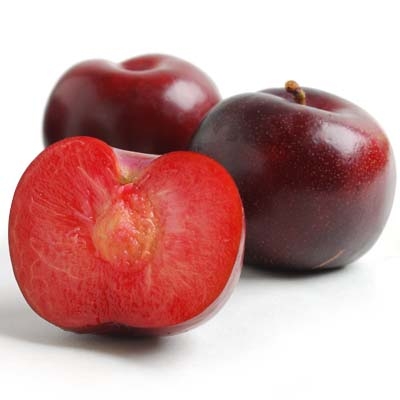 Beautiful summer Flavorosa Plumcots from Melissa's Produce were the inspiration for this salsa. Flavorosas  – 75% plum and 25% apricot – have a dark skin and dark red flesh, with flavor hints of plum, cherry, pomegranate and honey. It's a super sweet plum with low acidity, available now and gone soon. Get them while you can!  And if you can't find them, feel free to use any plum that you fancy. You can also sub pluots or  apriums — complex hybrids of plum and apricot.

This chunky, rustic looking fruit and vegetable salsa is great over grilled fish, steak, chicken, or even on hot pasta.
Let your imagination soar as you think of ways to use it! (I have 5 other suggestions right below the recipe if you need a little help.)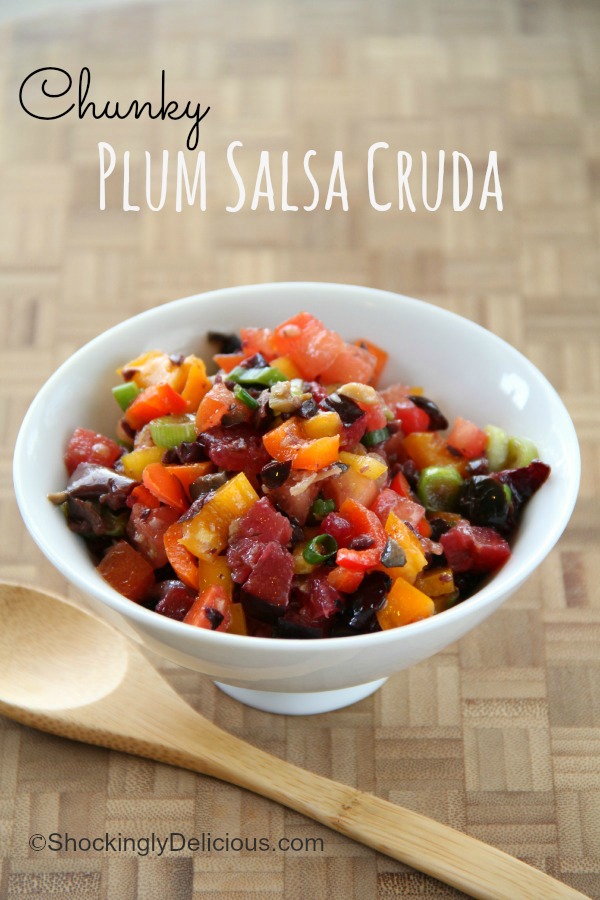 Recipe: Chunky Plum Salsa Cruda
Summary: Sweet plums in season highlight this chunky, rustic chopped salsa, which works well with simple grilled fish, steak or chicken.
Ingredients
2 green onions, chopped finely
4 mini sweet bell peppers (a variety of colors if possible), stemmed, seeded and chopped finely
24 briny olives (Kalamata or Nicoise preferred), pitted and chopped (fewer olives if you prefer)
1 tomato, seeded and finely diced
1 clove garlic, pressed
1 Flavorosa Plumcot (or use your favorite plum), chopped finely
2 tablespoons orange-flavored olive oil (I used Blood Orange Olive Oil from Hotel Valencia)
Instructions
Add all ingredients to a large bowl and mix gently until everything is coated with the oil. Scrape into a pretty serving dish and serve!
Serves 6 as a relish or condiment.
Recipe source
Dorothy Reinhold | ShockinglyDelicious.com
Other ways to use plums and plumcots
Preparation time: 15 minutes
Diet type: Vegan
Diet tags: Gluten free
Number of servings (yield): 6
Culinary tradition: USA (Nouveau)
My rating 5 stars:  ★★★★★ 
This recipe originally was published in July 2014, and republished today.
Disclosure: Melissa's Produce sent the plums for recipe testing.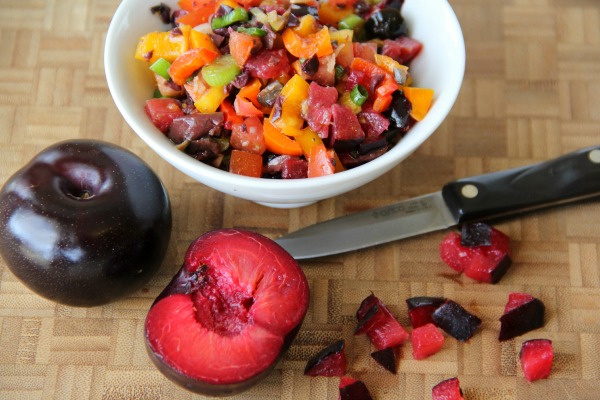 Save
Save