Print This Post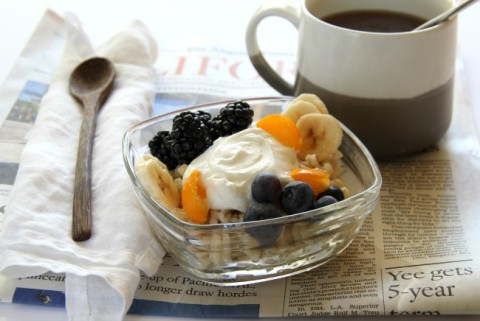 Barley Banana Berry Breakfast Bowl: Chewy barley replaces boring oats in this breakfast bowl with whole grains, fruit and a dollop of yogurt.
What's a girl to do when she wants a filling breakfast, but wants a healthier option than bacon, eggs and slabs of buttered toast? (Not that I wouldn't like that, but most often, I want some fruit, some grain and some protein, without all the salt, fat and calories.)
Enter the Breakfast Bowl. It can be anything you like, ranging from oatmeal to a heartier, chewier grain like farro. In fact, I have a pretty nifty farro parfait here.
But have you considered barley? Sure, you might have had it for dinner, in a mushroom barley pilaf, or a barley risotto, or tossed into minestrone soup to give it some heft.
But move over oatmeal, because barley is about to be your new breakfast grain. It's versatile, has a lightly nutty flavor and a chewy consistency, which gives your mouth something important to do. It provides intestinal bulk, and helps encourage friendly bacteria to give your gut a boost. It can lower your cholesterol, and prevent blood sugar levels from rising too high in people with diabetes. It's high in fiber (1 serving has 7g dietary fiber), low in fat (0.5g) and has 0 sodium and fat/cholesterol.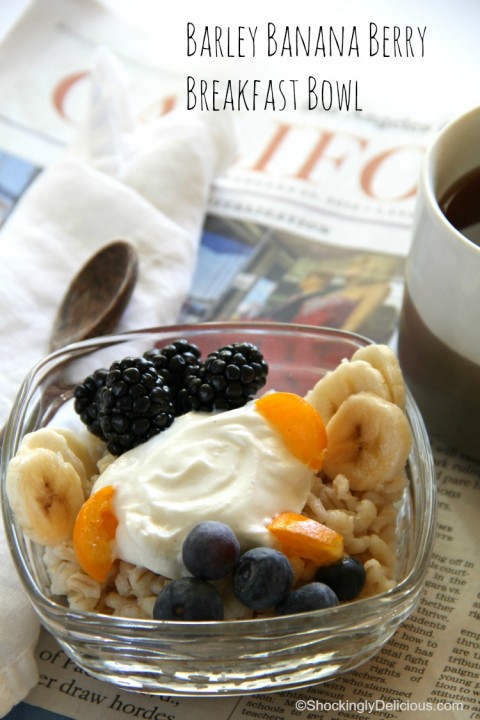 It's a little miracle in a bowl, is what it is, and you can dress it up however you like. I dressed it with yogurt, bananas, berries and a few sweet-tart kumquats, for fun.
First, though, you must wash the grains. It is cleaned before being bagged, but it is a natural agricultural product, so sometimes a small bit of dirt or a pebble sneaks into the bag. No big thang. Wash the barley and fish out anything sketchy.
My friends at OXO sent over a couple of items to help me create a breakfast bowl, and all of them came in handy.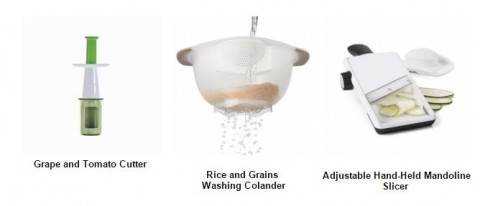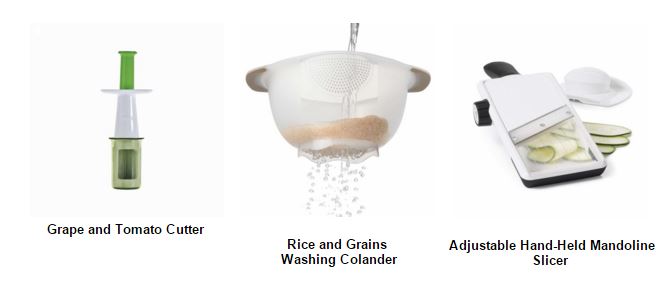 Let's review them, so you know how you can use them in your own kitchen.
This handy bowl is designed to contain small grains (rice, quinoa, barley, wild rice, farro, buckwheat, etc.) and control the water flow for a slow, thorough washing. The water pools a bit before draining. It has a pour spout that also drains the water, is light and I found it easy to swish and swirl the water before pouring out my clean barley into the cooking pot. Of course it acts as a regular colander, as well, so is great for washing fruit and other produce. $11.99 A tiny, criss-cross serrated stainless steel blade assembly slices grapes, olives and grape tomatoes, or in my case, small backyard kumquats that I wanted to put in my breakfast bowl! Grab it, fit the fruit in, push the plunger with your thumb (like you might with a hypodermic needle), and you're good to go. Repeat. $9.99 This tool is very handy for slicing firm fruits and vegetables, because it has an adjustable blade that you dial with the turn of a knob. I used it on the #4 widest setting to slice my bananas into pretty, uniform circles, but when I use it next, it will probably be on radishes, carrots, spuds and celery. It has non-slip notches so you can slice directly over a bowl, and has 7 different width settings. $24.99
All right, now that we've reviewed the gadgets, let's talk breakfast bowl.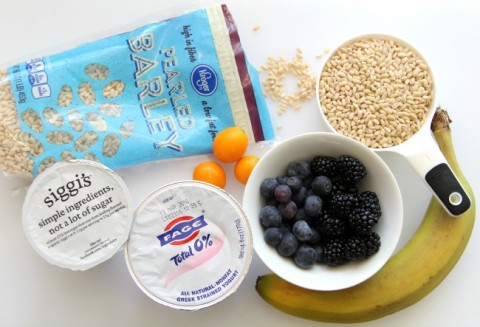 You can personalize this bowl any way you like, because the barley is a good canvas for your morning ideas. I have a few suggestions:
Eat it like oatmeal, with a splash of milk, a sprinkle of brown sugar or maple syrup, and a dusting of cinnamon.
Dollop your favorite yogurt (dairy or non-dairy), and fling in-season fruit on top (as I show you today).
Go the savory route. Who says you can't have diced avocado and hard-cooked egg on your barley in the morning? I would add chopped cilantro, tomato and maybe shallot to that, but I know not everyone wants cilantro and shallot breath in the morning. Your loss.
Pearled barley takes 45 minutes to cook, in a covered pot, at a low simmer, so it's not wildly practical on a morning when you're rushing. My strategy is I cook a cup or two of barley while we're eating dinner, cool it and keep it in the refrig. I can take the chill off by warming it slightly in the microwave the next morning, or eat it cold or at room temperature.
Try it and let me know what you think!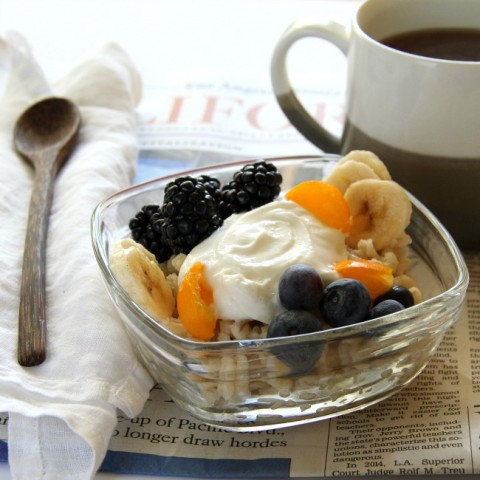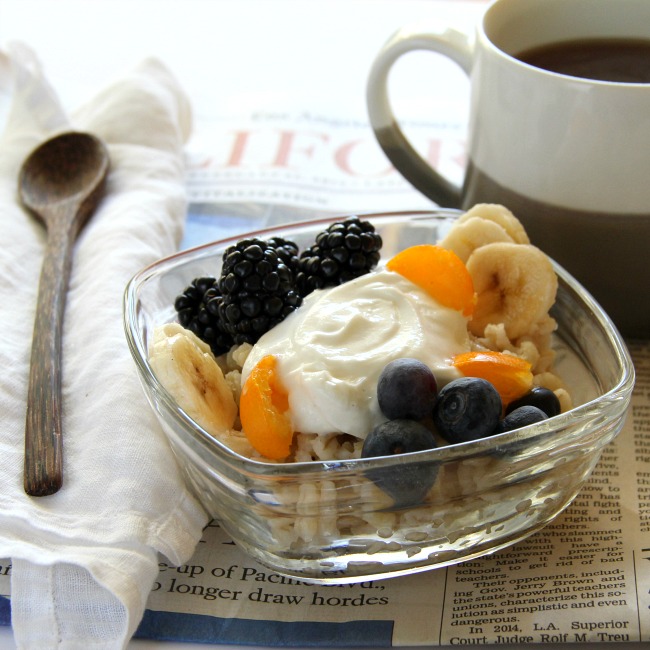 Barley Banana Berry Breakfast Bowl
Chewy barley replaces boring oats in this breakfast bowl with whole grains, fruit and a dollop of yogurt.
Ingredients
1 cup dry pearled barley, rinsed and drained

Toppings

Flavored or unflavored yogurt
1 (6-ounce) container blackberries
1 (6-ounce) container blueberries (or your favorite berry)
1 banana, sliced

Garnish:

4 kumquats, cut into quarters
Directions
Cook barley according to package directions. (Mine called for 2 1/2 cups of water, 1 cup of barley, and about 45 minutes in a covered pot, on simmer.)
When barley is done, portion into bowls, top with a big dollop of yogurt, a handful of berries, bananas and a couple of kumquat quarters. You may serve the barley hot, room temp or chilled.
Serves 4.
Notes
Recipe source: Dorothy Reinhold | Shockingly Delicious
https://www.shockinglydelicious.com/barley-banana-berry-breakfast-bowl/
Copyright Dorothy Reinhold | ShockinglyDelicious.com. All rights reserved.
Giveaway (closed)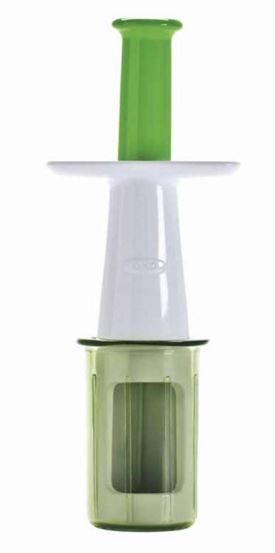 WINNER 3-4-16 : Liz M. of Escondido, Calif. was the winner! Thanks for playing along, everyone, and watch this space for the next giveaway!
Since I already have a Grape and Tomato Cutter in my gadget drawer, I am giving away the new one OXO sent me, to a lucky reader. You will find lots of uses for this handy tool. Simply leave a comment answering the question in the Rafflecopter widget below, and once you do, you will have additional chances to enter. I will pick a winner on March 4. (Giveaway is for U.S. residents 18 and over with a U.S. mailing address.)
a Rafflecopter giveaway

Disclosure: OXO sent the tools for use in this blog post, and provided the item for the giveaway. I will mail the giveaway item to the winner.