Print This Post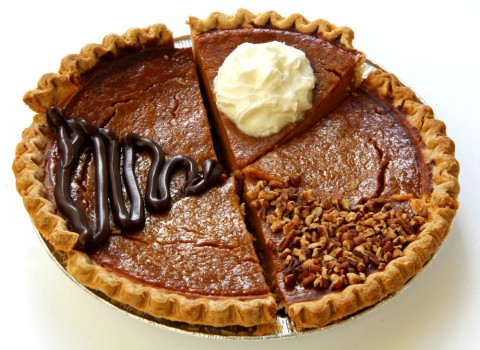 This post is written by me on behalf of Tyson Foods, Inc. All opinions are entirely my own.
We know for darn sure we're going to have pumpkin pie for Thanksgiving dinner, but if you think about it, it's equally at home on the table for virtually any fall or winter meal.
There's only one Thanksgiving Day, but there are so many more occasions during the next several months when family and friends get together to have fun. Movie nights, game days, sleepovers, day hikes, date nights, just because.
Why keep the beloved, smooth, creamy, comforting pumpkin pie for only one meal?  It's just the thing you want to finish any meal off with a sweet smile. My favorite meals to cap off with pumpkin pie include:
Entrée salads, because then I always have room for pie!
A warming bowl of soup, like Vegetarian Chard Soup.
A small piece is a just-right afternoon snack after a day of sports or activity.
And I've been known to eat pumpkin pie for breakfast! Think about it…eggs, dairy, vegetable…it has everything I need! A cup of tea and a slice of pumpkin pie, and my day already looks brighter.
I've made many a homemade pumpkin pie in my life, but I also frequently rely on the gold standard — Sara Lee® Frozen Pumpkin Pie Dessert. It's…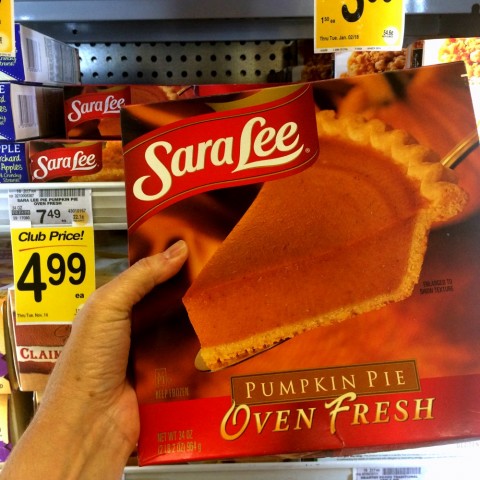 …easy to find in the freezer section. I got mine from Vons, a chain in the family of Albertsons Supermarkets. They're well stocked with Tyson® products, so I don't have to wait until Thanksgiving for my beloved pumpkin pie.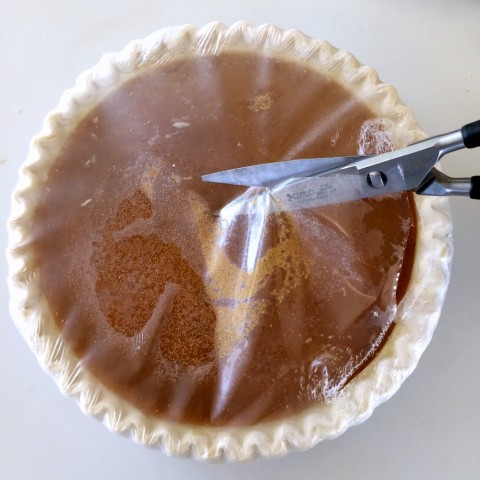 …simply remove the plastic wrap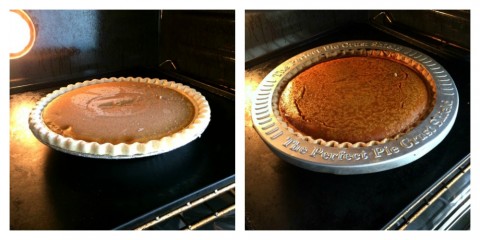 …pop it into the oven on a baking sheet (this helps you remove the pie easily when it is done), and midway through baking, put a pie shield on top if you think the crust rim is getting too dark (my oven can run hot so I have that shield at the ready).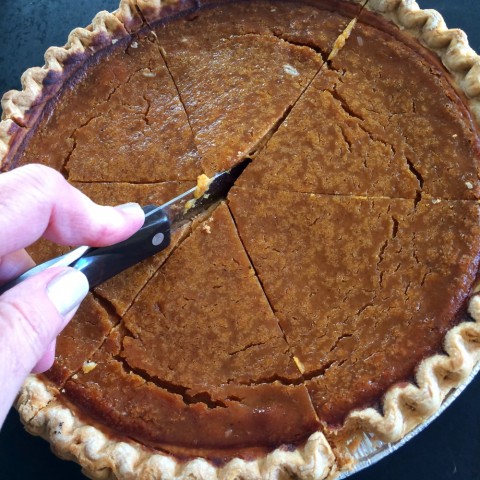 …and once it's done and cooled, make sure you cut even pieces. I have memories of my brothers getting out the ruler to see if one piece of pie was bigger than the others, so now that I'm in charge of cutting, I am scrupulous about size. All pieces must start out equal, or fighting will ensue.
It's wonderful as-is, of course, but with just a few simple ideas from the pantry, you can personalize your pie.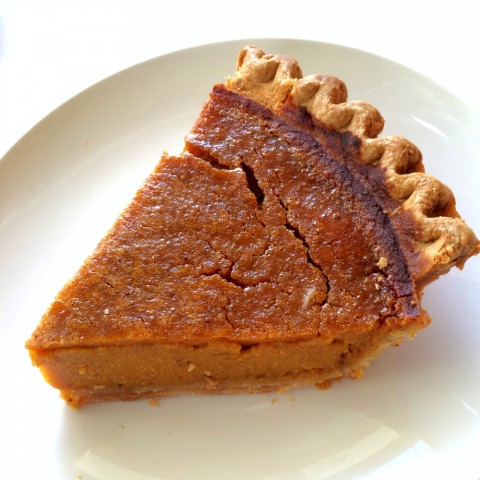 The classic, unadorned. Buck naked and beautiful!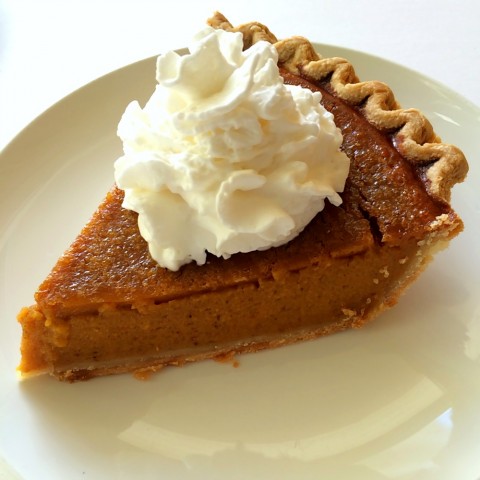 With a puff of whipped cream. Easiest is to buy it in the can, but it's not hard to make your own whipped cream, to take this option up a notch! Simply whip 1 cup heavy whipping cream and 1 teaspoon to 1 tablespoon of powdered sugar and ¼ teaspoon vanilla extract, until you get soft peaks in the cream. (The range of sugar depends on how sweet you like it.) Dust with grated nutmeg if you like.
With fudge sauce. Hear me out on this one. You know how you love Pumpkin Chocolate Chip Cookies? Well, get a jar of hot fudge sauce, DON'T heat it but have it at room temperature, and simply drizzle or plop some on top of your slice of Sara Lee® Frozen Pumpkin Pie Dessert. Close your eyes and enjoy, because pumpkin and chocolate are a new classic.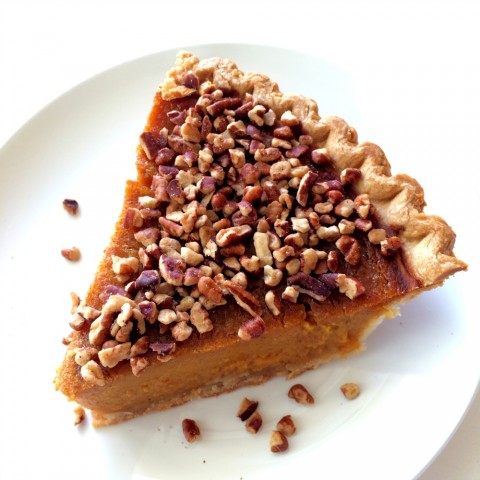 With a sprinkling of chopped pecans. These can be either plain roasted, or they could be candied, your choice. A little crunch on top adds a nice counterpoint to the creamy pie.
If you're feeling festive, you could create a Pumpkin Pie Toppings Bar for your guests. Cut the baked pie and plate the pieces, and then offer all the toppings so guests can pick a plate and select their own personalized pie toppings. How fun would that be?!
I have two pumpkin pies in my freezer right now. One is required, for Turkey Day, and the other is my wild card. Because in my world, pumpkin pie day can – and should — be ANY day.

If you like this and would like to save it, pin the image below to your Pinterest board.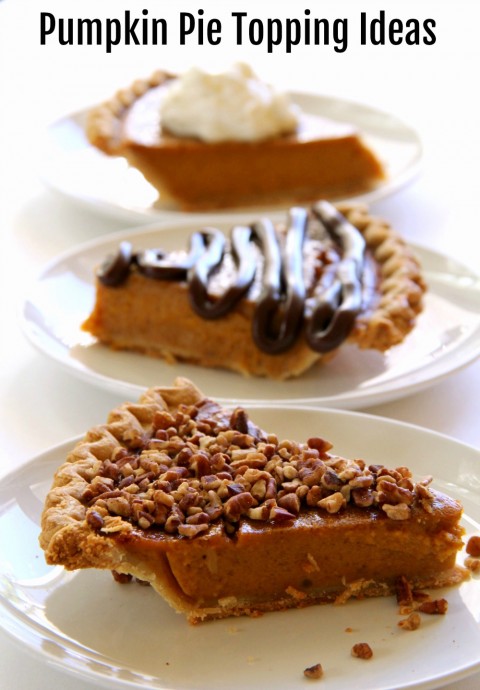 I was selected for this opportunity as a member of CLEVER and the content and opinions expressed here are all my own.