Print This Post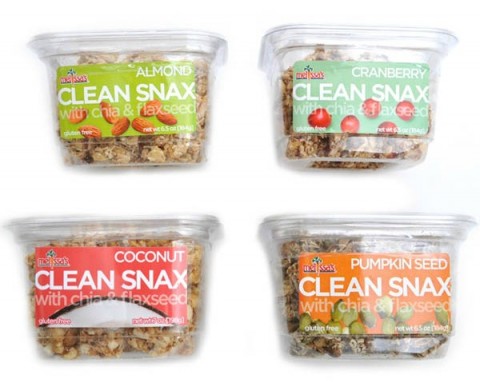 A baker's dozen of my favorite things this month, ranging from snacks, hot dogs, beer, beans, spuds, pancakes, fun gadgets and olive oil skin moisturizer to flavored water.
1. Clean Snax
With two surfers and 2 ravenous teenagers in the house (not to mention a snicky-snacky mom), my family values a tasty, healthy nibble that gives us convenient energy without piling on the junk food. We all like Clean Snax from Melissa's Produce – which come 30 little bite-sized squares to a package, and contain today's "it" foods — chia seeds and flaxseed. They're only lightly sweetened with honey, and blessedly only lightly salted. You feel kind of virtuous after you eat them! They come in four flavors: Almond (my fave), Pumpkin, Coconut and Cranberry (my kids' fave). These little healthy nuggets have a permanent spot on my snack shelf. Gluten-free.
♥ ♥ ♥
2. Great new scone recipe!
Recipe creator Faith Gorsky calls these "Christmas Morning Scones," and that's exactly when I made them, but I'm here to rechristen them "Everyday Morning Scones." These taste like happiness and optimism, sugar and spice, warmth and pine-scented mornings. I recommend you turn on the oven right now and make these. Follow the recipe title to be taken to her recipe.
♥ ♥ ♥
3. Peanut Butter singles
My teenagers like to snack on apple slices dipped in peanut butter, and I've found an easy way to pull that off for lunches. I pop a Skippy Natural Single in the lunch sack, and away we go. Each cup has 1.5 ounces, and there are 6 cups in a container. No preservatives, articficial flavors or colors. It's a lifesaver when we're running behind in the morning. Grab and get out the door!
♥ ♥ ♥
4. Best hot dogs ever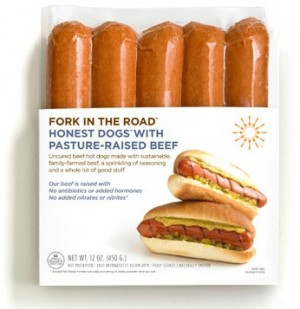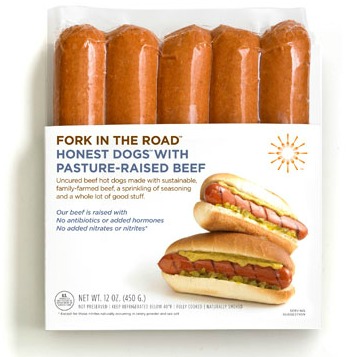 Fork in the Road has created the best hot dog we've ever tasted in the ShockD household. Called Honest Dogs, these are uncured, from pasture-raised cattle, with no added nitrates or nitrites, made with sustainable, family-farmed beef that has been humanely raised with no antibiotics or added hormones, and a coupla seasonings. They snap when you bite them, have a pure flavor, and thankfully they aren't loaded with salt. When the occasion calls for a dog, I plan to grab these. Available at Whole Foods (or use their store locator).
♥ ♥ ♥
5. Crazy-good beer
At Camp Blogaway food blogging camp, a fellow camper named Natalie Wiser-Orozco of the blog The Devil Wears Parsley introduced me to the most incredible beer. I'm not really a beer girl, but this stuff was wildly good, tasting of chocolate, coffee and noir! Called Black Metal Imperial Stout, from Jester King Brewery in Austin, Texas, it is distributed in SoCal, and highly coveted. Natalie reports the company has a "breadth" approach to distribution — get it as many places as possible, but each place doesn't get that many bottles. The company calls it a "cruel and punishing beer fermented by the sheer force of its awesome will." I call it divine darkness.
♥ ♥ ♥
6. Taking the 'music' out of beans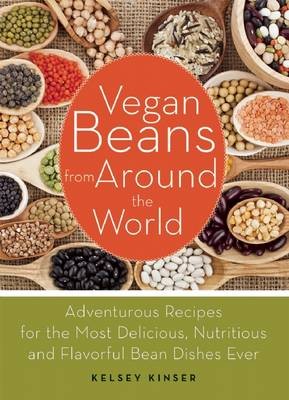 We all know that beans are known as "the musical fruit," and for good reason, as they often cause intestinal distress (oh, what the heck! They cause gas and farting!). Kelsey Kinser, author of "Vegan Beans from Around the World" (Ulysses Press; 2014), has some great advice for those of us who are eating more beans these days. 1. Soak them to remove some of the oligosaccharide, a type of sugar the body can't break down. 2. Eat beans and legumes regularly, and after a week you should notice a marked decrease in the upsets caused by this sugar. 3. Add some natural remedies — bay leaves, cumin, the herb summer savory (Bulgarian cuisine), epazote (Mexican herb), asafetida/hing powder (common in curry) — which not only taste great with beans but naturally help to fight the gas. Thanks Kelsey!
♥ ♥ ♥
7. Cascade Ice Organics
My family drinks a lot of water with meals, so we're always in search of a way to jazz it up and make it a little more interesting. A new discovery at the grocery store fills that bill, with organic, lightly flavored sparkling water that gives a little fizzy, fruity flavor WITHOUT any calories, sodium, caffeine, sweeteners or gluten. Cascade Ice Organics DO HAVE premium water and organic fruit essences (natural fruit oils and extracts) and come in six flavors: Blueberry, Grapefruit, Mixed Berry, Lemon Zest, Citrus Twist and Lemon Lime. Our absolutely favorites were the Grapefruit and Lemon Zest. The kids have already written those on this week's shopping list again.
♥ ♥ ♥
8. Mini ice cream maker
This is the cutest thing EVER! It's a personal-sized ice cream or slushy maker for kids, and it comes in fun animal shapes (seal, penguin, St. Bernard, etc.) You stir together a couple of ingredients, fill up the bottom with ice, salt and water, and shake it for 3 minutes to make a small ice cream snack. That's right, there are no batteries or plugs needed — it's arm power all the way, baby! My son had fun making the Cookies & Cream Ice Cream treat (1/2 c. half and half, 1/2 tablespoon sugar, 1 tablespoon crushed Oreos, shakey, shakey, shakey, boom done!). Mugz retail for $13.49 at GeoSpace.
♥ ♥ ♥
9. Cheater spuds
Will you take away my food blogger club membership card if I admit I rely on cheater taters sometimes for dinner? When I have roast chicken and steamed broccoli and I don't know what else to put on the dinner plate but I need something no-brainer and really fast, I often reach for a pouch of Idahoan flavored mashed potatoes. A little mash goes really well with nearly anything else I'm serving, and you can't beat the flavors. I mean Applewood Smoked Bacon? Bacon & Cheddar Chipotle? I adored the Italian Romano White Cheese. They're often on sale in my markets for $1 each.
♥ ♥ ♥
10. Protein pancake mix
ProCakes Protein Pancake Mix solves the age-old problem with pancakes (for me anyway). I love them, but I am always hungry an hour later when I get a blood sugar dip. These pancakes give me energy without the sugar high because they're lightly sweetened with Xylitol, a sugar alcohol (neither sugar nor alcohol) derived from fruits and vegetable fibers. It's absorbed more slowly into the bloodstream than sugar. So these pancakes, with 20 grams of protein per serving, stick with you and need only fresh fruit on top. Gluten-free, 14 net carbs per serving, no sugar added.
♥ ♥ ♥
11. Olive oil moisturizer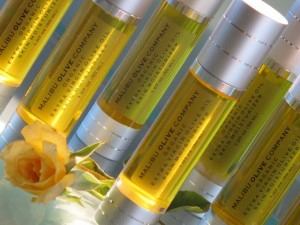 I use olive oil nearly exclusively for my skillet needs and a lot of my baking, but did you know it is a natural moisturizer as well? Malibu Olive Company has taken early harvest organic extra-virgin olive oil and mixed it with a whiff of lemon essential oil, and emerged with Anti-Aging Skin Moisturizer, a great cosmetic product to soften skin, remove eye makeup, rub into fingernails, moisturize lips, etc.
♥ ♥ ♥
12. Instagram!
I adore Instagram, do you? Share what I'm eating and cooking by following me @Shockinglydlish, and tag me when you post something delicious of your own! And certainly tag me if you re-create one of my recipes. It's a great social platform for sharing/showing your noshing. 🙂
♥ ♥ ♥
13. Look who's making my stuff!
♥ ♥ ♥
Disclosure: Melissa's Produce, Hormel, Fork in the Road, Ulysses Press, Cascade, Mugz, Idahoan, ProCakes and Malibu Olive Company sent products for review. There was no expectation of a positive review and all opinions are, as always, my own.