Print This Post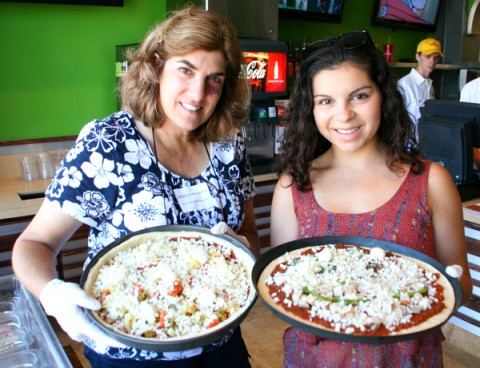 1. Fresh Brothers Pizza: Oh joy, oh rapture! Fresh Brothers has just opened a store in Brentwood, Calif. (Southern Calif.), so I can get my fix of the best pizza, garlic knots and wings around. Fresh Brothers invited me and my daughter to the store opening, and we got to eat their fabulous food and make our own pizzas!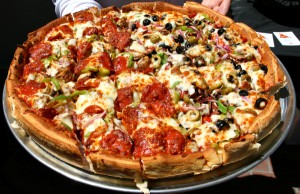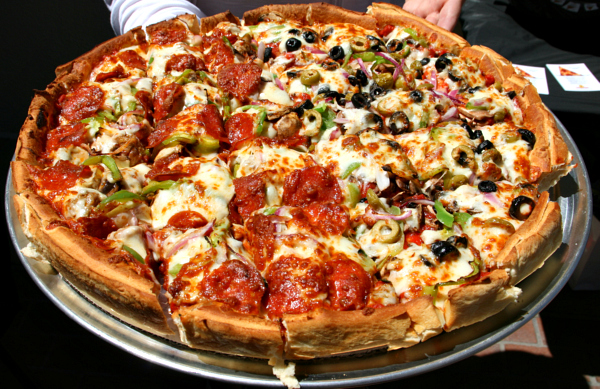 It was so fun to throw on this and that, and to have someone else clean up after us. 🙂 I made a deep dish pizza starting with their signature special pizza sauce (it included extra ground veggies — a kids' special sauce, but we loved it!), diced ham, pineapple tidbits, fresh basil, pepperoncini, tomato slices, tiny mozzarella balls and more cheese. They baked it for us while we ate lunch, and we had it for family dinner later that evening. Talk about lucky us! We adored their Greek Salad and appetizers of baked (not fried) Garlic BBQ Wings and Garlic Knots.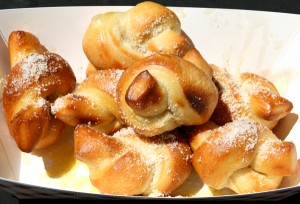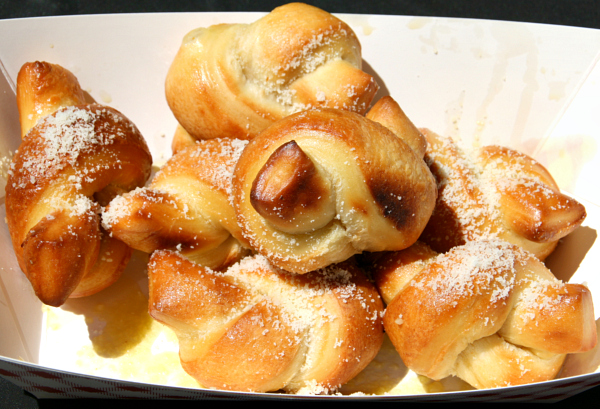 Speaking of those knots, we want to rename them "Garlic Knots of the Gods." You'll see why when you taste them. Just take my word for it and double the order. We happily sampled their "Da Works" pizza (sausage, pepperoni, mushrooms, green peppers, onion and spiced up with giardiniera!), and their Margherita Pizza, too. There are 7 locations in greater Los Angeles, with an 8th coming soon. They are currently on the cover of industry trade magazine Pizza Today as the Independent Pizzeria of the Year! With top-notch ingredients, these fabulous flavors, an emphasis on freshness and helpful service (doorside drive-by delivery!), I expect Fresh Brothers world domination by, oh, next year at the latest.
2. Clever way to separate the yolk from the white in an egg: With a water bottle! You have to see this to believe it, and even though it is in Japanese, you won't need translation!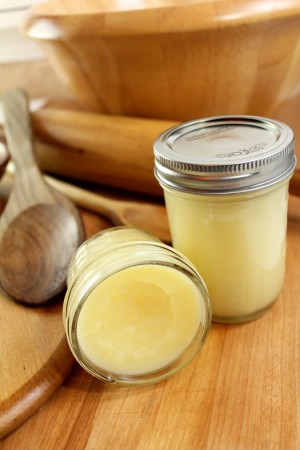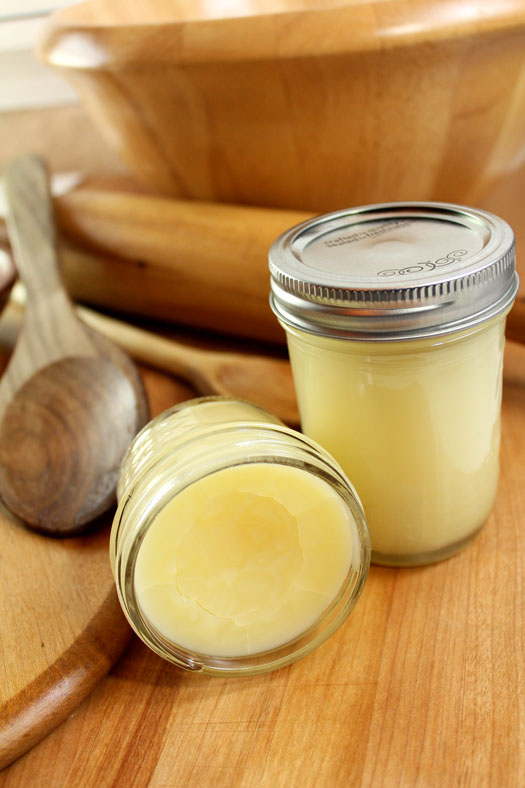 3. Wood Butter: Yeah, that's right…I said "butter" for your wood utensils, cutting boards, salad bowls, etc. Barb at the blog Creative Culinary has come up with a make-at-home wood treatment and beautifier she calls Wood Butter. Look around. Your butcher block, rolling pin, cheese board and wooden spoon are crying for moisture! I usually use a wood grade mineral oil once or twice a year on wood handles, cutting boards, etc. but I am going to try her recipe!
4. Grapes as ice cubes: If you like your wine cold but have forgotten to chill it, freeze grapes and pop a few frozen grapes in your wine glass instead of ice. They won't water it down!  This also works for water with cut fruit in it.
5. Calibrating your instant-read thermometer: Yes, you can and should do this yourself! It's easy. Noelle Carter at the Los Angeles Times gives you a quick tutorial on how to calibrate your thermometer. Now run and do it, before you forget! (I have this exact thermometer and I love it.)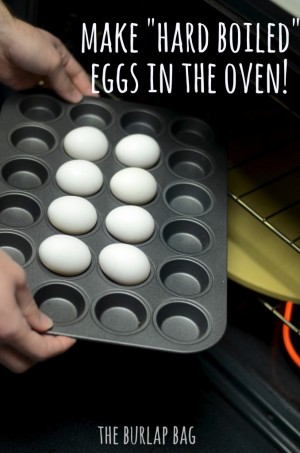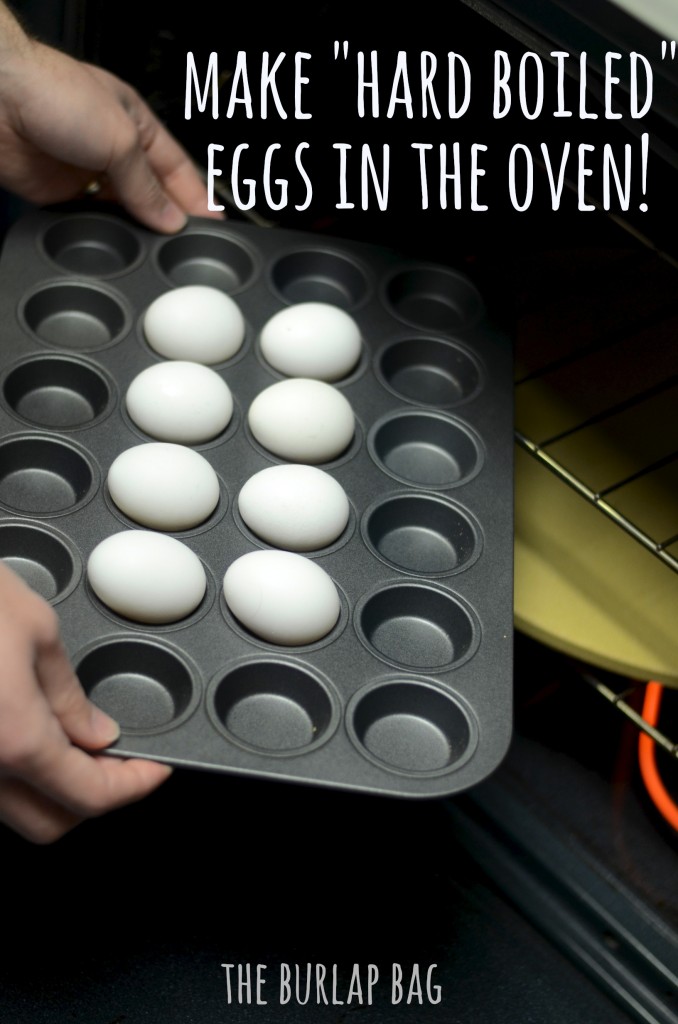 6. Making hard cooked eggs in the oven: I scoffed when I read this over at the blog The Burlap Bag. Pffft…bake eggs in the oven to hard cook them? What is she smokin' ? The joke's on me, because this works. Put eggs in a mini muffin pan so they don't roll around (her brilliant idea!), 325-350 degrees, 30 minutes, plunge in ice water when done, voila. Mine had a coupla brown spots on the eggs (under the shell), which I just peeled off, but otherwise they were hard cooked eggs! I might resolve it by going for 25 minutes in the oven. Sure, this takes a tad longer than cooking them on the stove using my perfect method, but if the oven is on anyway, you might as well take advantage of the heat. Oh, and if you are standing over the sink eating your hard cooked egg, why not spread a little fabulous tapenade on it?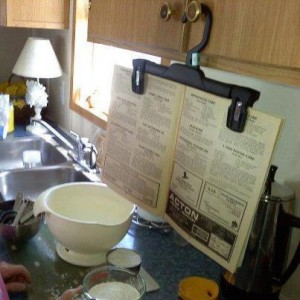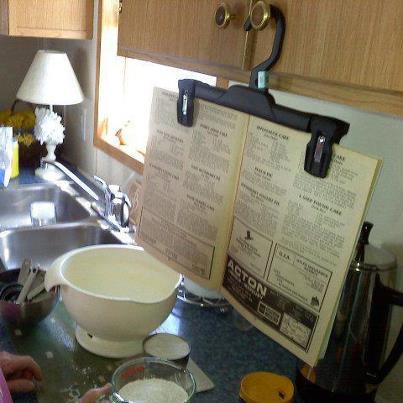 7. Skirt hanger recipe holder: This clever hack, circulating around the Internet, is just sheer brilliance! Wish I knew who originated it so I could give credit.
8. How to get ripened avocados: Mimi Avocado, the wife of a California avocado farmer, spills the secret for perfectly ripened avocados. It's such practical, useful advice from her 31 years of expertise. Thanks, Mimi!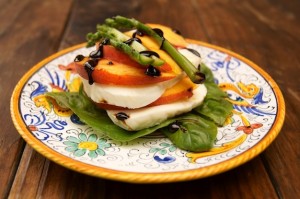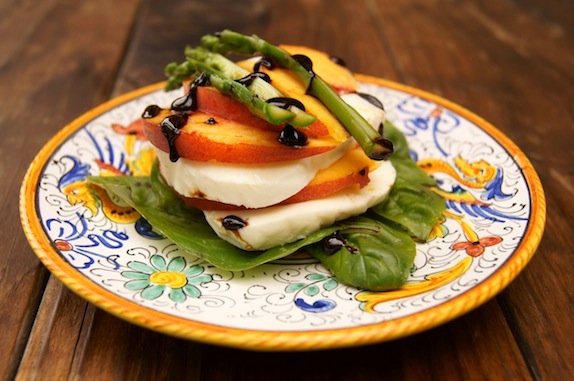 9. Balsamic Glaze: Get a load of this fabulous Peach Caprese Salad with Balsamic Glaze from my foodie pal Valentina at Cooking on the Weekends. As soon as I saw this, I ran into the kitchen to make the balsamic glaze. It could not be easier…she tells us to just reduce balsamic vinegar on the stove until it turns syrupy. It only takes about 5 minutes, but I was distracted and let mine cook longer so I emerged with balsamic fudge. No matter. I just added a splash of water back into it until it was the consistency I wanted. Make this today! We are drizzling it on sliced avocados, fresh peaches, fresh strawberries…your imagination is the limit.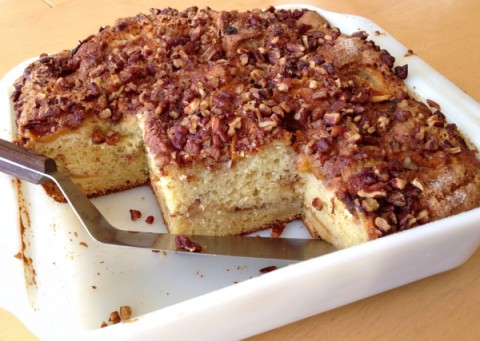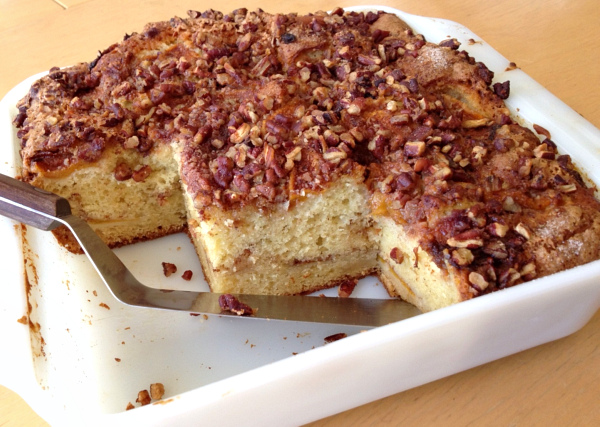 10. Peach Coffee Cake: Oh my, with perfectly ripe fresh peaches at hand, this is the go-to coffee cake of the moment. I saw it at Browneyed Baker, and she got it from the cookbook "Barefoot Contessa, How Easy is That?" Aren't the best recipes always passed from cook to cook? Consider this my end-of-summer gift to YOU! Studded with fresh peaches, sprinkled with a dose of cinnamon sugar and topped with chopped pecans, this is perfection. (I added 1/2 teaspoon almond extract, and I highly recommend this.) It disappeared so fast I could scarcely get a photo of it.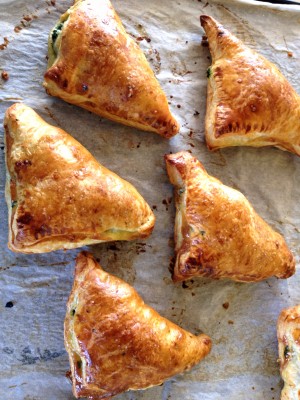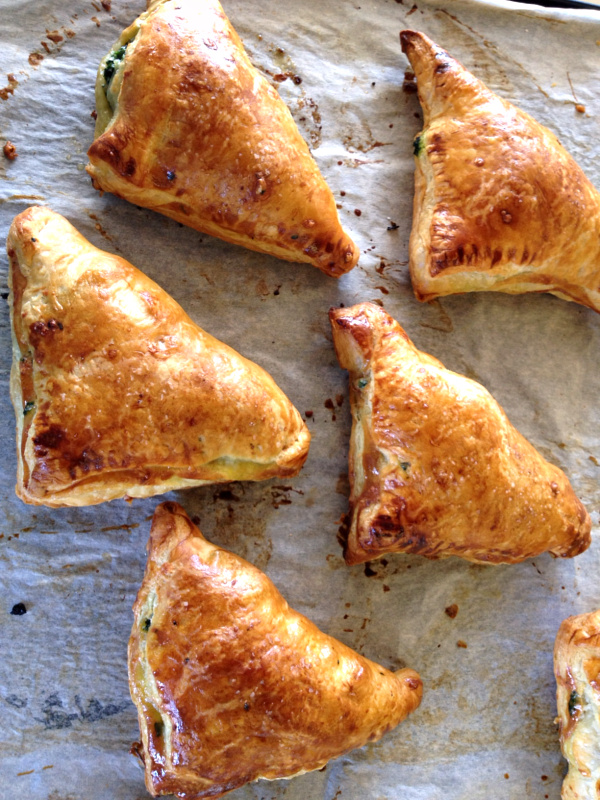 11. Greens Turnovers: As a favor to a friend, I have tested a recipe for a new cookbook coming out in November. It will be about savory pies, written by foodie pal Greg Henry of SippitySup. This mustard and turnip greens turnover is the cat's meow! We all loved it for dinner with a salad, and I ate it again for breakfast the following day, and for lunch the day after that. That's right…mustard and turnip greens for breakfast, because that's how I roll. This is a bit of a tease because I can't give you the recipe yet, but stay tuned to ShockD for news of this cookbook and publishing date. It's going to be a good one, perfect for fall cooking and gift giving!
12: Los Angeles Classic Desserts cookbook:
A million years ago I used to make the absolute best Ginger Scones from a recipe from La Brea Bakery. I loved these zippy, spicy, sweet scones for breakfast. Then, lo and behold, they show up in a wonderful cookbook called "Los Angeles Classic Desserts: Recipes from Favorite Restaurants," by Grace Bauer. I immediately bookmarked several others to try (Butterscotch Budino with Caramel Sauce from Mozza, Grapefruit Cake from the Brown Derby, Creme Fraiche Panna Cotta with Blackberry Compote from Lucques), but those scones were calling my name! They are as good as I remember them being. Make them!
Recipe: La Brea Bakery Ginger Scones
Summary: A traditional cream scone that excites any breakfast with a spicy, ginger surprise in every bite. It is the top seller at La Brea Bakery in Los Angeles.
Ingredients
2 1/4 cups unbleached pastry flour or unbleached all-purpose flour
1/3 cup granulated sugar
1 tablespoon baking powder
1 teaspoon finely chopped lemon zest (about 1/2 lemon)
1 1/2 sticks (6 ounces) unsalted butter, cut into 1-inch cubes and frozen
4 1/2 ounces candied ginger, finely chopped into 1/4-inch pieces to equal 2/3 cup
3/4 cup heavy cream, plus extra for brushing the tops of the scones
Instructions
Adjust the oven rack to the middle position and preheat the oven to 400 degrees F.
In the bowl of a food processor fitted with the steel blade or in the bowl of an electric mixer fitted with the paddle attachment, combine the flour, sugar, and baking powder, and pulse or mix on low to incorporate. Add the lemon zest and butter, and pulse on and off, or mix on low, until the mixture is pale yellow and the consistency of fine meal.
Transfer the mixture to a large bowl and stir in the ginger. Make a well in the center and pour in the cream. Using one hand, draw in the dry ingredients, mixing until just combined.
Wash and dry your hands and dust them with flour. Turn the dough out onto a lightly floured work surface and gently knead a few times to gather it into a ball. Roll or pat the dough into a circle about ¾-inch thick. Cut out the circles, cutting as closely together as possible and keeping the trimmings intact.
Gather the scraps, pat and press the pieces back together, and cut out the remaining dough. Place the scones 1-inch apart on a parchment-lined baking sheet.
Brush the tops with the remaining cream.
Bake for 12-16 minutes, until the surface cracks and they are slightly browned.
Source
"Los Angeles Classic Desserts: Recipes from Favorite Restaurants," by Grace Bauer (Pelican Publishing Co.). Recipe is by Nancy Silverton, founder of La Brea Bakery.
Preparation time: 20 minutes
Cooking time: 16 minutes
Diet type: Vegetarian
Number of servings (yield): 8
Culinary tradition: Scottish
My rating 5 stars:  ★★★★★ 
Fresh Brothers Pizza and Pelican Publishing provided sample products used in this post.