Print This Post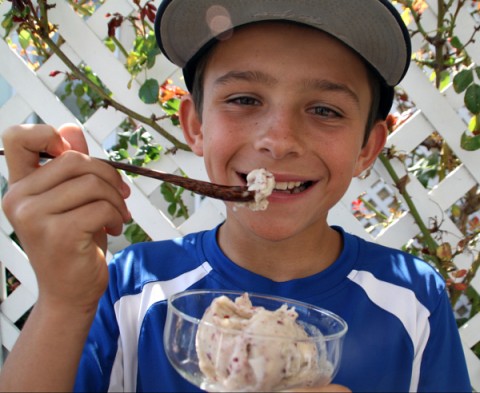 Does the Yonanas work? Yes, and very well!
Is it fun? Yes! Will your kids enjoy doing it themselves? Undoubtedly!
Do you need it? Depends. Probably! But that's a bit longer, more complex answer.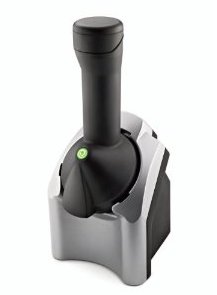 First, let's back up. Unless you have been living under a rock, no doubt you've seen TV ads for the Yonanas, a new gadget (about $50) that makes "ice cream" out of frozen bananas combined with other fruit. It shows kids having fun making, then eating the treats.
But with all such "as seen on TV" items, we always wonder, does it really work?
So we got one and put the Yonanas through its paces. Our kitchen looked like a banana packing house for awhile there, as we had bunches of bananas in various stages of ripening all over the counter.
As they ripened to cheetah-spot perfection, we peeled and froze them, along with various other fruits.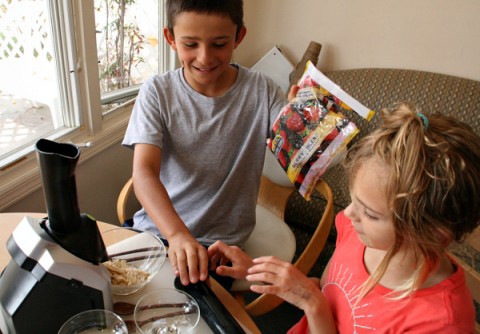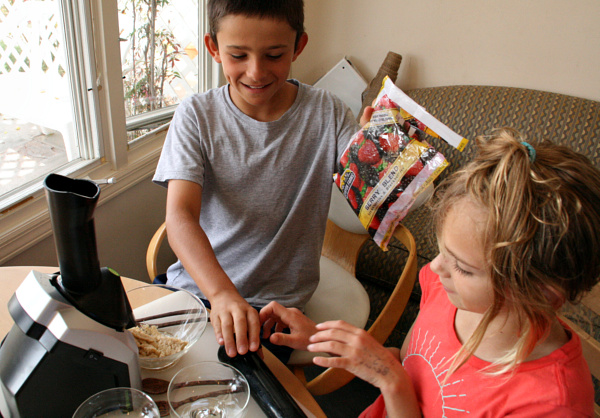 Then we invited young friends over, read the simple directions, and set them free to do it themselves.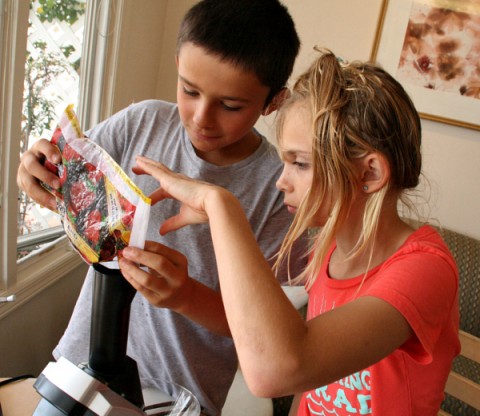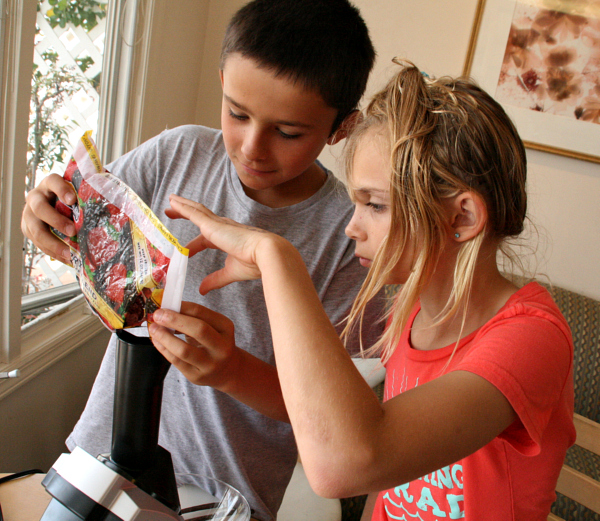 This is one of the best qualities and selling points of the Yonanas – once they understand how to do it, they can do it themselves.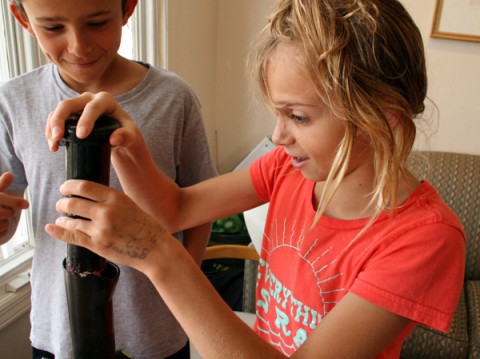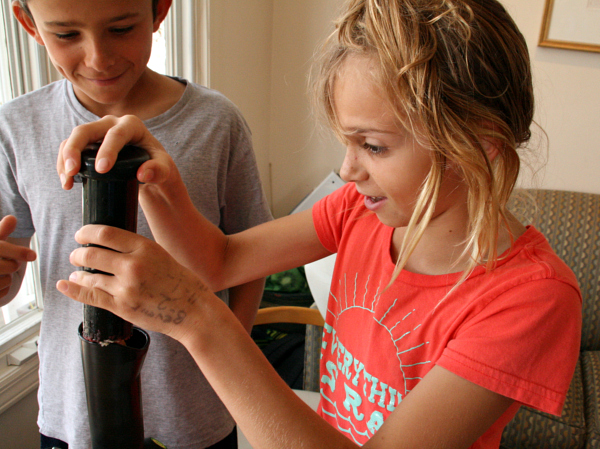 Creating a frozen treat is extra fun if you are in charge of making it.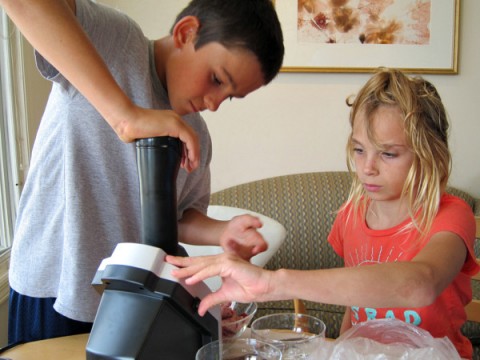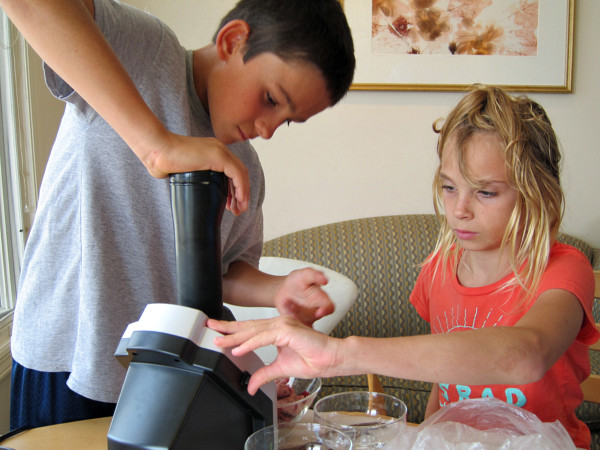 Come up with your own recipes!
In fact, it's fun for my man-cub and his friends to come up with their own recipes. Want to try grapes in there with your bananas? Sure! How about strawberries? Why certainly! You are limited only by your imagination. And if a combo ends up being less than expected (you will see one of those examples below), well, at least you tried, and you can just dump it out and move on. Sometimes the failures in life are as instructional as the successes. And if you truly don't like a fruit combo, at least the ingredients are not so expensive that it causes you pain to discard them.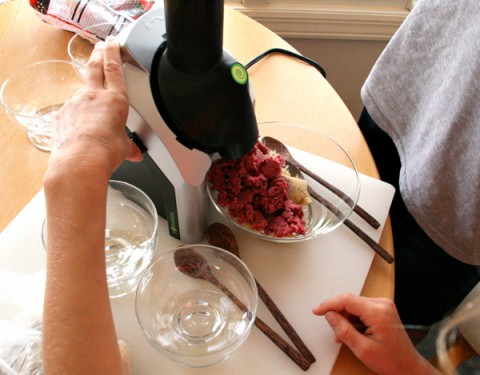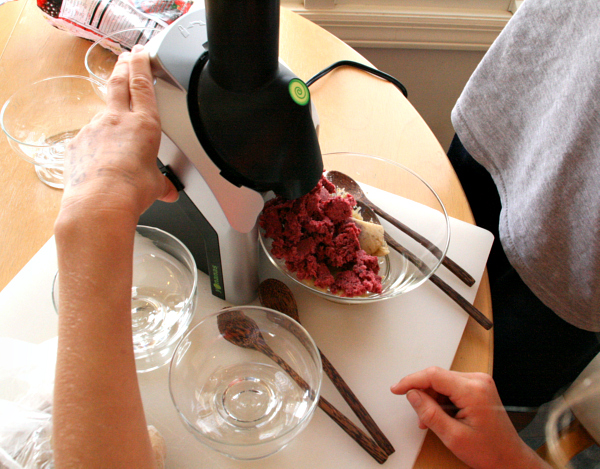 Besides fun, the other main selling point – and this is a big one! – is the Yonanas creates an ice cream-like frozen dessert with no added sugar. It simply consists of the fruit you choose to use. This is a big plus for families looking to cut down on sugar consumption yet still retain the feeling of having a treat or dessert.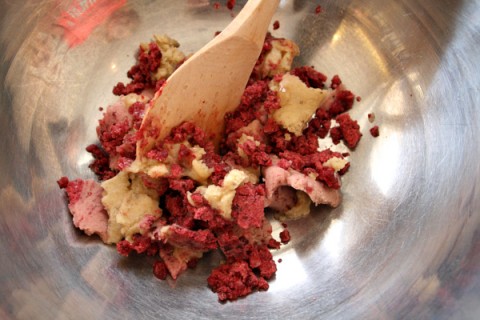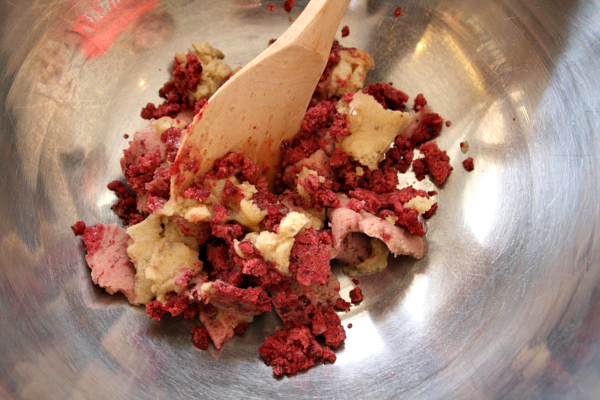 In our house, the fruit bowl is always "open." You never need permission to eat fruit, and you are welcome to help yourself. Consequently, both my children are big fruit eaters, and we can go through 10 pounds of tangerines in a 2-day stretch, for example. So if the man-cub wants to make Yonanas, it's simply bananas and whatever other fruit he chooses, and the answer is a resounding yes.
The only downside I can see is that it must be unscrewed and washed after use. This is not difficult and only takes a minute, but children never want to do this (willingly, at least!). So that task may be up to a parent unless you make it a condition of use of the machine.
Do you need it?
Now, on to the question of do you need this? True, you can use your food processor to create frozen soft-serve treats out of frozen fruit, but (and this is a big but)…how many of us are comfortable allowing our 8- or 10-year-old to use the food processor without supervision? I'm not. I am afraid of the sharp blades and the potential kitchen-splattering mess if he makes an error.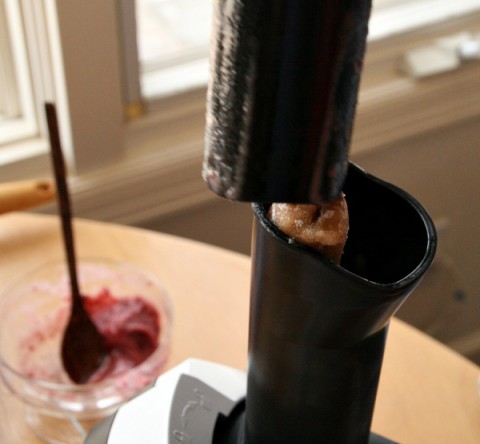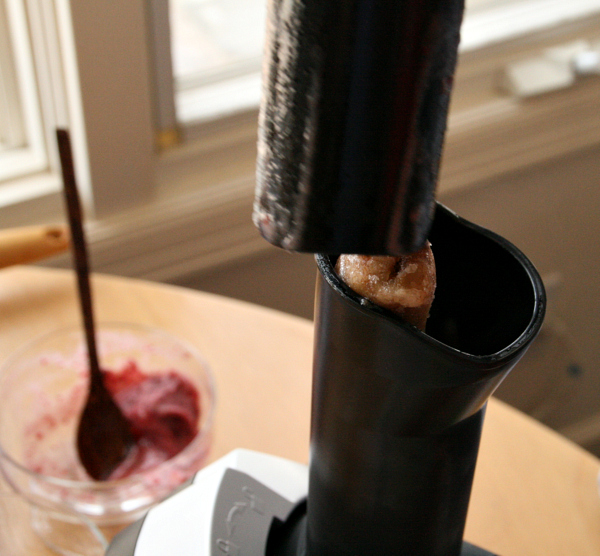 With the Yonanas, the grinding mechanism is enclosed in the machine and not open to little fingers. It might be a tad loud, but literally, there is nothing to do except push a frozen banana down a feed tube with a plastic pusher, and watch it come out the spout into the bowl. There is no adjustment of blades, no figuring out what speed to put it on, no making sure the lid is actually on. You turn it on, insert the frozen fruit, push it through with a tool, and eat your dessert, minutes later!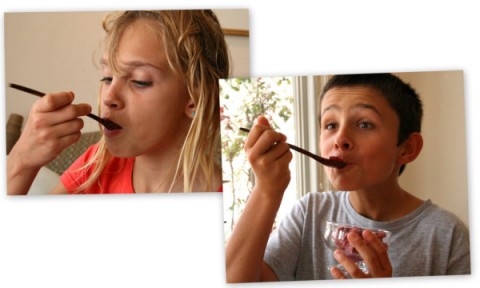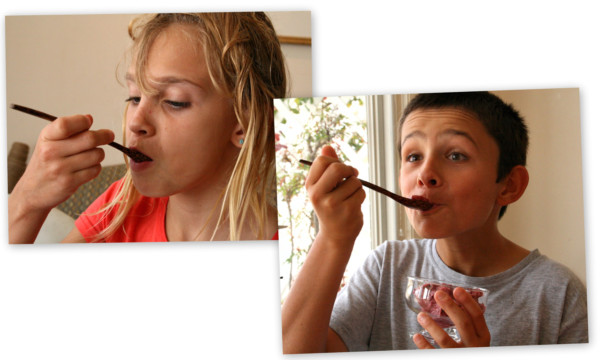 So the old hippie in me says I don't need another kitchen gadget, but the modern-day mom in me says this is a really cool, fun gadget that encourages my kids to choose fruit for dessert. Nothin' wrong with that!
10 tips for using the Yonanas
1. Wait for your bananas to be spotted ripe. The Yonanas booklet calls them "cheetah," which is an apt description. The brown spots indicate they are getting super sweet, which is what you want.
2. Freeze the bananas and the other fruits separately so they are not touching. You need long slender bananas to go down the feed tube, not wide blocks or large chunks of fruit. I peeled a banana, inserted it in one of those plastic bags you get from the grocery store produce department, wrapped it, then put in another peeled banana and enclosed it in the same bag, but the bananas were not touching. This way I had 2 bananas per bag, and when ready, we just pulled out a single bag and our fruit was portioned.
3. Freeze them on plastic plates. It's easy to clean and dry grapes or strawberries and put them on a plastic plate, pop them into the freezer and they will still be individual pieces, as opposed to a big glob of fruit.
4. Why a plastic plate? The icy fruit pops off plastic better than from a ceramic plate.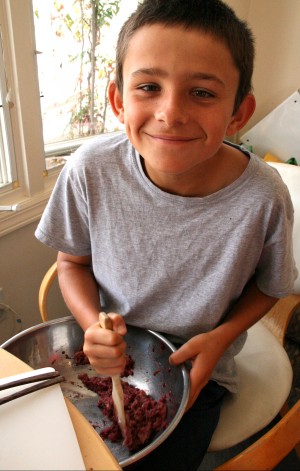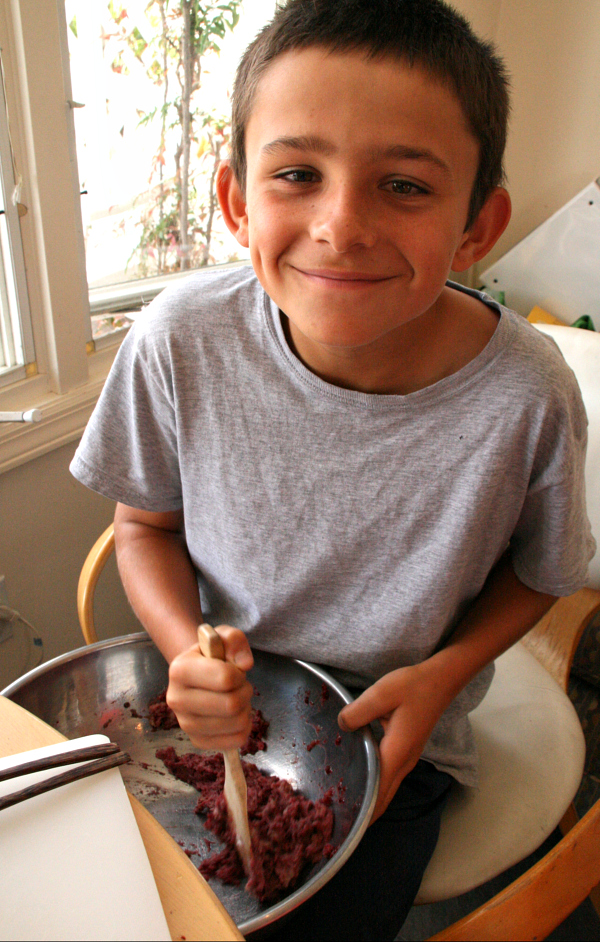 5. Don't be afraid to stir ¼ teaspoon vanilla extract into any of your creations at the end. Vanilla increases the perceived sweetness, without adding sugar. This is good!
6. If you are using bananas and other fruits, first send one banana through, then the other fruit, then the second banana. This helps in the final mixing in the bowl.
7. If you are making more than one batch in a row, open and scrape out the innards of the machine between batches, or you'll get grape or strawberry colors/flavors in your second batch.
8. The booklet advises letting the fruit thaw just a tad (5-7 minutes) before putting it in the machine. While that ensures a creamier, more soft-serve consistency right out of the machine, we found that if we are impatient, we can do it right out of the freezer. Send the first banana through the chute into a bowl, and repeat with the other fruit, then the final banana. By the time you are done, it will have begun to thaw, and once you spend a minute stirring it together to blend, it will be sufficiently thawed to resemble soft serve. Your mileage may vary and you might prefer to slightly thaw first. 🙂
9. Use a big enough bowl to capture the fruit that is coming out of the chute. You will want to stir it together to blend it well.
10. When done pushing the fruit through, be sure to unscrew the tube assembly and scrape out the additional fruit that will be in there. Don't let it go to waste!
Ready to make frozen treats? Recipes for Yonanas
We created the following Yonanas frozen treat flavors. All follow the basic Yonanas directions to use spotted bananas and freeze all the fruit.  For the non-banana fruit, wash, peel if necessary, segment and freeze individually on a plastic plate. Fruit is ready to use when it is frozen solid.
See what you think about our flavors, and then use your own imagination to create new flavors with your family!
Strawberry Mango Sorbet
1 basket fresh ripe strawberries, hulled
2 ripe mangoes
1/4 teaspoon vanilla extract
Verdict: Light tasting, sweet, refreshing, gorgeous color…you don't miss the dairy or the banana. My personal favorite. 
Banana Strawberry
2 bananas
1 basket of strawberries, hulled
1/4 teaspoon vanilla extract
Verdict: Best banana combo yet! Beautiful pink color, appeals to everyone.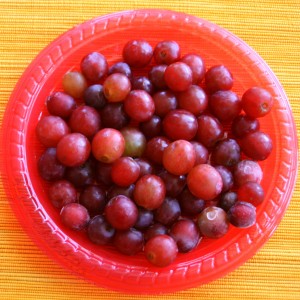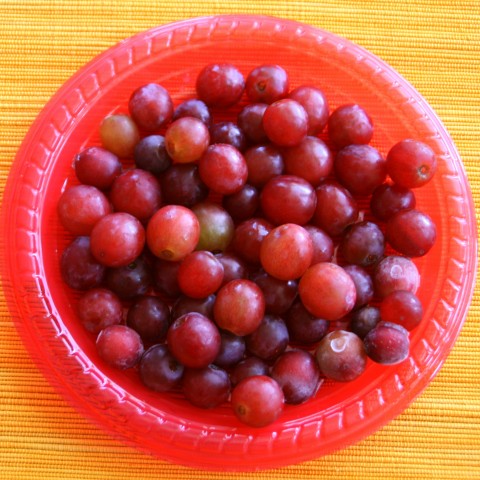 Banana Grape
2 bananas
1 cup red grapes
Verdict: Good! The grapes added welcome sweetness.
Chunky Monkey
2 bananas
Handful of mini chocolate chips stirred in
1/4 teaspoon vanilla extract
Verdict: What's not to like about this classic combo?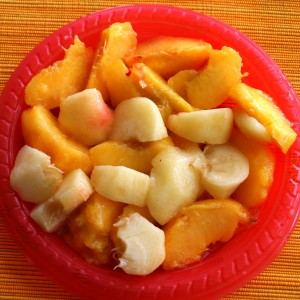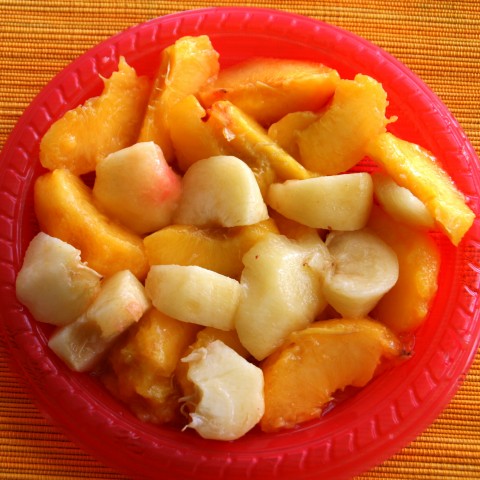 Banana Peach
2 bananas
2 peaches
1/4 teaspoon vanilla extract
Verdict: Excellent! The riper the peaches, the better. 
Orange Dreamsicle
2 bananas
1 orange, peeled, separated into segments
¼ teaspoon vanilla extract
Verdict: Good! We all liked it!
Date Shake
2 bananas
4 Medjool dates, pitted, halved, frozen
¼ teaspoon vanilla extract
Verdict: Very tasty but the dates clogged the machine.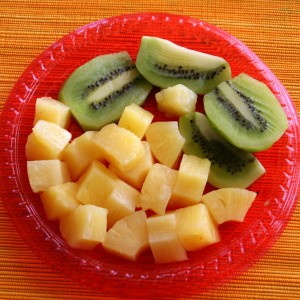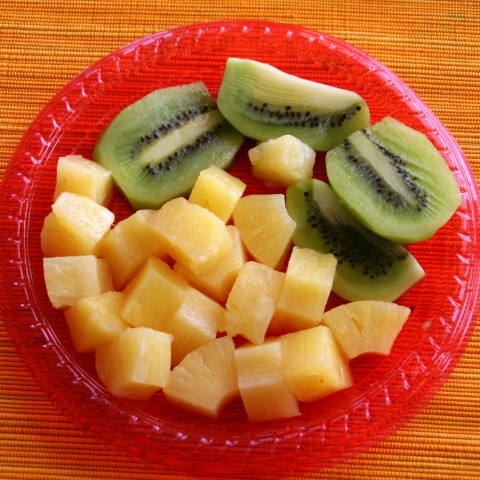 Tropical Banana
2 bananas
8 ounces canned pineapple chunks in juice, drained
2 kiwis, peeled and quartered
Verdict: Good idea in theory, but the kiwi or pineapple produced some odd flavors and no one really liked the result. Oh well. Back to the drawing board on that one.
I received a Yonanas machine for the purpose of testing and reviewing.