Print This Post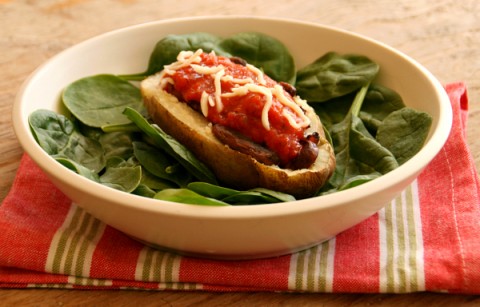 Most summer nights, dinner needs to be prepared efficiently and with the least amount of kitchen heat.
A few potatoes lingered in the wire basket on the counter, a jar of marinara sat in the pantry and some fresh spinach was tucked into the veggie drawer in the refrigerator. It all came together for a delicious dinner that was on the table in about half an hour, using the microwave oven for ease.
This recipe comes from the charming blog Natural Noshing, written by Nora, who describes herself as an "active, twenty-something 'foodie' with a passion for nutrition and eating natural, real food — nothing too fussy, over-processed or complicated."
Her blog is gluten-free, mostly refined sugar-free, and if you find yourself needing either of those specialties, pay her a visit. Even if you don't, her recipes look delicious. I have bookmarked her Mixed Grain Salad with Avocado and Black Beans, and her Turkey-Stuffed Red Bell Peppers, which looks like a wonderful dinner. Her Grain-Free Lentil Flatbread intrigues me , and I can see some Beet Chips in my future.
But those potatoes were staring at me from my counter, and pizza is a perennial favorite, so these Pizza Potatoes over Sautéed Spinach leaped out from the screen and onto our plates, like little vegetarian pizza potato boats floating in a sea of green.
So glad they did! Make them tonight, or perhaps for Meatless Monday?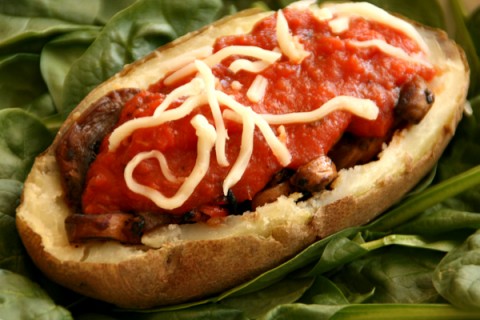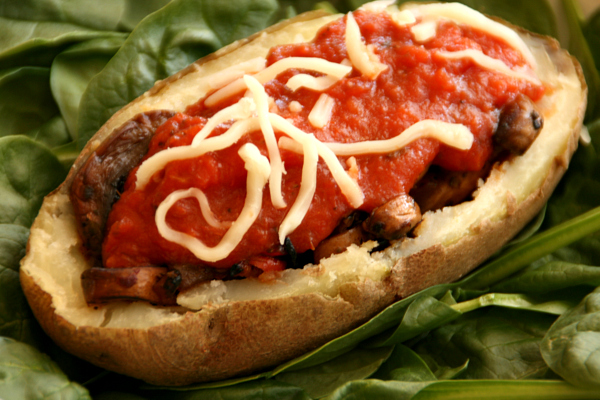 Recipe: Pizza Potatoes over Sautéed Spinach
Summary: Baked potatoes are napped with chunky marinara and rest on a bed of garlicky spinach in a gluten-free, vegetarian dinner.
Ingredients
4 medium to large Idaho russet potatoes (organic preferred; choose size relative to your family's appetite)
Filling
1 tablespoon olive oil
1 small onion, diced
½ a red bell pepper, chopped
1 (8-ounce) package sliced mushrooms
1 ½ teaspoons Italian seasoning blend
1/4 teaspoon fennel seed
Pinch kosher or sea salt
A few shakes crushed red pepper
2 garlic cloves, minced or crushed
1 cup jarred marinara sauce (or perhaps a bit more)
1/4 cup shredded Mozzarella or Italian blend cheese
Spinach bed
1 pound spinach leaves, washed and spun dry
1 garlic clove
Garnish: Grated Parmesan cheese
Instructions
Scrub potatoes well and leave skin on. Pierce each potato once with a knife and weigh all potatoes. Microwave on high power (1100-watt oven) for 6-7 minutes per pound. (Your timing will depend on weight of potatoes you use.) Alternatively, you may bake the potatoes in a conventional oven at 350 degrees for 1 hour.
While potatoes are cooking, prepare the filling. In a 12-inch skillet, heat olive oil. Sauté onion and bell pepper for about 5 minutes, stirring frequently. Add mushrooms, Italian seasoning, fennel, salt and crushed red pepper and sauté for another 5 minutes, stirring frequently.
Add garlic and sauté for another minute. Remove from heat and scrape vegetables into a mixing bowl. Don't wash the skillet, but leave it for the final spinach step in this recipe.
When potatoes are done, remove from the oven, wrap them in a tea towel together and allow to steam for 10 minutes. Remove from the towel and cut each potato in half vertically. With a spoon or tiny cookie scoop, carefully scoop out the potato innards into the bowl with the vegetables; make sure you leave enough potato attached to the skin so the shells stay intact.
Add ½ cup marinara sauce to the vegetables in the bowl, and stir to combine the vegetables, potato innards and marinara. Using a spoon, scoop the mixture and spoon it back into the empty potato shells.
Spoon remaining marinara sauce over the 8 now-stuffed potato halves, and top each with a pinch of shredded mozzarella. Place them back into the microwave and cook just long enough to heat through and melt the cheese. This may take only 20-30 seconds or so per potato, depending on how much they cooled off during preparation.
Meanwhile, make the spinach bed. Reheat the skillet that you cooked the vegetables in (no need to wash it), and add the spinach (no need for any oil). Sauté for 1-3 minutes, until spinach is wilted down. Add garlic during the last minute. Using a tongs, place spinach in wide, flat bowls or plates, and spread it as a bed. Place one or two stuffed potato halves on each bed of spinach and serve!
Offer grated Parmesan at the table for anyone who would like a sprinkle.
Serves 4.
Preparation time: 35 minutes
Cooking time: 25 minutes
Diet type: Vegetarian, Gluten-Free
Number of servings (yield): 4
Culinary tradition: Italian