Ready to make frozen treats? Recipes for Yonanas
We created the following Yonanas frozen treat flavors. All follow the basic Yonanas directions to use spotted bananas and freeze all the fruit.  For the non-banana fruit, wash, peel if necessary, segment and freeze individually on a plastic plate. Fruit is ready to use when it is frozen solid.
See what you think about our flavors, and then use your own imagination to create new flavors with your family!
Strawberry Mango Sorbet
1 basket fresh ripe strawberries, hulled
2 ripe mangoes
1/4 teaspoon vanilla extract
Verdict: Light tasting, sweet, refreshing, gorgeous color…you don't miss the dairy or the banana. My personal favorite. 
Banana Strawberry
2 bananas
1 basket of strawberries, hulled
1/4 teaspoon vanilla extract
Verdict: Best banana combo yet! Beautiful pink color, appeals to everyone.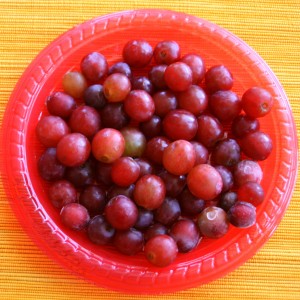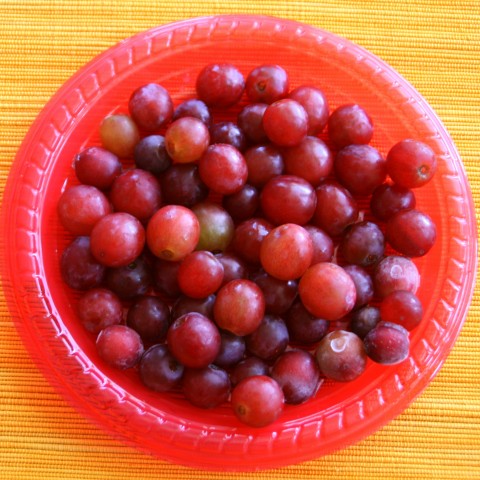 [1]Banana Grape
2 bananas
1 cup red grapes
Verdict: Good! The grapes added welcome sweetness.
Chunky Monkey
2 bananas
Handful of mini chocolate chips stirred in
1/4 teaspoon vanilla extract
Verdict: What's not to like about this classic combo?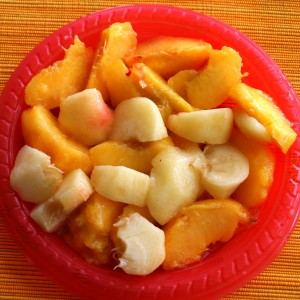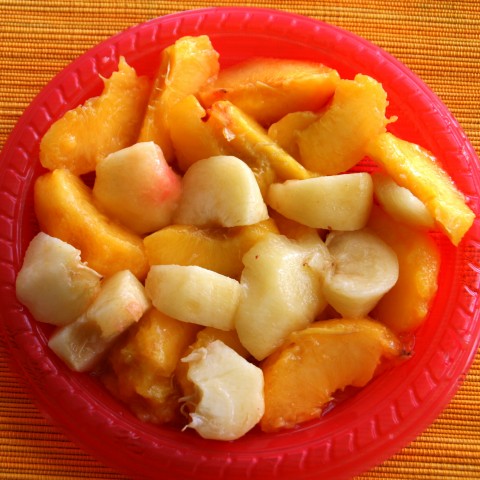 [2]Banana Peach
2 bananas
2 peaches
1/4 teaspoon vanilla extract
Verdict: Excellent! The riper the peaches, the better. 
Orange Dreamsicle
2 bananas
1 orange, peeled, separated into segments
¼ teaspoon vanilla extract
Verdict: Good! We all liked it!
Date Shake
2 bananas
4 Medjool dates, pitted, halved, frozen
¼ teaspoon vanilla extract
Verdict: Very tasty but the dates clogged the machine.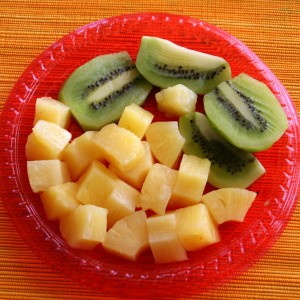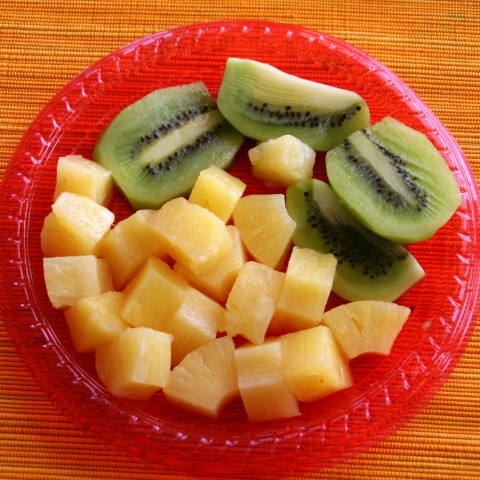 [3]Tropical Banana
2 bananas
8 ounces canned pineapple chunks in juice, drained
2 kiwis, peeled and quartered
Verdict: Good idea in theory, but the kiwi or pineapple produced some odd flavors and no one really liked the result. Oh well. Back to the drawing board on that one.
I received a Yonanas [4] machine for the purpose of testing and reviewing.