Print This Post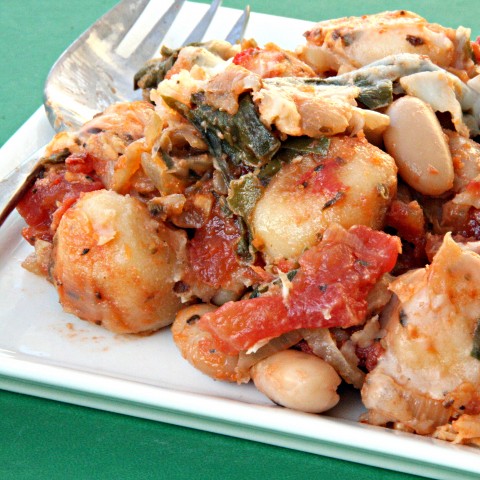 We all need an arsenal of weeknight skillet dinners that are hearty, quick and delicious.  Oh yeah…add healthy to that list. Based on that, and the resounding thumbs-up this received at my dinner table, I suggest you put this vegetarian recipe on your must-make list.
Chard adds welcome dark leafy greens to this dish, and white beans add protein and fiber. Tomato is good for whatever ails ya, as well as being delicious.
This is my first time using the prepared gnocchi, and although I was a bit skeptical about pan-frying them instead of boiling, it was a brilliant method! I will definitely employ that technique again.
Recipe: Skillet Gnocchi with Chard and White Beans
Summary: Mediterranean goodness combines in this weeknight skillet supper with chard, tomatoes, gnocchi and white beans, flavored with garlic and Italian herbs. Melted cheese tops it all off!
Ingredients
1 tablespoon plus 1 teaspoon extra-virgin olive oil divided
1 16-ounce package shelf-stable gnocchi, (see note)
1 yellow onion, thinly sliced
4 cloves garlic, finely minced

(I used 5 cloves)

1/2 cup water
6 cups chopped chard leaves, (about 1 small bunch) (or spinach)
1 (15-ounce) can diced tomatoes with Italian seasonsings

(I used diced tomatoes in own juice and added 1 teaspoon dried oregano, 1 teaspoon dried basil, ½ teaspoon dried marjoram, a pinch of dried thyme and a shake of crushed red pepper)

1 (15-ounce) can white beans, rinsed

(I used cannellini, rinsed and drained)

1/4 teaspoon freshly ground pepper
1/2 cup shredded part-skim mozzarella cheese

(I used mozzarella and provolone)

1/4 cup finely shredded Parmesan cheese
Instructions
Heat 1 tablespoon oil in a large nonstick skillet over medium heat. Add gnocchi and cook, stirring often, until plumped and starting to brown, 5-7 minutes. Transfer to a bowl.
Add the remaining 1 teaspoon oil and onion to the pan and cook, stirring, over medium heat, for 2 minutes. Stir in garlic and water. Cover and cook on low until the onion is soft, 4-6 minutes. Add chard (or spinach) and cook, stirring, until starting to wilt, 1-2 minutes. Stir in tomatoes and their juice, herbs, beans and pepper and bring to a simmer. Stir in the gnocchi and sprinkle with mozzarella and Parmesan. Cover and cook until the cheese is melted and the sauce is bubbling, about 3 minutes.
Serves 5-6.
Quick notes
Shelf-stable gnocchi is usually near other pasta in the Italian section of most supermarkets.
This recipe is from Eating Well, where it was published 3 years ago. I adapted it slightly as shown above.
If you'd like to save yourself even more prep time, pick up a bag of Cut `n Clean Greens chard, which is triple-washed and already sliced. It's ready to go right out of the package.
Variations
Next time I might throw in a splash of red wine, too!
Preparation time: 8 minute(s)
Cooking time: 25 minute(s)
Diet type: Vegetarian
Number of servings (yield): 5-6
Culinary tradition: Italian
My rating 4 stars:  ★★★★☆ 1 review(s)