Print This Post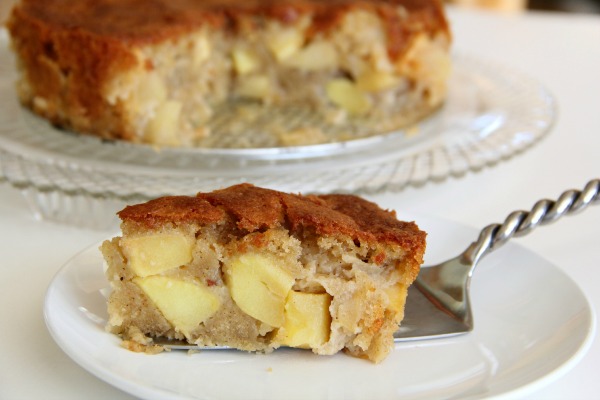 In my quiet exploration of the food blog Bewitching Kitchen this month, I made a shortlist of oh, about a dozen things I wanted to make.
That's the way food bloggers are. We browse a cookbook and we leave it littered with little Post-it® Notes, marking all the recipes that interest us. We scroll through a blog, and we can get lost for hours. Oh, that spreadsheet for work I was supposed to be working on? I'll get to it later, after I bookmark the Roasted Beet Hummus, the Cheddar and Fennel Seed Crackers and the Avocado Cilantro Mousse that stole the show at Sally's holiday dinner. And don't let me near her Clementine Cake, or I won't leave.
I sat up straight when I came upon Ultimate Apple Cake (her most popular post from last year), which she made twice in two weeks. That sounds like the kind of obsessive thing I would do, and have done (I made this Banana Breakfast Cake with Pecan Streusel Topping 8 times in one month! Yes, 8. Sigh.).
So that was good enough for me, along with her description of it: "It's a bunch of diced apples surrounded by a few dollops of cake batter, that puffs and gently envelops each piece of fruit, resulting in a dessert that's a cross between cake and clafoutis. Very French, very elegant, just enough decadence to turn your afternoon tea into a four-star event."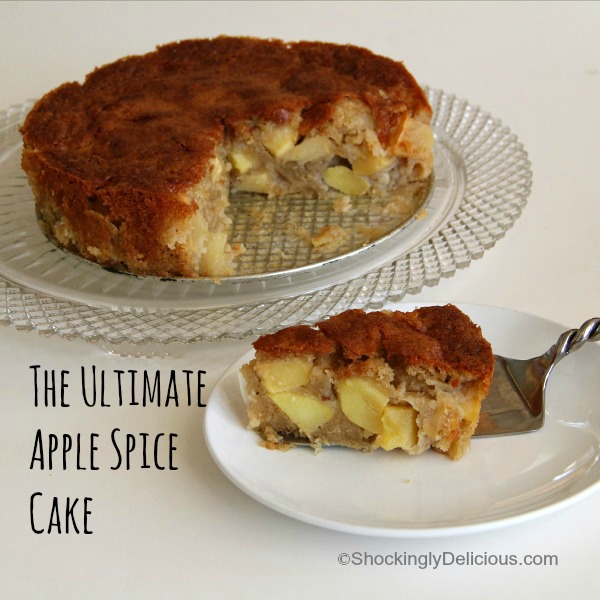 I immediately checked the fruit basket (yes! Four apples!), and turned on the oven. So, so glad I did.
Recipe: The Ultimate Apple Spice Cake
Summary: Super moist, overloaded with apples, spiced just right – this is a wonderful breakfast cake, tea cake or dessert.
Ingredients
1 stick (4 ounces; 8 tablespoons) unsalted butter + extra for greasing pan
4 large apples (any kind you like, mix and match) (I used 4 Fuji apples)
2 large eggs
3/4 cup sugar (I used Vanilla Sugar)
3 tablespoons apple schnapps, or Calvados (I used 1 tablespoon EACH brandy, boiled apple cider and water)
1/2 teaspoon vanilla extract
¼ teaspoon salt
¼ teaspoon cinnamon (my addition)
¼ teaspoon freshly ground nutmeg (my addition)
¼ teaspoon ground allspice (my addition)
3/4 cup all-purpose flour
3/4 teaspoon baking powder
Instructions
Put butter in a microwave-safe measuring cup and heat for about 30 seconds, until melted. Set aside to cool.
Heat the oven to 350F. Grease an 8-inch springform-type pan with butter and set aside.
Core and peel the apples; cut them roughly in 1-inch chunks. Set aside.
In a large mixing bowl (I did this in an electric stand mixer, but you could do it by hand), beat the eggs until frothy; add the sugar and whisk until smooth. Add the apple schnapps, vanilla extract, salt, cinnamon, nutmeg and allspice and mix well.
Mix in the baking powder. Add half of the flour, mix until fully incorporated, add half of the butter and whisk to combine. Add the rest of the flour, then the rest of the butter and mix until combined.
Add the cut apples into the thick batter and use a silicone or plastic spatula-spoon to mix them gently, so each piece of apple is covered in batter. The mixture will seem too thick, and you will be tempted to use fewer apples. Do not second guess this; use all apples!
Pour the mixture in the prepared pan, tamp any rogue apples down a bit, but don't fuss with overly leveling it.
Bake for 55-60 minutes, until golden and a cake tester comes out clean when inserted at the center of the cake. Remove the pan to a rack and let it cool for 20 minutes before running a thin knife around the inside edge and then opening the ring. Serve warm or at room temperature.
Serves 6.
Source
Lightly adapted from Ultimate Apple Cake from Bewitching Kitchen. Sally credits it to Marie Helene's Apple Cake by Dorie Greenspan.
Secret Recipe Club
Here is a list of what else I have made for the Secret Recipe Club since I joined the group. Check it out!
Preparation time: 15 minutes
Cooking time: 1 hours
Diet type: Vegetarian
Number of servings (yield): 6
Culinary tradition: French
My rating 5 stars:  ★★★★★ 
I explored Sally's blog — Bewitching Kitchen – this month as part of Secret Recipe Club, in which we quietly get to know another blogger and his or her recipes and then reveal what we made from that blog. Today is reveal day, and below this you can see what we all discovered this month.
But first, meet Sally, who was born in Brazil, has lived in Calif. and Paris, and is an absolutely charming, good natured food blogger I met online years ago at a forum called Cook Talk. Her work really fascinates me. She's a biochemist who works on iron transport by bacteria such as E. Coli, now working in the biochemistry department at Kansas State University.  She stays in shape by running, golf, and doing P90X. Want to speak to her in Portuguese or French? She'd love it!
Here's how she explains her research: "We study how bacteria such as Escherichia coli and Listeria monocytogenes get iron from the environment and "swallow it up." The metal is indispensable for bacteria as well as all other living organisms to survive, but it is very tricky to obtain. Iron can be compared to money in the sense that everyone who has it tries to protect it from being taken away. However, bacteria developed sophisticated systems to do just that: steal the iron from you and use it to survive. Since all pathogenic bacteria need to obtain iron to cause disease, we hope that our research will lead to the discovery of new weapons to fight infections."
As a microbiologist, molecular biologist and biochemist, she has particular expertise in bacteria, and strong, science-based opinions on the irresponsible use of antibiotics in food production, which you can read. It's worth your time.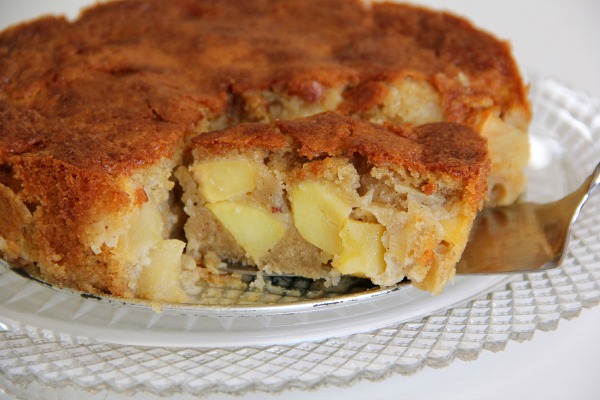 Thank you, Sally, for the gift of your wonderful blog, the good, thoughtful reading you offer us there and the delicious recipes you share. We're grateful!
Meanwhile, browse the photo array below to see what else the Secret Recipe Club cooked up this month!