Print This Post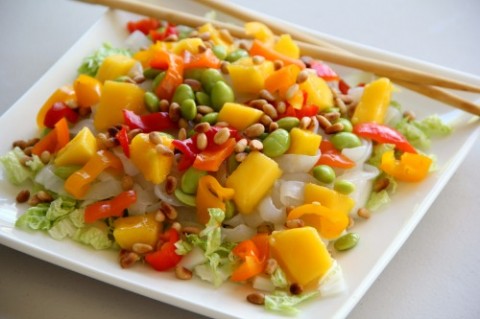 The discovery of a new ingredient can really set the imagination aflame, such as when I was introduced to shiratake noodles.
These are an extremely low-carb, no-fat, low-cal, low-sodium gelatinous traditional Japanese noodle made from the root of an Asian plant called konjac, or elephant yam. Shirataki also goes by the names "ito konnyaku," yam noodles or devil's tongue noodles. You can find them in the refrigerated section at the grocery store, along with won ton wrappers and the like.
Because they have little flavor, they are a perfect neutral bed for a delicious topping or sauce. In this case, our band of cooking bloggers from #TheSaladBar decided to bring you Asian-inspired salads today, so I figured what better idea than a cool noodle salad combined with other Asian-influenced things.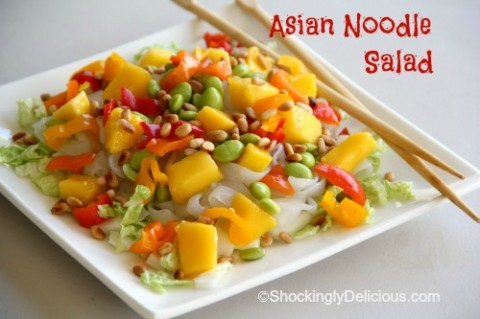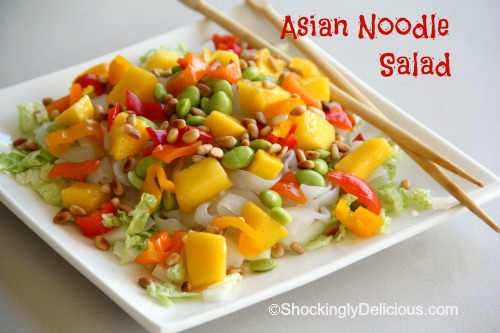 I set to work on the hottest day of summer, and luckily there wasn't much to do. I chose shelled, already-cooked

edamame for convenience, tri-colored mini bell peppers for the rainbow effect, Chinese pine nuts in keeping with the Asian theme, Napa cabbage for body and crunch, and a Keitt mango — a delicious, large, very sweet, green-skinned, late-season variety. They're grown in California, ripen on the tree (unlike imported mangos), are fiber-free and have a sort of floral flavor. My friends at Melissa's Produce sent the ingredients, so perhaps I should name the salad after them?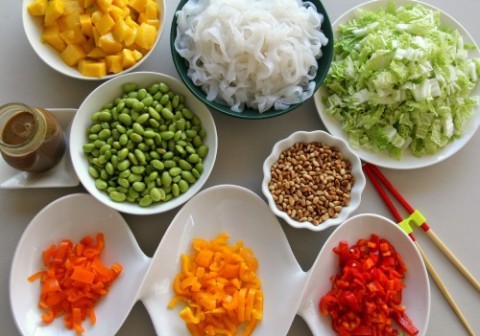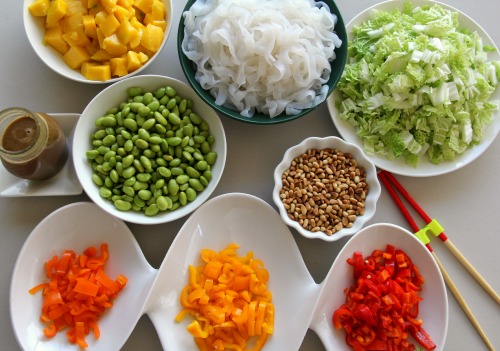 And then I had my best idea yet. What if I simply put the items out in bowls, so each person could build their own salad? Genius, I say. Try it.
Recipe: Do-It-Yourself Asian Noodle Salad
Summary: Gorgeous colored peppers, protein-rich edamame, sweet mango and toasty pine nuts top a bed of Shirataki noodles and Napa cabbage, for a cool Asian Noodle Salad.
Ingredients
3 (8-ounce) packages Shirataki Fettuccine Noodles
4-5 ounces colored sweet mini bell peppers
1-1 ½ cups shelled ready-to-eat edamame
½ cup toasted pine nuts
10 or so leaves Napa cabbage
Bottled Toasted Sesame Asian salad dressing
Instructions
Rinse and drain noodles and place them in a serving bowl. Stem, seed and chop bell peppers and place them in a serving bowl. Place edamame in a serving bowl. Place pine nuts in a serving bowl.
Slice cabbage leaves thinly and place in a serving bowl. Peel and seed mango and cut flesh into a small dice and place in a serving bowl.

Assemble salads

: Allow each person to build their own salad, starting with the cabbage, layering on noodles, peppers, edamame, mango and finishing with a sprinkle of pine nuts.
Pass the dressing at the table for each person.
Serves 4.
Source
Dorothy Reinhold / Shockingly Delicious
Preparation time: 15 minutes
Diet type: Vegetarian, vegan
Diet tags: Low calorie, Reduced fat, Reduced carbohydrate, Gluten free
Number of servings (yield): 4
Culinary tradition: Japanese
My rating 5 stars:  ★★★★★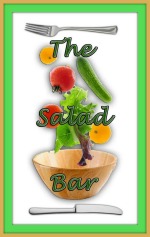 Here are the other salads created by my fellow cooks for #TheSaladBar, a monthly cooperative feature. Choose my Do-It-Yourself Asian Noodle Salad today, or one of theirs to try for your own Asian salad meal. You can't go wrong with any of these beauties.