Print This Post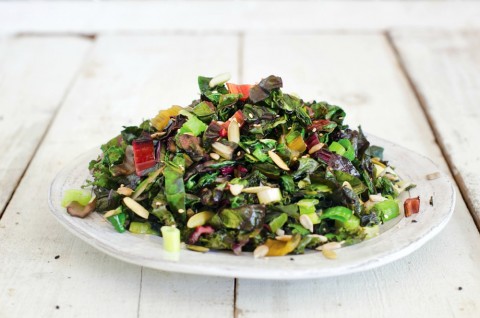 "Eat your greens" isn't just an empty admonishment from the past.
It's good advice for all of us, no matter what eating plan we follow. Those who want their diet to help them lead a healthy life are well advised to add dark leafy greens to many meals.
To help you enjoy two of my favorite greens, I turn today to a new cookbook,"The Migraine Relief Plan: An 8-Week Transition to Better Eating, Fewer Headaches, and Optimal Health," by my friend Stephanie Weaver. Although she had a degree in nutrition education, Stephanie gave herself another virtual graduate degree while doing all the research surrounding migraine, vertigo and Meniere's disease after a mid-50s diagnosis of her own. The dozens of medical books, countless interviews with experts and hundreds of medical studies and research papers she read led her to develop an eating plan that successfully eased her own symptoms.
She became determined to make the information as widely available to people as possible, so she began writing this book. She tested her eating and lifestyle plan on other migraine sufferers, and emerged with an 8-week plan that guides people with one assignment per week, so they can ease into living a migraine-friendly life.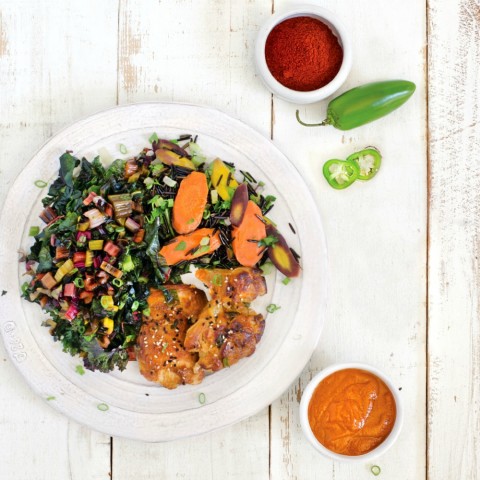 I was immediately drawn to this recipe for Spicy Kale and Swiss Chard Sauté because I love both those greens, grow them in my own vegetable garden and let's face it, it's very easy, takes one skillet, and goes with nearly every dinner I can imagine. Doesn't it look good on the plate with Wild Rice and Carrots and Maple Sesame Glazed Chicken (both recipes in the book)?
Listen to what Stephanie says about the recipe:
"I did not grow up eating greens. I had to learn how to cook them, and truthfully, it took a while for me to develop a taste for them as an adult. They're incredibly nutritious, so I now try to make some once a day, and I rotate which types we eat to balance out the nutrients they provide. This recipe is a wonderful introduction to greens, as it combines two types of flavorful oils to complement the greens, while the seeds provide textural crunch and extra protein. Cooked greens combined with a healthy fat make the nutrients more bio-available, too. #winning."
This green goodness has a lot going for it, whether you suffer from migraines or not. Even if you don't personally, though, 1 in 4 American households includes a migraine sufferer, so someone in your family or friend circle probably does.
June is Migraine Awareness Month, so let's grab our skillets and get Spicy Kale and Swiss Chard Sauté on the table tonight.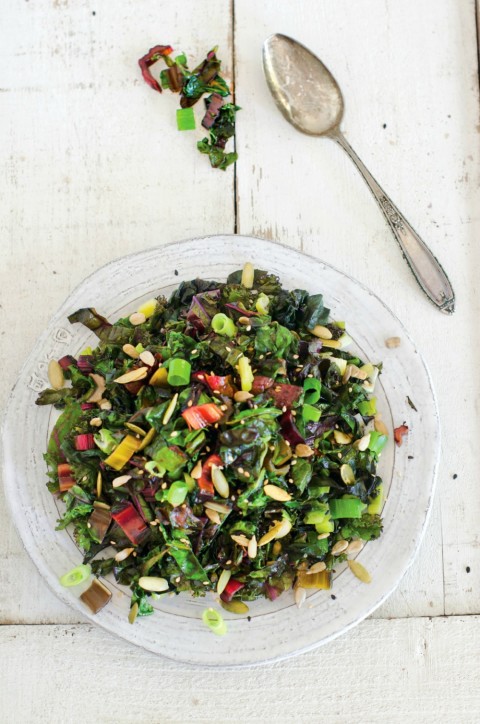 Join me, won't you?
Spicy Kale and Swiss Chard Sauté
This easy, nutritious greens side dish gets extra flavor from special oils, a jolt of heat from jalapeño and crunch from three kinds of seeds. You'll serve this frequently.
Ingredients
1 bunch (500g) Swiss chard, stems removed, thinly sliced and reserved and leaves thinly sliced
1 bunch (500g) kale, stems and leaves thinly sliced
1 tablespoon extra virgin coconut oil or ghee
1 bunch green onions, thinly sliced
3 cloves garlic, minced
1 jalapeño, thinly sliced (optional)
1 tablespoon hot sesame oil
1 tablespoon dark toasted sesame oil
1 tablespoon raw sunflower seeds
1 tablespoon raw pumpkin seeds
1 tablespoon raw sesame seeds
Directions
How to prepare the greens:

After washing greens, roll them up in a clean kitchen towel to absorb moisture. For the Swiss chard, stack the leaves, then cut off the stems using a deep V cut. Thinly slice the stems and set them aside separately. Thinly slice the green leaves.
In a large frying pan or sauté pan set over medium–high heat, melt the coconut oil. Add the onions, garlic, and jalapeño, if using, and sauté for 5 minutes, or until golden.
Add the chard stems and cook for another 3 to 4 minutes. Add the rest of the chard and the kale. Cover the pan with a lid to help the greens wilt, about 5 minutes. Once they have wilted a bit, add the hot and dark toasted sesame oils, stirring to coat.
Add the sunflower, pumpkin, and sesame seeds and continue to sauté, uncovered, for 10 minutes, or until cooked through.
Serves 4.
Notes
Recipe source: "The Migraine Relief Plan: An 8-Week Transition to Better Eating, Fewer Headaches, and Optimal Health," by Stephanie Weaver, MPH, CWHC (2017; Surrey Books, an imprint of Agate Publishing, Inc.; $19.95.)
Photo source: Photos by Laura Bashar.
Nutrition: Per serving: 6g protein, 13g carbohydrates, 15g fat, 4g saturated fat, 108mg sodium, 607 mg potassium, 4g fiber
Spicy: If you do not like spicy food, skip the jalapeño and the hot sesame oil. Wear gloves while handling the jalapeño.
Greens: You can use all Swiss chard or all kale for this recipe if you prefer. Bunches of greens tend to weigh 16 ounces in the U.S.
https://www.shockinglydelicious.com/spicy-kale-and-swiss-chard-saute/
Copyright Dorothy Reinhold | ShockinglyDelicious.com. All rights reserved.
If you like this recipe and want to save it, pin the image below to your Pinterest board.

The book is a wonderful, practical, useful and inspiring resource for both the lifestyle and the eating plan that may help you or your loved one who is afflicted. My only complaint is that I wish it had photos of the dishes, but no doubt that would have more than doubled the price. It's a great value for what is probably going to be the best medicine you ever had for your head.
Did you see the other recipe on Shockingly Delicious from "The Migraine Relief Plan" ?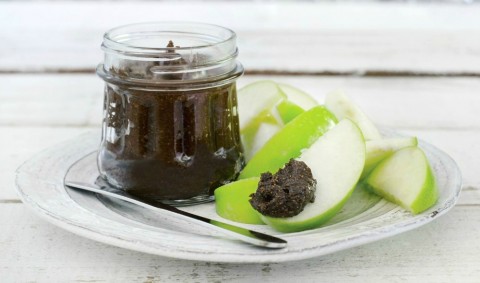 Don't miss Creamy Not-Ella Carob Butter, pictured above, a migraine-friendly Nutella substitute.

Disclosure and credits: Reprinted with permission from "The Migraine Relief Plan," copyright 2017 Stephanie Weaver. Published by Surrey Books, an imprint of Agate Publishing, Inc. Photos by Laura Bashar.
Save
Save
Save
Save
Save
Save
Save
Save
Save
Save
Save
Save