Print This Post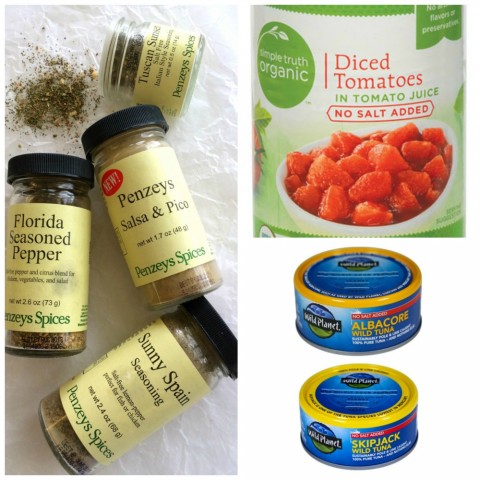 I know it is fashionable and advised by chefs to toss salt on everything you make, at every stage of the cooking process, but most of us eat way too much salt every day, far more than we need.
And for many with high blood pressure, the extra salt may contribute to the condition.
For the past year, I've been deliberately under-salting my food, cutting way down on the salt called for in recipes, and generally being mindful that when I have a naturally salty ingredient I'm using (feta, capers, olives) I can get away with no added salt in the rest of the dish, and it will all even out.
I have found that I actually like the food BETTER without too much salt, and once you have retrained your taste buds, the often over-salted restaurant food can seem downright unpleasantly salty.
So the salt shaker isn't at my table (and in truth, no one misses it).
To help me in my lower-sodium cooking, I also keep on hand a few things that I've found are essential for a low-sodium pantry.
1. No Salt Added Diced Tomatoes (in tomato juice)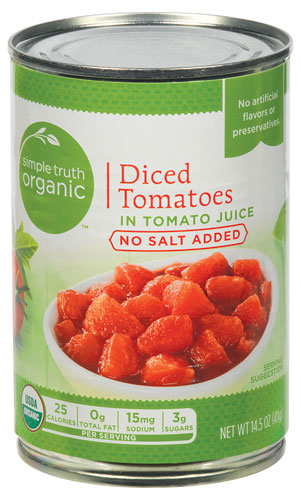 This organic brand, Simple Truth, is a private label Kroger brand (I often shop at Kroger sibling Ralphs here in Southern California), but if you don't have this brand in your store, there are others. I find canned diced tomatoes an essential pantry item anyway (pasta, chili, soup), and a no-salt-added version allows me to use salty Parmesan on the pasta, salty cheddar on the chili and a potentially more salty ingredient added to the soup, without a second thought.
Simple Truth No Salt Added Organic Diced Tomatoes in Tomato Juice
Sodium 15mg (1%) per 1/2 cup serving.
2. No Salt Added Chicken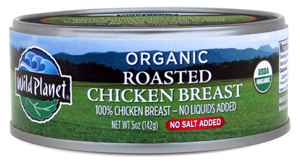 Once you retrain your palate to accept and even prefer less salt, it might ruin supermarket rotisserie chicken for you forever. That stuff is a salt lick! So I try to poach or roast boneless, skinless chicken thighs and have that meat on hand to use as I might have used rotisserie chicken in the past — in pasta, a salad or a Buddha bowl where I want some protein. But I don't always have it when I need it, so I turn to this high quality organic canned roasted chicken breast from Wild Planet Foods. Known as a leading provider of sustainable seafood, Wild Planet has added its first non-seafood item, and it is a winner.  The premium chicken features USDA certified organic free range chicken raised on an organic diet — including non-GMO corn grown on land that is free of chemical fertilizers, herbicides and pesticides. No water is added, no liquids are infused for plumping, it's simply chicken roasted instead of being boiled in water, and it has a rich flavor that fits well into sandwiches, burritos or salads. This is not the canned chicken of 20 years ago, or even 5 years ago. This is chicken in keeping with Wild Planet's mission to provide consumers with food options that are healthful for the body and wildly good for our planet. 
Wild Planet No Salt Added Organic Roasted Chicken Breast
Sodium 25mg (1%) per 2-ounce serving.
3. No Salt Added Tuna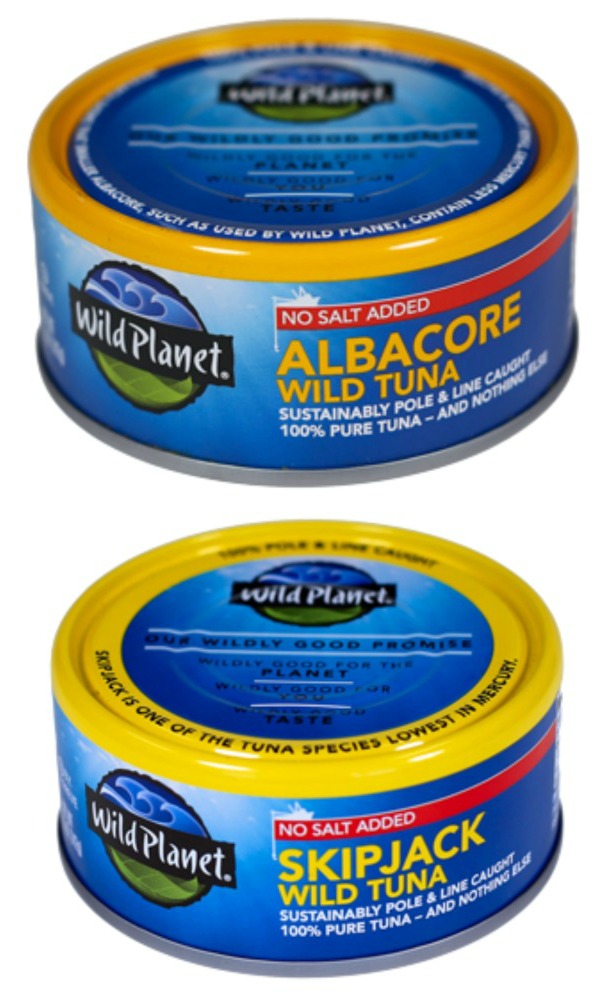 Wild Planet, known for its commitment to ethical sourcing and protecting our oceans, has two varieties I particularly like. This brand is interesting because their tuna is sustainably pole and line caught (no dolphin, turtles or other sea life  inadvertently caught in nets), hand cut into steaks and hand packed, with no liquid added so as to retain all the Omega 3 oils. It is cooked in the can, only once during the canning process. You don't drain it, just use out of the can. This is clean tasting, high quality tuna, and when you take it from the can, it is in a big chunk, not a soupy mush like some canned tuna that has been mechanically packed. I use it for tuna salads, when I want some tuna in my pasta (try it!) and as the protein in a grain bowl. Next I want to make spring rolls with it.
Wild Planet No Salt Added Wild Skipjack Light Tuna
Sodium 80mg (3%) per 2-ounce serving.
Wild Planet No Salt Added Wild Albacore Tuna
Sodium 100mg (4%) per 2-ounce serving.
4. Low Sodium Black Beans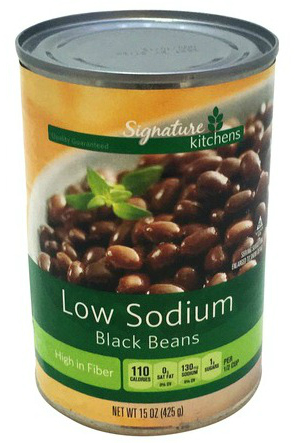 Sure, I can make my own cooked beans from a bag of dried beans, but for convenience, I often turn to canned black beans. My go-to is Signature Kitchens Low Sodium Black Beans, a private-label brand of Safeway/Albertsons/Vons, because I find these have the lowest sodium per serving of any of the low- or reduced-sodium brands I can find. If you are watching your salt intake and want to use canned beans, it will pay you to read the nutrition labels in your store and compare for yourself what is offered there. I throw black beans in quesadillas, burritos, salads, rice, in chili, soup, etc.
Sodium 100mg (4%) per 1/2 cup serving.
5. No Salt Penzeys Herb Blends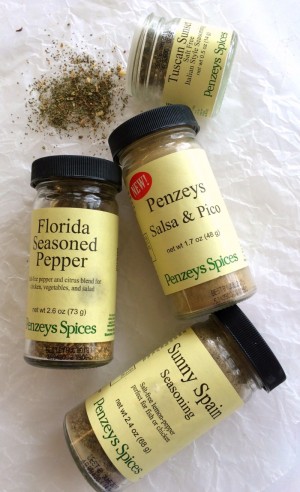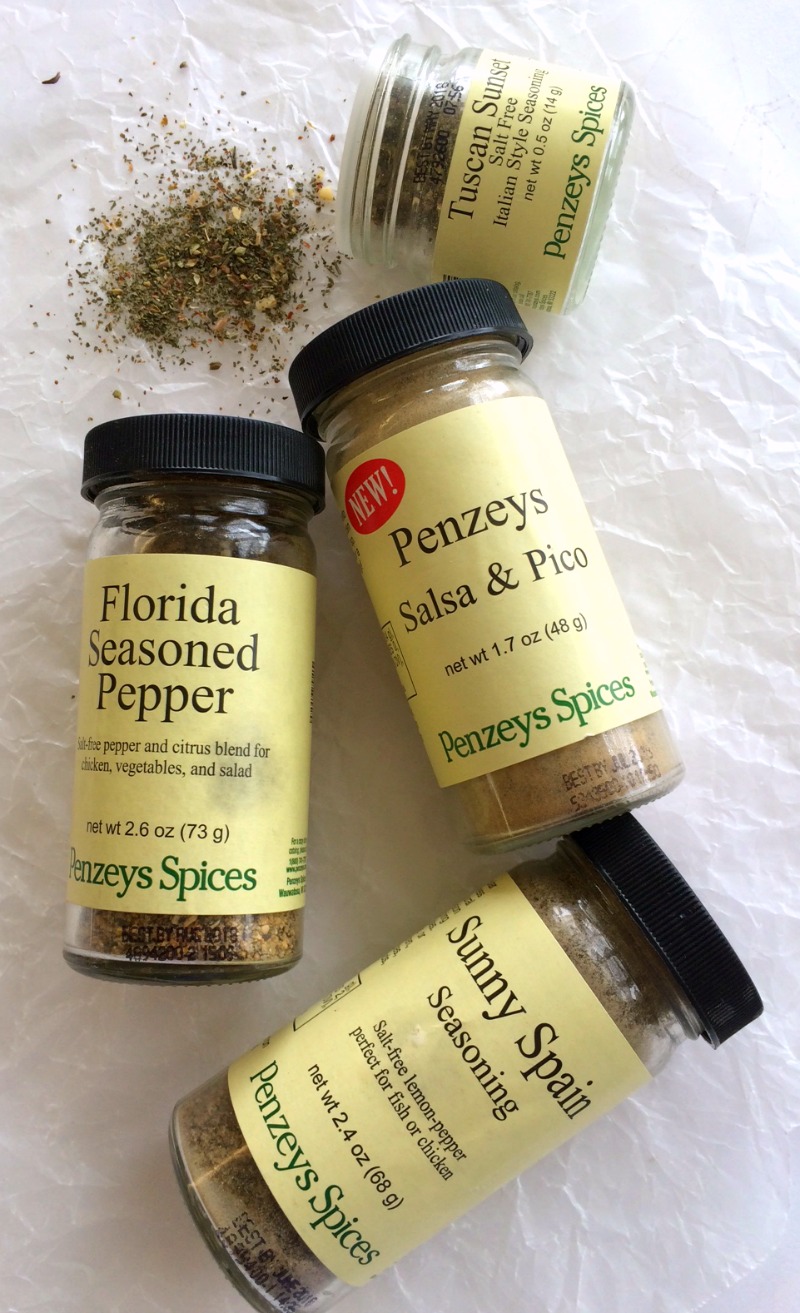 Penzeys is one of my favorite spice houses, and it was a happy day in my household when they opened a retail branch near me in Santa Monica, Calif. and a sad day when it closed last year. If there isn't a retail store near you, Penzeys has a thriving online business with excellent customer service. You must try the several no-salt herb blends that have become my go-to sprinkles. Note: Penzeys has a bunch of no-salt seasoning blends, so you can explore their online catalogue to find your own favorites.
Penzeys Tuscan Sunset Salt-Free Italian Style Seasoning (basil, oregano. red bell pepper, garlic, thyme, fennel, black pepper, anise). I use this in whatever dish I might need Italian herbs, such as pasta sauce, pizza, vegetables, roast chicken, etc.
Sodium 0mg.
Penzeys Florida Seasoned Pepper (salt-free pepper and citrus blend of black pepper, citric acid, lemon peel, garlic, orange peel and onion). I use it on my scrambled eggs, roast chicken thighs, vegetables and salad. It has a large grain, so it makes its presence felt.
Sodium 0mg.
Penzeys Sunny Spain (salt-free lemon pepper blend of black pepper, citric acid, lemon peel powder, garlic and onion). This is similar to the Florida Seasoned Pepper, but a much finer, more powdery grain. This is a shaker you could keep at the table for individual use like salt. I put it on delicate fish filets, hamburgers, potatoes and of course, vegetables.
Sodium 0mg.
Penzeys Salsa & Pico (shallots, cumin, garlic, black pepper, Mexican oregano, paprika, cilantro, jalapeno pepper, chipotle pepper). This turns a fresh sliced tomato into a party, or diced tomato into salsa. I sprinkle it on burritos or quesadillas, into a pot of pinto beans or refried beans, and even on my scrambled eggs for a Mexican twist.
Sodium 0mg. 
Please tell me in the comments what are YOUR favorite no salt added or low-sodium products. Let's share our finds!
If you want to save this article, pin it using the image below to your Pinterest board.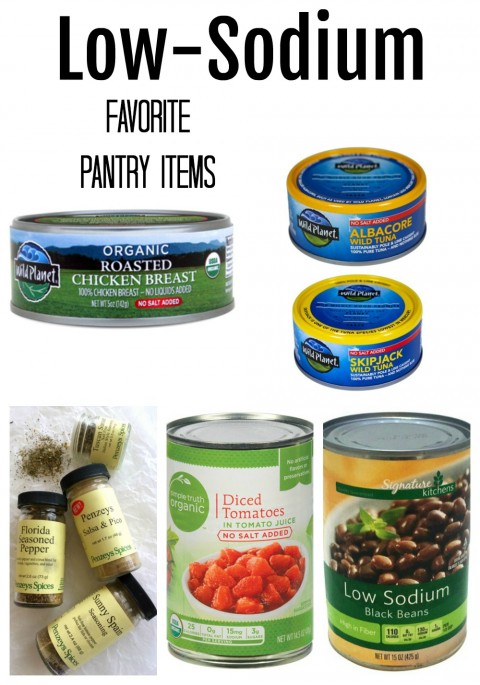 Disclosure: Wild Planet sent the chicken and tuna for trial. 
Save
Save
Save
Save
Save
Save