Recipe: Smoked Salmon with Caramelized Onion Quiche
Source: Adapted from a recipe from Campanile Restaurant [1], which ran in the L.A. Times in 2003 [2].
Pastry shell fitted into a 10-inch deep dish pie plate
1 tablespoon olive oil
2 medium to large white onions, finely chopped
1 pinch kosher salt
1 pinch sugar
3 garlic cloves, finely minced
6 ounces hot-smoked salmon, flaked
5 eggs
2 cups heavy cream
Coarsely ground black pepper
3 tablespoons minced fresh chives, divided use
Heat the oven to 350 degrees and fit pastry shell into pie plate. Set aside.
Heat olive oil in a 12-inch skillet, and caramelize the onions by cooking them, salt and sugar on low-medium heat until golden brown, about 20-25 minutes, adding the garlic into the pan about 5 minutes before the onions are done. Spread the onion mixture and the flaked salmon over the bottom of the unbaked pie shell.
Beat the eggs in a bowl with the cream until blended. Season with salt and pepper. Pour over the onions and salmon, sprinkle with 1 tablespoon chives, and bake until puffed and browned, about 40-45 minutes. Allow to stand for 10 minutes, and then cut into slices. Sprinkle each slice with additional chives and serve.
Serves 6-8.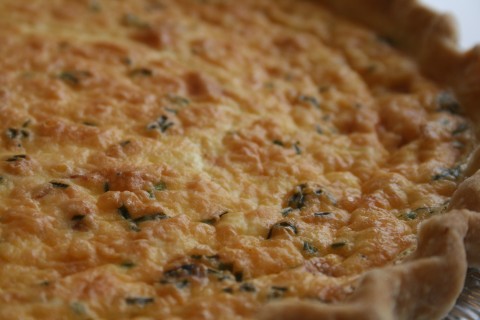 [3]