Print This Post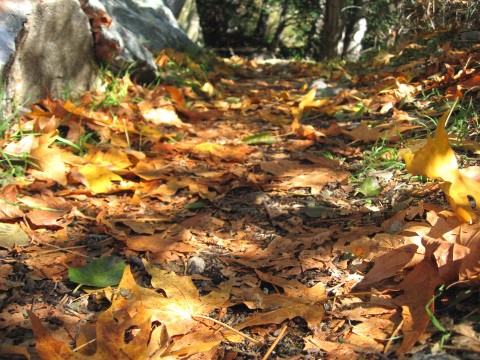 We kept it simple this year because we were cooking at my house and bringing it to my mother's house 1 1/2 hours away.
Last week, as I contemplated what might be easy to cook and transport, I recalled a Thanksgiving 5 years ago when my son was in the hospital for an emergency appendectomy. We hadn't expected him to be released in time for Thanksgiving, so we had no food in the house and no plans (other than to be at the hospital with him). Improbably, his doctor sprung him, and we rejoiced! On the way home, we bought some rotisserie chickens from Vons, a box of potato flakes for cheater mashed potatoes (with a few quick tweaks from the pantry!), some  fresh broccoli (to steam in the microwave), and a pie (horrors, the Pie Lady of Malibu bought a pie? Yesssss, and lived to tell about it!).
 It was the best Thanksgiving, EVER!
With that memory in mind, we tried to keep it relatively simple this year. We were delighted to be at the table with my mother and my husband's parents. We counted our blessings to be able to have them all there.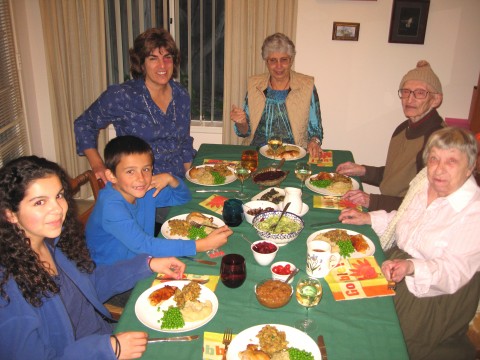 Appies
Cheeses – Truffle; Havarti with Dill; Brie (prediction: leftover truffle cheese will make a fantastic grilled cheese sandwich!)
Citrus-Marinated Mushrooms (very good! Sort of a ponzu flavor. Advice: cut down on crushed red pepper to 1/2 teaspoon)
Cracker assortment
Main
Roast Chicken (opted for ease because dinner was cooked one place and brought to another place. I couldn't imagine putting a whole roast turkey in my trunk!)
Gravy
Herb Stuffing with Raisins
Peas
Mashed Potatoes with Caramelized Onions, Garlic and Dill
Shaved Brussels Sprout Salad with Red Onion, Lemon and Pecorino (this was a revelation! Those who loved it really, really loved it!)
Dessert
  ??? What did you serve for Thanksgiving???