Print This Post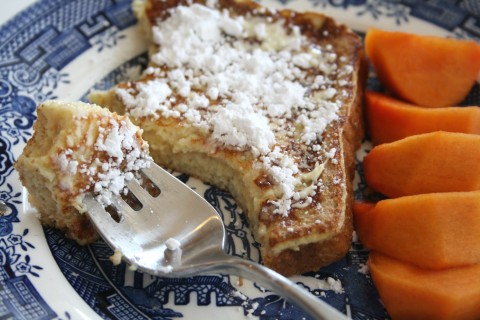 I know you have a quart of eggnog in your refrigerator. Instead of just glugging it down, here's a brilliant and scary good way to use some of it. And if you don't have eggnog in the fridge, for heaven's sake, what's wrong with you? Go buy some now! This is worth it.
There's nothing like a good French toast in the morning to put a bright spin on the day. Most of us don't have time on a working weekday to the French toast thing, though, so use the freezing option described below so you can make it on the weekend and have Eggnog French Toast at your beck and call for breakfast during the week.
Eggnog French Toast would make a perfect breakfast for a special day like Christmas morning, or on any other November or December weekend.
Here are a couple of hints:
1. You may use either full-fat or a light version of eggnog. Use up whatever you have on hand.
2. The eggnog extract is optional, but if you have it or can get it, it takes this over the top!
3. Fresh nutmeg is similarly essential. Yes, you can use pre-ground, but if you have access to freshly ground, you will marvel at the taste difference. To me, freshly ground nutmeg is one of the kitchen essentials worth the time and cost (for the nutmeg, initial cost for the grater).
4. The best topping EVER for French toast, in my not-so-humble opinion, is to slather the hot pieces with butter, allow it to melt, and then sprinkle liberally with powdered sugar. The sugar melts into the butter, and the whole thing tastes like icing!
5. Yes, although the eggnog is sweetened, I think you will find that the finished French toast still needs something a bit sweet on top. Omit it if your palate tells you it is already sweet enough.
Eggnog French Toast
1 cup prepared eggnog (can use light version if you like)
6 eggs
1/4 teaspoon eggnog extract (optional)
1/4 teaspoon freshly ground nutmeg
6-10 slices bread
Finishing: maple syrup or butter and powdered sugar
Heat griddle or large frying pan on low. (If it is nonstick, you may not need any grease.)
Pour milk into a 4-cup measuring cup. Add eggs, extract and nutmeg. Whisk well to combine. Pour into a rectangular baking dish (7×11-ish) or large pie plate. Submerge two pieces of bread side by side in eggnoggy liquid, moving them around with your fingers to make sure they are covered. After a minute or so, turn bread over by hand and submerge again. After about two or so minutes total in the egg bath, bread should be pretty soggy. If it isn't (perhaps because it was very dry to start with), let it soak a bit longer.
If griddle is nonstick, you probably won't need any grease. If it isn't nonstick, melt a little butter on the hot skillet. Place egg-soaked bread on hot griddle (and immediately put two more pieces of bread into the egg wash, to keep your momentum going). Cook French Toast 1-2 minutes, and then, using a spatula, flip each piece over and cook another 1-2 minutes on the second side. Do the finger-poke test to make sure it is done – poke the bread with your finger and if it is squishy in the center, let it cook longer. If it is slightly firm, it is done.
Remove cooked toast to plate, and serve with real maple syrup or butter and confectioner's sugar.
Serves 6-10 (depending on how much bread is used).
Note
Very fresh bread will not absorb as much liquid as stale or drier bread. That's why the range is so large for how many pieces of bread this uses. I sometimes leave the bread out a few hours or overnight to dry it slightly if I know I am making French toast in the morning.
Freezing option
You can make a large batch of this (double the recipe), and freeze it for quick breakfasts on weekdays. Simply make the Eggnog French Toast and instead of plating it, place pieces on a rack to cool. When cool, stack the toast with a piece of waxed paper between each piece (so they don't freeze together), place the stack in a zipper-top plastic bag, remove the air from the bag, seal and freeze. Be sure to label the bag. This enables you to remove the toast one piece at a time. Toast may be reheated in the toaster, toaster oven, or even carefully in the microwave oven.
Since you like French toast, you might like to try this: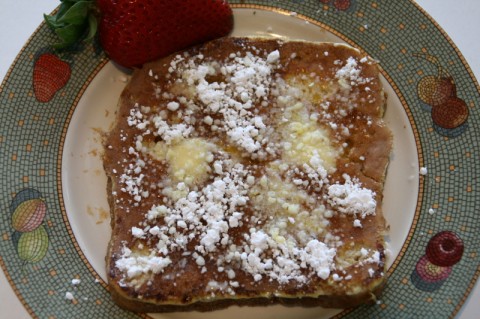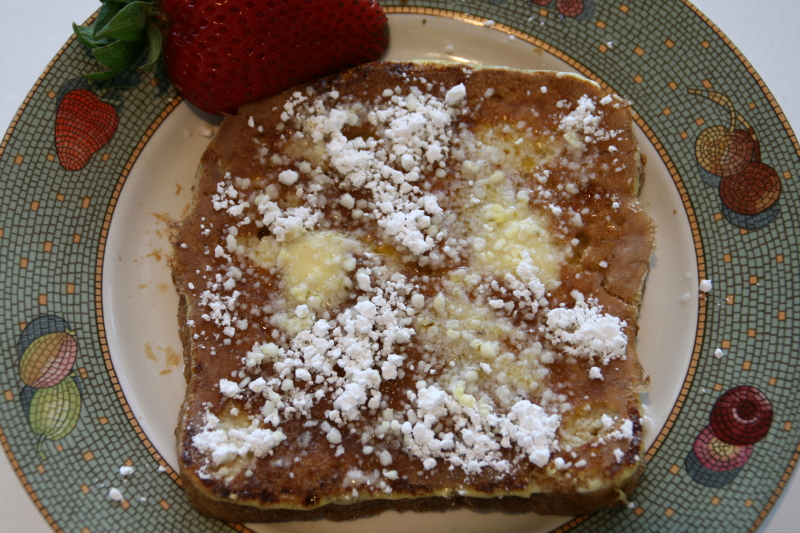 Fiori di Sicilia French Toast