Print This Post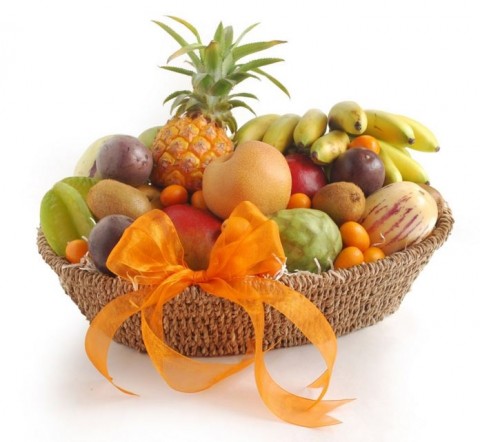 I'm dreaming of a few of these things for Christmas, and so will the foodies in your life!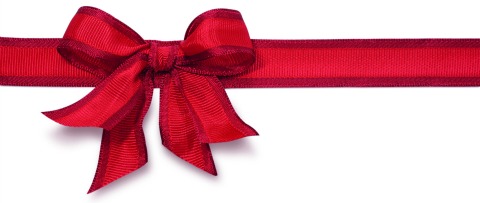 Who wouldn't want one of these beauties, chock full of crazy-delicious fruit you might not have the courage to buy for yourself? I was proud to send one as a thank-you to the family that hosted my new college student for her first Thanksgiving away from home at their Cape Cod house. It would make a wonderful work gift, or present for a family, too. It reminds people in the most delightful way to eat their fruit, and let's face it, most people don't exactly welcome another box of candy these days, taunting them with forbidden calories. A fruit basket represents your interest in their health, and speaks to your own healthy outlook, too. It's a win-win. This time of year, fruit in this basket is most likely to include Asian pears, persimmons, pomegranates, strawberry papaya, baby pineapples, mango and a coconut, based on availability. It arrives in a woven basket with cellophane wrapping and a colorful ribbon, and looks very festive on the counter.  $67.25 from Melissa's Produce. And if that particular basket doesn't suit you, they have several dozen other baskets at all price points, including some with a single variety of fruit (we're talking about YOU, Baby Pineapple Crate!, and wine. If you're looking to send fine bottles of red, white and champagne with fruits and vegetables, this is your spot.)
2. Kitchen shears
I say this with authority: Every kitchen needs a dedicated kitchen shears. I don't mean a paper-cutting scissors that really belongs in a desk, or one that gets snitched from the kitchen and taken elsewhere. A kitchen shears is one of the most useful implements you can have, and you'll do any cook you know a favor to give him or her a good quality shears that never leaves the kitchen. If you are only going to have one, get an all-purpose shears; if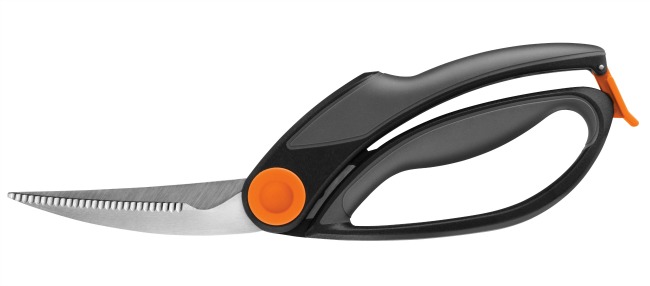 your budget can afford two, get the all-purpose and then another specialty shears such as a smaller one to snip herbs, or a more powerful butcher shears (you'll know which is best to give your recipient depending on what they like to cook most often). The high quality scissors maker Fiskars — you know them, the orange handled scissors people! — has four excellent, well-priced shears. Any of them would be a good choice. All are stainless steel, and can be put directly in the dishwasher. The All-Purpose and Butchers Shears have a take-apart design so each side comes entirely apart.
 3. T-fal 10-in-1 Rice and Multi-Cooker
Can one cooker replace 10 other specialty cookers? Maybe so! The T-fal 10-in-1 Rice and Multi-Cooker features seemingly all of a home cook's cooking and baking needs in a single machine. It has 10 cooking programs: rice, risotto, reheat, oatmeal, slow cook, steam/soup, yogurt, baking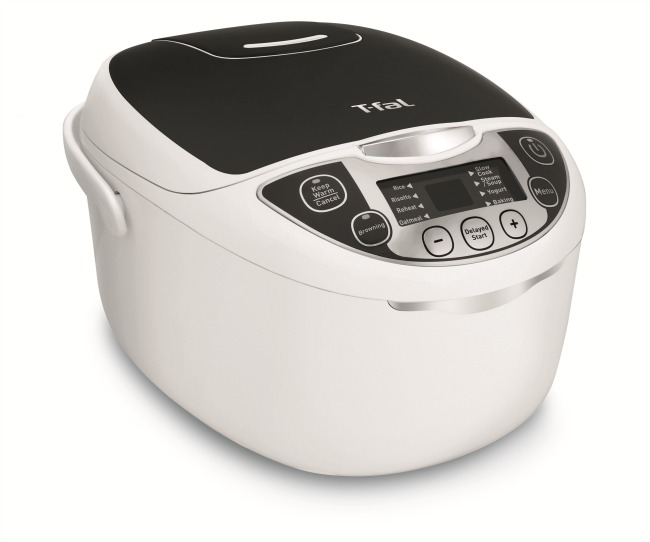 browning and keep warm. It has a touch pad control panel design with adjustable cooking timer, and the ability to preset up to 24 hours in advance. A 2mm thick non-stick ceramic inner pot, which can hold up to 10 cups, has a diamond shape for superior cooking results. The Fuzzy Logic technology — often used in rice cookers — auto-adjusts settings during cooking. Accessories include a steam basket, rice spoon, soup spoon, spoon rack and measuring cup. So far I've made rice, oatmeal, used it as a slow cooker, and next up I'm making my Red Wine Risotto in it for Christmas dinner. $99.99, at Bed Bath and Beyond.
4. Smart Herb Garden
You all know how fond I am of my fresh herbs, right? Remember my herbed-up stuffing for Thanksgiving? It used a fistful of fresh green herbs, and was sort of a mashup of salad and a loaf of bread. I grow herbs outdoors, but sometimes even in Southern California the weather is too chilly, or it is off season outside for one or more of my favorite herbs. To the rescue comes the Smart Herb Garden by Click and Grow. This is truly easy. You just plug it in, add water, and let your garden take care of the rest. It comes with everything  you need to grow herbs and some small veggies indoors—and they use 95% less water than traditional gardening techniques. With a proprietary nanotech soil, called Smart Soil, in the included non-GMO plant cartridges and refills, there's no need for complicated pumps or dosing with fertilizers. Click & Grow currently offers its Smart Herb Garden (starter kit version) at $59.95 to grow three plants at a time. I had basil, thyme and lemon balm in my garden, and was snip, snip snipping away. 
5. Cava and cheese
These are affordable luxuries everyone loves, whether it is in a month like December stuffed with holidays, or the other 11 months of the year. Any day someone wants to give me sparkling wine and cheese is guaranteed to be a great day! First off, let's address the cheese. I'm suggesting Fromager d'Affinois with Truffle and Saint Géric, both by cheesemaker Fromagerie Guilloteau. These creamy, ultra-rich and delicious cheeses will add elegance to any cheese plate, whether Christmas, New Year's Eve, a non-holiday January weekend or my birthday in February (hint, hint!).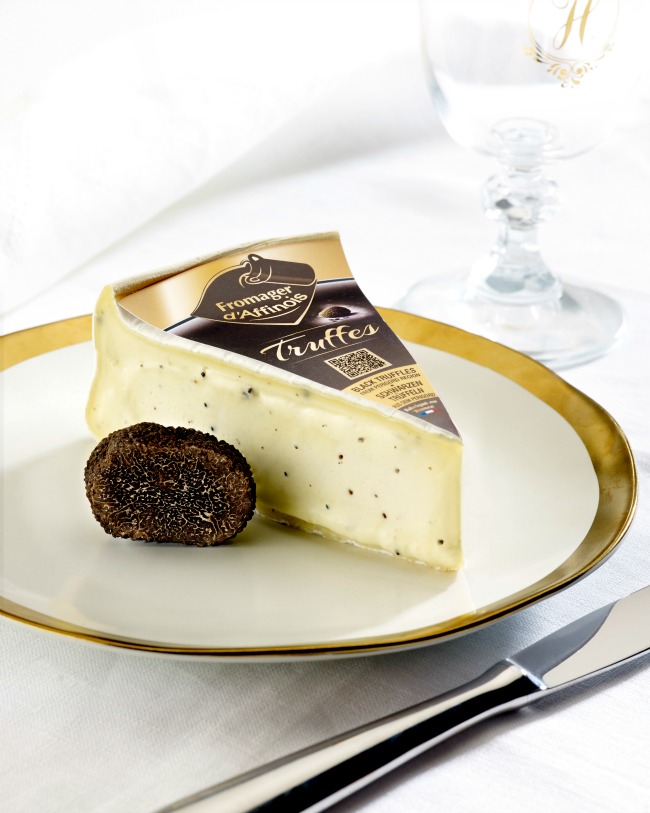 Fromager d'Affinois with Truffles is made with real Black Truffles from the Perigord region of France, and has notes of fresh butter and earthy mushroom that waft out when you cut into the light, bloomy rind. I  enjoyed it with baguette slices, and alongside December's seasonal Fuyu persimmons and pears. It's also perfect paired with a crisp bottle of festive sparkling wine, but more about that in a minute. Saint Géric is a marriage of a triple crème and blue cheese – rich and creamy with a subtle blue flavor that lingers on the palate and slowly melts in your mouth. Made in Pelussin in the Rhone Alpes region, it boasts  buttery goodness and streaks of blue veins. Both are available at Whole Foods.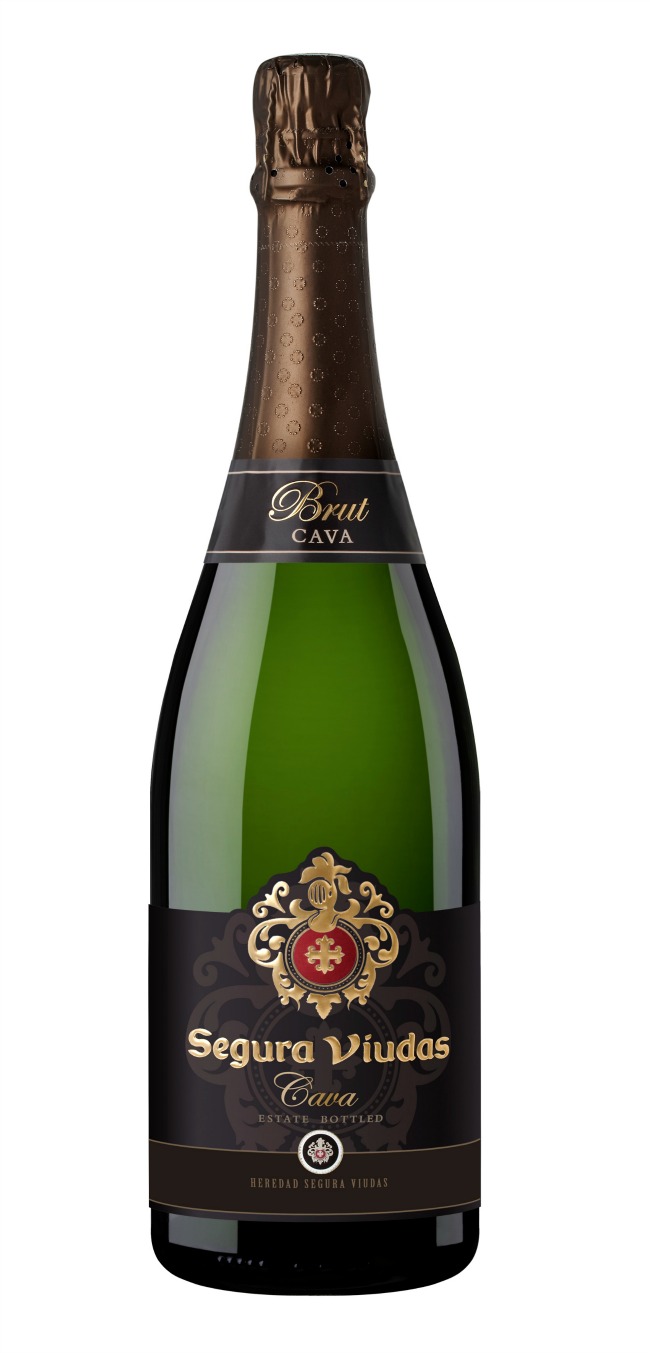 WINE: Now, on to the wine! I'm fond of a sprarkling wine for holiday dinners and parties, because it pairs so well with all the different flavors, whether turkey (even beef!), mushroom risotto, butternut soup, tart Nicoise salad, or even sweets like Pumpkin Chocolate Chip Cookies. Lately I'm serving Segura Viudas Brut, an artisanal Cava from the renowned Ferrer family of Spain. This wine maker is known for high quality at an affordable price ($10), two qualities I adore. Clink your glasses at Christmas dinner, toast to the new year, or hey, did I mention my birthday in February? I did? Well, don't forget it!
Disclosure: Melissa's Produce, Fiskars, T-fal, Click and Grow, Fromagerie Guilloteau and Segura Viudas sent products for evaluation. There was no expectation of a positive review.