Print This Post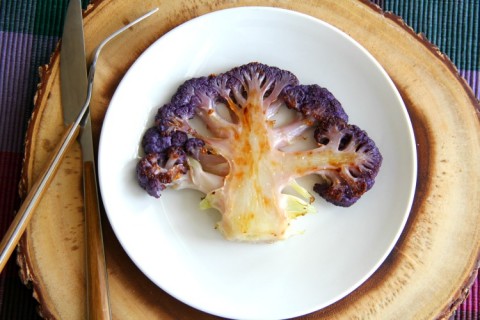 The thing about cauliflower is that you probably first hated it, and then once someone made it well for you, you absolutely loved it.
Back in the mid-last century, if grandma made you cauliflower, it might have been boiled. Kinda meh, kinda no-thank-you-but-I-still-love-you-grandma. She meant well, but she probably wasn't tuned into dry roasting. Cooking trends change over time. We forgive her.
Today, though, it's a whole 'nother thing.
Cauliflower is the star of low-carb, low-calorie, Paleo, diabetic, Ketogenic, vegan and other various healthy eating plans.
You can roast a whole head of cauliflower, roast a bunch of different colors to make a splash on the plate, put it with broccoli, carrots, onions and colored bell peppers to make the Best Vegetable Medley of Your Life ,  or make a soup, pizza crust or rice substitute out of it. It is super versatile.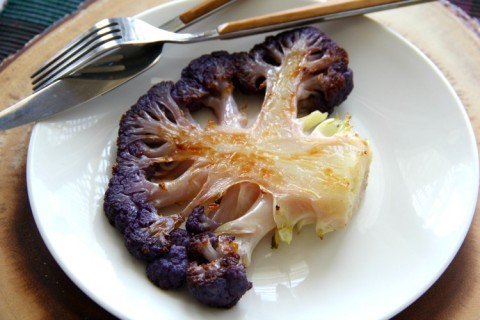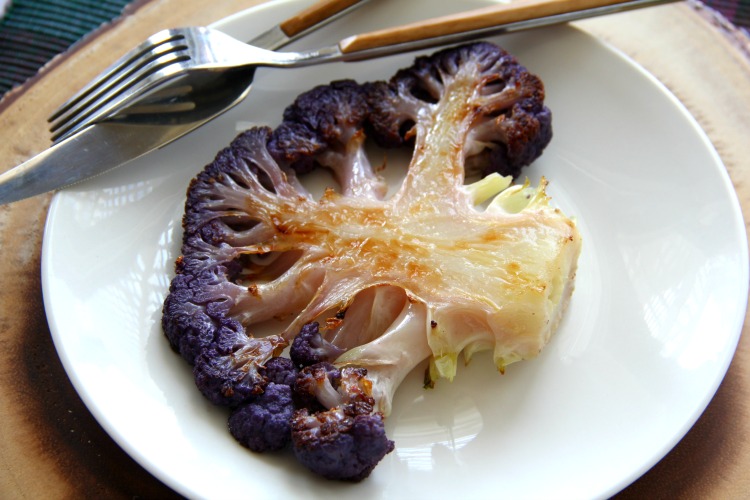 Today I'll show you how to slice it, dress it with olive oil and salt, and simply roast, for a Cauliflower Steak. You can eat it as the main course, or a side dish. It is comfortable as the star of your vegan meal, or alongside a steak (in which case you would have steak squared as your dinner); you choose.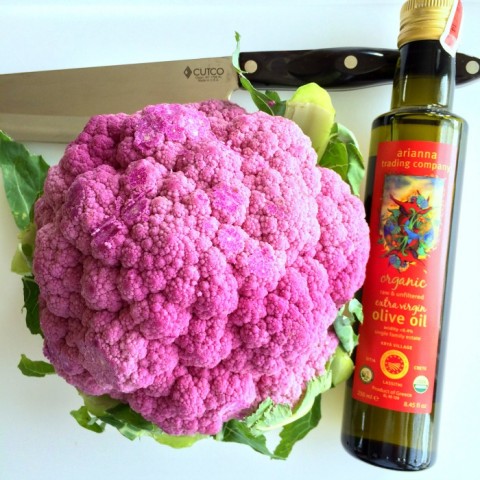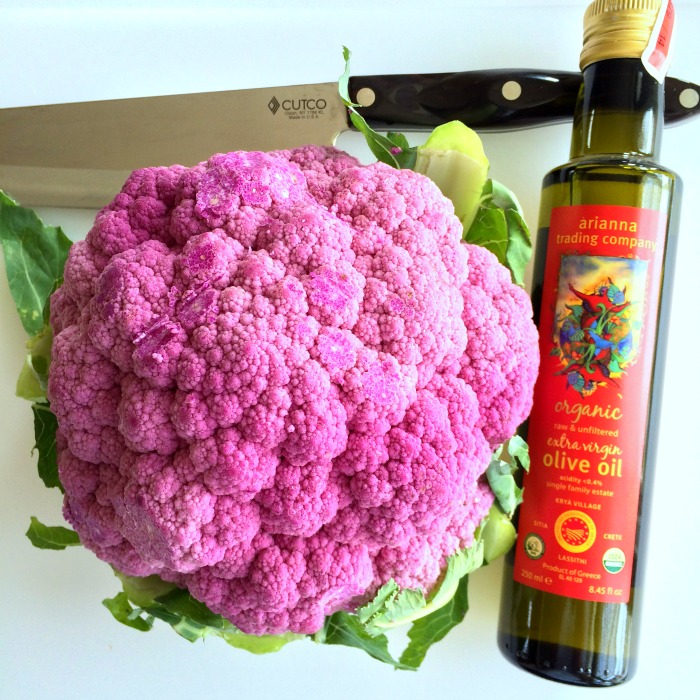 All it takes is a whole head of cauliflower, some excellent extra-virgin olive oil, and a pinch of sea salt.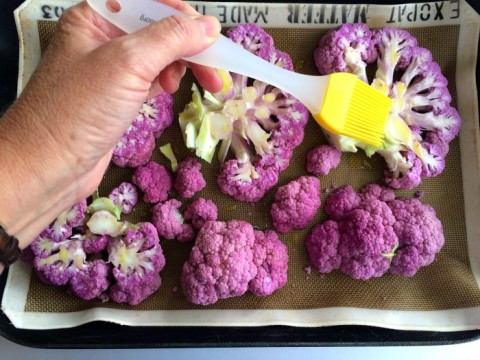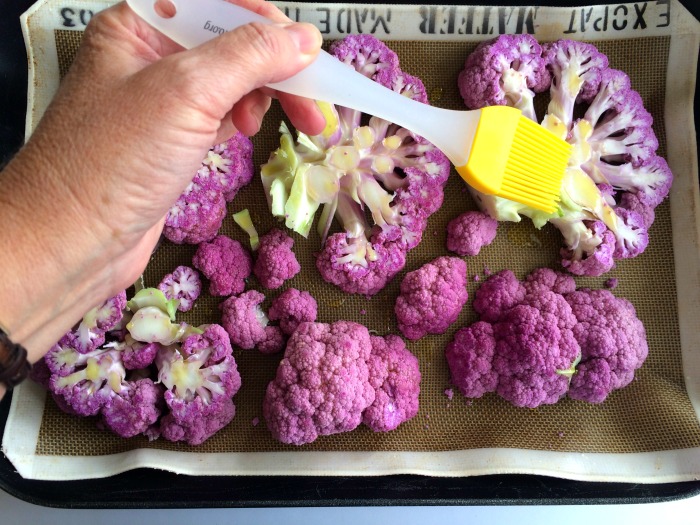 Write cauliflower on your grocery list, and get out your big knife. This is worth it.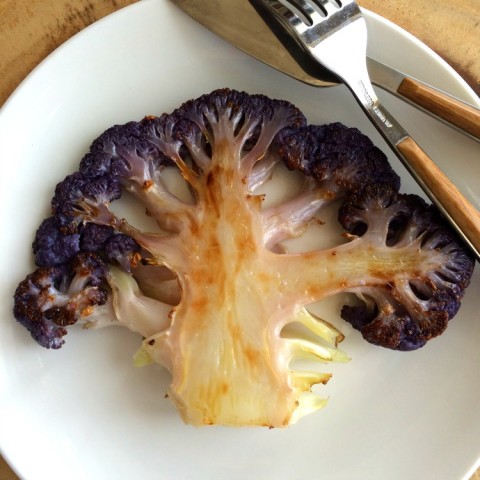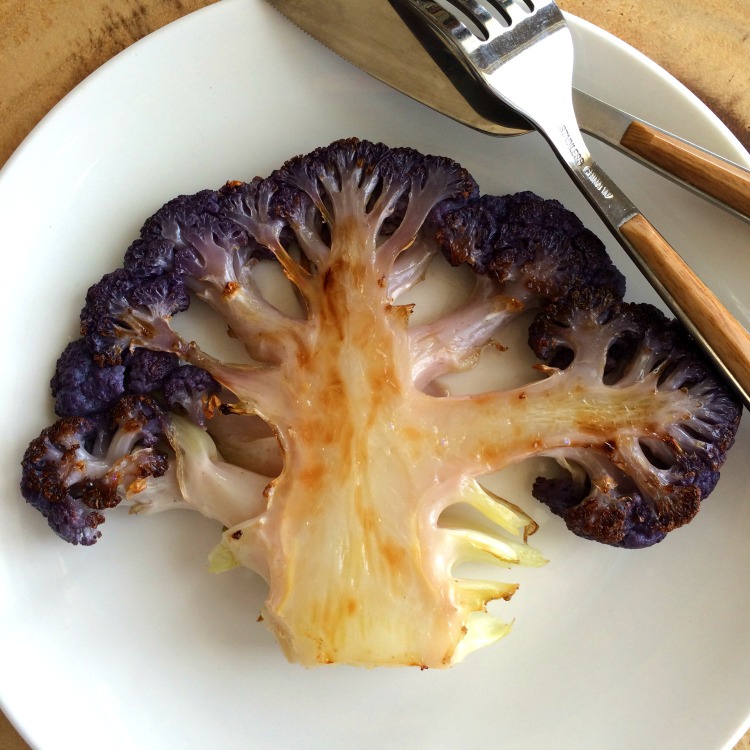 Roasted Purple Cauliflower Steaks
Roasting brings out the best caramelized flavors in a simple head of cauliflower dressed with olive oil and salt. You won't want to share. Paleo, vegan, low-carb, low-calorie, diabetic-friendly. It's all the things.
Ingredients
1 head purple cauliflower (or use white cauliflower or orange or whatever color you can find!)
Extra-virgin olive oil (I used Arianna Trading Company Organic Raw Extra Virgin Olive Oil)
Sea salt
Directions
Heat oven to 400F degrees.
Cut leaves off cauliflower head and slice head into planks or steaks.
On a baking sheet (cover baking sheet with a Silpat mat if you have it, or parchment paper, for easy cleanup), place the cauliflower steaks. Drizzle with olive oil and sprinkle with a pinch of salt.
Roast for 20-30 minutes.
Remove from oven and serve.
Serves 4.
Notes
https://www.shockinglydelicious.com/roasted-purple-cauliflower-steaks/
Copyright Dorothy Reinhold | ShockinglyDelicious.com. All rights reserved.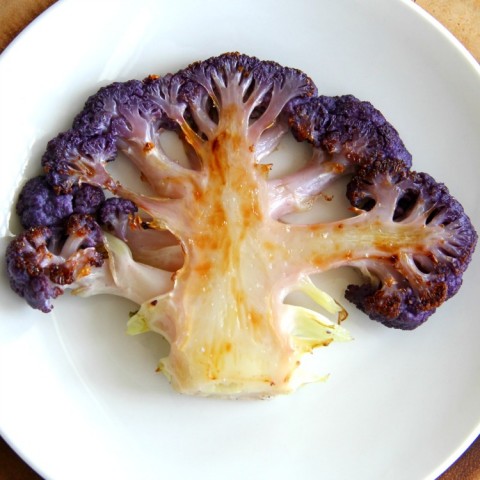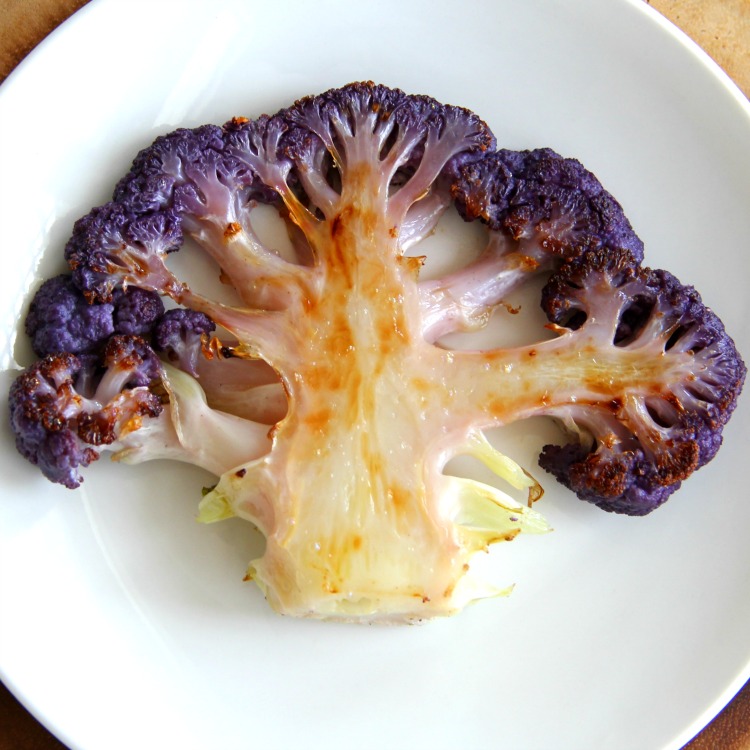 Sid, from the blog Sid's Sea Palm Cooking, was the inspiration for today's post. I was assigned her blog as part of Secret Recipe Club, a group of food bloggers who each month are secretly assigned a blog to look through. We quietly try a few recipes (and you know this part is hard because food bloggers are never quiet about anything!) and choose one to post about. Today is our "reveal day," and I'm happy to have had the chance to cook from Sid's Sea Palm Cooking this past month.
Sid is a hoot. I wish she lived next door to me. She does a monthly Boat Club Potluck, she does Tapas Night, she cooks at the local Senior Center…she is FUN!
I liked her idea for Retro Iceberg Lettuce Wedge Salad and she's a potsticker queen who won a contest for these. And speaking of potstickers, what about these Potstickers Using Leftovers (once you know how to make these, you won't stop).
Sid, I am so glad to have had the opportunity to explore your blog, and I have it bookmarked for more culinary adventures in the future!
If you'd like to see what else the Secret Recipe Club cooked up this month, browse the photo array below.
<!– end InLinkz script —>
Disclosure: Frieda's Produce sent the purple cauliflower and Arianna Trading Company sent the olive oil, for recipe development.
Save
Save