Print This Post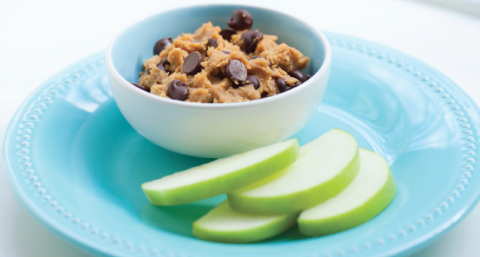 I can't resist an April Fools' Day prank.
So on this auspicious day, may I share with you a funny little bit of faux foolishness?
Faux Cookie Dough Dip — deceptively delicious, with the texture and flavor of homemade cookie dough, but…wait for it…it's actually a bean dip in disguise.
When snack time is over and no one has busted you, tell everyone they are now full of beans!
With the flavor and texture of homemade cookie dough, this deceptive dip will delight your snackers on April Fools' Day.
Ingredients
1 1/2 cups cooked chickpeas (if using canned, then rinse and drain)
6 tablespoons brown sugar
1/4 cup peanut butter (use a natural, unsweetened variety if you can)
3 tablespoons oats
1 tablespoon milk
2 teaspoons vanilla extract
1/8 teaspoon salt
1/8 teaspoon baking soda
1/3 cup chocolate chips

Dippers:

Apple slices, fresh fruit, celery sticks, graham crackers
Directions
In a food processor, blend the chickpeas, brown sugar, peanut butter, oats, milk, vanilla, salt and baking soda.
Hand stir in chocolate chips.
Scrape into a bowl and serve with dippers such as apple slides and other fresh fruit, celery sticks, graham crackers, etc.
Notes
https://www.shockinglydelicious.com/faux-cookie-dough-dip-april-fools-day/
Copyright Dorothy Reinhold | ShockinglyDelicious.com. All rights reserved.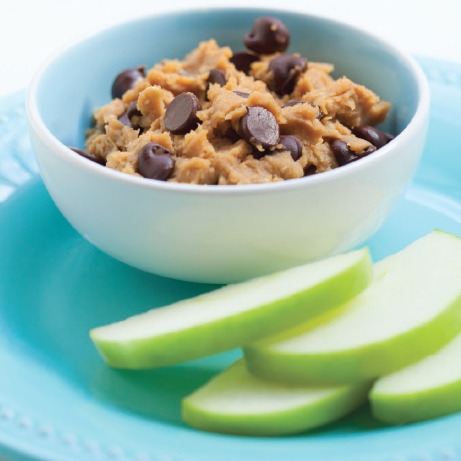 Go ahead, have some fun fooling around!