Print This Post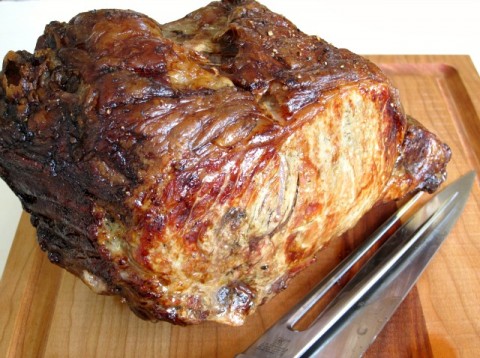 Once a year or so I get up the courage to make roast beef. Or roast beast, as we call it.
I don't know why I feel a little intimidated by it. Perhaps it's the time commitment, the uncertainty of how I am going to prepare it, and whether I'll be able to do justice to a large, expensive cut of meat. What if I wreck it?
That's a lot of pressure on a home cook!
So I jumped at the chance when the folks from Certified Angus Beef® brand said they not only had a solution to my anxiety, but wanted me to experiment with their new app, called Roast Perfect. I was to take advantage of the season coming up, have a chance to slow down and make a roast to enjoy during a leisurely meal. I was IN!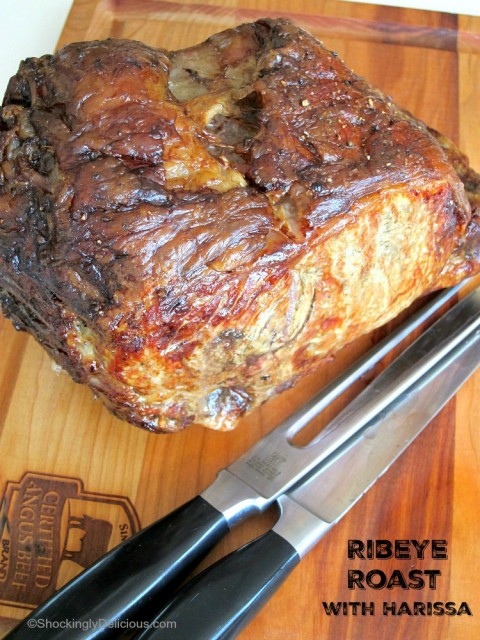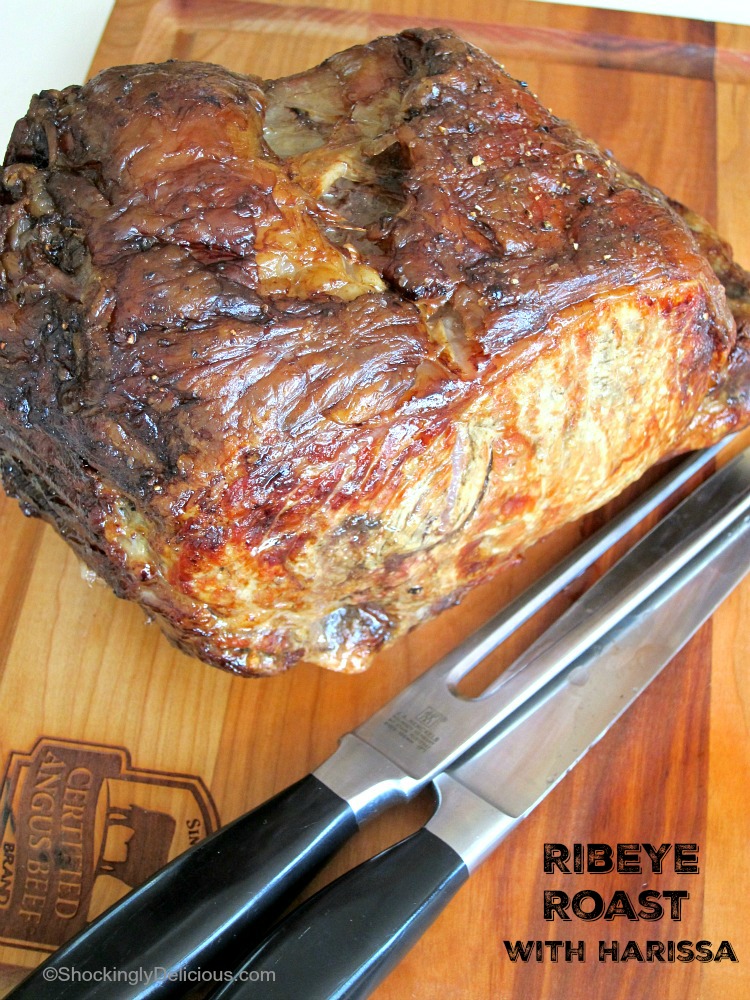 That beauty, right there above, is what I made, but let's not get ahead of the story. Back to the beginning.
With assignment in hand, I shot over to Gelson's market in Pacific Palisades, Calif., where I know they carry Certified Angus Beef® brand. This high-end beef has a lot going for it…
generous marbling, which we know means fantastic flavor. Marbling is the word for the tiny white lines of fat that striate the cut of beef, naturally basting it as it cooks. Fat = flavor, and the right amount of fat can make a huge difference in a cut of beef.
stringent quality standards, including rules on maturity, size, tenderness and appearance.
the ultimate grade. USDA inspectors grade beef as Select, Choice and Prime, with Prime topping the grading scale. These same inspectors evaluate the top of the scale — the best Prime — and using the 10 quality standards, apply the Certified Angus Beef® brand to only those that surpass the USDA's strict Prime standards in addition to meeting the 10 quality specs. Less than 1.5% of beef that can achieve this pinnacle.
I chatted up the butcher. What cut would be impressive? What kind of roast would be easy? How much would I need? He knew the answers, and I invested in a majestic, super high quality Certified Angus Beef® brand prime ribeye roast, with the bone in. For my family of 4, he suggested a 5-pounder. I did the rest of my shopping while he got busy cutting my roast.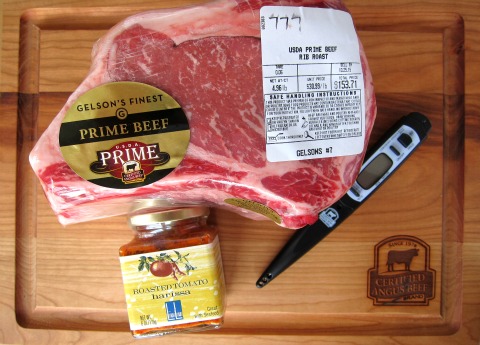 Since we're in Southern California, the urge to put some spice on nearly everything is ever-present. I grabbed a jar of slightly spicy Harissa paste, thinking I would rub it on the roast, but my son asked me to make the roast plain, and then each person could add Harissa at serving time to his own portion. Fair enough.
Roast Perfect app


I downloaded the app from the iTunes app store (it's free), and fired it up. I noticed right away it had several helpful features. You could click on…
select a roast
recipes and tips
favorite recipes
why our beef is better
roast timer
… and each of those categories gives you extremely helpful advice. I browsed through them quickly, got the lay of the land, and already felt better about what was about to transpire in the oven. I learned that I should season the outside with salt and pepper, put it on a rack in a roasting pan, fat side up, and proceed with the plan.
The roast timer feature allows you to select your type of roast (I put in bone-in ribeye roast), then the weight (5 pound for mine), and then choose your desired degree of doneness (medium rare for us, thank you very much). I set the oven to 450F degrees, and fired up the roast timer in the app. It showed me I needed to leave it in for 15 minutes at 450F, and once that was done, turn the oven down to 325F degrees for a 2-hour roast (for medium rare), followed by a 15-minutes rest once it was out of the oven. Of course, when you use the app, your mileage will vary, depending on the cut and size of your own beast. Set your oven timer to remind you of when each period is done.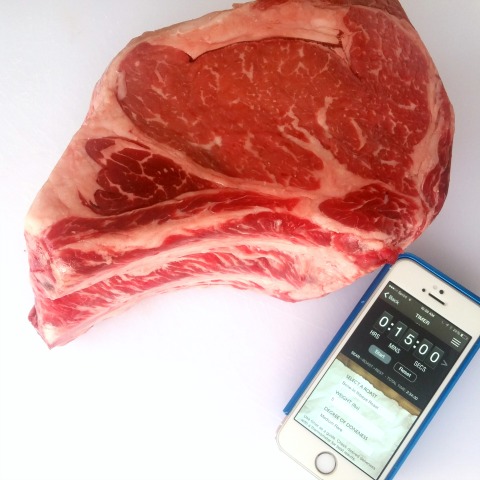 When it was time to take the roast out, I used an instant-read thermometer to check the temp…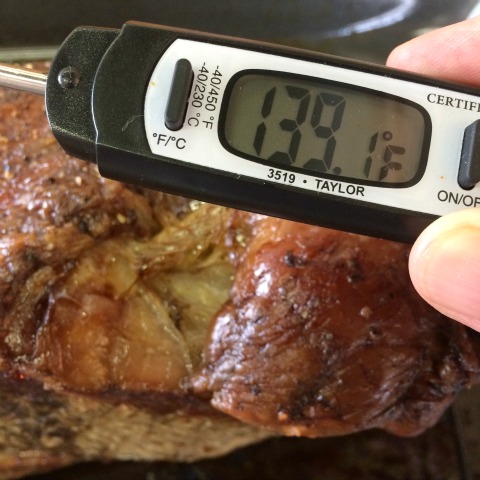 …which should be 5-10 degrees below the target, and then let the roast rest undisturbed, so the juices could settle back into the meat. (If you cut it immediately upon taking it out of the oven, you'll lose the lovely juice and make it dry.)
Side Dishes
The app even has a few suggestions of side dishes that would go with your roast. I might try their suggested Dutch Oven Bread when I make this roast again, or my own Garlic and Herb Potato Gratin. I might start the meal with a blue cheesy endive appetizer, offer my family's Italian Orange Salad, and maybe some Sweet and Savory Green Beans.
Just thinking about a holiday family meal, with all of us gathered, is making me sentimental. And my mouth is watering!
What cut of beef do YOU want to perfect for YOUR holiday dinner?
Ribeye Roast with Harissa
A classic prime rib roasted to medium rare is embellished with Harissa sauce.
Ingredients
1 5-pound Certified Angus Beef® brand prime ribeye bone-in roast
Sea salt or kosher salt
Black pepper
1 jar Harissa paste or sauce
Directions
Heat oven to 450F degrees. Unwrap roast from package, sprinkle with a pinch of salt and a couple of grinds of pepper. Place roast on a rack in a roasting pan, fat side up. Roast at 450F for 15 minutes.
Turn heat down to 325F degrees and continue roasting for another 2 hours (for medium-rare doneness). Use an instant-read thermometer to determine if it is ready to remove from the oven. It should read 5-10 degrees lower than the temperature you are aiming for, because temp will continue to rise as the roast sits.
Remove roast from oven and tent it with foil; allow it to rest for 15 minutes. After the rest, you may carve it.

Make sauce:

While roast is resting, pour pan drippings into a jar or fat separator measuring cup (such as you might use at Thanksgiving time for turkey). Allow the fat to rise to the top and skim it off and discard. You will be left with a few tablespoonfuls of concentrated beef juice. If you wish, add this beef juice to the Harissa paste and stir. Serve sauce at the table for individuals to add to their own meat.
Serves 4 very generously, and perhaps 6-8 lighter eaters.
Notes
Recipe source: Dorothy Reinhold | Shockingly Delicious
https://www.shockinglydelicious.com/ribeye-roast-with-harissa/
Copyright Dorothy Reinhold | ShockinglyDelicious.com. All rights reserved.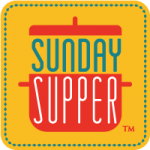 This week our Sunday Supper tastemakers are cooking low and slow, celebrating roast beef, and showing you lots of different ways to prepare it, sponsored by Certified Angus Beef® brand. For more beefy goodness and tons of inspiring ideas, see our 20 delicious recipes below, and follow our Certified Angus Beef® brand Roast Perfect Pinterest Board. I enjoy being at the top of the food chain, don't you?  🙂
Now's the time to get the Roast Perfect app on your phone, browse around to find beef cuts for roasting, and make friends with your butcher. Let's fire up the oven, because the holiday meal will be here before you know it!
This week's Sunday Supper recipes:
Holiday Roasts
Join us around the family table for #SundaySupper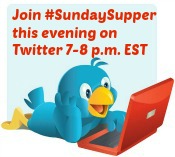 Twitter how-to

: Follow the #SundaySupper hashtag throughout the day on Twitter to see our recipes. To join the conversation anytime, simply use the #SundaySupper hashtag to share your favorite tips and recipes.
Pinterest: Check out our #SundaySupper Pinterest board for more recipes and photos.

Join

: To join the Sunday Supper Movement, sign up by clicking here → Sunday Supper Movement.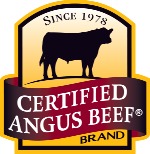 Disclosure: This post is sponsored by Certified Angus Beef® brand in conjunction with a social media campaign through Sunday Supper LLC. All opinions are my own. Join me in following Certified Angus Beef® brand on social media: Website | Twitter | Facebook | Pinterest | Instagram | YouTube | Periscope.