Print This Post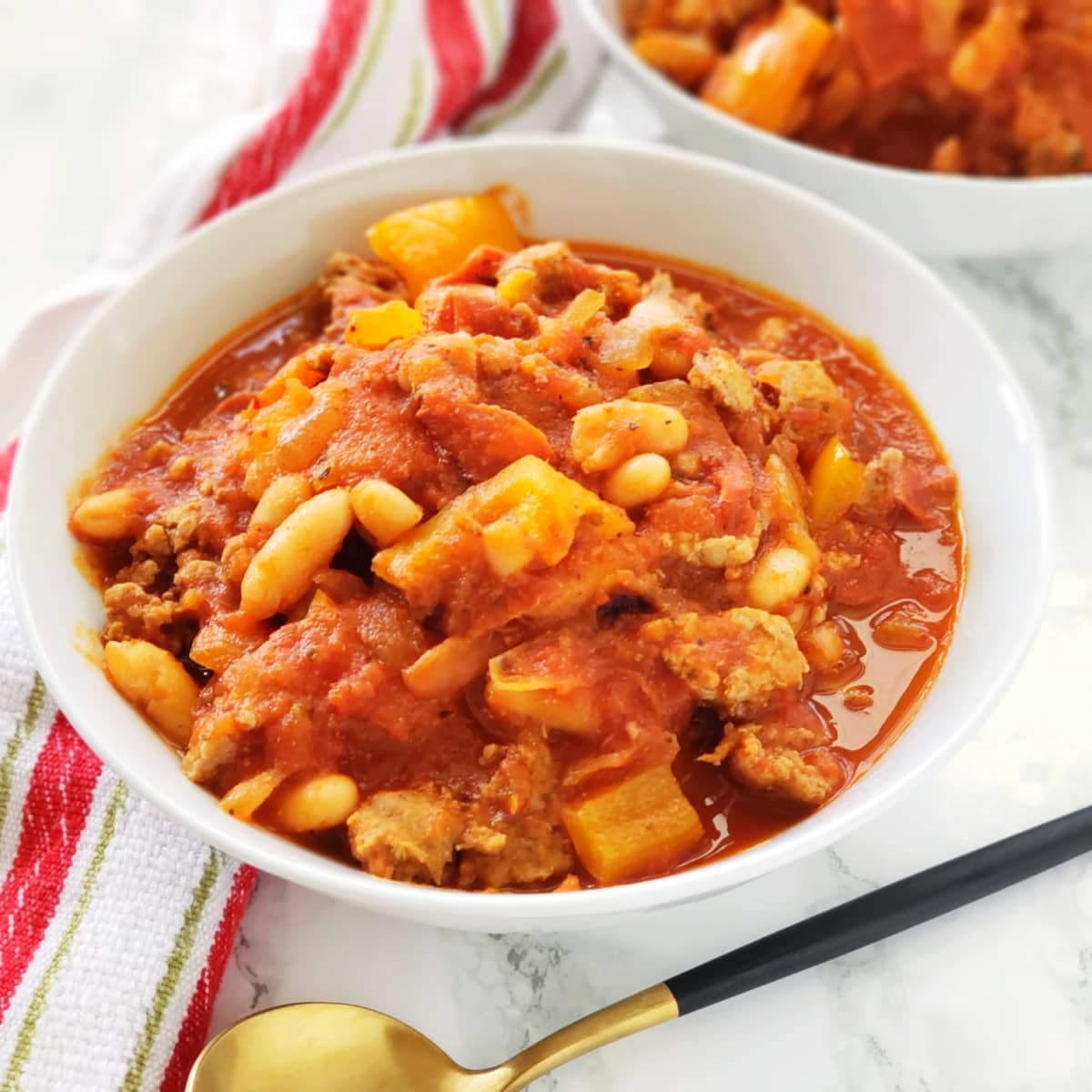 Pizza Chili is for everyone who can't decide between the two — it's a delicious bowl of pizza flavors in the form of chili, with sausage, pepperoni, beans and tomatoes.
Luckily, it's also easy to make in one skillet, so it is family friendly and weeknight friendly, too. Need a game-day or game-night meal? Need a bowl of something delicious for the family or friends? Turn on the stove, get out the skillet, and this is it.
How to make Pizza Chili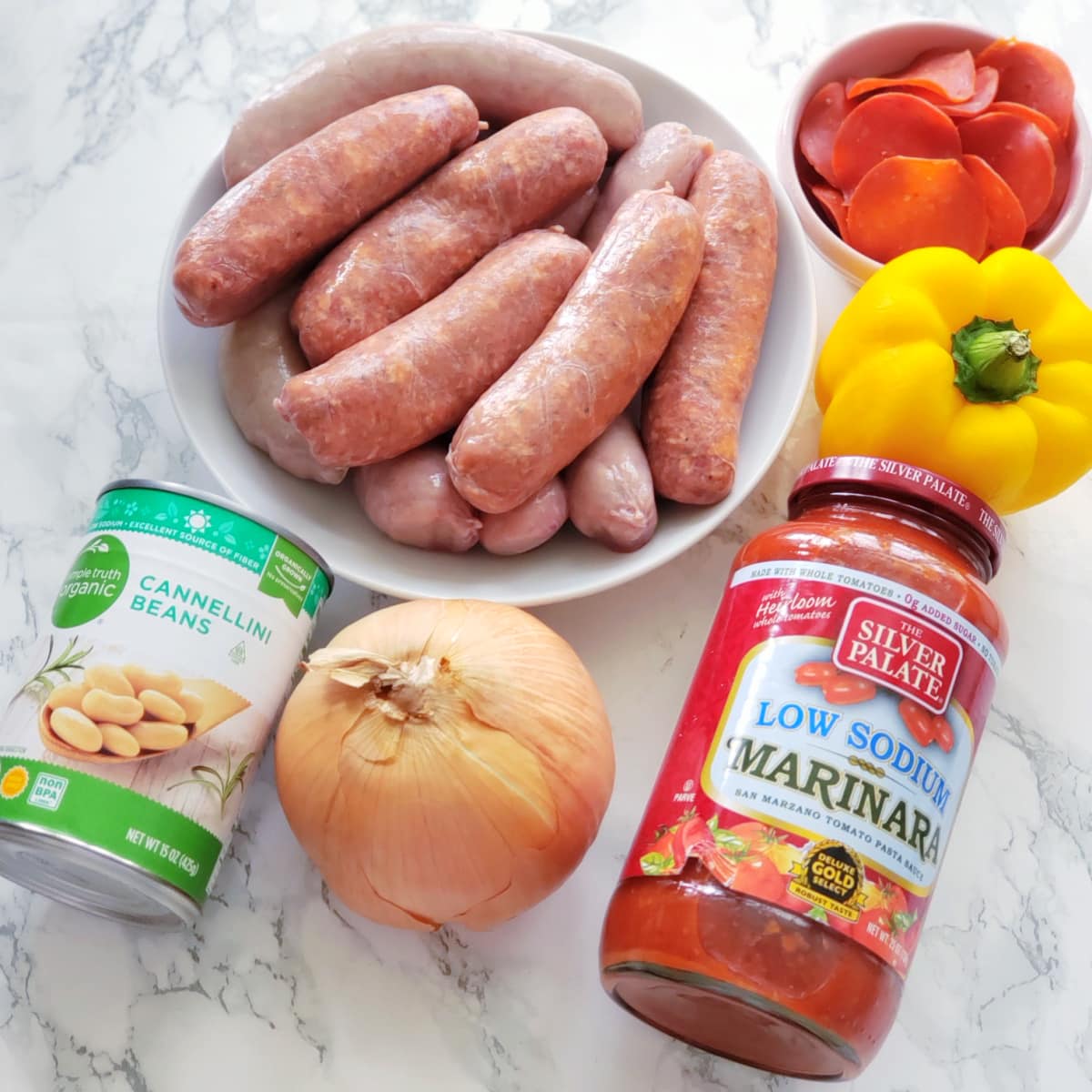 As always, first gather your ingredients. For this recipe, we'll need:
Onion
2 bell peppers
Italian sausage (I use turkey Italian sausage to cut down on fat). Use a scissors to slit open the casing and remove the sausage meat from the casing.
Pepperoni (I use turkey pepperoni to cut down on fat)
Marinara sauce (My favorite is low-sodium Silver Palate. There is

plenty

of salt in this recipe!)
Cannellini beans
Herbs and spices like garlic powder, oregano and red pepper flakes
Garnishes like mozzarella, ricotta, fresh basil, Parmesan, croutons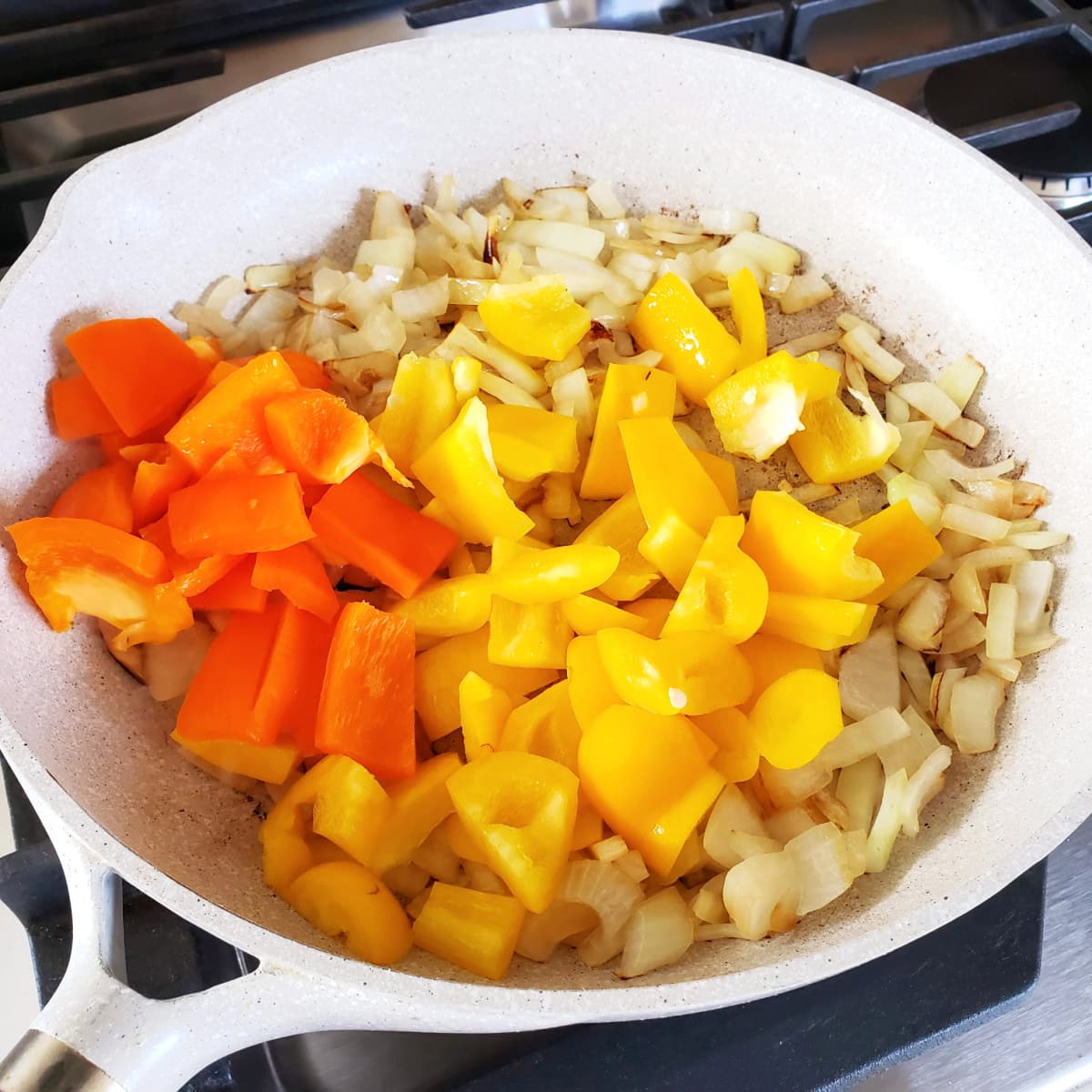 Saute the onions and peppers.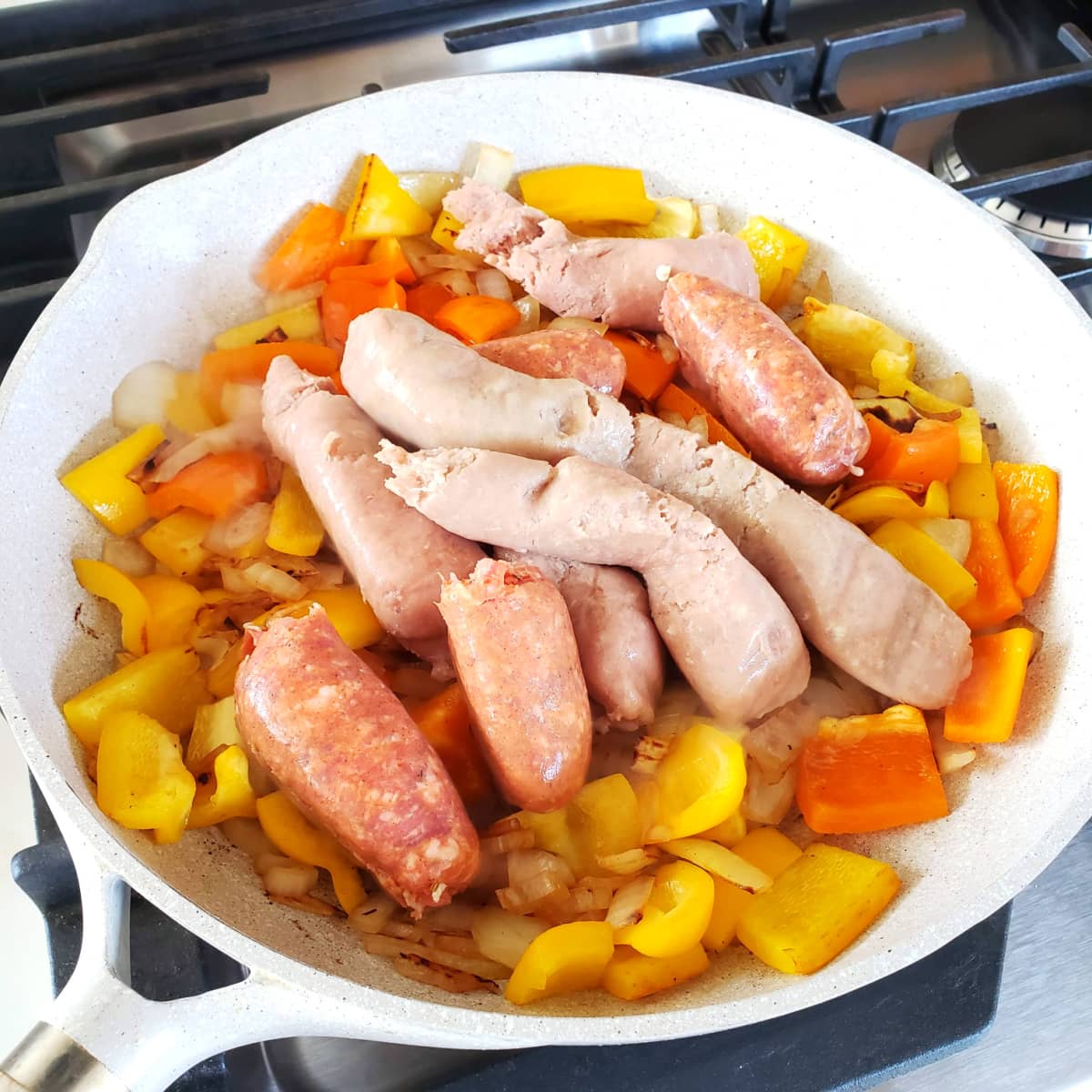 Add the Italian sausage, break up and saute.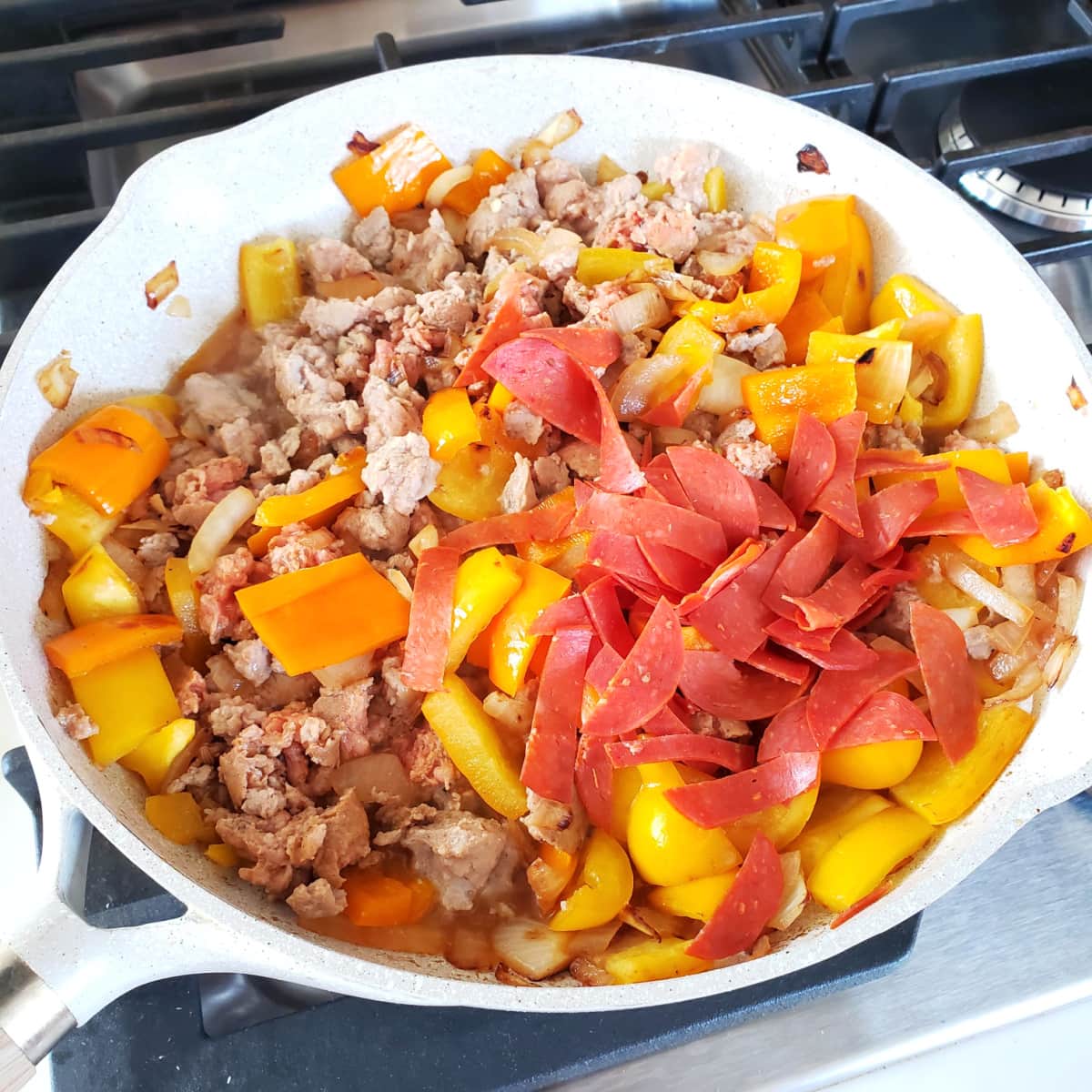 The add the chopped pepperoni and saute.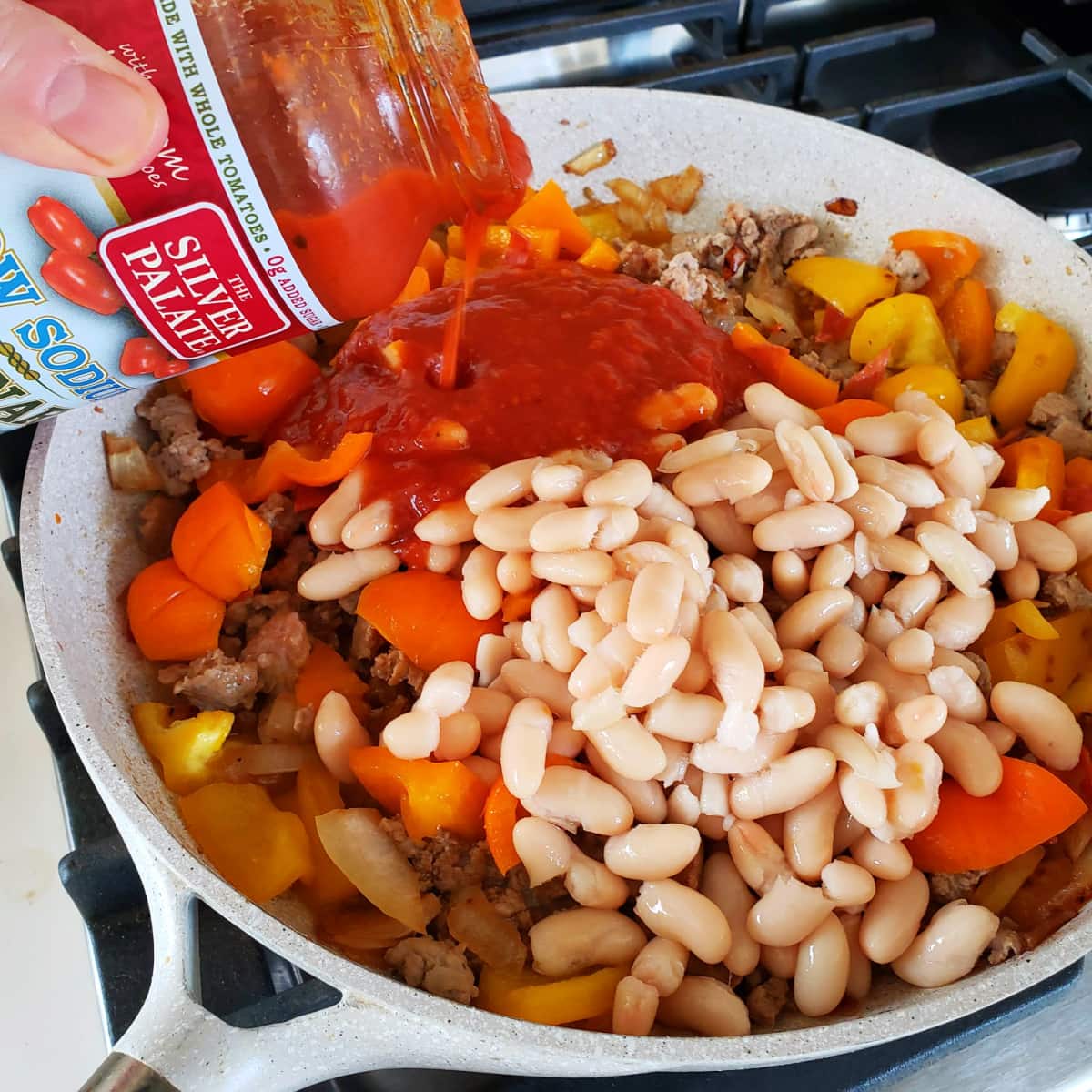 And finally add the beans, jarred marinara sauce and herbs and spices.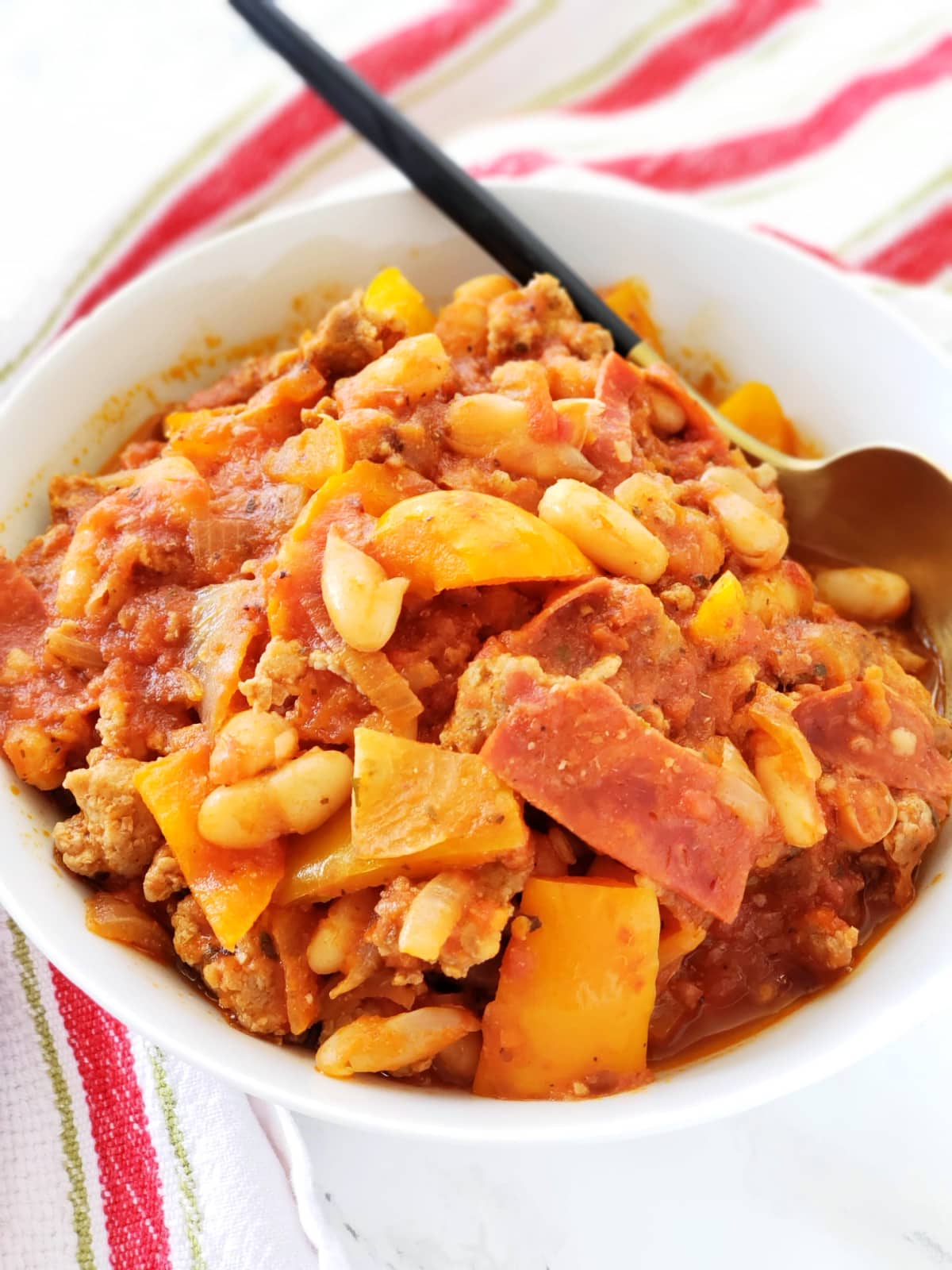 Serve it in a bowl and enjoy!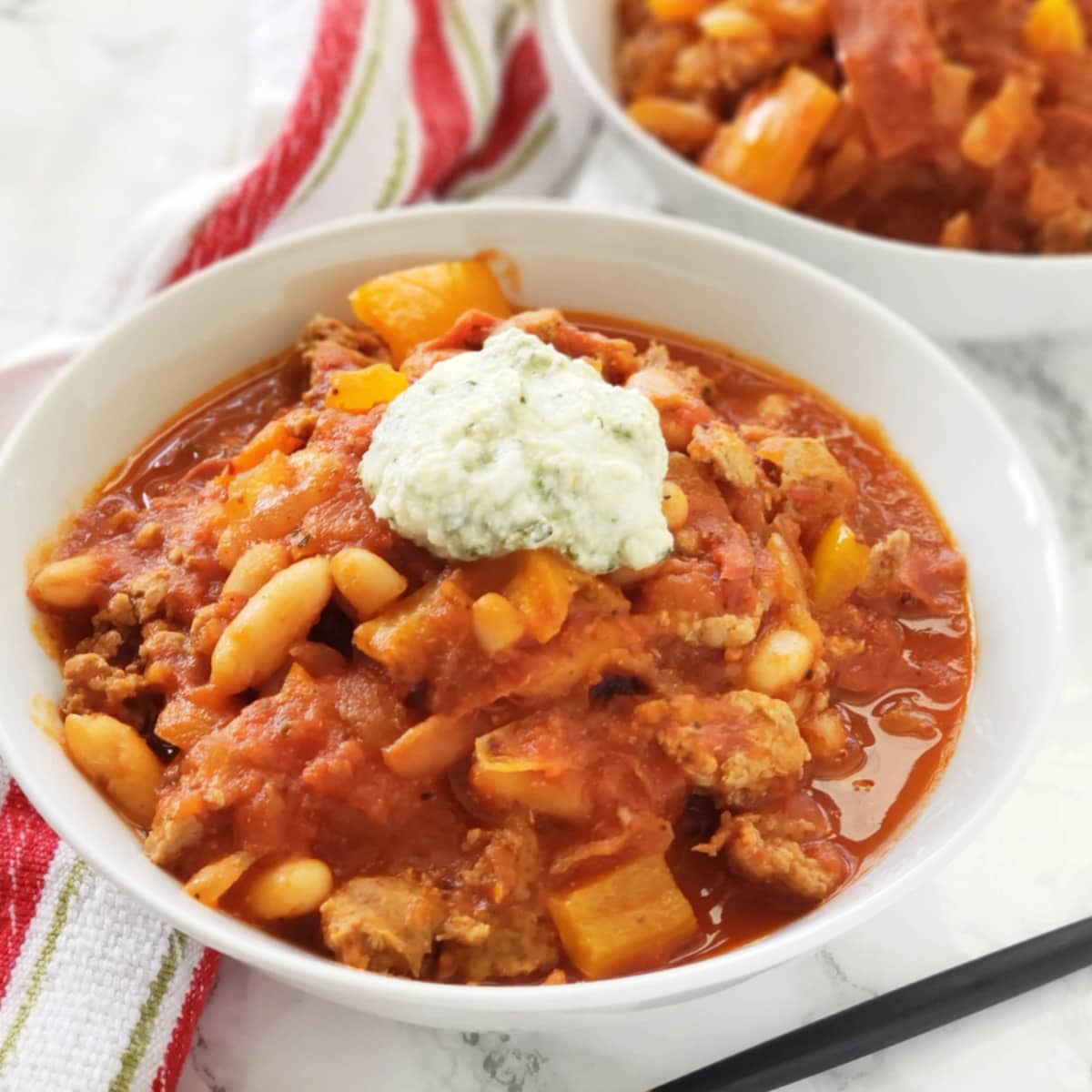 Or add garnishes, like pesto-flavored ricotta, if you like. Just stir some prepared pesto into ricotta and dollop it on, much as you would sour cream on regular chili.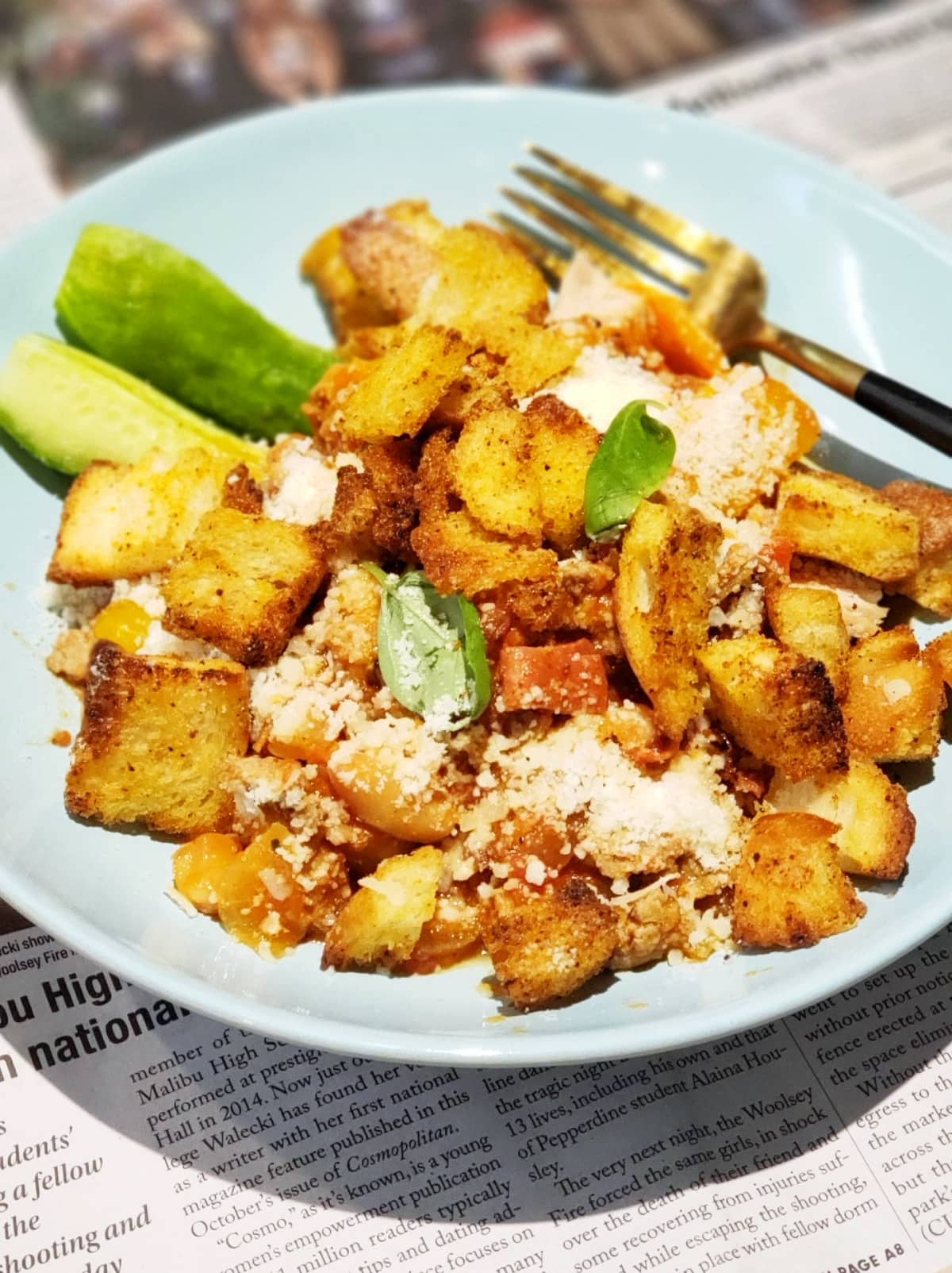 On our second night of eating it, as leftovers, we put basil leaves, grated Parmesan and homemade croutons on top! (Those are a couple of slices of raw cucumber on the side of the bowl, for green crunch!)
The backstory of Pizza Chili
I was inspired by Jason Goldstein of Chop Happy (Instagram @chophappy) for this recipe. He was a contestant on a Food Network TV show called "Big Bad Budget Battle," where the goal was to make meals for 2 parties on a budget of only $60. The judges called his NYC Pizza Chili "party chili," with a ton of bang for the buck! I was sold on the idea, and adapted his recipe a bit to suit my own tastes. Go check Jason out on Instagram and follow him…you'll find his enthusiasm infectious, and he brings the party every single day.
Let's make Pizza Chili!
Pizza Chili is for everyone who can't decide between the two -- it's a delicious bowl of pizza flavors in the form of chili, with sausage, pepperoni, beans and tomatoes.
Ingredients
1 teaspoon olive oil
1 medium onion, chopped
2 bell peppers (1 yellow, 1 orange, if you can)
1 pound sweet Italian turkey sausage (or your favorite Italian sausage), casings removed
15 small slices pepperoni, chopped
1 (15-ounce) can cannellini beans, rinsed and drained
1 (25-ounce) jar marinara sauce (spaghetti sauce)
1 1/2 teaspoons dried oregano
1 teaspoon garlic powder
1/4 teaspoon crushed red pepper flakes

Garnish ideas

--dollop of ricotta
--ricotta with pesto stirred in
--shredded mozzarella or provolone
--chopped fresh basil or fresh Italian parsley
--finely chopped bell pepper and onion
--croutons
Directions
Heat a large skillet, add olive oil, onion and bell peppers. Saute for 3 minutes, stirring often.
Remove casings from sausage (do this easily by using a kitchen shears to slit the casing lengthwise, and peel it off by hand) and add sausage and pepperoni to skillet, breaking sausage up with a spatula. Saute for 5-7 minutes, stirring occasionally.
Add beans, marinara sauce, oregano, garlic powder and pepper flakes and stir to combine. Put a lid on the skillet, turn heat down and let it simmer for 15 minutes.
Serve in bowls with your choice of garnishes.
Serves 4.
Notes
Recipe inspiration: Jason Goldstein of @chophappy on Instagram. This is my adapted version of his recipe from "Big Bad Budget Battle" on The Food Network. See story for additional details.
https://www.shockinglydelicious.com/pizza-chili/
Copyright Dorothy Reinhold | ShockinglyDelicious.com. All rights reserved.
Pin the image below for Pizza Chili to your Pinterest board to save this recipe
Thanks for visiting…are you hungry for more? Follow Shockingly Delicious on…
FACEBOOK | PINTEREST | INSTAGRAM | TWITTER
…for all the latest recipes, ideas and updates!
This post may contain affiliate/referral links. It is a way for this site to earn advertising fees (at no cost to you) by advertising or linking to certain products and/or services that I approve and prefer. Thank you for using my affiliate link to shop, so I can continue to bring you shockingly delicious recipes!