Print This Post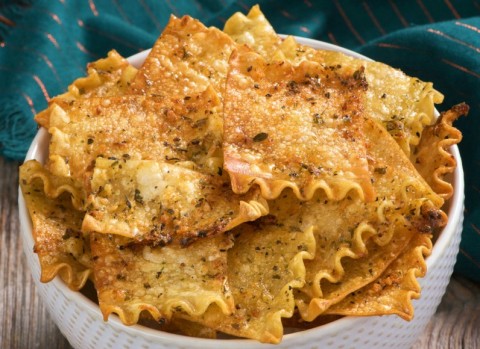 Oven-Baked Herbed Lasagna Chips will be your new favorite snack innovation. If you boil pasta and then bake it, you can turn it into crunchy, herby, cheesy chips with this easy recipe!
Who knew that with a little ingenuity, you can outsmart the snack food companies?
Today's recipe for Oven-Baked Herbed Lasagna Chips shows that if you put your thinking cap on in the kitchen, you can come up with something that none of your friends or family have likely ever had before. You'll be considered the creative genius in the house…never a bad spot to be in.
Simply boil your lasagna noodles as you usually do, drain and dry them off, sprinkle with some herby, cheesy goodness and bake until crispy.
There are a million different things you could dip these into (marinara, hummus, classic sour cream and onion dip), or just crunch on them as-is.
These would be great for Super Bowl snacking, for Grammy Awards or Academy Awards night munching, or any day you want to give your friends and family a new snacking experience.
Let's make them, shall we?
Oven-Baked Herbed Lasagna Chips
Oven-Baked Herbed Lasagna Chips: Lasagna noodles are transformed into tasty, herby, cheesy chips for snacking in this easy recipe.
Ingredients
6 lasagna noodles
1/4 cup finely grated Parmesan cheese
2 tablespoons olive oil
2 cloves garlic, minced
1 tablespoon Italian herb mixture
1/4 teaspoon salt (see note below in instructions)
1/4 teaspoon pepper
Directions
Preheat oven to 375°F degrees. In a large pot of boiling salted water, cook noodles for 8-10 minutes or until al dente (tender but firm to the bite). Drain; let cool in single layer on baking sheet.
Cut noodles into bite-size pieces; toss with Parmesan, olive oil, garlic, Italian herb mixture, salt and pepper. (You may actually not need any more salt since the cooking water was salted and Parmesan is salty. Add salt sparingly.)
Line a baking sheet with parchment paper. Spread noodle pieces in a single layer on sheet and bake for 20-25 minutes or until crisp. Let cool.
Serves 8.
Notes
Tips: (1) Add a pinch of ground cayenne for heat if you like. (2) Serve with a variety of dips, such as marinara, hummus, classic onion sour cream dip or tzatziki sauce.
Recipe source: Recipe and photo used with permission from Pastafits.org
Nutrition Facts Per 1/8 recipe Calories 100 | Fat 4.5g | Cholesterol 0mg | Sodium 135mg | Carbohydrate 11g | Fiber 1g | Sugars 1g | Protein 3g |
https://www.shockinglydelicious.com/oven-baked-herbed-lasagna-chips/
Copyright Dorothy Reinhold | ShockinglyDelicious.com. All rights reserved.
If you like this recipe and want to save it, pin the image below to your Pinterest board.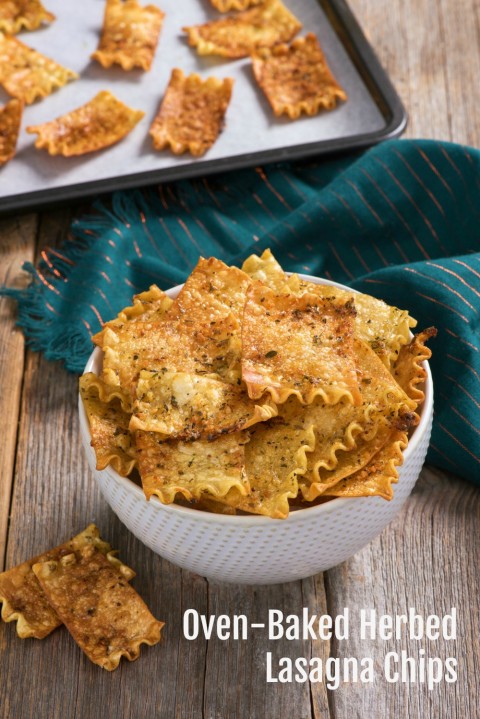 Thanks for visiting…are you hungry for more? Follow Shockingly Delicious on…
FACEBOOK | PINTEREST | INSTAGRAM | TWITTER
…for all the latest recipes, ideas and updates!
Want some more chip ideas?

This post may contain affiliate/referral links. It is a way for this site to earn advertising fees (at no cost to you) by advertising or linking to certain products and/or services.