Print This Post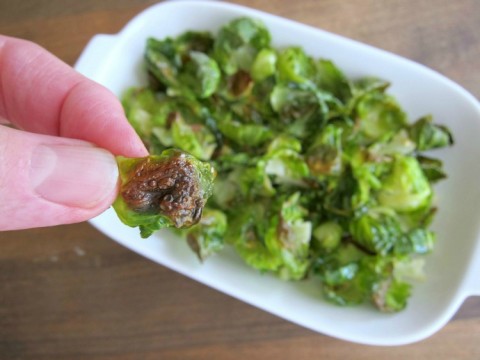 Put away that tater chip bag. I have three words for you: Brussels Sprout Chips.
Do I need to say anything else? How about…
they're nutrient-dense and good for you
they're easy
they'll satisfy your crunchy-munchy needs
they're vegan, gluten-free, no additives, no dairy, no grains, no soy, no sugar, no nuthin' you don't want in there
you'll like them even if you are a B.S. hater
(I promise)

I'm teaching you how to make this easy snack as part of October Unprocessed, a nationwide movement to go for a whole month eating only unprocessed food. If you can't do it for a month, set your own goal and do it for as many meals or days as you can. So far, 5,500 people have taken the pledge with me this year. Won't you join in?
Last year I showed you how to chipify something new and make Baby Bok Choy Chips. This year let's make Brussels Sprout Chips. Get my easy Brussels Sprout Chip recipe over at Eating Rules, where October Unprocessed recipes reside.
It's a whole month of eating food with ingredients you can actually pronounce.
Join me…you, your family and friends are worth it.