Print This Post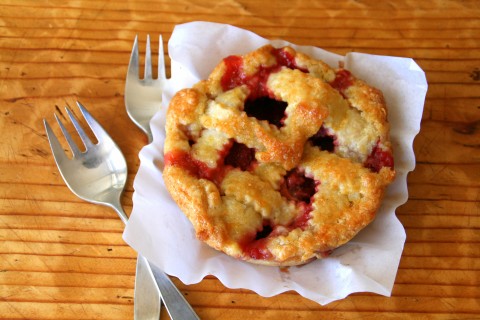 1. Micro Pies: These are the cutest little desserts perfectly sized to end a meal on a sweet note without an overindulgence. The bakery Cutie Pie That! in Pasadena, Calif. uses organic and locally grown ingredients, has vegan and gluten-free varieties, and bakes up four-inch ($6) artisanal pies perfect for sharing, in seasonally rotating flavors. Grammy's Strawberry Rhubarb Pie was a delight, full of fresh berries and tart rhubarb. Summer Breeze Blueberry Pie was bursting with fat blueberries, Summer Dreamin' Cherry Pie was sweet and tart, just like a good cherry pie should be. An Apple Lollipie ($3) was a coveted treat (cake pops are so 9 months ago), with my son winning the coin-toss to see who got it. We had to tackle him for a bite!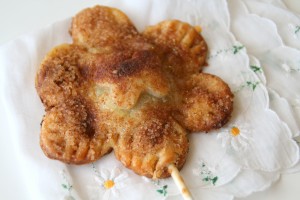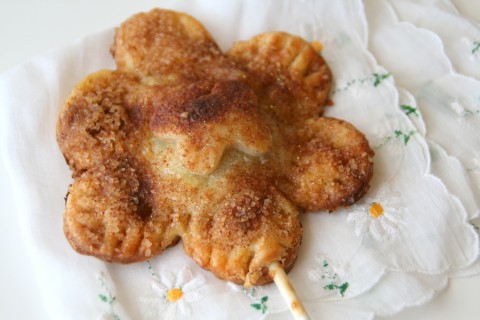 The pies are not overly sweet, with a good crust that is reminiscent of pastry. Hmmm….breakfast pie anyone? Cutie Pie That! micro pies can currently be found at seven Los Angeles area farmers markets, or ordered online. Pie lovers, 'ten hut!
2. Ask Dr. Potato: Why are your potatoes green, and other perplexing potato problems? Ask Dr. Potato. If you have a question he hasn't answered, ask it and he will get right on it!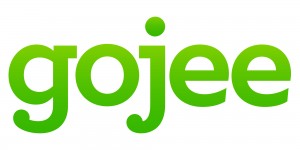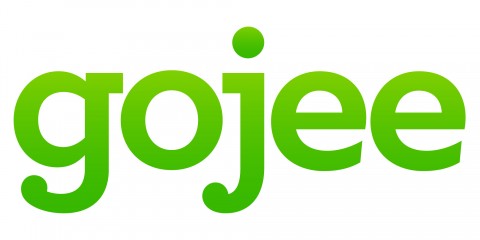 3. Gojee: I'm proud to be a new contributor to Gojee.com, the new-ish online recipe hub that connects cooks of all levels with hand-selected recipes from the best food bloggers out there. You can hone in on a particular dish, search by your craving or ingredient, or find inspiration by clicking through up-close pages of delicious photos. And important in today's food landscape, you can also input your dislikes or allergies and Gojee will make sure to suggest recipes without these ingredients.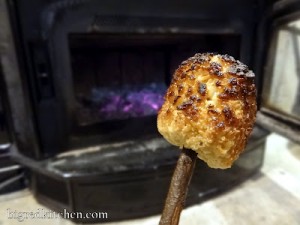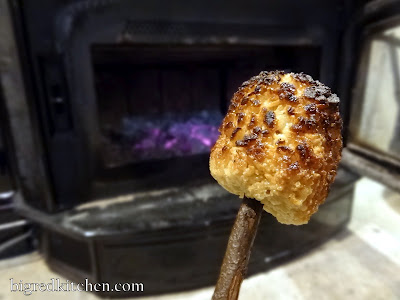 4. Toasted Marshmallow Krispy Treats: The latest Internet meme sounds like the most delicious thing EVER!
5. Smart talk: If you haven't seen this TEDx talk by Robyn O'Brien, you must clear 18 minutes in your day, sit here quietly and watch it. It's a really important, very powerful, personal message about our food system in the U.S.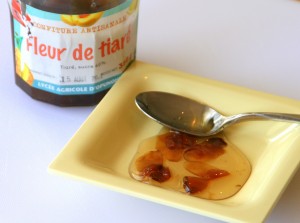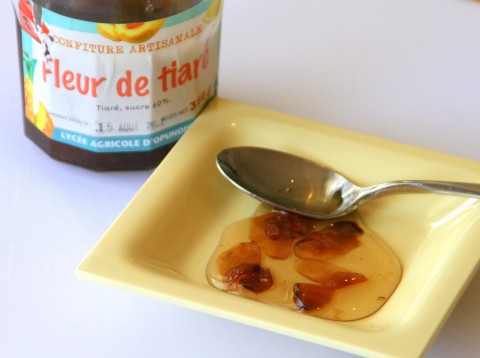 6. Fleur de Tiare Jam:  Deeply perfumed, honey-like and tasting of the tropics, this artisanal jam is made from just two ingredients — Tiare Tahiti flower petals and sugar. Tiara Tahiti, white with a delicate fragrance, is often called the Tahitian gardenia, and is the national flower of French Polynesia. The taste is unique and exotic and deeply sweet, the color and texture a golden brown honey with flower petals in it. We slathered it on toast, French toast, waffles and pancakes. It is fabulous stirred into plain yogurt or as a flavoring for a yogurt smoothie, or a hint of French Polynesia in a cocktail. I'm also dreaming of it with a little mild flavored  cheese, so the special flavor of the preserves takes the spotlight. It is imported by David Brown of Sherman Oaks, Calif., and you can buy it from the website. The cost is $20, which  includes shipping within California. This would make a fantastic gift for the foodie who thinks s/he has tasted everything!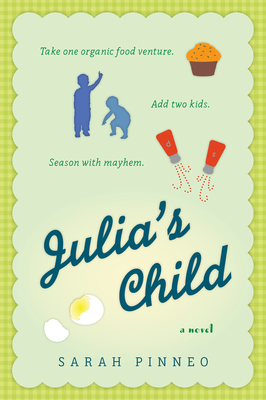 7.  Julia's Child: A Novel: This fast, amusing read by Sarah Pinneo follows Julia, a "mompreneur," as she navigates the treacherous culinary waters when her company, Julia's Child, peddles organic toddler meals to overwrought, anxious, entitled mommies. Actually, Gentle Lentil and Give Peas a Chance sound delicious to me! There are enough fun references to make any modern parent nod wisely, as Julia attempts to hurdle the obstacles on her way to capitalist nirvana (aka the shelves of Whole Foods). Warning: parents, you may see yourself in this book!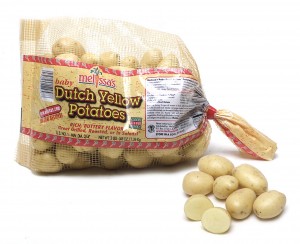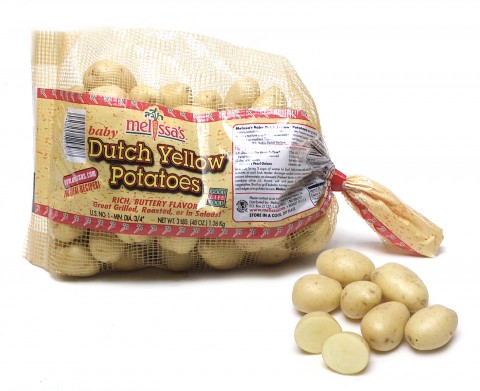 8.  Baby Dutch Yellow Potatoes: I cannot even begin to tell you how many nights I have relied upon these to save dinner. Here's the recipe: Open the bag, rinse them off, plop in a microwave-safe container with a lid, drizzle with olive oil, sprinkle with whatever herb and salt mix you like, and microcook on high for 6 minutes. Remove from oven, allow to rest for a minute or two while you finish preparing the rest of dinner, and you are done. Serves 4, and trust me, all of your table-mates will go sniffing around for seconds.  Creamy tasting with a tender skin, these are potato perfection.
9. Coconut Mango Oat Muffins: These are great little muffins with a tropical flavor. I made a few changes — used a muffin-top pan (all of the top, none of the muffin stump), and only had sweetened shredded coconut, so that's what I used. Oh, and I subbed Greek yogurt instead of sour cream, and vanilla extract instead of a vanilla bean. Very good!
10. California pan: I want this cast iron frying pan in the shape of California!  I do, I do!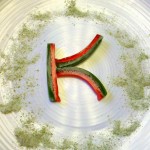 11. Kale Gummy Worms: Five words — best use of kale, EVER, according to kids! See all the photos for Kale Gummy Worms and get the recipe on the Cut `n Clean Greens Facebook page.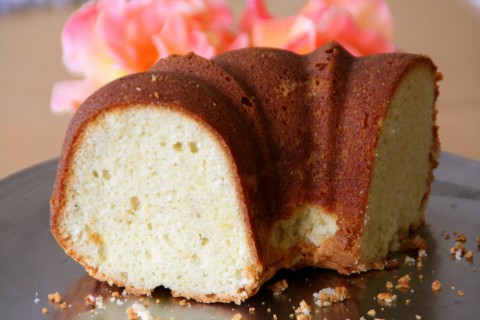 12. Orange Bundt Cake: From Judy at the blog Two Broads Abroad, this is a quiet, delightful, heirloom mom cake, perfect with tea or for dessert with fruit. It's a buttermilk pound cake, so it has a very tender crumb, and a delicate orange taste, barely a hint. Make it! I used 3 tablespoons orange juice instead of her 2, and next time I might be tempted to use the zest of 2 oranges instead of just one. But these are only personal whims. The most important thing is to make this cake! I'll wait…have you turned on the oven yet?
Disclosure: Products for review were sent by Cute Pie That!,  Fleur de Tiare Jam, "Julia's Child: A Novel," and Melissa's Produce.