Print This Post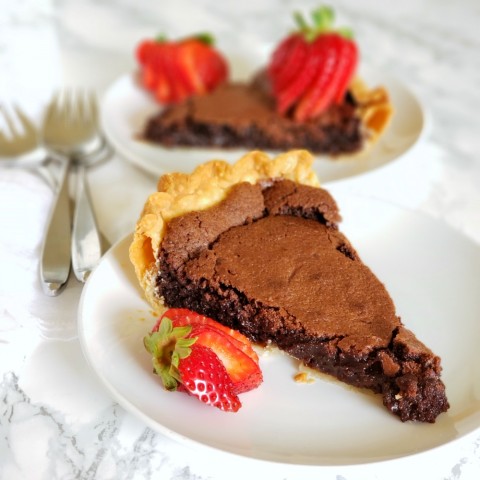 A cross between fudge and a wet brownie, this delicious Old Fashioned Fudge Pie pie is a perfect foil for fresh berries or freshly whipped cream.
This post is sponsored by Imperial Sugar, one of our sponsors, which sent sugar for recipe development. All opinions are my own. 
Let's get the accolades out of the way first, shall we? I won 1st place in the 2009 Malibu Pie Contest, chocolate category, for this pie. Yep, it's that good! So you can feel confident serving this to your chocolate-loving family and friends.  
Why Old Fashioned Fudge Pie is a real winner
With a purchased pie crust thawed and ready, this pie takes all of 5 minutes to assemble and get into the oven, so we have EASY taken care of.
It tastes like a million bucks! So we have DELICIOUS taken care of.
It's halfway between a piece of fudge and a dense, wet-ish brownie, not cakey at all. So we have GOOEY taken care of.
It calls for 6 tablespoons of cocoa, but if you only have only 4, go with 4. It calls for 8 tablespoons melted butter (1 stick), but if you have only 6, go with 6 and it will still be fine. So we have VERSATILE taken care of.
It makes a flat-ish pie, not a tall, high pie, and my husband commented that he liked it that way because there is room for stuff on top.
Somebody told me this is called "Baked Fudge" in the South. I love that name!
How to make Old Fashioned Fudge Pie
It's super simple. Aren't the best recipes often so, so easy?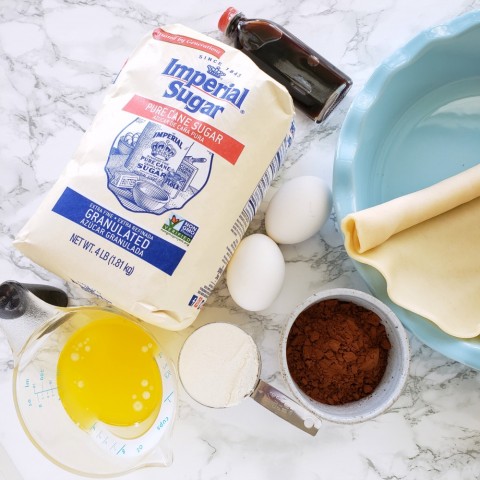 Assemble your ingredients. This allows you to see if you are missing anything. In this case, we need mostly pantry items.
You can whisk the batter by hand in just 3 minutes.
The batter will be thick like brownie batter. 
Spread it to cover the bottom of the pie shell. The batter will not fill the shell. My shell sides are probably too high here because I forgot that this batter doesn't rise too much. Oh well.
Baked and out of the oven. Since I made my pie shell sides too high, they kind of collapsed a bit during baking. No matter. It still tastes good, but you can see that it doesn't rise too high. We will disguise this in the serving, don't worry! If you have a baking mishap like this, don't sweat it. Whipped cream or berries will always save the day! And pretend like you did it on purpose. Also note that there are cracks and fault lines in the top, not unlike you would have with brownies. That's fine!
Here's a closer look at the gooey inside. And this is one of the pieces with the collapsed pie shell. Look how well the strawberry does in camouflaging it.
The sugar I used: I used Imperial Sugar in this pie.
What to serve Old Fashioned Fudge Pie With
I have to say it is heavenly with a small scoop of strawberry ice cream, and I highly recommend that combo.
Serve it with sliced strawberries during strawb season.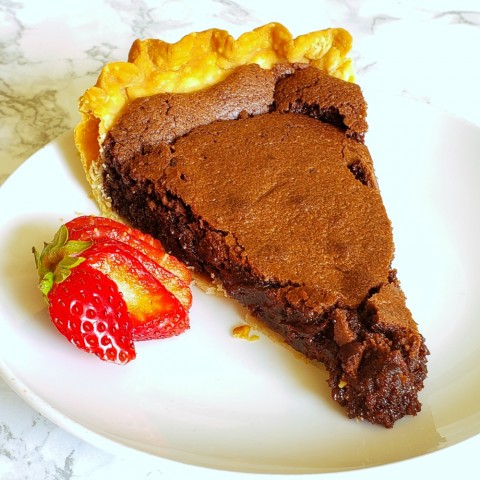 A cross between fudge and a wet brownie, this delicious blue-ribbon Old Fashioned Fudge Pie pie is a perfect foil for fresh berries or freshly whipped cream.
Ingredients
1 unbaked 9-inch pie shell
2 eggs
1 1/4 cups sugar [I used Imperial Granulated Sugar]
1/4 cup all-purpose flour
6 tablespoons cocoa powder (not hot chocolate mix, but cocoa) [I used Divine Chocolate cocoa]
1/2 cup (1 stick) butter, melted
2 teaspoons vanilla extract
Pinch of salt
Garnish: fresh strawberries or other berries, or whipped cream, or vanilla ice cream
Directions
Heat oven to 350F degrees.
Place pie crust in a 9-inch pie dish, and crimp the edges. This pie won't rise high, so you don't need to worry about making the crust tall. Set aside.
Combine all remaining ingredients in a bowl, with electric mixer or whisk by hand, and then pour into unbaked pie shell.
Bake until set, about 30 minutes. Check pie and if it is not set at 30 minutes (if the middle of the pie jiggles too much when you lightly jostle the pie pan while it is in the oven), bake another 5 minutes longer, then remove from oven.
Cool thoroughly before cutting. The top will likely develop fault lines and cracks while it cools. Serve at room temperature.
Serves 8-12, depending on size of slices. It is rich, so a small slice will suffice.
Notes
Recipe source: Dorothy Reinhold | Shockingly Delicious
https://www.shockinglydelicious.com/old-fashioned-fudge-pie/
Copyright Dorothy Reinhold | ShockinglyDelicious.com. All rights reserved.
Pin the image below to your Pinterest board to save this recipe!