Print This Post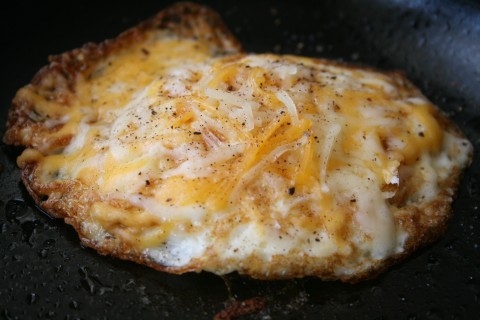 It doesn't matter what meal you eat this for, it will make you completely happy!
There is nothing –I repeat, NOTHING! — better than a fresh, organic, farmer's market egg, fried in bacon fat, over easy, sprinkled with truffle salt.
Who needs meat?*
*Oops, I just realized bacon fat is derived from meat. Hmmm…well, use butter or olive oil if you like. I dunno…too many rules. Just make the egg!
Fried Egg with Truffle Salt
Bacon fat
1 egg
Pinch grated cheese (optional)
Pinch truffle salt
Fresh ground pepper
In a small frying pan, heat a dab of bacon fat until it shimmers. Crack egg and ease it into the pan; reduce heat to low. Fry until most of egg white is opaque and cooked (a minute or so), then gently use a spatula to flip egg over. Top egg with a pinch of grated cheese (if you are using it), and a pinch of truffle salt. A tiny grind of fresh pepper would also be nice, if you like it.  Continue to fry egg for another minute or so, until the yolk is the way you like. I like a nearly firm yolk; others prefer a more liquidy yolk. Suit yourself.
Gently remove egg from pan onto a plate and eat immediately. Alternatively, get a fork and eat it right out of the pan. I did!
Truffle salt note
I use Sabatino & Co. Truffle Salt, which is simply a sea salt with black truffle dust in it. It's pricy ($15 or so for 3.4 ounces), but worth it. A tiny bit goes a long way, and the truffle perfume offered by a pinch of truffle salt is a relatively affordable way to indulge.