Print This Post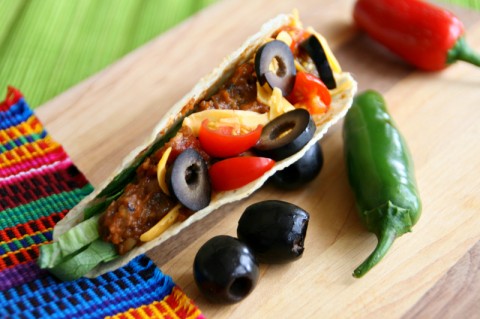 Like most of you, I'm always looking for ways to lower the fat, amp up the nutrition and perchance save a little money while feeding my family delicious food. But underlying it all, it must taste delicious, or it is a deal breaker. After all, if no one wants to eat the stuff, it doesn't matter how low-fat, healthy and cheap it is. It will be a waste of my time and kitchen efforts.
Isn't that a pretty tall order some days?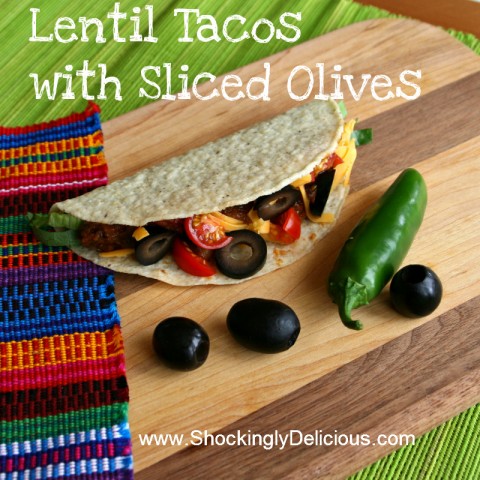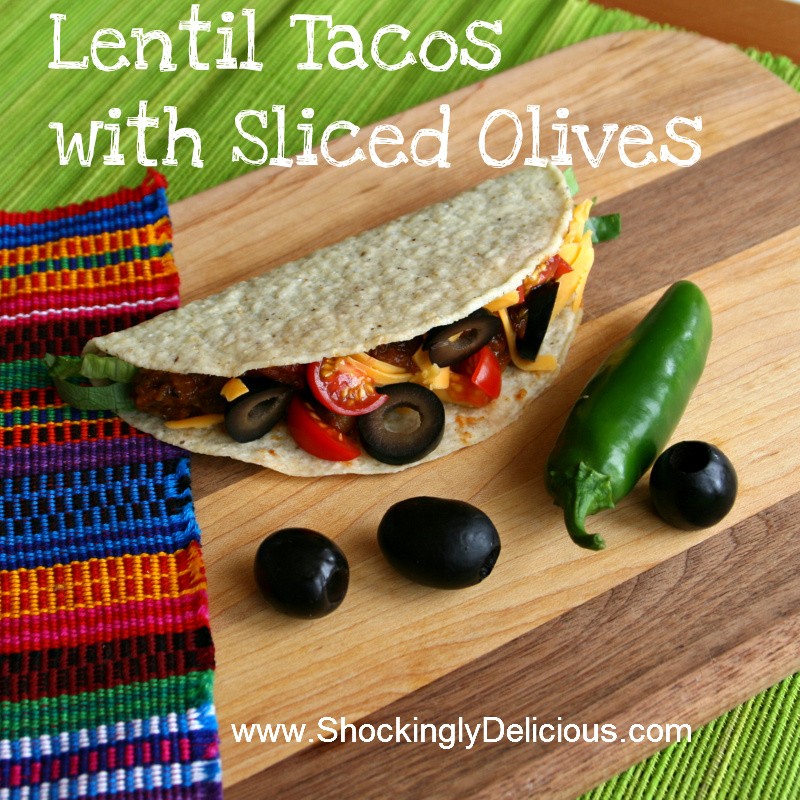 My standby has become this Lentil Taco mixture. I began by using it to substitute for the ordinary taco meat you would prepare for homemade tacos (you know, ground beef, a packet of taco mix, a little water, some skillet work, and voila).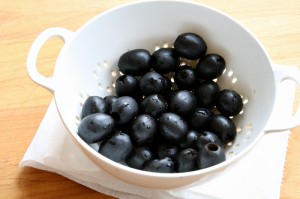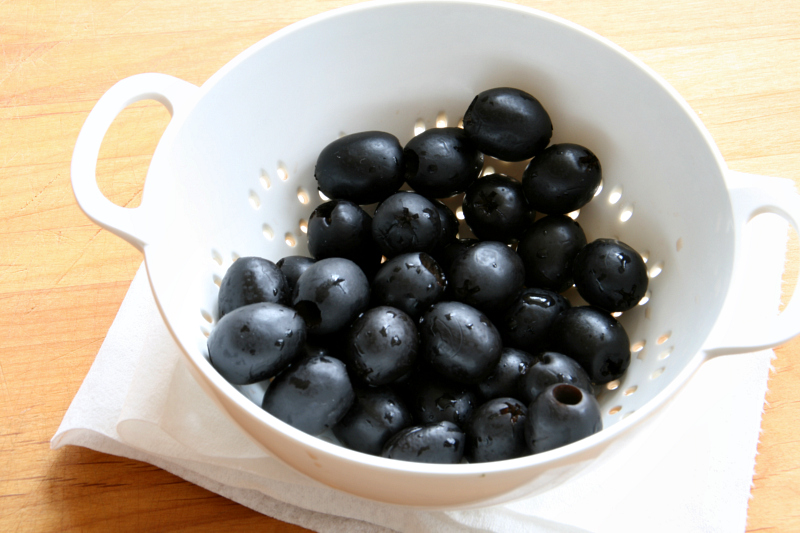 To make this recipe, I teamed up with Kitchen PLAY and the folks at California Ripe Olives who asked me to develop a recipe for National Taco Day, and to show off the versatility of tasty black ripe olives from my state. California produces more than 95% of the olives grown in the U.S., so if you have a can on hand, you may thank our Golden State farmers.
My family loved this meatless mixture in tacos so much that I began to use it in a lot of other ways, too:
in cheese quesadillas
in burritos with rice and cheese
in enchiladas
dabbed onto tortilla chips when I was indulging in nachos
loosened with additional vegetable or chicken stock and more veggies to create a soup
Soon we were addicted, and my family now prefers it to ground beef for tacos. I always have a can of ripe olives in the pantry, and they make a perfect garnish or add-in for any of these meals. At only a handful of calories per olive (6-8, depending on size), these are a garnish we can get behind! By the way, they have no cholesterol, of course, and are easy to use. Just drain off the juice, use them whole or chop them, as you like.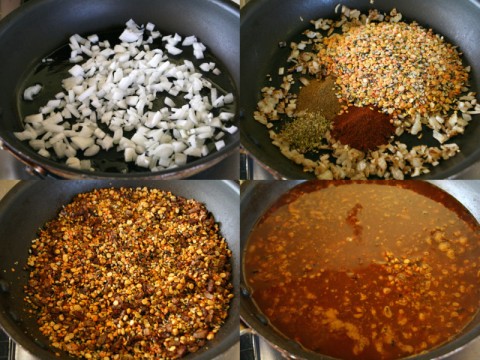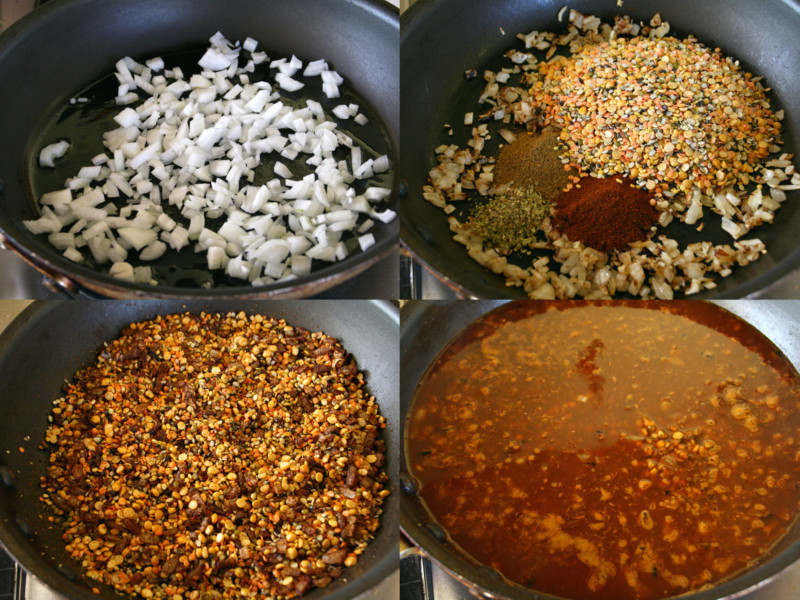 These days my strategy is this: I make up a double recipe of Lentil Taco mix, promptly freeze half, and put the other half in the refrigerator, labeled. We eat on it all week long, in all the ways described above, and when it is gone, I pull the extra one out of the freezer and let it thaw in the frig. A few days later, we are ready for more.
It's a delicious, endless cycle. I highly recommend it.
I often put fruit on the plate to accompany this meal – sliced ripe mangoes, sliced bananas, a bunch of grapes – whatever is on hand. Did you know the olive is a fruit, too?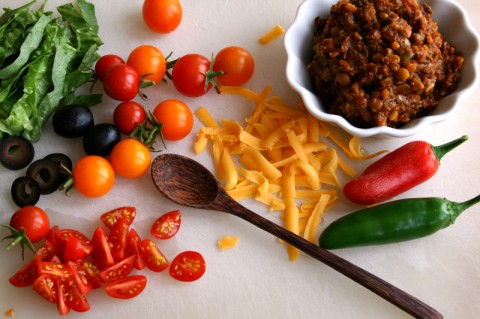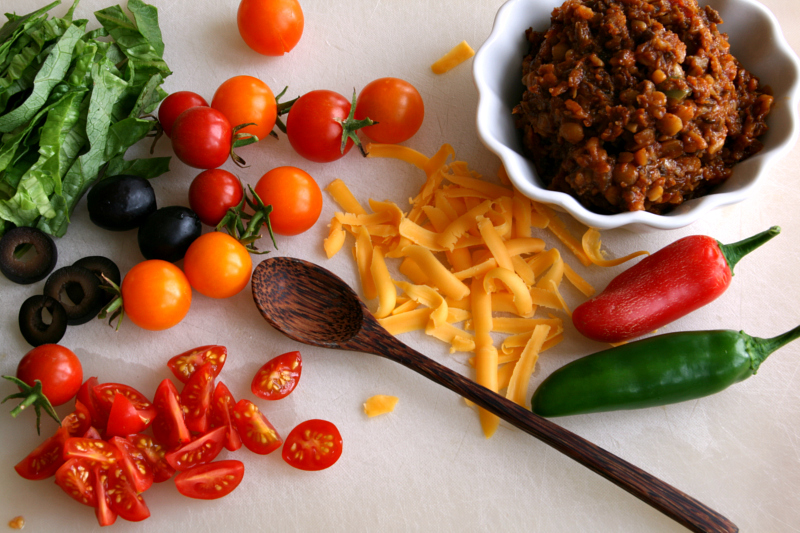 To highlight California ripe black olives we are having a Twitter party on Oct. 16 from 4-5 p.m. PST; follow the hashtag #CARipeOlives.  Join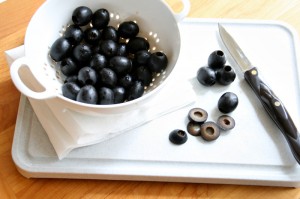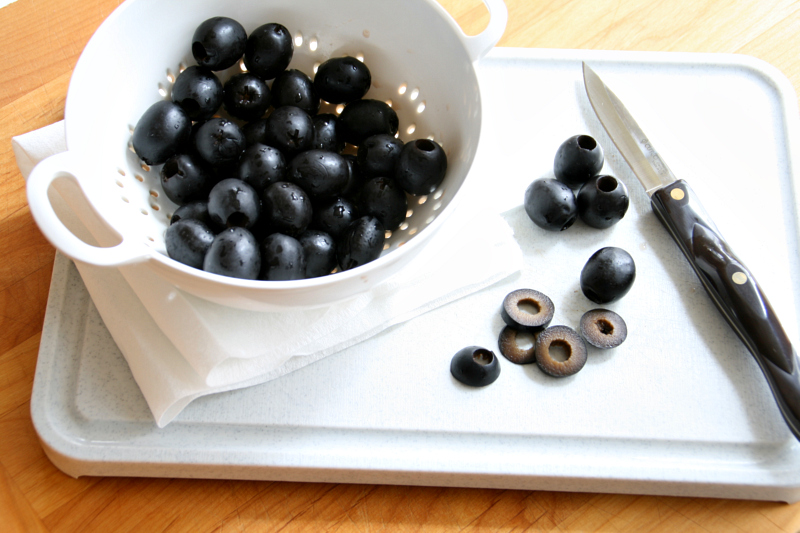 Kitchen PLAY, California Ripe Olives and some of your favorite food bloggers to learn about this tasty, nutritious and versatile food. Have fun testing your olive knowledge and win great olive prizes! Register here.
Read all 10 posts at Kitchen PLAY celebrating National Taco Day with California Ripe Olives for clues. Each post contains an olive fact that may appear as a trivia question during the Twitter Party. A new post and fact will be revealed each day, Monday through Friday, until Oct. 12.
Now let's make tacos!
Recipe: Lentil Tacos
Summary: The beloved taco gets a modern vegan update with lentils instead of beef, lots of spices, and a garnish of sliced ripe olives, of course. Meatless Monday, here we come!
Ingredients
1 teaspoon olive oil
1 onion, finely chopped (about 1 cup)
3 garlic cloves minced
1 cup dry lentils, rinsed and drained
1 tablespoon chili powder
2 teaspoons ground cumin
1 teaspoon dried oregano
1 (14-ounce) can lower-salt vegetable broth (or you can use chicken or beef broth)
1 cup water
A couple squirts of Tabasco (optional)
1 cup prepared chunky salsa
12 hard taco shells, or soft taco-size tortillas
Garnishes: chopped ripe olives, shredded lettuce, chopped fresh tomato, shredded cheddar cheese, chopped avocado
Instructions
Heat oil in a large non-stick skillet. Sauté onion until tender, about 5 minutes. Add garlic and sauté for another minute. Add the lentils, chili powder, cumin and oregano; cook and stir for 1 minute to toast spices.
Add broth, water and Tabasco (if using); bring to a boil. Stir and reduce heat; cover and simmer for 35 minutes or until the lentils are tender. Uncover; cook for another 5 minutes or until mixture is thickened if it is too soupy. Stir in salsa.
Spoon about 1/4 cup of lentil mixture into each taco shell and top with your favorite taco
fixin's. Garnish with sliced ripe olives.
Serves 6.
California Black Ripe Olives
I wrote this post and created this recipe as part of a partnership between Kitchen PLAY and California Ripe Olives.  They have compensated me for my time and cooking expenses. The content of this post is my own.
Preparation time: 7 minutes
Cooking time: 45 minutes
Diet type: Vegetarian, Vegan
Diet tags: Reduced fat
Number of servings (yield): 6
Culinary tradition: Mexican
My rating 5 stars:  ★★★★★